Vision / International
Welcome to 4barsrest vision. OK, we may not be winning any Oscars with this but we hope you enjoy our latest venture into the world of television.
4barsrest Classifieds
LGB Brass
LGB Brass based in Lewes East Sussex is looking for an additional front row cornet player due to job relocation. Third sectio...
Newark Town Band
Date: 26-May-2013
Venue: AEC Commercial Vehicle rally at Newark Showground, Nottinghamshire NG24 2NY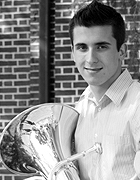 Grant Jameson

Euphonium Soloist, Clinician and Tutor