/Vision: 2011 Scottish Youth Championship: Tullis Russell Youth
Mon, 28 Nov 2011 0:30:00 GMT
Tullis Russell Youth take to the contest stage during the 2011 Scottish Youth Championship.
Playing time: 00:02:39

View in high definition | See 4barsrest.com on Vimeo

SHOW ALL VIDEO
4barsrest Classifieds
Cheshire Constabulary Band
We are looking for a good cornet player who can make a real difference to our otherwise full band. Our smart friendly band ha...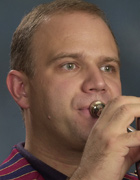 David Daws

Cornet tutor, Conductor