Positions vacant / International
Showing 1 to 10 of 45 vacancies
Most recently posted vacancies are shown first.
---

Amesbury Town Band
Required:
Players and beginners of any standard are always warmly welcomed. We could do with more trombones, solo cornets and percussionists to help out existing players. Feel free to drop in even if you just fancy a blow or want to try another instrument

Contact:
01722414299. , or just come along to one of our rehearsals at: The Nicolson Centre, Boscombe Down, Amesbury SP4 0JF, Wednesdays, 7.30-9.30. We provide instruments and tuition free to our learners' band, so why not give it a try?
Posted: 24-Feb-2017
---

The Corsham Band
Required:
The band are currently looking to recruit either second or third cornet players to further strengthen our friendly and enthusiastic team. Why not come along for a blow and an enjoyable evening at one of our rehearsals.


Contact:
Please contact our Secretary: Becky Hazell on 07525-657587 or email her at:
Posted: 23-Feb-2017
---

Uppermill Band
Required:
Following the Area Contest, due to work commitments, 2 of our Players will be relocating. As a result an ASSISTANT PRINCIPAL CORNET and a further CORNET Player (position negotiable) will be required to complete our team. Rehearsals Mon & Wed 7:45-21-30

Contact:

We have enjoyable rehearsals with a strong work ethic to achieve.
Interested? Call in have a listen and a chat at the bar afterwards. You will be made very welcome. Contact:- John Ward Band Manager 07855 869295
Posted: 22-Feb-2017
---

Friezland Band
Required:
Friezland Band require Principal Cornet and Principal Euphonium players. A good opportunity for anyone to step up to a solo seat. Under new MD Max Stannard the band has rebuilt and discovered an exciting new repertoire and reasonable spread of concerts

Contact:
This friendly, non competing band have instruments available and rehearse at Uppermill Conservative Club, OL36AP on Thursday evenings 7.30 to 9.30. To enquire about joining please contact Alan Ryder on 07714409875 or email hello@ friezlandbrassband.co.uk
Posted: 20-Feb-2017
---

Poole Borough Band
Required:
Poole Borough Band are looking for a horn player and an Eb or Bb bass player to join the band after the area contest. We are a friendly second section band with gigs already in the diary for the summer season.

Contact:
Our rehearsals are on Mondays and Thursday from 19.45 to 21.45 at Poole RNLI Training College. Contact George Morley on for more information.
Posted: 19-Feb-2017
---

Stannington Brass Band
www.stanningtonbrassband.org.uk
Required:
Stannington Brass Band, Sheffield. 2nd Section National Champions, now 1st section from 2017. Ambitious,sociable band. MD Derek Renshaw. Due to changing work & personal circumstances we require: EEb bass or BBb bass. Current players flexible

Contact:
Email or phone Becky Ball on 07912 178441.
Visit our website and Facebook page for information about the band.
Rehearsals: Thursdays 8 pm to 10 pm & Sundays 7.30 to 9.30 pm

Posted: 17-Feb-2017
---

Elland Silver Band
Required:
We are looking to recruit a Solo Cornet player to start after the Yorkshire Regional Championships. The position would suit an experienced player or a talented young player looking to move to a Championship section band.

Contact:
Interested applicants should contact Sam Harrison in confidence on 07940 525837 or email . Closing date Friday 24th February.
Posted: 17-Feb-2017
---

East Yorkshire Motor Services Brass Band
Required:
Principal cornet player and tuned percussionist required for the ambitious Hull-based Championship band with top-class rehearsal facilities minutes from the motorway and Humber Bridge. Help given with travel expenses.

Contact:
Via the website or in confidence to the chairman Tony Newiss on 07710 667843.
Posted: 16-Feb-2017
---

Epsom and Ewell Silver Band
Required:
We are looking for a Principal Cornet to lead the line.

Contact:
Call the band hotline on 07908 855393 or e-mail
We rehearse Monday and Wednesday evenings from 8 to 10pm at Horton Park in Epsom
Posted: 16-Feb-2017
---

Epsom and Ewell Silver Band
Required:
We're looking to fill vacancies for Bb Cornet and Tenor Horn. And we are always on the lookout for competent Percussionists. But we are always happy to see new players on any instrument. Come down and see us for a blow.

Contact:
Call the band hotline on 07908 855393 or e-mail
We rehearse Monday and Wednesday evenings from 8 to 10pm at Horton Park in Epsom
Posted: 16-Feb-2017
---
---
4barsrest Classifieds
Dronfield Genquip Band
We are a Yorkshire 3rd Section Band conducted by Rob Straw and require the following players:. . Front Row Cornet. Trombone. ...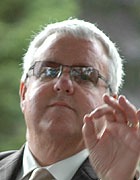 Ian Holmes
BA (hons), PGDip (RCM), ARCM, ALCM.
Conductor, band trainer, piano accompanist and teacher