/Vision: 4BR meets the UKs European Youth Band players
Thu, 28 Apr 2011 21:00:00 GMT
4BR meets the nine UK members of the European Youth Band to find out how they have enjoyed their Swiss musical experience.
Playing time: 00:04:36

View in high definition | See 4barsrest.com on Vimeo

SHOW ALL VIDEO
4barsrest Classifieds
Cheshire Constabulary Band
We are looking for a good cornet player who can make a real difference to our otherwise full band. Our smart friendly band ha...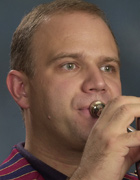 David Daws

Cornet tutor, Conductor