/Vision: English National - 4BR pre results opinion
Sun, 26 Jun 2011 12:00:00 GMT
4BR Editor Iwan Fox is joined by Alan Edmond and Chris Thomas to give their opinions on who they tip for the English National title before the announcement of the results in Preston!
Playing time: 00:02:15

View in high definition | See 4barsrest.com on Vimeo

SHOW ALL VIDEO
4barsrest Classifieds
Uppermill Band
Excellent opportunity waiting for you at Uppermill Band -1st Section. We have the following vacancies to complete our very c...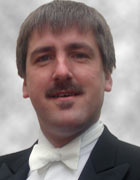 David Stowell

Conductor and composer