/Vision: 2010 National Championships of Great Britain:Interview with David King
Sat, 09 Oct 2010 17:44:00 GMT
4BR Editor Iwan Fox talks to Professor David King after he leads Brighouse & Rastrick to the 2010 National title.
Playing time: 00:04:52

View in high definition | See 4barsrest.com on Vimeo

SHOW ALL VIDEO
4barsrest Classifieds
Uppermill Band
Excellent opportunity waiting for you at Uppermill Band -1st Section. We have the following vacancies to complete our very c...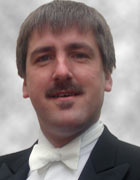 David Stowell

Conductor and composer