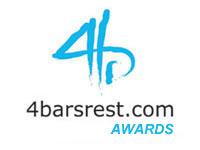 It's been a bit of an odd year, but one that has been very distinctive given its Celtic character. Who really would have thought it would have all turned out as it did?
As a result the Welsh fill up more places than their rugby playing counterparts for the British Lions - but it is very hard to argue against them.
Still, this one isn't down to Warren Gatland to sort out on this occasion, so give things a bit of considered thought when you look back over the year – as some unexpected delights may just pop back into the front of your mind.
This year there are 9 categories for you to vote on:

• Band of the Year
• Conductor of the Year
• Player of the Year
• CD/DVD of the Year
• Solo CD of the Year
• Lower Section/Youth Band of the Year
• Newcomer of the Year
• Test Piece of the Year
• Contest Performance of the Year
We make just the one accolade - the '4BR Special Award', which is given to the person or organisation that we believe has enhanced the movement with distinction in the past year or more.

This year we have awarded it to John Berryman for his immense contribution to the brass band movement.

• 4BR Special Award – John Berryman
Our nominations are just that: They are just our five/six choices in each category that we believe should be considered for a possible vote.
You do not have to vote for them, and we do give you the opportunity to make your own choice.
---
VOTING

However, please be sensible about it – we will ignore block votes if we feel someone is trying to usurp the democratic process.

• Go to Voting Form
You have up until 12.00pm on the 9th January to register your votes, and the results will be posted on the 4BR site on Friday 10th January
---
These are the winners since we started the 4BR Awards in 2001

Band of the Year:
2012: Foden's
2011: Brighouse & Rastrick
2010: Tredegar
2009: Cory
2008: Cory
2007: Grimethorpe Colliery Band
2006: Grimethorpe Colliery (UK Coal) Band
2005: Black Dyke
2004: Yorkshire Building Society
2003: Yorkshire Building Society
2002: Foden's Richardson
2001: Yorkshire Building Society
---
Conductor of the Year:
2012: Allan Withington
2011: David King
2010: Ian Porthouse
2009: Robert Childs
2008: Robert Childs
2007: Allan Withington
2006: Allan Withington
2005: Nicholas Childs
2004: Ray Farr
2003: David King
2002: Russell Gray
2001: David King
---
Player of the Year:
2012: Steve Stewart
2011: Glen Van Looy
2010: David Childs
2009: Mark Wilkinson
2008: Peter Moore
2007: Hans Gansch
2006: Katrina Marzella
2005: David Childs
2004: David Childs
2003: Martin Winter
2002: Morgan Griffiths
2001: Peter Roberts
---
CD of the Year:
2012: Masquerade - Foden's
2011: Only for You: The Music of Paul Lovatt-Cooper - Black Dyke
2010: Romeo & Juliet - Eikanger Bjorsvik
2009: Maestro - Foden's
2008: New Music for Brass Band - Foden's
2007: Vienna Nights - Black Dyke
2006: Heaton: Volume 4 - Black Dyke
2005: Tales and Stories - Eikanger Bjorsvik
2004: Music of the Spheres - Yorkshire Building Society
2003: Bourgeois in Brass - Yorkshire Building Society
2002: The Heaton Collection - Black Dyke and the ISB
2001: Butterworth - Black Dyke
---
Solo CD of the Year:
2012: Diamonds - Steven Mead
2011: Dreaming of the Masters - Jens Lindemann
2010: Moto Perpetuo - David Childs
2009: Salt of the Earth - Les Neish
2008: Audacious - Steven Mead
2007: Eminence - Richard Marshall
2006: The World of the Euphonium: Volume 5 - Steven Mead
2005: Blaze - Richard Marshall
2004: Legend - Peter Roberts
2003: A Winters Tale - Martin Winter
---
Lower Section/Youth Band of the Year:
2012: National Youth Band of Great Britain
2011: Bjorsvik Brass
2010: Hazel Grove Band
2009: Oldham (Lees) Band
2008: Smithills Schools Senior Band
2007: Sellers International Youth Band
2006: Pennine Brass
2005: Marsden Riverhead Brewery
2004: Smithills School Senior Band
2003: Smithills School Senior Band
2002: St. Dennis Band
2001: Peter Hawke Garages Lindley Band
---
Newcomer of the Year:
2012: Brass in Concert
2011: Venezuelan Brass Ensemble
2010: Exit Brass
2009: Lucy Pankhurst
2008: Paul Duffy
2007: Proms Brass Day
2006: English National Championships
2005: Brass Band Aid
2004: The National Children's Band of Great Britain
2003: Emma Farrow
2002: Simon Dobson
---
Test Piece of the Year:
2012: Goldberg 2012 - Svein Henrik Giske
2011: Breath of Souls - Paul Lovatt-Cooper
2010: Saint Saens Variations - Philip Sparke
2009: Titan's Progress - Hermann Pallhuber
2008: The Dark Side of the Moon - Paul Lovatt-Cooper
2007: Music for Battle Creek - Philip Sparke
2006: Vienna Nights - Philip Wilby
2005: Eden - Dr. John Pickard
2004: St. Magnus - Kenneth Downie
2003: Festival Music - Eric Ball
2002: Masquerade - Philip Wilby
2001: Albion - Jan Van der Roost
---
Contest Performance of the Year:
2012: Foden's - Daphnis et Chloe (National Championship)
2011: Cory - Red Priest (British Open Championship)
2010: Fairey (Geneva) - Eden (English National Championships)
2009: Fountain City Brass Band - Dreams (Scottish Open Championship)
2008: Eikanger Bjorsvik - Riffs & Interludes (Norwegian Championship)
2007: Brass Band Oberosterreich - Titan's Progress (European Championship)
2006: Black Dyke - Vienna Nights (British Open)
2005: Black Dyke - Journey to the Centre of the Earth (European Championship)
2004: Black Dyke - Montage (British Open)
2003: Buy As You View Cory - Revelation (European Championship)
2002: Yorkshire Building Society - Concerto Grosso (European Championship)
2001: Foden's - Les Preludes (British Open)
---
4BR Special Award:
2013: John Berryman
2012: Howard Snell
2011: Philip Sparke
2010: Scottish Brass Band Association
2009: Ian Williams
2008: Norwegian Band Federation
2007: Peter Roberts
2006: Markus Bach
2005: David Gallaher
2004: David Read
2003: Salvationist Publishing and Supplies Ltd
2002: Frank Hodges
2001: Alan Jenkins