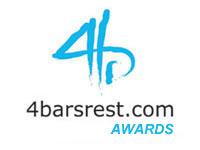 Thankfully, quality outshone quantity in the solo CD production stakes this year, with performers taking some welcome risks with the repertoire that they showcased.
Traditional values still shone through though at times - and it was good to hear that not every soloist simply relied on providing a mind numbing diet of pyrotechnics to show off their qualities.

These were the ones that stood out for us though.

Go to Voting:
http://www.4barsrest.com/awards/default.asp
---

Fortune's Fool
Harmen Vanhoorne
Brass Band Buizingen
Conductor: Luc Vertommen
Belfius Recordings: 88906-2
Total Playing Time: 67.11
A stunning solo recording from a stunning solo performer.
The intelligent selection of wide ranging and inventive repertoire showcased his immense abilities in full - the centrepiece of which was a magnificent rendition of the Nigel Clarke Concerto, 'Mysteries of the Horizon'.
As 4BR Editor Iwan Fox commented in appreciation of an outstanding release: "It is a blueprint of brilliance 21st century cornet players will find hard to emulate."

For full review go to:
http://www.4barsrest.com/reviews/cds/cd532.asp#.UsRG3fRdUg8
---

Handel to Valhalla
Ian Foster
Featuring: Low brass and piano accompaniments
Conductor: Richard Elliott
Wes Recordings: Wes001
Total Playing Time: 65.49
On the face of it a tuba aficionados niche delight - but in reality a superb exhibition of top class low brass playing from a performer of imposing authority and musical intellect.
What made it really enjoyable was the risk taking - from 'Gabriel's Oboe' to the Strauss 'Horn Concerto' - with the more obvious stops in between played with such élan that you couldn't help but smile at the daring.
As 4BR Editor Iwan Fox commented: "Foster revels in the risk taking jeopardy - emerging triumphant, the listener completely engrossed."

For full review go to:
http://www.4barsrest.com/reviews/cds/cd521.asp#.UsRJQ_RdUg8
---

Milestone
Mark Wilkinson
Foden's Band
Conductor: Michael Fowles
Doyen Recordings:DOYCD310
Total Playing Time: 69.17
A long overdue solo recording from a modest man with a world class cornet playing talent - something which he has shown in spades for over 21 years as principal cornet of Foden's Band.
The recording mirrors his own personality; understated, classy, poised, purposeful and downright impressive in every aspect that he showcases.

As 4BR Editor Iwan Fox stated in his review: "Wilkinson's cast iron technique is robust, malleable and unfailing; his musicianship refined, intelligent and above all else, cultured."
If only all cornet players were made like this.

For full review go to:
http://www.4barsrest.com/reviews/cds/cd529.asp#.UsRKffRdUg8
---

Salute to Sousa
Brett Baker (trombone)
John Wilson (piano)
White River Evocations: WR13-07
Total playing time: 78.53 mins
Brett Baker's insatiable recording appetite can leave you at times wishing less will give more - but when he does match up a great idea with equally great execution there are few better exponents of the art of 'show time' trombone playing.
Here he is perfectly at home with these unearthed gems from the past, playing with a polished élan in which he captures the sense of adventure whilst retaining their integrity with his obvious respect to the original exponents.
As 4BR reviewer Peter Bale remarked: "As a result, Brett Baker has done a great service in unearthing them once more – and in presenting them with such obvious relish and affection."

For full review go to:
http://www.4barsrest.com/reviews/cds/cd525.asp#.UsRMHvRdUg8
---

Songs from the Heart
Philip Cobb
The International Staff Band
Conductor: Dr Stephen Cobb
SP&S: SPS 305 CD
Total playing time: 65.15 mins
We missed out on this release at the end of 2012 but certainly took the opportunity to listen to it with relish in early 2013.
It was a delight - with playing that was the perfect balance of flamboyance and elegance from the principal trumpet of the LSO that it left you breathless in admiration.
It may sound a bit obvious now, but as 4BR reviewer Peter Bale stated, it was, "...a recording that should delight all lovers of world class musicianship as well as enhancing Philip's remarkable status as a performer." Not half.

For full review go to:
http://www.4barsrest.com/reviews/cds/cd522.asp#.UsROJvRdUg8
---

Stories of Life
Glenn Van Looy
Manger Musikklag
Conductor: Allan Withington
Doyen Recordings: doycd316
Total Playing Time: 71.45

Another remarkable display of the virtuosic talents of the Belgian euphonium superstar.
However, this release revealed a much more mature performer – and as a result it was an engrossing recording to listen to time and time again.
The contrasts were marked - with the technical flamboyance balanced with melancholic beauty and an engaging ability to make intriguing, rather austere repertoire sink deep into your consciousness.
As 4BR Editor Iwan Fox remarked: "The image may be different but the end result is the same."

For full review go to:
http://www.4barsrest.com/reviews/cds/cd548.asp#.UsRRLvRdUg8