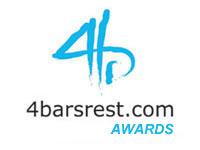 Perhaps it is getting harder to come up with brass band CDs that really capture the imagination.
However, after a somewhat disappointing 2012, the past year was considerably better in terms of invention and quality.
However, bands still need to up their game - and there were far too many non-descript, unimaginative releases that landed on the CD player in 2013, whilst a few others missed the opportunity to provide something truly memorable.

Once again there were plenty of worthy efforts (we reviewed 35 releases in total), but at £15.00 or more a pop, prices are now far too high for what are in many cases by no means a premium product.
No band DVD nomination from us this year as we felt none justified an inclusion. At best they were bland at worse they bored the pants off you.

Go to Voting:
http://www.4barsrest.com/awards/default.asp
---

Brass Blot
Contemporary Music for Brass Band
Stavanger Brass Band
Conductor: Allan Withington
SBB Recordings: SBB06
Total Playing Time: Approx 70 mins
An outstanding reminder that high class contemporary brass band writing can thrilling and engaging to listen to - especially when performed with such considered understanding by an MD and his band on the classiest of form.
4BR reviewer Chris Thomas certainly thought so: "As both an exploration of recent trends in Norwegian brass band music and a display of Stavanger's innate understanding of the contemporary genre, this recording is a triumph in every way possible."

For the full review go to:
http://www.4barsrest.com/reviews/cds/cd531.asp#.UsQ1f_RdUg8
---

Brass Taps
Superbrass
Conductor: Douglas Mitchell
Superbrass Recordings: SBCD02
Total playing time: 63.23 mins
High class brass ensemble playing at its very best – and delivered with a sense of wit and invention to boot.
Superbrass are not afraid to try something different (even the way they raised the money for the release) - and to do it without taking themselves too seriously either.
As a result they bring a sense of freshness and spontaneity that be submerged in the hands of others. Their class seeped through every musical pore.
This was a release that knew what it wanted to say from first note to last, and as 4BR reviewer Peter Bale stated: "With such a star studded line up of personnel, supporters should be guaranteed a successful return on their investment, especially as the end product is one of such startling virtuosity."

For the full review go to:
http://www.4barsrest.com/reviews/cds/cd546.asp#.UsQ2zfRdUg8
---

Electra
Black Dyke
Conductors: Dr Nicholas Childs & Dr Robert Childs
Doyen Recordings: CD311
Total Playing Time: 72.42
Black Dyke remains the busiest recording band in the brass band world – and whilst some of their lightweight output is rather churned out, at their best they produce recordings of immense substance and individuality.
This was one - helped enormously by repertoire that demanded retrospective appreciation and performances that offered such rich insight and sense of purpose.
As 4BR Editor Iwan Fox commented: "A fascinating quintet of mature compositions, performed with perceptive understanding makes this a truly distinctive release from Black Dyke."

For the full review go to:
http://www.4barsrest.com/reviews/cds/cd530.asp#.UsQ4gfRdUg8
---

When Worlds Collide
The Music of Nigel Clarke
Brass Band Buizingen
Conductor: Luc Vertommen
Soloists: Glenn Van Looy, Harmen Vanhoorne
Poetry: Martin Westlake
Narration: Frank Renton
BBU Recordings: BBU88931-2
Total Playing Time: Double CD 51.50 & 53.28

Perhaps the most distinctive and thought provoking release of the entire year.
Nigel Clarke is a composer that the brass band world would do well to draw close to the bosom once more as he provides a musical palette that paints the most vivid and imaginative musical portraits – from little green aliens in spaceships to surrealist artist Rene Magritte, Captain Kidd to submerged medieval villages.
His talent is appreciated elsewhere - most notably with his 2013 British Composer Award, and this remarkable release shows you why.
As 4BR Editor Iwan Fox stated in his review: "Nigel Clarke does indeed stand apart in the modern world of brass band composition – and this release proves it in full."

For the full review go to:
http://www.4barsrest.com/reviews/cds/cd537.asp#.UsQ73PRdUg8
---

In Tribute - The Music of Philip Wilby
Black Dyke Band
Music Director: Dr Nicholas Childs
Doyen Recordings: CD313
Total Playing Time: 65.48
The last CD to be reviewed by 4BR in 2013 – and one that was well worth the wait.
Away from the contest stage Black Dyke seemed a different band in the recording studio – especially when stimulated by such superb music.
The resulting performances were truly outstanding (especially a 'Masquerade' of immense character and juggernaut 'Revelation'), and given extra depth of understanding for the listener after hearing Paul Hindmarsh's revealing interview with the composer.
This was Dyke and their MD at their best – technically stunning, musically artistic and flexible.
As 4BR Editor Iwan Fox remarked: "...a release that leaves you rather breathless in anticipation of hearing the remaining British Open works of, '...Dove Descending', 'Vienna Nights' and 'Red Priest' delivered with tributes of such authority and understanding. "
Hopefully you won't have to wait too long.

For the full review go to:
http://www.4barsrest.com/reviews/cds/cd553.asp#.UsQ93_RdUg8
---

Words and Music
Cory Band
Conductor: Philip Harper
Doyen Recordings: DOYCD315
Total Playing Time: Approx 74 mins
Philip Harper certainly made sure he stamped his hallmark on Cory on the contest stage in 2013 - and with this release he did it in the recording studio too.
Even though the other substantial works featured are delivered with such a polished aplomb it is the performances of 'Eden' and 'Daphnis et Chloe' that are breathtaking by anyone's standard. Bold, confident, almost arrogant, it is brass band playing of the very highest class from first note until last.
As 4BR reviewer Chris Thomas stated: "It all adds up to a disc that showcases the banding world's undisputed number 1 ranked band at the very pinnacle of its powers."
You would be hard pressed to disagree.

For the full review go to:
http://www.4barsrest.com/reviews/cds/cd545.asp#.UsRAjPRdUg8