Saturday 22, 18:14:58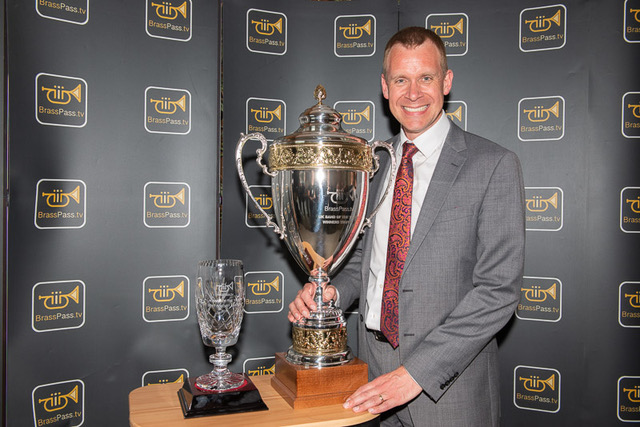 The winning MD and the Band of the Year haul for Cory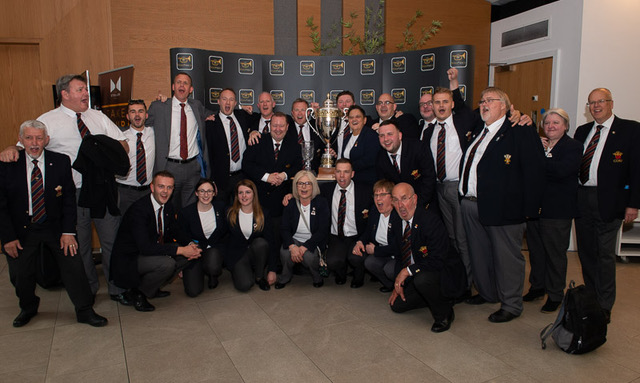 Band of the Year title heads to the world's number 1 ranked band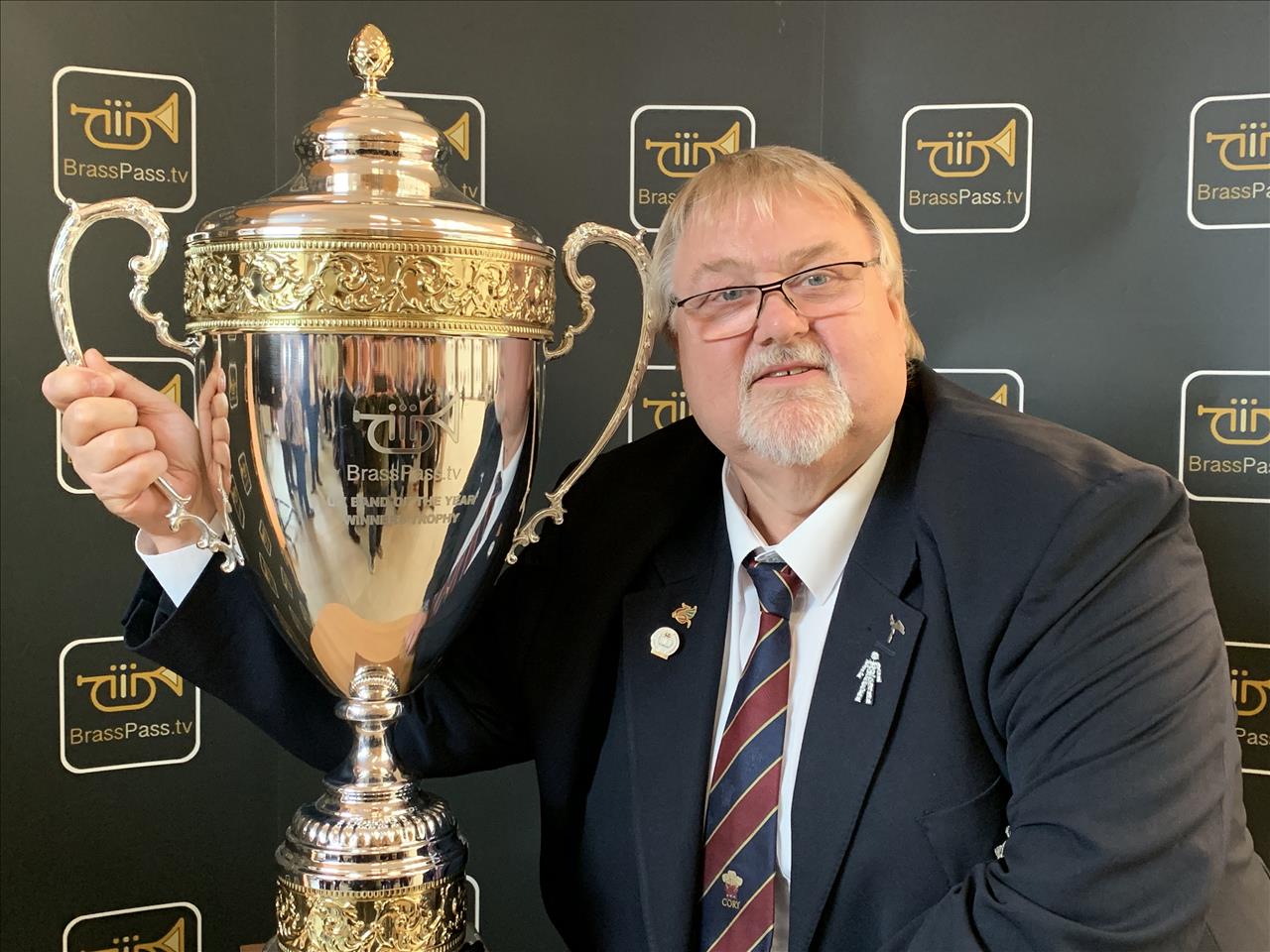 The smile says it all for Austin Davies of Cory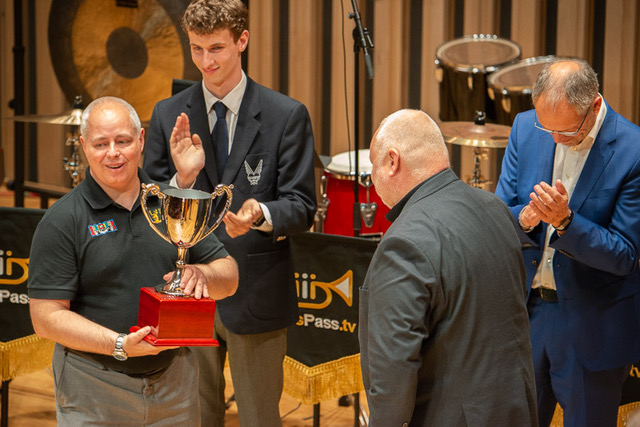 Runner-up Black Dyke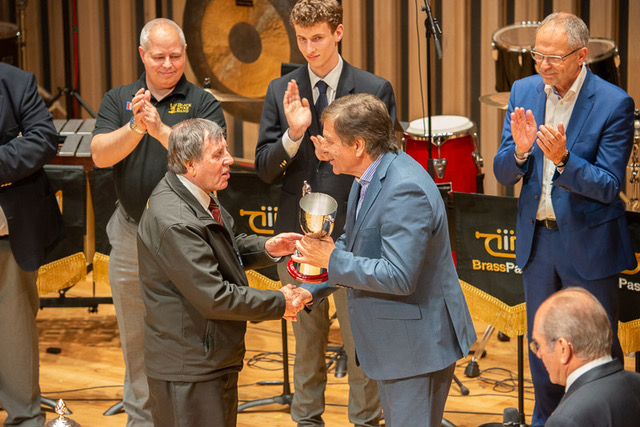 Third place for Tredegar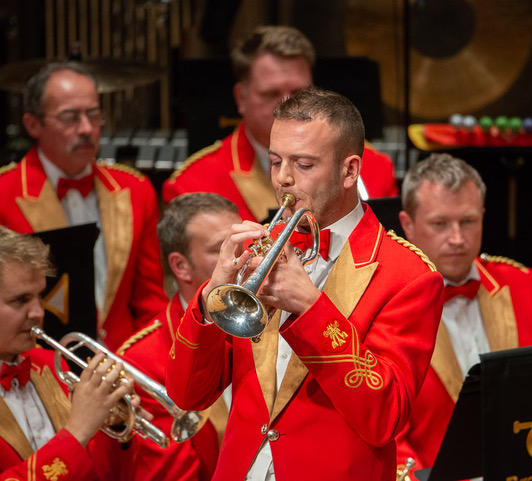 The Best Soloist was Tom Hutchinson of Cory

Images courtesy of Neil Brunsden at http://www.neilbrunsden.co.uk
Result:
Adjudicators: Jan De Haan, Tom Brevik, Reid Gilje
De Haan/Brevik/Gilje/(Soloist*) = Total
*only used in the case of a tie
1. Cory (Philip Harper) 1/1/1/(1) = 3
2. Black Dyke (Prof Nicholas Childs) 2/2/2/(2) = 6
3. Tredegar (Ian Porthouse) 3/3/3/(4) = 9
4. Fairey (Garry Cutt) 4/4/5/(7) = 13
5. Foden's (Michael Fowles) 5/5/6/(6) = 16
6. Carlton Main Frickley Colliery (Russell Gray) 7/6/4/(3) = 17
7. Brighouse & Rastrick (Dr David Thornton) 6/8/7/(5) = 21
8. Hammonds (Morgan Griffiths) 8/7/8/(9) = 23
9. Flowers (Mareika Gray) 9/9/9/(8) = 27

Best Soloist: Tom Hutchinson (Cory)
---
Saturday 22, 17:56:40
Final round up and prediction:
First and foremost this has been a very fine contest in which all the bands delivered playing of the highest class. Congratulations also go to the organisers for putting this event on so successfully.
The format of 30 minutes of 'serious' music puzzled a couple of bands in their selection of repertoire — even at the top end, but you can see how the contest could develop in future.
The top two were some distance ahead of the rest today — and interestingly were inspired by roughly the same ideas. It's the best we have heard Black Dyke for some time on a contest stage — they really were at the very top of their game, whilst Cory were also on supreme form.
It's nip and tuck between the two, with the Yorkshire band just getting the nod for us by the shortest of heads.
We thoroughly enjoyed Carlton Main and they deserve a mention in dispatches for the prizes, whilst Foden's, Brighouse and Tredegar are so close together but just had the occasional moments of unease that took the gloss off their excellent performances.
Our dark horse of Fairey may surprise a few today if the judges have really liked their traditional approach.
The solo award for us is a head to head between Katrina Marzella and Kirsty Abbotts.
4BR Prediction:
1. Black Dyke
2. Cory
3. Carlton Main
4. Foden's
5. Brighouse & Rastrick
6. Tredegar
Dark Horse: Fairey
---
Saturday 22, 16:51:17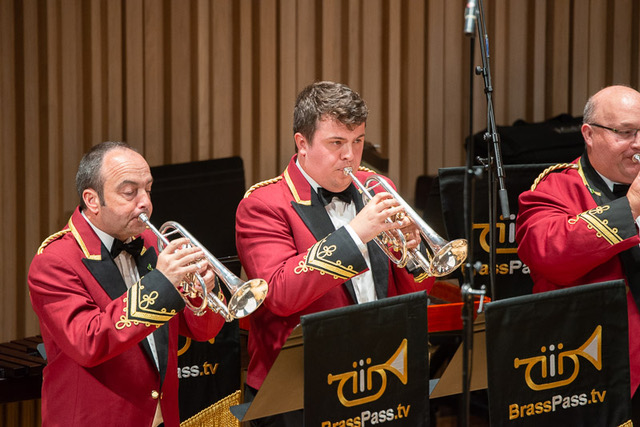 9. Tredegar (Ian Porthouse)
Phenomena Fanfare — On Themes by Gustav Mahler (Jacob Vilhelm Larsen)
Toccata: Oh The Blessed Lord (Wilfred Heaton)
Eyes of a Child (Kateryna and Svante Henryson arr. Jacob Vilhelm Larsen)
Soloist: Danny Winder
As If a voice were in them... (Oliver Waespi)
Such a bold opening — and something with an academic flavour. Polished playing this — with such a rich sheen to the ensemble sound and a razor edge to the precision. That made an impressive mark for sure.
Heaton's 'Toccata' is played with a compact ensemble cohesion and clarity of musical thought. Just the occasional smudge, but the passion and drama of the music is portrayed so well. The lean, sardonic wit is always present — dark and menacing.
It's followed by a quite sublime piece of flugel playing by Danny Winder — and its a a joy to hear such quality pianissimo playing from both the soloist and the band. The delicacy was beautiful; fragile, yet so secure.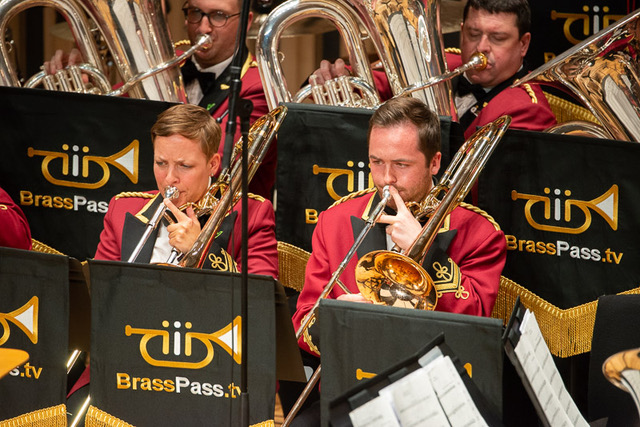 The Welsh take to the hills for the finale — and a scorching account of the Waespi. Its full of naivety to start, but then just drops a few tabs and all hell breaks loose. Great precision to the playing and the intensity in the ensemble sound is palpable, with a honking, funky swagger.
Lovely changes in style and what a great build to the choreographed twin choir ending — one that builds in passion and intensity with its bubbling undercurrent all the way to a glorious, bombastic ending.
Overall:
A very serious programme this played with serious intent by the Welsh Champion. Just the occasional flaw took a chip or two off the high class gloss, but this was a band playing with such intensity from the word go.
---
Saturday 22, 15:55:20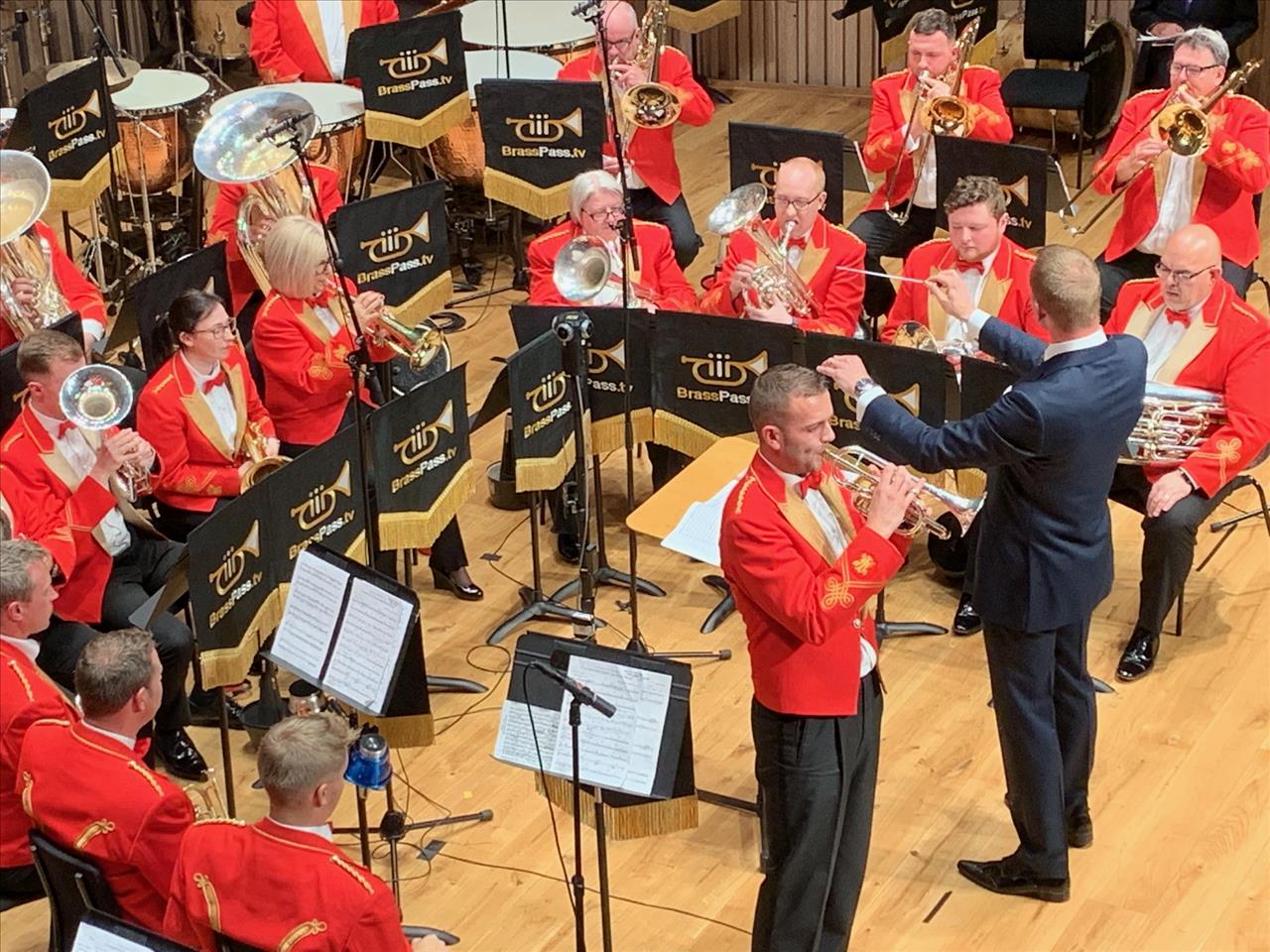 8. Cory (Philip Harper)
The Spaceman (T.J. Powell)
Cornet Concerto (Derek Bourgeois)
First movement
Soloist: Tom Hutchinson
Explorers On The Moon (Paul Raphael)
A rare outing for one of the great Welsh 'March King's' lesser known tub thumpers — with a bold and accurately paced 'The Spaceman' — delicately led by from the repiano chair. Great stuff that — played with authentic brio and character.
The scherzo, almost schizoid character of the opening movement of the Bourgeois 'Cornet Concerto' is delivered with stunning alacrity by Tom Hutchinson (not to mention some of bonkersly brilliant accompaniment).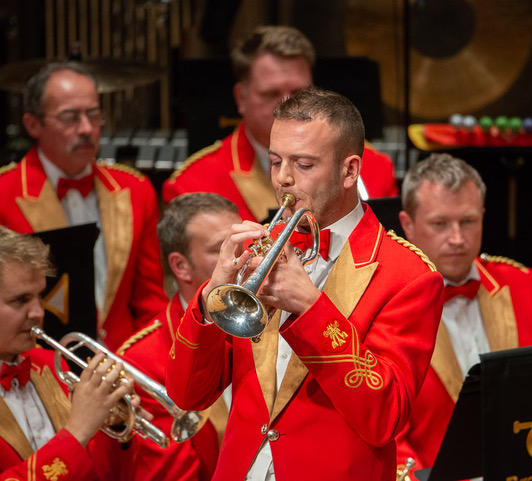 Not for the first time today it makes you a touch disappointed we don't get to hear the whole shebang — but this was some playing. What a player.
After Black Dyke's real life trip to the moon we get a reprise of the comic book capers on the lunar surface with the Belgian boy detective Tintin — and the follow up to 'Destination Moon' from the mysterious Paul Raphael (alright — not so mysterious now).
It's brilliant playing — the story-line clearly told in panoramic cinema style; full of drama, raw excitement, inter-galactic quotes and nods of homage. There is so much riveting playing on show (great perc in particular) — edgy, dark and cutting before it ended in glorious triumph.
Overall:
A different take on a theme by Cory. Don't quite know if it all hung together seamlessly in terms of inspiration, but the playing was out of this world at times.
The European champion dug deep into its reserves of power and sheer hutzpah today.
---
Saturday 22, 15:10:43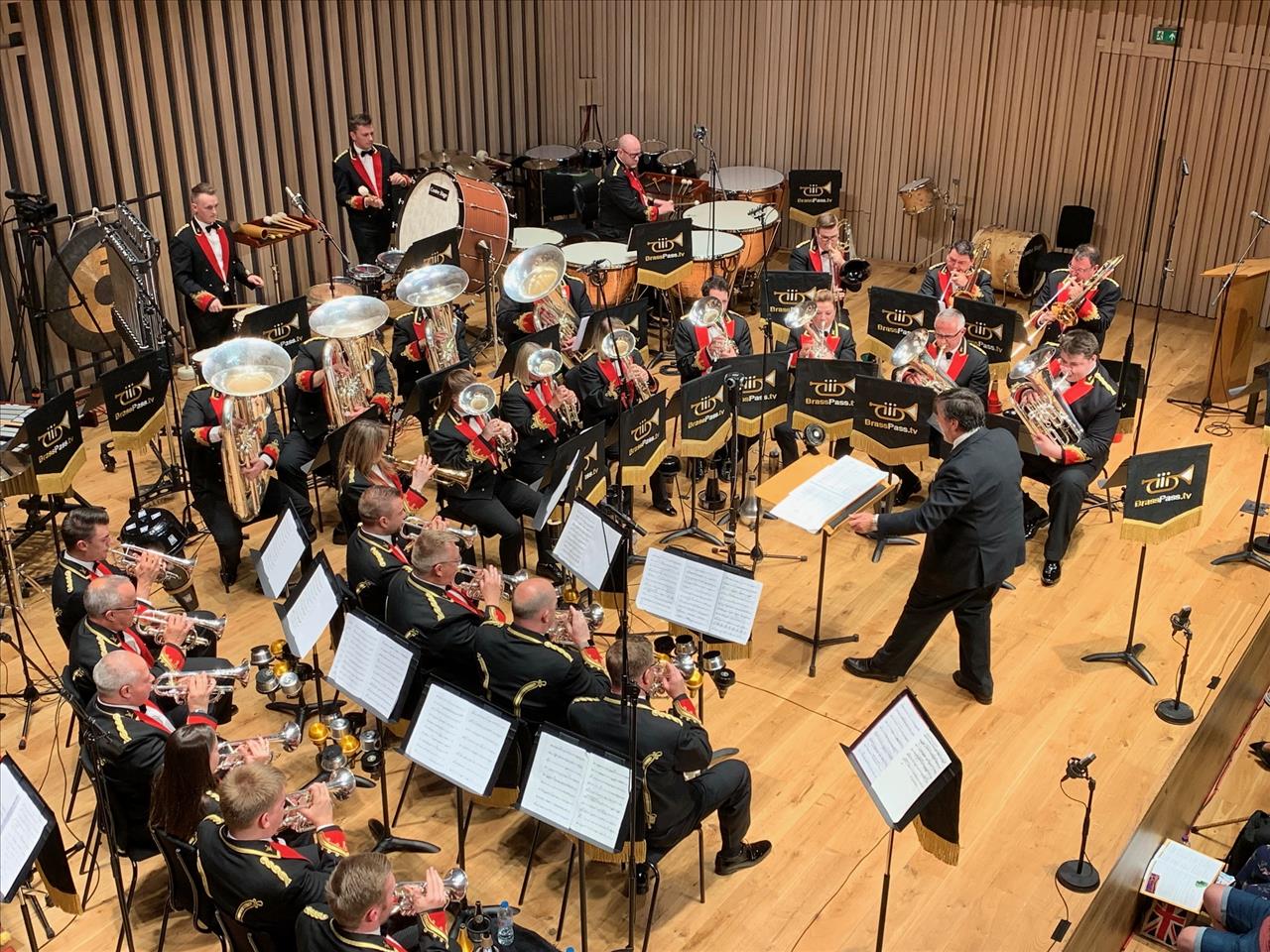 7. Black Dyke (Prof Nicholas Childs)
A Brighter Light (Philip Wilby)
Concerto for Baritone (Peter Graham)
Soloist: Katrina Marzella
Second movement — Tide
Third Movement — Torque
Heroes (Bruce Broughton)
A shaft of Wilby brilliance shines laser-like through the Queensbury band's opener — building from a lone cornet call of declamation and his complex weaving of elements. This was heavyweight muscular playing, but so lean you could see the ribs of the structure. The first opener to have a bit of the wow factor today.
The second and third movements of Peter Graham's 'Baritone Concerto' is a showcase for the remarkable talents Katrina Marzella: 'Tide' based on the central section of 'Harrison's Dream' and paying tribute to the heroic, if lonely Grace Darling — the shifting sands of still tides evoking the isolation of the lighthouse keeper's daughter.
The third section is a joyful romp of 1920s character with a touch of waspish fizz and drive. It's wonderful playing (all from memory) — that made you yearn to have heard the whole concerto. Bravo — that was stunning playing.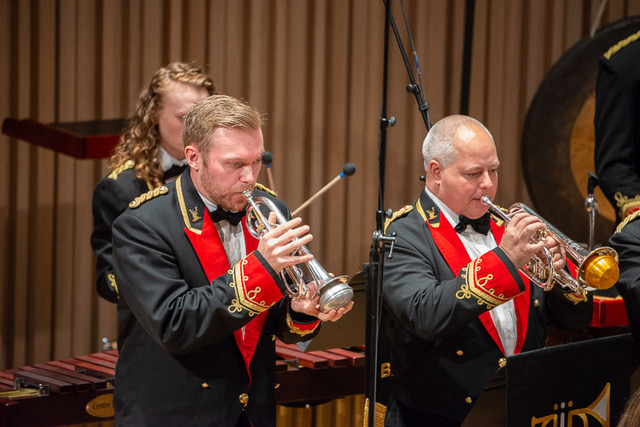 The finale is inspired by the Apollo 11 trip to the moon and is a triptych of delights — from the powerhouse 'ignition' phase, through the desolate beauty of 'tranquillity' (made up of a series of tender vignettes and some fantastic triple piano plying) to the triumphant return to earth of Armstrong, Aldrin and Collins — blazing a trail of fire across the sky.
A composition that told the tale with such musical focus and classy execution. Dyke could have planted the Yorkshire flag on the moon here.
Overall:
Black Dyke back at its very best today — and on a trio of world premiere performances too.
The Wilby set the tone, followed by the superb Katrina Marzella and then a work of cinematic drama and scope condensed into around 15 minutes of brilliance to round things off.
---
Saturday 22, 14:26:42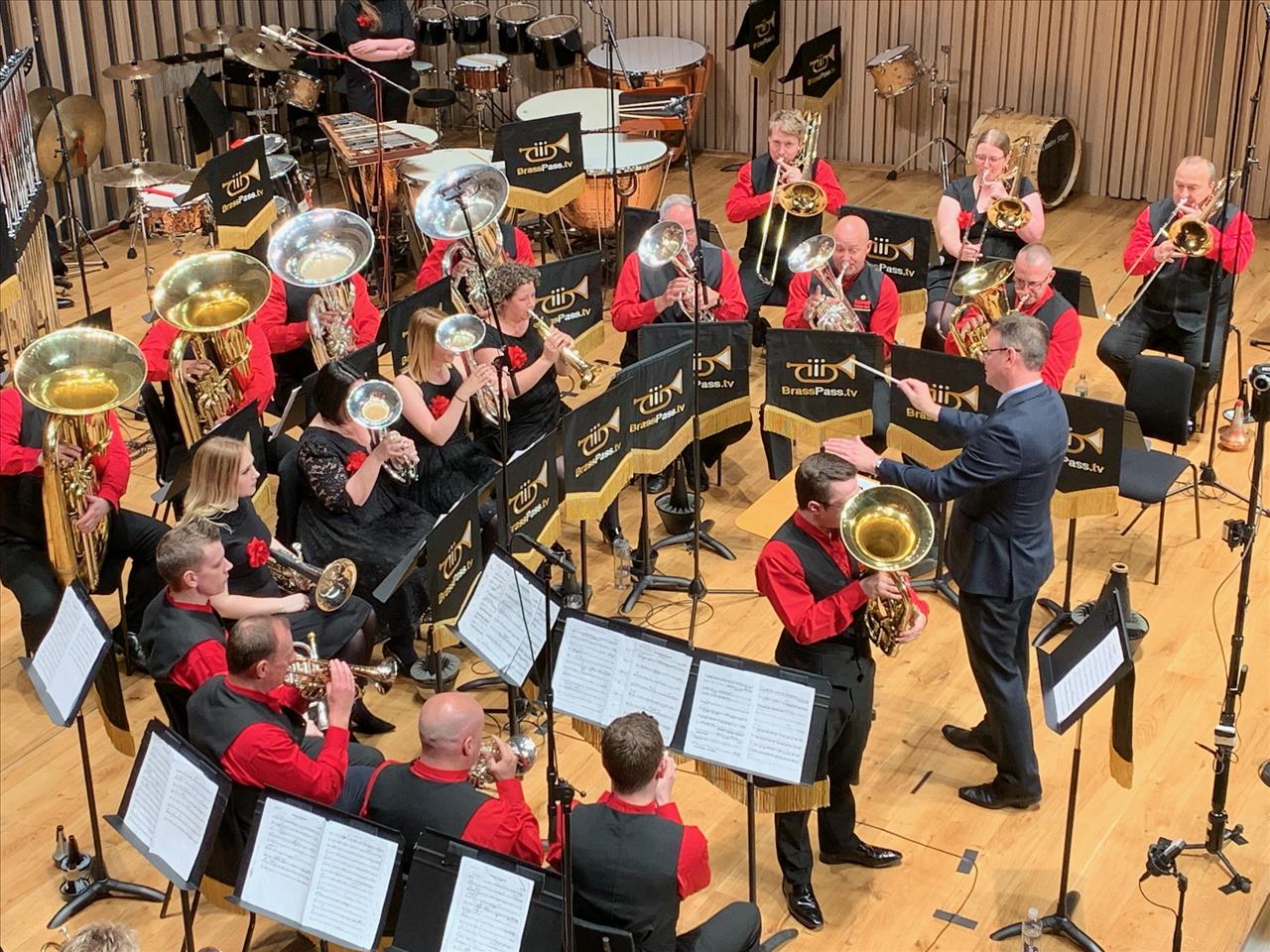 6. Hammonds (Morgan Griffiths)
A Short Ride in A Brass Machine (Andrew Baker)
Fantasie Brillante (J.B Arban, arr. Kevin Edwards)
Soloist: Ashley Higgins
The Triumph of Time (Peter Graham)
A real fizzer of an opener, played with a fair degree of verve and panache. A little lightweight perhaps, but there was a lean muscularity about the ensemble and a pulsating energy all the way to the close.
It's followed by an old pot-boiler played with youthful endeavour and brio by a young man with a big a big future ahead of him in Ashley Higgins. It's a bit hit and miss at times, but its like hearing a chip off the old Morgan Griffiths block in terms of his lovely sound and style.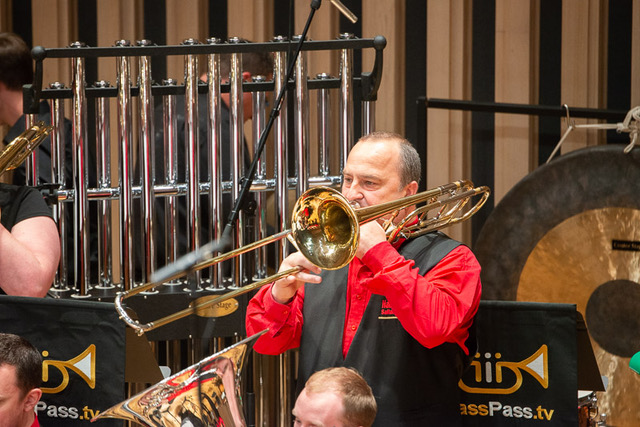 Hammonds opt for a touch of time travel with their finale — with Peter Graham's affectionate, but bloody rock hard virtuosity showcase. Like the brace that preceded it, the playing was full of vim and vigour, endeavour and no little sparkle and style around the stands. The solo trom trilled like a budgie on speed (brilliantly so) and both flugel and horn were classy.
Just got a little tired in the final quarter, but the stylish endeavour or musicality never faded.
Overall:
A hard working triptych of pieces from the Yorkshire outfit that showcased both their strengths and weaknesses in comparison to a very high-class field of rivals.
They didn't fall too far short, thanks to their collective spirit and excellent direction from the middle, but they will know what they will need to do to make the step in class in future.
---
Saturday 22, 14:01:14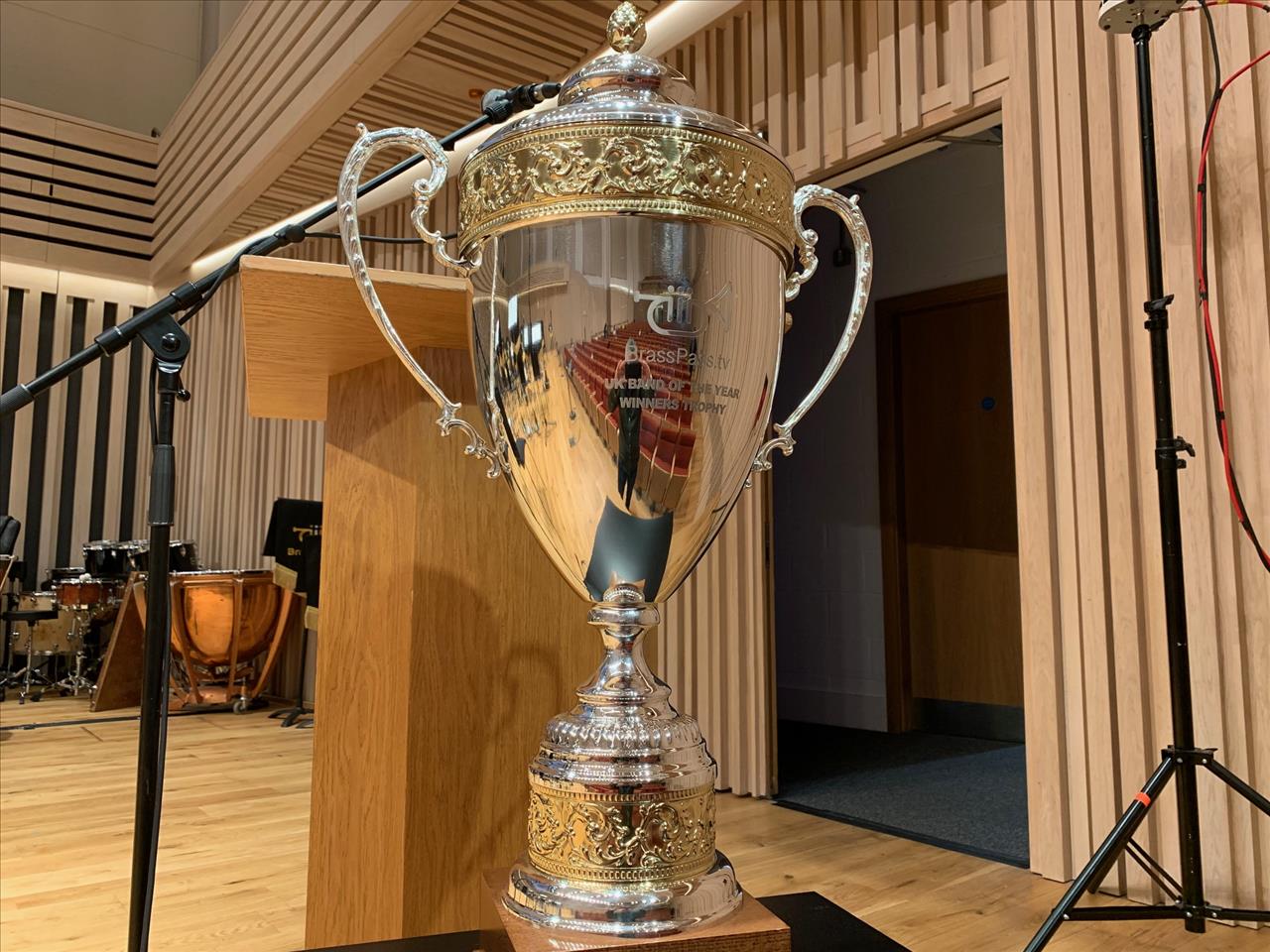 Halfway pointers and prediction...
It's certainly been a hugely entertaining first half here at Stoller Hall — with plenty of debate about just how the bands themselves have approached the contest.
To be fair to the organisers they made it clear that there is no entertainment factor as part of the event, so it seemed a little curious that a couple of the openers would perhaps have been more at home at Brass in Concert.
A question mark also over cutting a movement from a featured concerto too — and there a few of these today.
The quality of the playing though has been excellent — such polished, high class stuff from all the ensembles and soloists.
As for a leader?
Carlton Main may just have the edge for us so far from Foden's and Brighouse. Three very different programmes and inspirations — all high class, and just a hairsbreadth between them. More to come after the break.
4BR Prediction:
1. Carlton Main
2. Foden's
3. Brighouse & Rastrick
---
Saturday 22, 13:03:09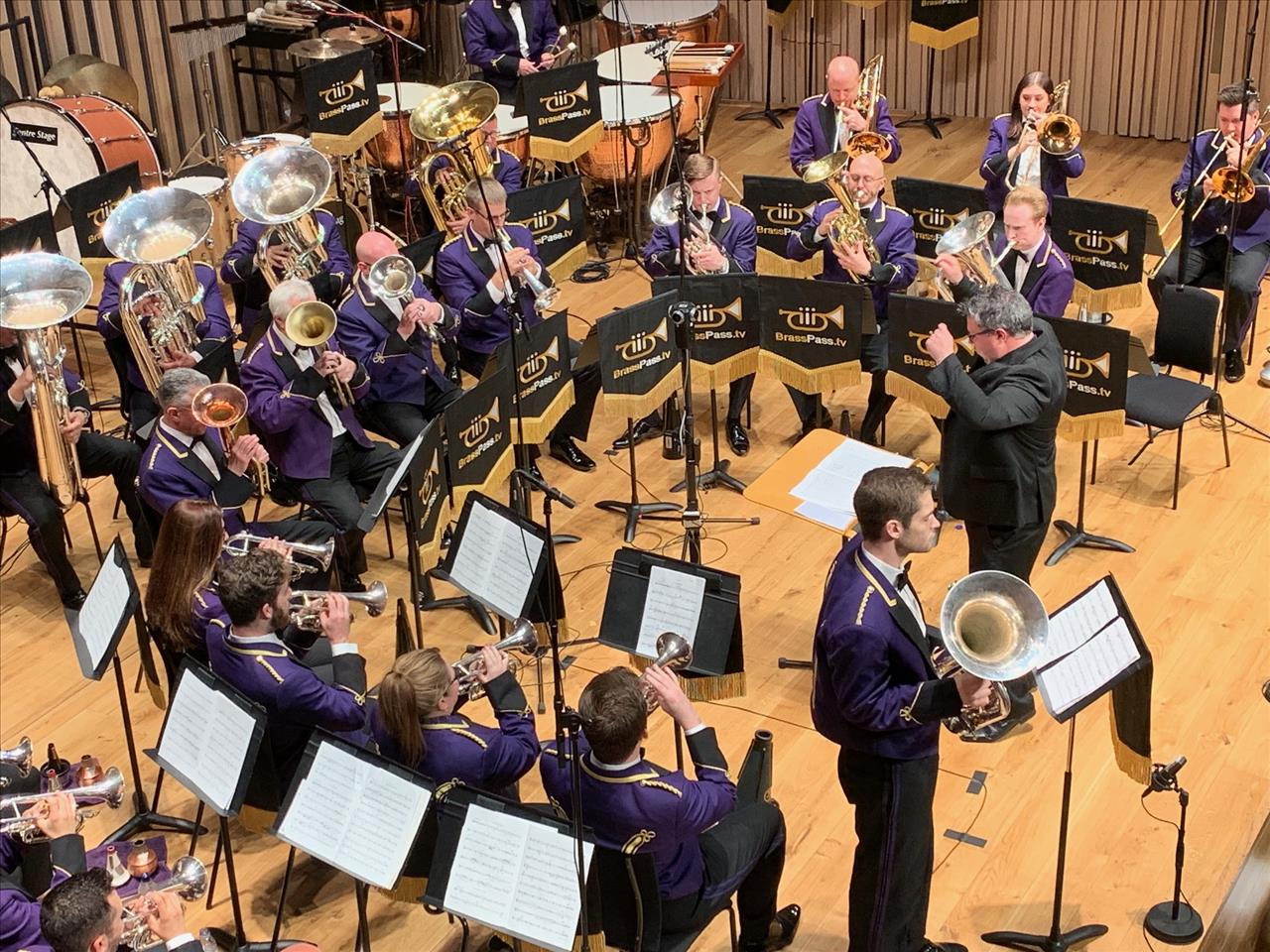 5. Brighouse & Rastrick (David Thornton)
Knight Templar (George Allen)
Blue Rider (Kit Turnbull)
Second movement — Several Circles (1926)
Third movement — Composition VIII (1923)
Soloist: Chris Robertson
A Lowry Sketchbook (Philip Wilby)
As traditional as it comes from the West Riding stars — with a fluid tub-thumper of a great march. The modern day fancy for more drawbacks on a phrase ending than Boris Johnson's Brexit plans is perhaps a question mark over Whit Friday authenticity, but it worked.
A significant change in stylistic direction with the bold choice of solo repertoire inspired by the works of the painter Kandinsky. Just the question mark over whether cutting a movement from a Concerto such as this makes it unbalanced, but the playing from the talented soloist was marked with such mature virtuosity.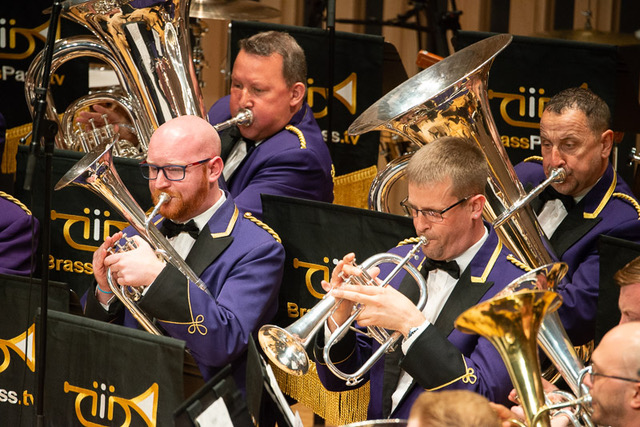 A classic piece of Wilby to close — and it was so good to hear it played with such understanding by the band. A great reading from the MD that combined dark energy and mechanical precision in the opening with a wonderfully tender nostalgia in the portraiture of the second. That was sepia tinted music making.
The famous finale is played with free spirited joie de vivre as they say in these parts. Got a little fevered and untidy in places, but the energy never dissipated and the close was driven at whiplash pace.
Overall:
Interesting choices of repertoire from David Thornton and Brighouse — and made all the more intriguing by the way in which they delivered them. A few question marks hang over each piece — but the overall package was one of such high quality polish and deep seated musicality.
---
Saturday 22, 12:58:44
#boty2019 Overall, a simply superb show from @CMFCB, oozing with musicianship and excellent band playing, with some inspired direction from Russell Gray. Not without its slight slips, but that has certainly made a mark for us. Next up @briggusbb!

— Brass Band World (@BBWMagazine) June 22, 2019
---
Saturday 22, 12:13:00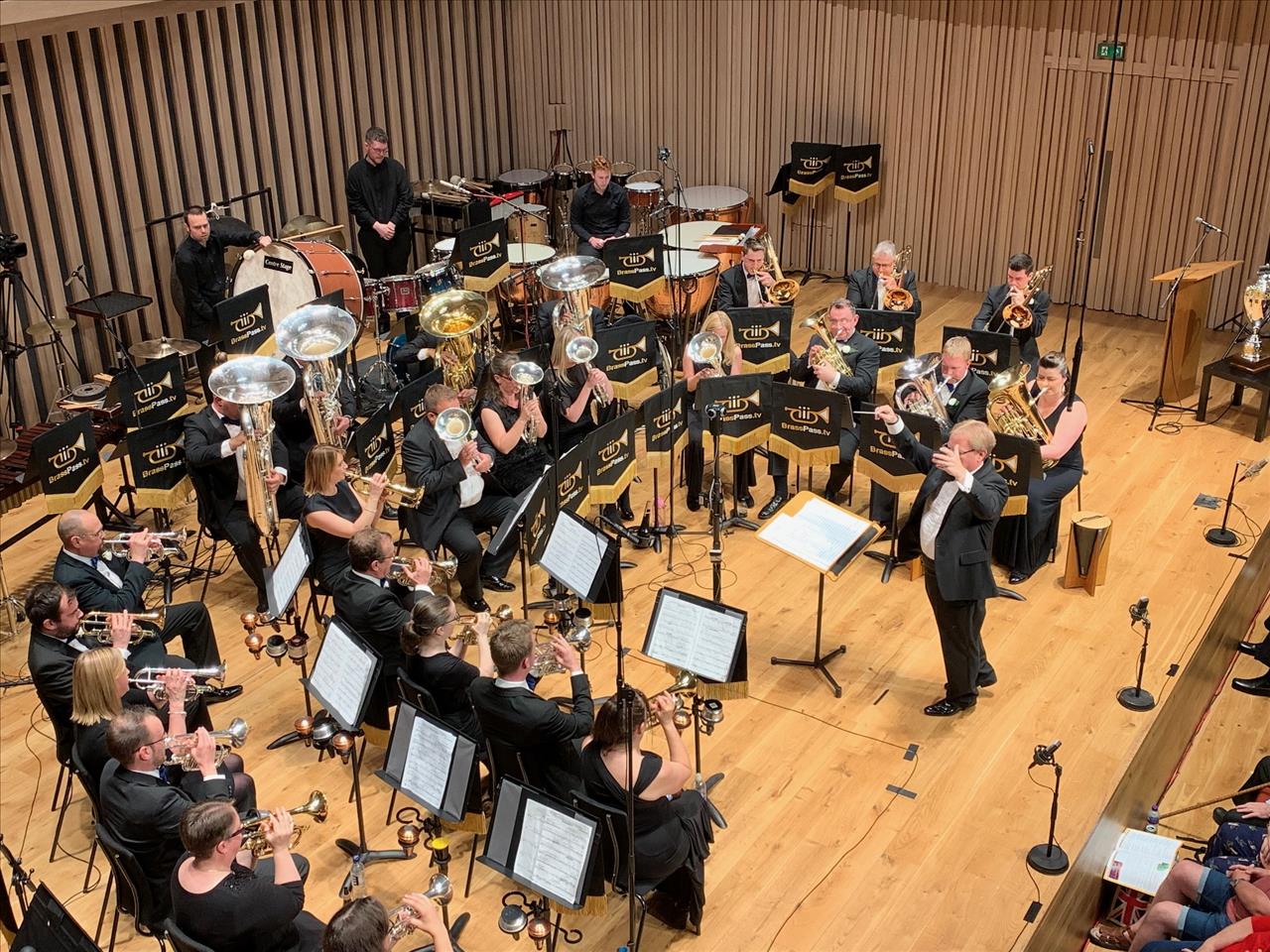 4. Carlton Main Frickley (Russell Gray)
Into the Stars (Ben Holling)
Song from 'Milestone' (Peter Meechan)
Soloist: Kirsty Abbotts
Fraternity (Thierry Deleruyelle)
It's lift off with all Saturn V engines at full beanz with the opener — inspired by the Apollo 11 mission to the moon. It's dramatic, feverish playing with a huge underpinning foundation from the tubas and percussion.
The audience here can count itself very fortunate that it has heard one of the great lyrical cornet players of the modern banding age with Kirsty Abbotts on sublime form on Peter Meechan's melancholic 'Song'. There is such a tenderness to her tone, even when projected at the top of her dynamic range. Such cultured beauty.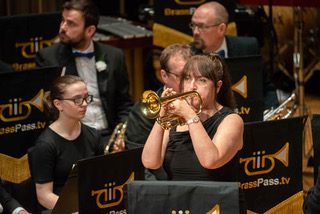 Carlton Main pay homage to their mining tradition with their major work — and the darkest of anthracite coal bleakness permeates the foreboding air at the beginning of 'Fraternity'. There are great shifts in power and style to follow — from industrious hints of Dukas to the vicious power of the explosion and the sense of fatefulness.
Just lost some precision and clarity in places, but it was so energised and dramatic. The aftermath is so well portrayed too — a respectful sense of grieving and then emerging hopefulness. The hymn to follow was gloriously constructed all the way to a wonderful ending.
Overall:
What a fine set from Carlton Main and their MD — one that offered contrast in style and execution. The focal point was the sublime cornet solo, but the opener offered boldness and the test-piece was delivered with such a mature sense of musicality by the MD and his band.
---
Saturday 22, 12:11:32
#boty2019 @TheFaireyBand's last item is the final 2 movts from Snell's Gallery. Nimble, dancing lines develop into the grand sweeping lines of the finale. The colossal climax has the audience cheering. One wonders why they didn't play all of this wonderful piece of music?

— Brass Band World (@BBWMagazine) June 22, 2019
---
Saturday 22, 11:21:25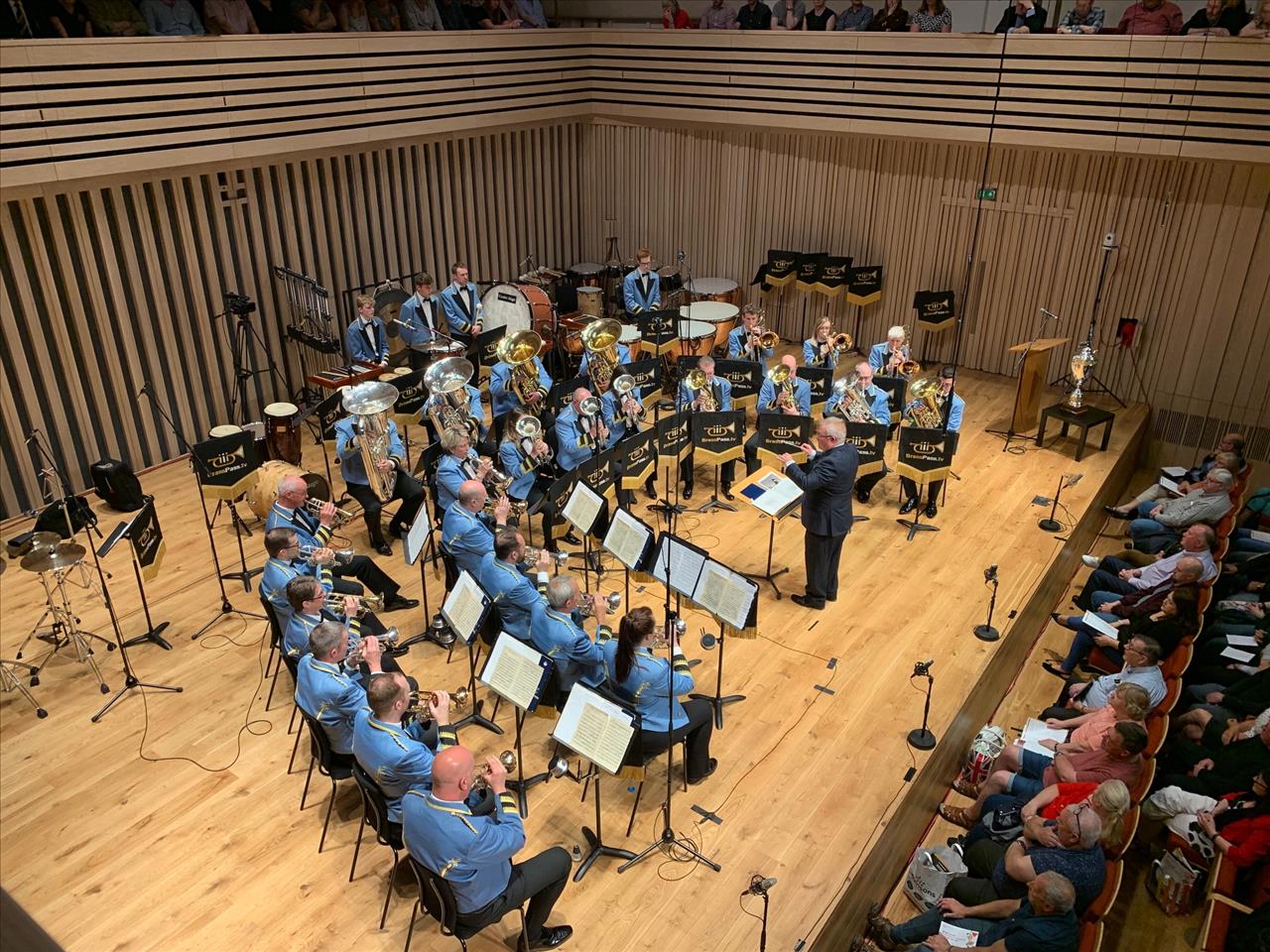 3. Fairey (Garry Cutt)
Le Corsair (Hector Berlioz arr. Geoffrey Brand)
Follow the Flame (Peter Graham)
Soloist: Lucy Cutt
Resurgam (Eric Ball)
Final two Portraits from Gallery (Howard Snell)
The Marple Maestro opts for tradition and the florid Gallic virtuosity of one of Hector's great 'amuse bouche' overtures — played with more than a hint of garlic flavoured turbo booster exhaust fumes. Showcase stuff from the Stockport band and their little Napoleon at the helm.
Lucy Cutt is the touching lead line in the extracted snippet from Peter Graham's 'Torchbearer' test piece. The hints of 'High Peak' permeate the air with the soloist providing such a burnished focal point of lyricism at its core. Lovely playing.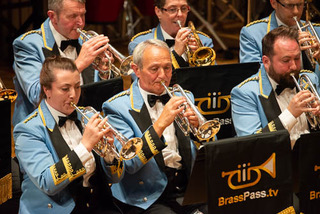 Garry Cutt opts for hallowed brass band contest ground with 'Resurgam' — a work that he knows so well. It is shaped with a tender hand too — lovingly so with its broad lines and deep resonant sounds in a performance of considered pathos. Death comes knocking somewhat politely it must be said, but it leads to a close of ethereal beauty.
The last two movements from Howard Snell's 'Gallery' seem a curious insert to finish the programme — but certainly offer contrast. The Matisse 'Cut-outs', with its jagged edges and vibrant colours sits pretty in a slightly uneven collage and the huge landscape sounds with the final section — building with intensity to a glorious peak.
Overall:
A very idiosyncratic take on the 30 minute set from Garry Cutt and Fairey — very traditional in hue and colour until the last course which somehow didn't quite work as a contrast or in isolation. What they did best was what the MD has become renowned for though.
---
Saturday 22, 11:18:30
#boty2019 @TheFlowersBand opt for Wilby's 'Ascension' to close. A fiery opening, with excellent solo lines as the work progresses (euph is superb in his lyrical solo). The ensemble works well, never holding back with the dynamic. A grand, soaring ending!

— Brass Band World (@BBWMagazine) June 22, 2019
---
Saturday 22, 10:42:02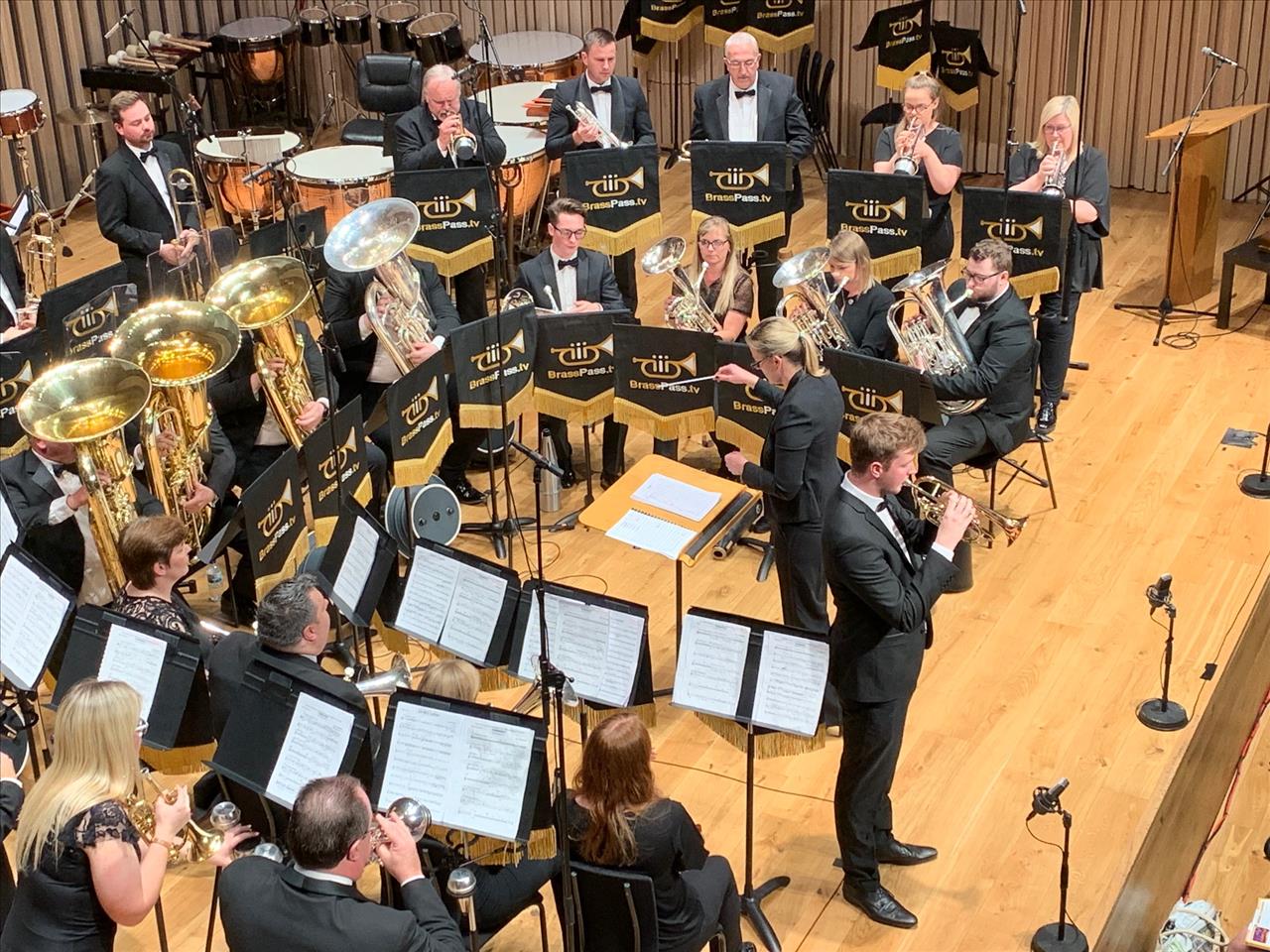 2. Flowers (Mareika Gray)
Jacob's Ladder (Jonathan Bates)
Threnody (Ben Hollings)
Soloist: Thomas Fountain
Ascension (Philip Wilby)
Flowers open with the familiar fizz of Jonathan Bates — bold and purposeful in its acclamation of the Angelic hordes racing up and down the holy ladder to the New Jerusalem. They were a muscular bunch of flyers by this account — all bulging wing tips and steroid enhanced halos. It made its mark for sure.
Thomas Fountain is the lyrical lead in the paean to loss in Ben Hollings' 'Threnody' — played with such tasteful appreciation of line and phrasing. Some bold accompaniment, but it was warm and balanced. A fine player Mr Fountain, a very fine player indeed.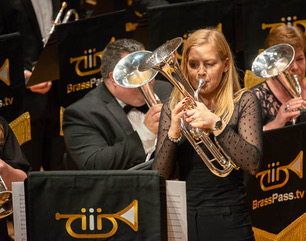 Philip Wilby's descriptive 'Ascension' provides a neat circular completion of the Jacob's Ladder inspiration first touched on with the opener. Heard this work in Switzerland a few years ago and it has gone under the radar since — a real pity.
It's mature Wilby — the familiar tropes (and choreography) congealed with such craftsmanship and structured understanding — drawing power and pathos from the score — the ascending and descending souls sent to heaven or hell.
More familiarity in the second half of the work that builds to a resounding close (and the composer can't half write a big finish). Just gets a little raw in places, but it imposes its musical message to the very top rung of the holy ladder.
Overall:
An engaging set from Flowers played with bold purpose and confidence. Hugh plaudits for the conductor who did such a fine job keeping things under a tight but considered leash.
---
Saturday 22, 10:38:52
#boty2019 @fodensband finish with 'Fraternity'. The opening is wholly convincing & soloists do well. 'Extracting the coal' is a masterclass in accuracy & excitement! 'Firedamp' continues this energy, before a well balanced 'Prayer' builds to a monumental finale. Very enjoyable!

— Brass Band World (@BBWMagazine) June 22, 2019
---
Saturday 22, 09:44:42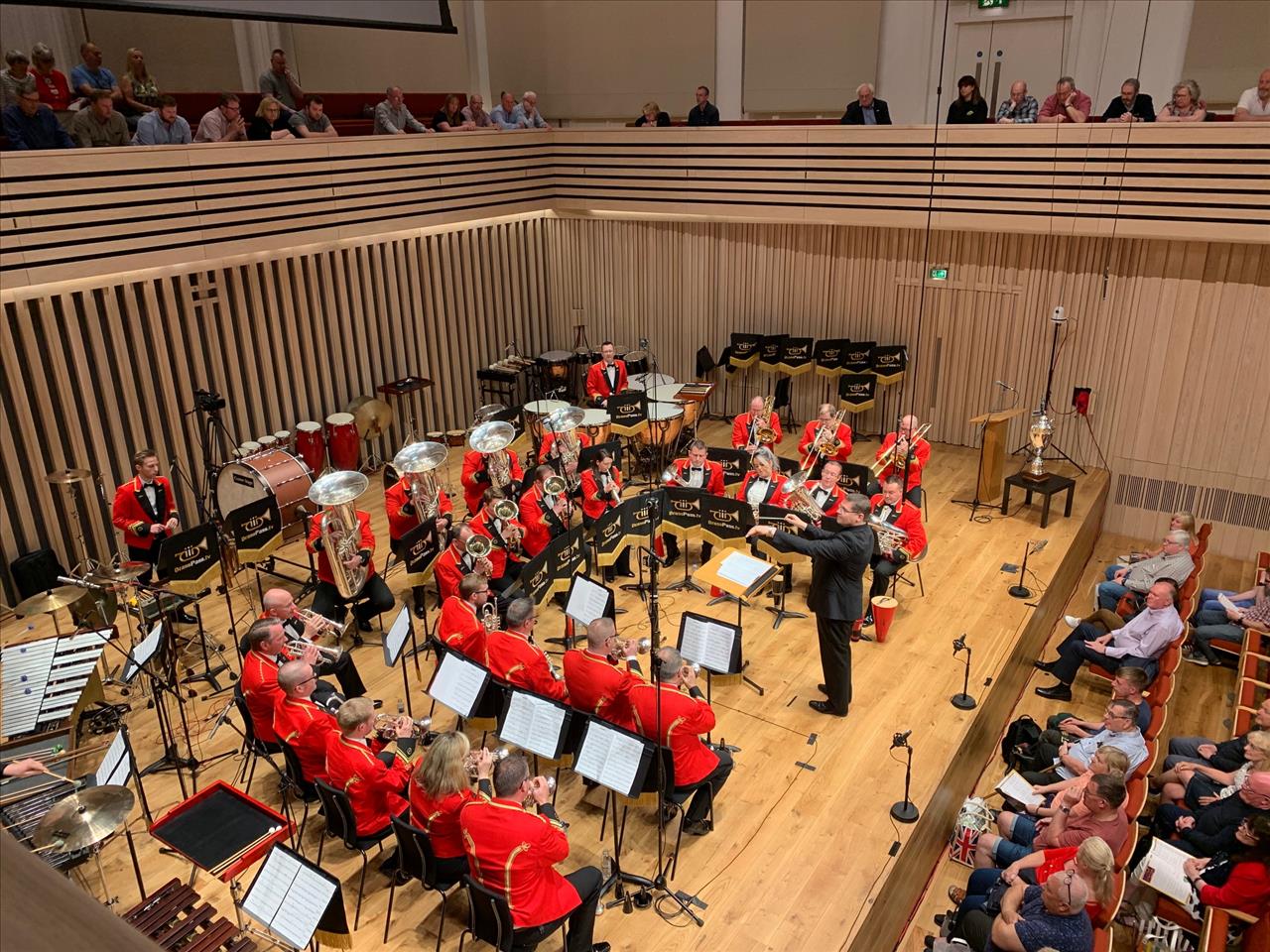 1. Foden's (Michael Fowles)
Masque (Kenneth Hesketh)
Vallfickens Dance (Hugo Alven, arr. Frode Rydland)
Soloist: Gary Curtin
Fraternity (Thierry Deleruyelle)
Foden's get off to a flying start with the revelry and panache of Kenneth Hesketh's opener, played with a lean vivacity and purposeful drive. Lots of early morning energy and waspishness leading to the thumping close.
Gary Curtin is the impish lead in the solo feature that follows — a little Tinkerbell of jumps, flips and arpeggio tricks played with such alacrity and wit. Super playing that — classy lightness that brings deserved applause. All that was missing was the Red Bull wings to make him fly...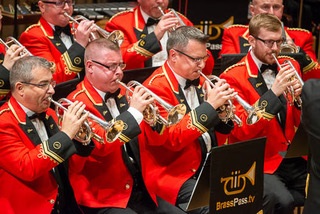 Foden's close with an evocative rendition of 'Fraternity' — not perfect by any means, but full of foreboding, drama, visceral energy, destructive power and ultimate redemption. The texture of the music was enhanced by some super perc playing and there was a transparency to the ensemble balance.
Each chapter of the narrative was brought to life — and there was a longing beauty to the hymn played with liquid warmth. The close was a passionate affirmation of communal endeavour.
Overall:
A fine start to the contest with a high-class triptych set from the National Champion. Not always razor sharp in precision and clarity but the underlying quality was always evident with such a resonant tonality and a sense of style. A high bar has been set.
---
Saturday 22, 09:40:49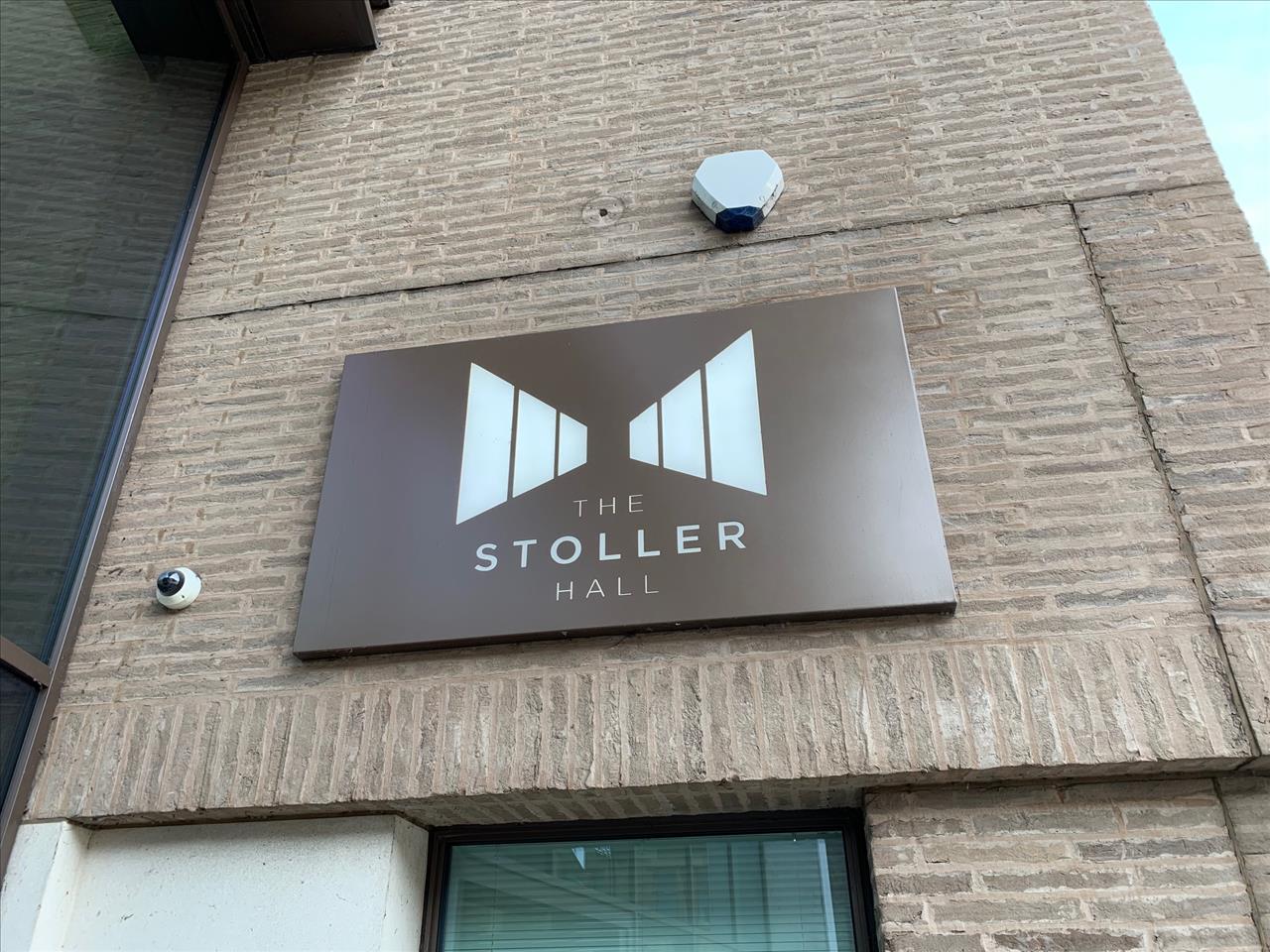 Welcome to Manchester...
The omens are good it seems as the sun is shining and the audience is already trickling into the hall.
There is a great deal of expectation about this event and it has certainly attracted visitors from far and wide — with quite a few overseas faces present.
It all kicks off at 10.00am with Foden's.
The format is that each band has to present a 30 minute programme of serious music — there is no entertainment element — with the judges marking the bands individually in order of preference from 1 to 9.
The lowest combined score wins, but in the event of a tie it is the separate placement of the soloist in the judge's opinion that takes preference.
---
Saturday 22, 04:12:18
Contest draw
Own Choice Programme
Commence: 10.00am
Adjudicators: Tom Brevik, Reid Gilje, Jan De Haan
1. Foden's (Michael Fowles)
2. Flowers (Mareika Gray)
3. Fairey (Garry Cutt)
4. Carlton Main Frickley Colliery (Russell Gray)
5. Brighouse & Rastrick (Dr David Thornton)
6. Hammonds (Morgan Griffiths)
7. Black Dyke (Prof Nicholas J Childs)
8. Cory (Philip Harper)
9. Tredegar (Ian Porthouse)