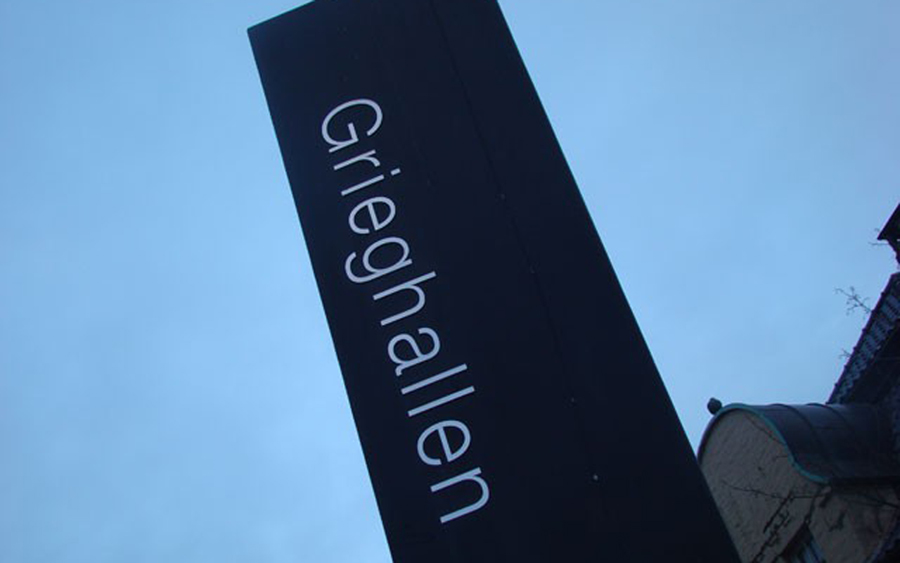 A monument to banding pragmatism

Norway is certainly one country that seems to be doing rather well for itself through an arms-length relationship to Europe.
It's the same with their banding: In, but not in, so to speak - abiding by some, if not agreeing with all the rules that govern the contest trade routes whilst retaining an independence to decide on its own tariffs to protect indigenous musical producers.
League of their own
As pragmatism goes, the Norwegians are in a league of their own. Theresa May should come along to the Grieghallen this weekend to pick up a few tips on how to keep people happy.
It's an approach that has enabled the Norwegian Music Federation to impose a three-month residency rule to protect against the 'illegal' contest day influx of foreign players.

On the other hand it also allows Norwegians to argue their case for the need for extra numbers if they are to compete at the British Open.
It's an approach that has enabled the Norwegian Music Federation to impose a three-month residency rule to protect against the 'illegal' contest day influx of foreign players.
Take for instance that question of residency. Sounds very fair that - stopping bands from giving themselves an artificial player doping boost. It doesn't apply to conductors though.
It's the same with medical issues; a generous interpretation of which has in the past enabled bands to be given assistance when seemingly struck down by the contesting day equivalent of Munchausen Syndrome, as well helping more obvious cases of those facing serious problems.
And then there is the adjudication process employed at the Elite level here. Set-test closed, own-choice open: A particularly fine example of keeping both traditionalists and modernists happy.
Side of the fence
Supporters hail Norwegian banding pragmatism as an example for others - the British included, to follow. Cynics however may call it nothing more than self-interest.
Whichever side of the fence you may fall into, it's undoubtedly one of the many reasons why a visit to the Norwegian National Championships should be a must for anyone with an interest in the future development of pan-European banding.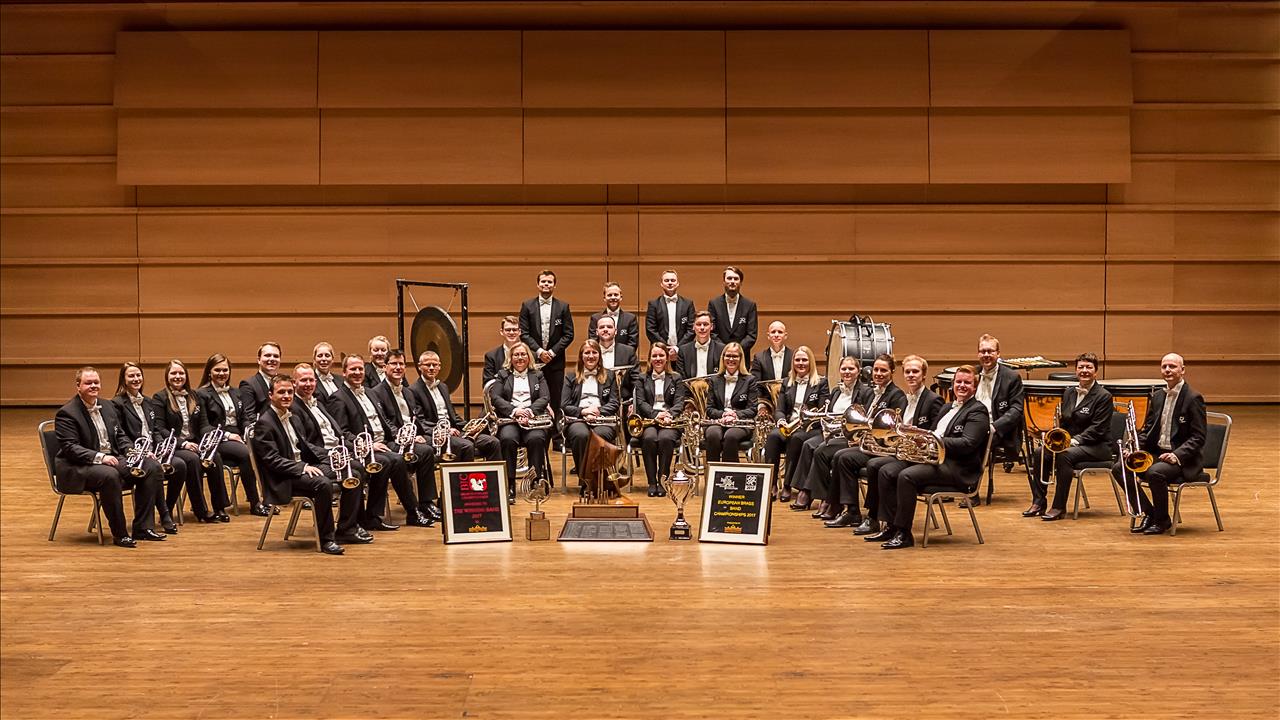 The defending champion: Eikanger Bjorsvik
The Norwegian banding movement remains as fresh, exciting and vibrant as it ever was – and still keen to ask questions of the perceived orthodoxy of contesting that has in other areas of the world seen insular attitudes take hold.
Eclectic ambition
Once again, the test-piece in the Elite Section is a work of contemporary outlook ('Aubade - Dawn Songs of the Fabulous Birds' by Torstein-Aagaard-Nilsen), whilst the own-choices at every level reek of eclectic ambition. There are female judges and open adjudication, live streaming and the great communal 'Brass Night' of celebration.
If that's pragmatism at work then heaven help if the Norwegians really wanted to become brass band revolutionaries.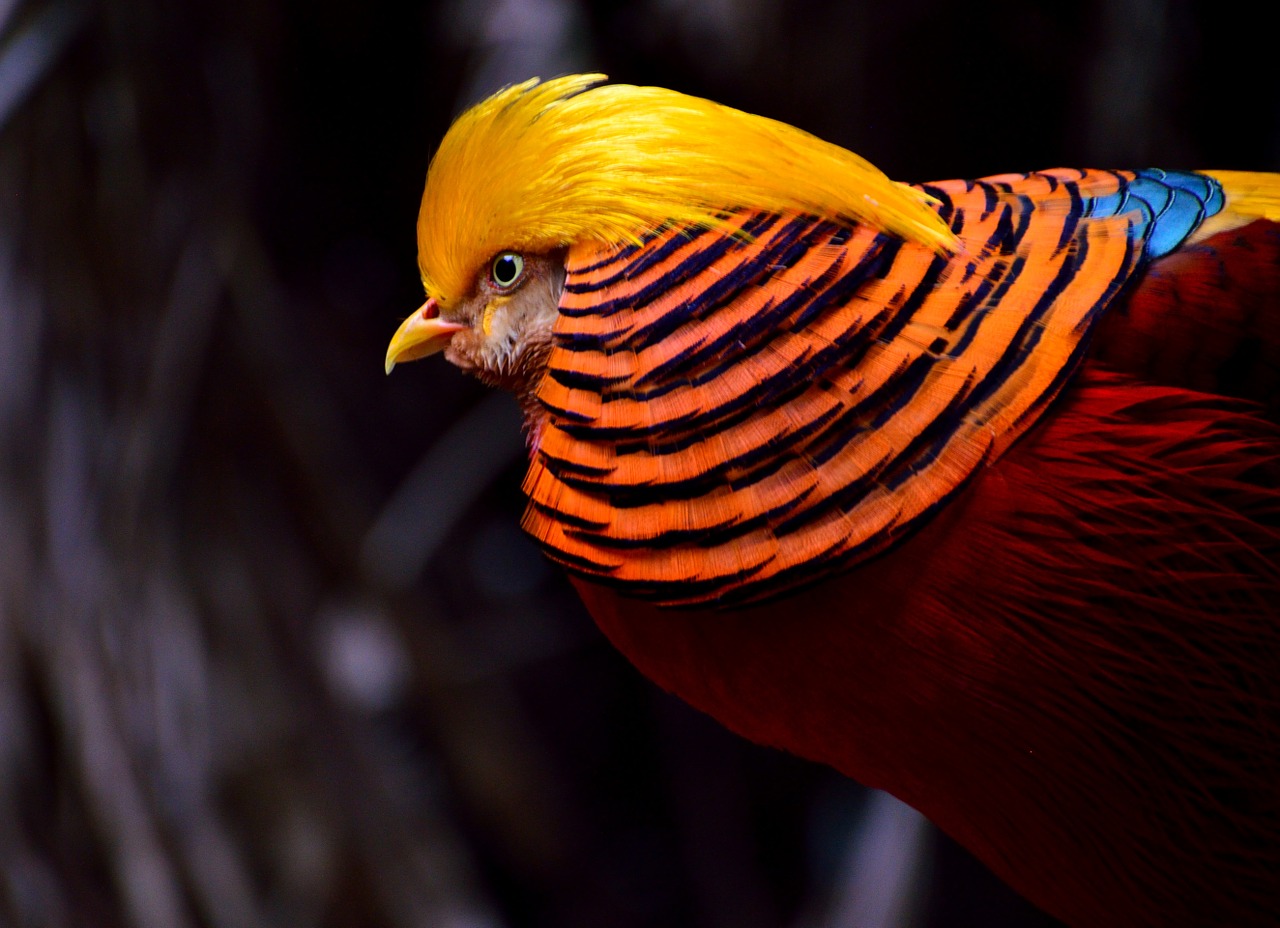 Birds of the exotic and imaginary can be found in Torstein Aagaard-Nilsen's score
As for the present?
The 10 Elite bands will have to get to grips with one of the most esoteric test-pieces written for the medium – a work that in the composer's own words, 'follows it own rules' – from the sounds of seagulls having a 4.30am 'party' to the imaginary songs of magical griffins, mythical dragons and even long dead dodos.
Monty Python
We don't know if Torstein Aagaard-Nilsen is a Monty Python fan but perhaps there is even a motif or two for the long since deceased mythical Norwegian Blue parrot....
The own choice selections on show are equally as fascinating, and not just in the top section. Lower down the pecking order so to speak, we will get to hear plenty of unfamiliar sounds (even in well known pieces...). As always, the sense of ambition is admirable.
4BR will be travelling out to Bergen to bring you as much of the action, news and views as we can, so join us for what promises to be another superb event.

Iwan Fox
---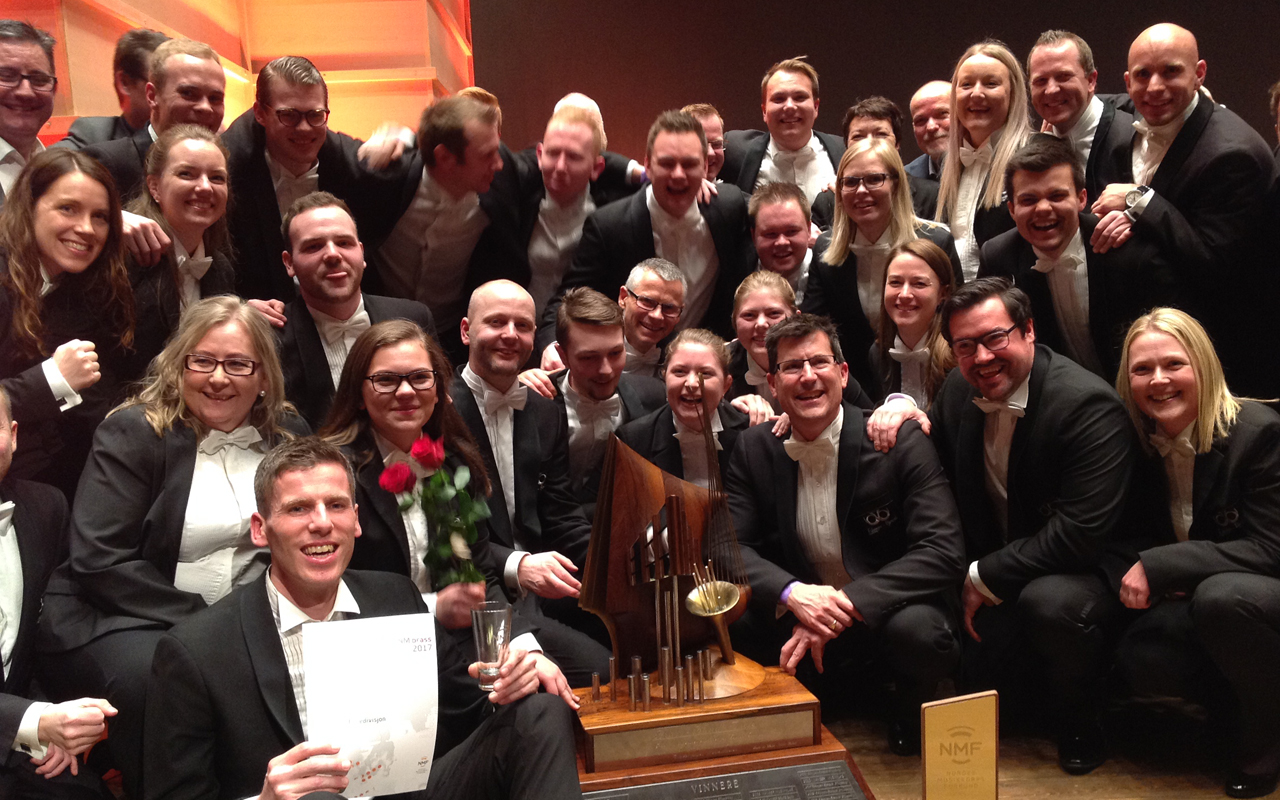 2017 Champion: Eikanger Bjorsvik
Elite Division:
Friday 9th February
Start: 3.30pm
Set-Work: Aubade (Dawn Songs of the Fabulous Birds) (Torstein Aagaard-Nilsen)
Adjudicators: Stig Nordhagen, Hakon Berge, Per Kristian Svensen
Saturday 10th February
Start: 2.45pm
Own Choice:
Adjudicators: Niels-Ole Bo Johansen, Jan Fredrik Christiansen, Davur Juul Magnussen
Competing Bands:
Bjorsvik Brass (Andreas Hanson)
Eikanger Bjorsvik Musikklag (Ingar Bergby)
Jaren Hornmusikkforening (Florent Didier)
Kleppe Musikklag (Philip Hannevik)
Krohnengen (Prof Nicholas Childs)
Manger Musikklag (Peter Sebastian Szilvay)
Molde Brass (Russell Gray)
Oslo Brass (Robert Solberg Nilsen)
Stavanger Brass (Allan Withington)
Tertnes Brass (Martin Winter)
Own Choice: (Draw Order)
1. Kleppe Musikklag (Philip Hannevik)
Journey of the Lone Wolf (Simon Dobson)
2. Stavanger Brass (Allan Withington)
Goldberg 2012 (Svein H. Giske)
3. Manger Musikklag (Peter Sebastian Szilvay)
Raveling, Unraveling: In search of La Valse (Philip Sparke)
4. Krohnengen (Prof Nicholas Childs)
Extreme Makeover (Johan de Meij)
5. Tertnes Brass (Martin Winter)
As if a voice where in them… (Oliver Waespi)
6. Eikanger Bjorsvik Musikklag (Ingar Bergby)
Partita (Wilfred Heaton)
7. Bjorsvik Brass (Andreas Hanson)
Revelation (Philip Wilby)
8. Molde Brass (Russell Gray)
Music of the Spheres (Philip Sparke)
9. Jaren Hornmusikkforening (Florent Didier)
Journey of the Lone Wolf (Simon Dobson)
10. Oslo Brass (Robert Solberg Nilsen)
…Dove Descending (Philip Wilby)
---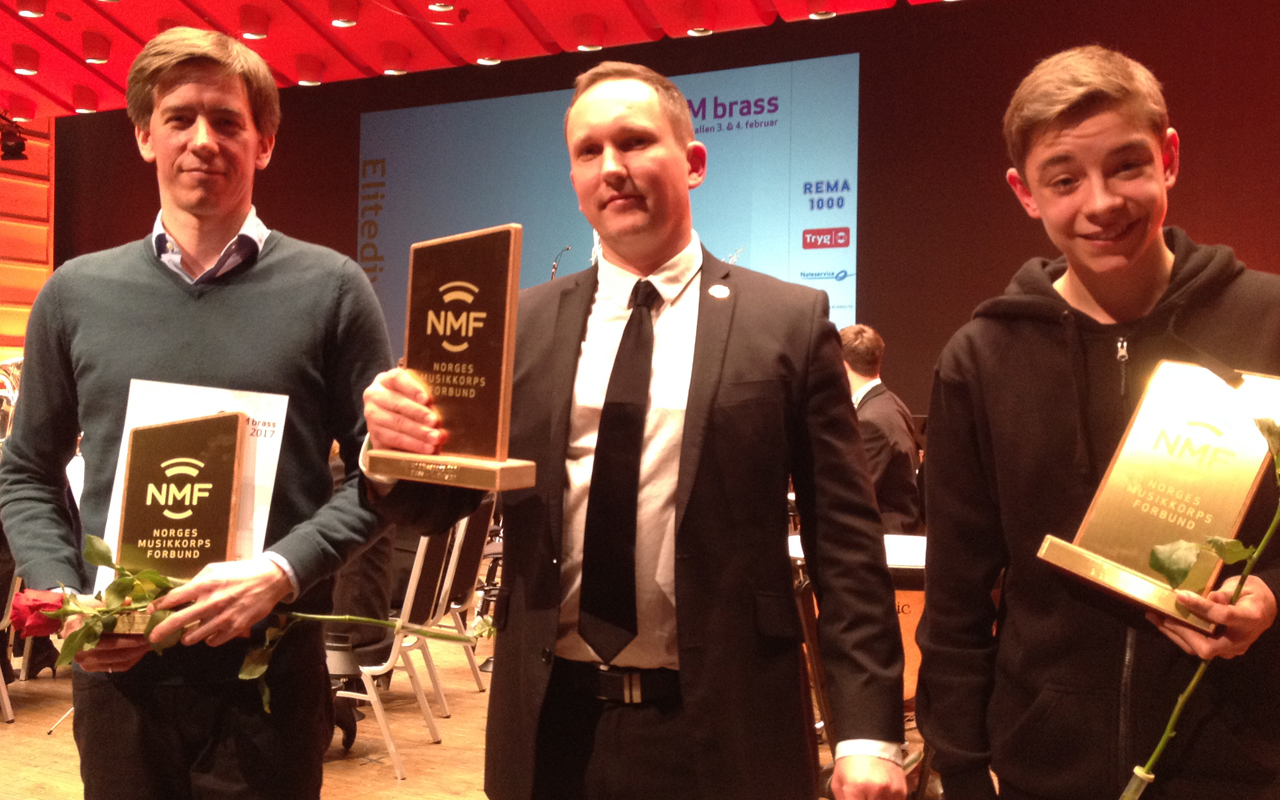 2017 Champion: Tertnes Brass
First Division:
Saturday10th February
Start: 8.30am
Own-Choice:
Adjudicators: Katrina Marzella, Stig Nordhagen, Hakon Berge
Draw Order:
1. Radoy Brass (Torstein Aagaard-Nilsen)
Tallis Variations (Philip Sparke)
2. Askoy Brass Band (Reid Gilje)
Journey of the Lone Wolf (Simon Dobson)
3. Sola Brass Band (Garry Cutt)
English Heritage (George Lloyd)
4. Brottum Brass (Ray Farr)
Journey to the Centre of the Earth (Peter Graham)
5. Ila Brass (Adam Cooke)
Metropolis 1927 (Peter Graham)
6. Rong Brass (Erik Janssen)
Sounds (John Golland)
7. Flesland Musikklag (Thor-Arne Pedersen)
Lowry Sktechbook (Philip Wilby)
8. Tomra Brass Band (Stian E. Svendsen)
Paganini Variations (Philip Wilby)
9. Musikkorpset Gjallarhorn (Rune Gundersen)
Of Distant Memories (Edward Gregson)
10. Oslofjord Brass (Rune Hannisdal)
Sinfonietta No. 3 (Etienne Crausaz)
11. Hasle Brass (Robert Solberg Nilsen)
Dances and Arias (Edward Gregson)
12. Sandefjord Brass Symposium (Chris Johnson)
Noatun (Chris Johnson)
---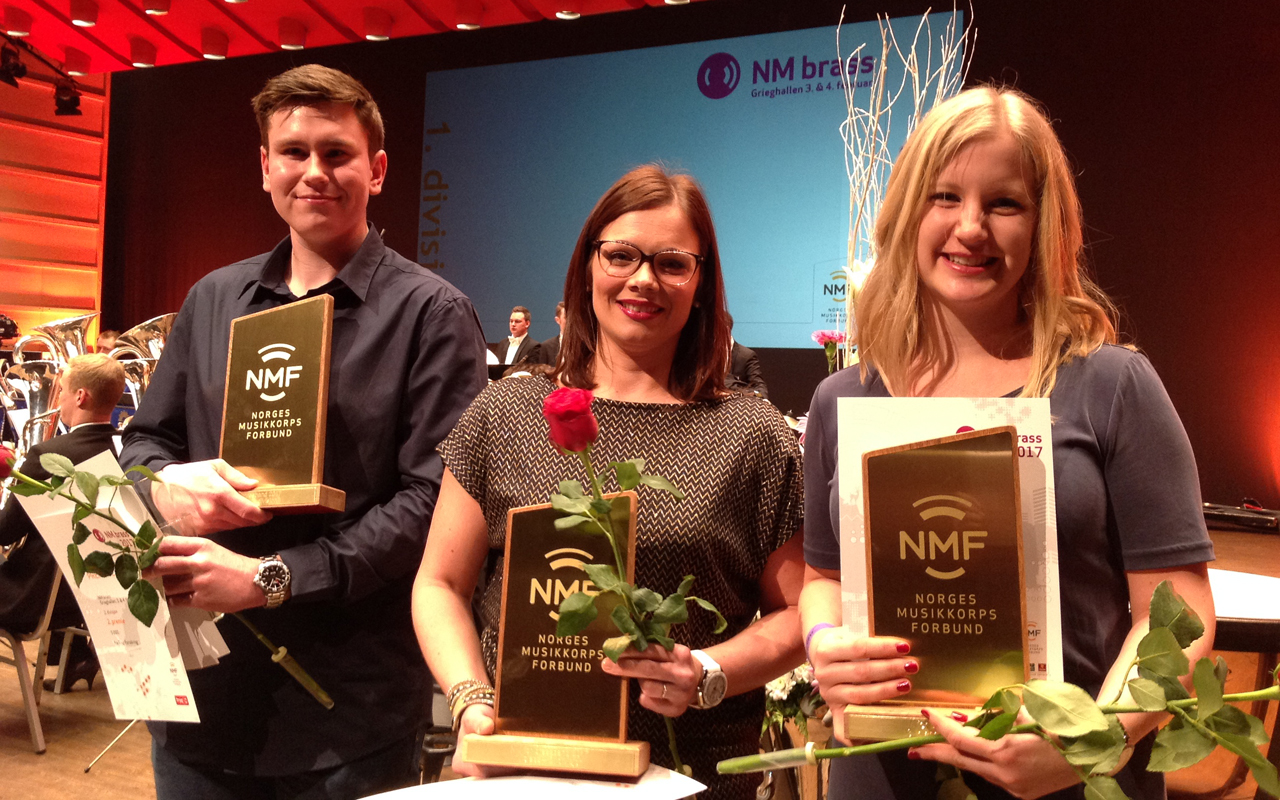 2017 Champion: Radoy Brass
Second Division:
Friday 9th February
Start: 9.30am
Own-Choice:
Adjudicators: Katrina Marzella, Elisabeth Fossan
Draw Order:
1. Gjovik Bybrass (Christian Tenfjord)
Journey to the Centre of the Earth (Peter Graham)
2. Sagvag Musikklag (Yngve Nikolaisen)
Dances and Arias (Edward Gregson)
3. Orskog Brass (Jonathan Bates)
The Raid (Oliver Waespi)
4. Tromso Brass (Geir Davidsen)
Equilibrium (Paul Lovatt-Cooper)
5. Tertnes Amatorkorps (Tormod Flaten)
The Essence of Time (Peter Graham)
6. Oster Brass (Eirik Gjerdevik)
Dances and Arias (Edward Gregson)
7. Manger Old Star Brass (Marit Tommermo)
Connotations (Edward Gregson)
8. Haukas Musikklag (Jan Egil Jorgensen)
The Son of Light (Bertrand Moren)
9. Sorum Musikklag (Ray Farr)
Time Machine (Thomas Doss)
10. Alexander Brass Band (Morten E Hansen)
Five Blooms in a Welsh Garden (Gareth Wood)
11. Agder Brass (Thomas Swatland)
The Land of the Long White Cloud (Philip Sparke)
12. Tysnes Musikklag (Yngve Nikolaisen)
The Plantagenets (Edward Gregson)
13. Jolster Musikklag (Arvid Anthun)
Ballet for Band (Joseph Horovitz)
---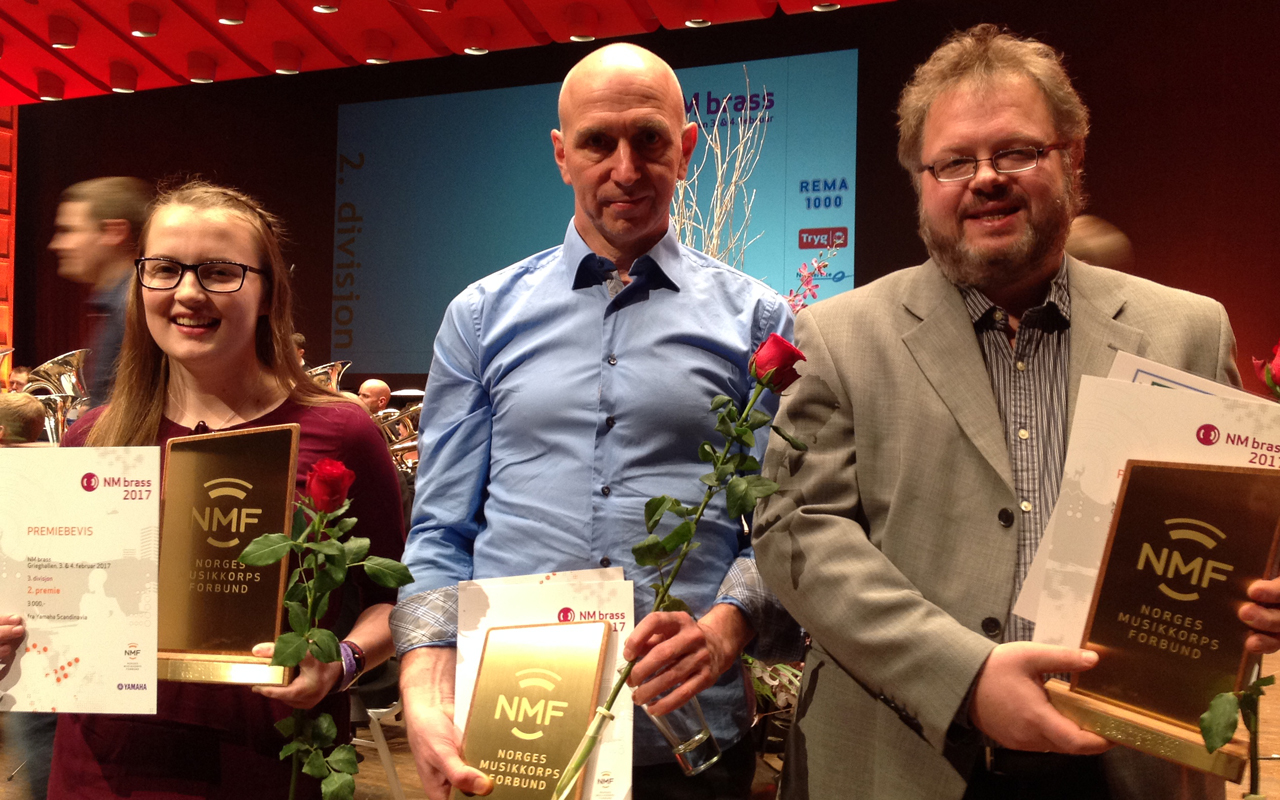 2017 Champion: Sorum Musikklag
Third Division:
Friday 9th February
Start: 4.00pm
Own-Choice:
Adjudicators: Niels-Ole Bo Johansen, Jan Fredrik Christiansen
Draw Order:
1. Skui Brassband (Thor-Willy Karlsen)
Prisms (Peter Graham)
2. Nes Musikkforening (Thorbjorn Lunde)
Quintessence (Robert Redhead)
3. Bjorvika Brass Band (Robert Solberg Nilsen)
Journey into Freedom (Eric Ball)
4. Fraena Musikkorps (Randi Anita Dale)
Hinemoa (Gareth Wood)
5. Folleso Musikklag (Jacob Vilhelm Larsen)
The Saga of Tyrfing (Jacob Vilhelm Larsen)
6. Stangaland Brass (Melvin White)
Spectrum (Gilbert Vinter)
7. Floro Hornmusikk (Torgeir Halvorsen)
Firestorm (Stephen Bulla)
8. Valdres Brass (Thorgeir Thunestvedt)
The Land of the Long White Cloud (Philip Sparke)
9. Gjesdal Brass Band (Jonas Skartveit Rogne)
Ravenscroft Variations (Jacob Vilhelm Larsen)
10. Trondheim Politis Brassband (Espen Andersen)
Coventry Variations (Bramwell Tovey)
11. Bergen Brass Band (Thor-Arne Pedersen)
The Land of the Long White Cloud (Philip Sparke)
12. Lindas Brass (Hilde Brevik Grytten)
Trittico (James Curnow)
13. Fjell Brass (Joseph Cook)
Flashback (Jan de Haan)
14. Laksevag Musikkforening (Fredrick Schjelderup)
Sollicitus (Fredrick Schjelderup)
---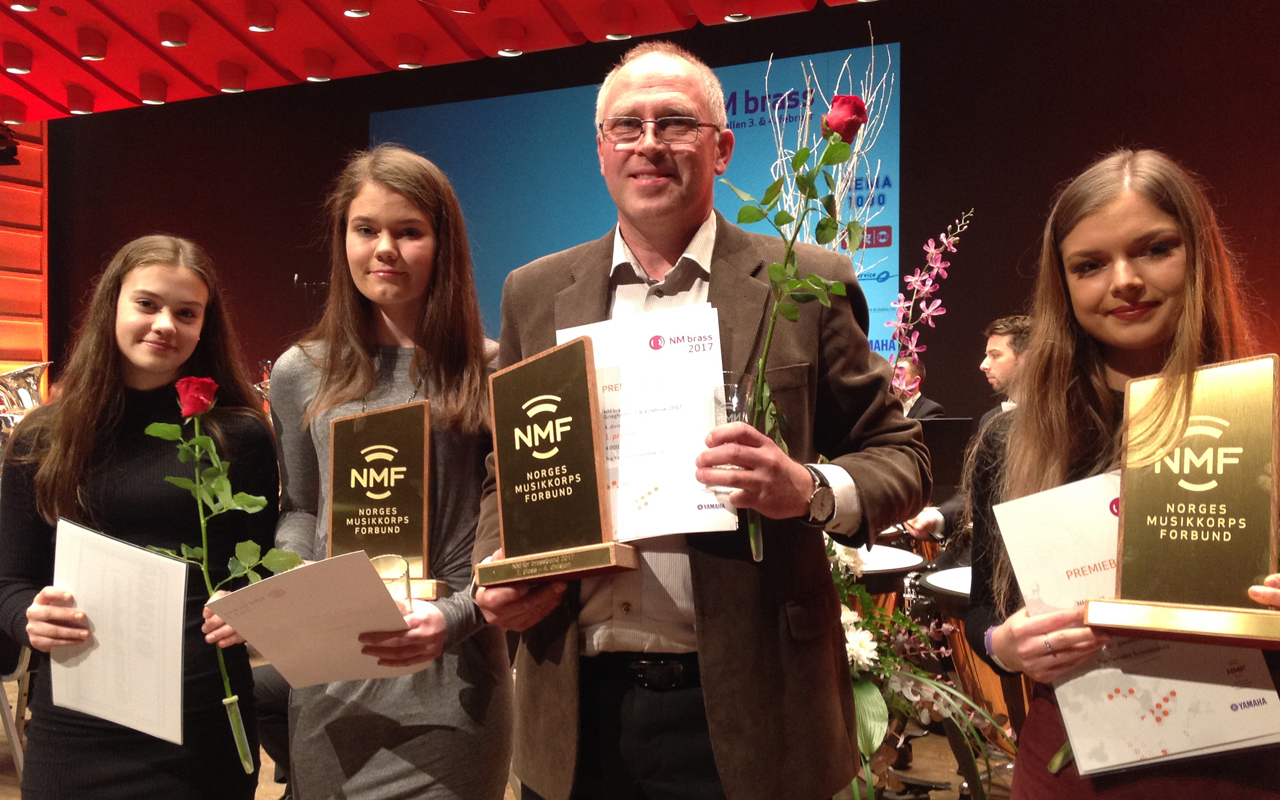 2017 Champion: Nes Musikkforening
Fourth Division:
Saturday 10th February
Start:11.00am
Own-Choice:
Adjudicators: Bjorn Bus, Elisabeth Fossan
Draw Order:
1. Brumunddal Brass (Per Kristian O Syversen)
Labour and Love (Percy Fletcher)
2. Holmestrand Ungdomskorps (Arild Ovrum)
Sinfonietta: The Town Beneath the Cliff (Philip Sparke)
3. Filadelfia Hornorkester Drammen (Pal Andre G Worren)
The Day of the Lord (Stephen Ponsford)
4. Sotra Brass (Ben Hirons)
Olympus (Philip Harper)
5. Krohnengen Old Stars (Oyvind Raknes Nikolaisen)
Pageantry (Herbert Howells)
6. Stavanger Kommunes Korps (Gwyn Evans)
Images for Brass (Stephen Bulla)
7. Hetlevik Musikklag (Patrik Randefalk)
Sinfonietta (Alan Fernie)
8. Indre Torungen Brass Ensemble (Lars Bjornar Strengenes)
Three Extraordinary Journeys (Philip Sparke)
9. Langhus Brass (Tomas Austestad)
Saint-Saens Variations (Philip Sparke)
10. Fla Musikkorps (Odd Steinar Morkved)
Triptych (Philip Sparke)
11. Kjolsdalen Musikklag (Arvid Anthun)
The Prizewinners (Philip Sparke)
12. Lyshornet Brass (Oyvind Raknes Nikolaisen)
Labour and Love (Percy Fletcher)
13. Moen Musikkforening (Ole Kristian Egge)
Triptych (Philip Sparke)
14. Flora-Bremanger Brassband (Johnny Saelemyr)
Triptych (Philip Sparke)
15. Tysvaer Brass (Paul Hughes)
The Kingdom of Dragons (Philip Harper)
---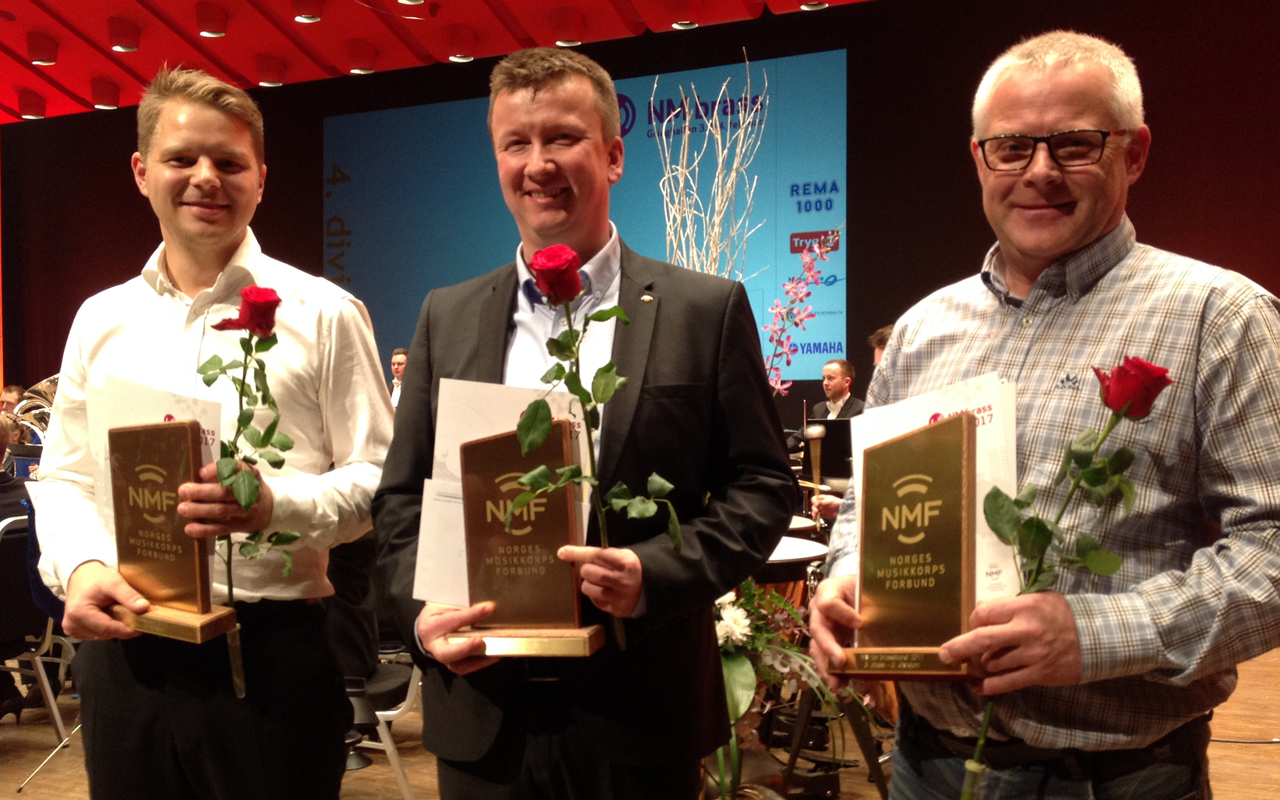 2017 Champion: Krohnengen Old Stars
Fifth Division:
Friday 9th February
Start: 10.00am
Own-Choice:
Adjudicators: Bjorn Bus, Davur Juul Magnussen
Draw Order:
1. Frei Hornmusikk (Jens Kristian Mordal)
Three Saints (Goff Richards)
2. IMI Brass (Per-Erik Petersen)
To Serve and to Save (Dudley Bright)
3. Lillehammer Brass (Jon Kristian Solberg)
Rhapsody in Brass (Dean Goffin)
4. Lismarka/Mesnali Brass (Andres Halla)
Friendly Takeover (Oliver Waespi)
5. Randaberg Musikkorps (Pal Magne Austernes-Underhaug)
Lake of the Moon (Kevin Houben)
6. Rosendal Musikklag (Yngve Nikolaisen)
Portrait of a City (Philip Sparke)
7. Alvik Musikklag (Torbjorn Dagestad Jnr)
Youth Salutes a Master (Eric Ball)
8. Norheimsund Musikklag (Patrik Randefalk)
Labour and Love (Percy Fletcher)
9. Saksumdal Musikkforening (Andres Halla)
A Gallimaufry Suite (Philip Harper)
10. Heroy Brass (Kjellstein Knotten)
The Graces of Love (Oliver Waespi)
11. Skeie Brass (Nigel Fielding)
Three Haworth Impressions (Gordon Langford)
12. Grenland Brass (Tommy Sorby)
Purcell Variations (Kenneth Downie)