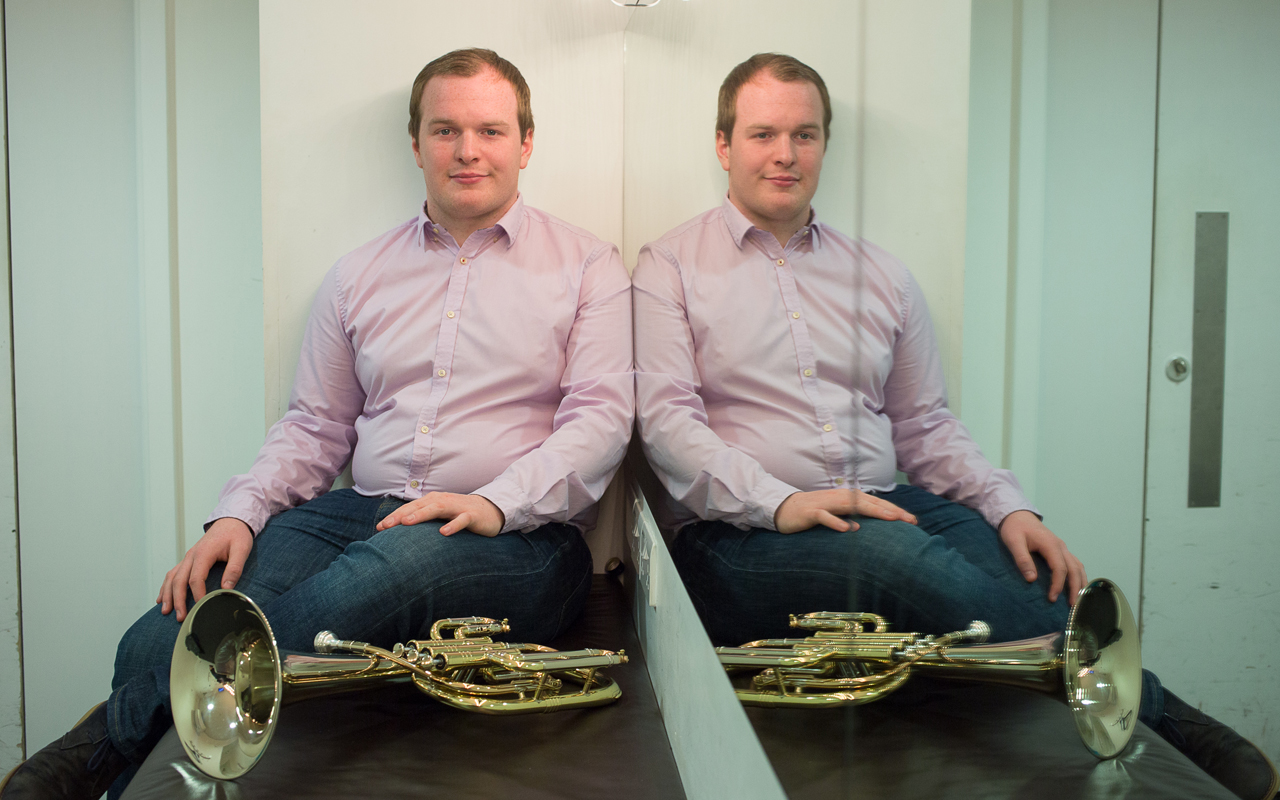 Jonathan Bates is a young composer in demand.
No. That's the wrong way to describe him. Jonathan Bates is a composer in demand.
His career path following graduation from the Royal Northern College of Music in Manchester this coming May is clearly defined. He may only be 21 years of age, but he already has a series major projects lined up in his 'in-tray' for 2018 and beyond.
Giants
During the past year he has been the Young Composer in Association with Black Dyke - a role that has seen him work closely not just with the Queensbury band but with one of the true giants of the last 40 years of brass band composition - Edward Gregson. It has been a professional relationship that he believes has gained him immense, lasting benefit.
"You can have both accurate as well as misplaced assumptions about yourself as a composer," he says when we recently met up with him as he was putting the finishing touches to new community composition which will be premiered in Tibshelf in a couple of months time.
"However, working with someone of Edward Gregson's stature places them in perspective. The positive effect it has had on me and my writing during the past year has been incredible.

He has not only broadened by abilities and skill set, but he has also opened my musical mind. It's been a brilliant experience."
Development plan
The one year post was created by Black Dyke as part of a three year Strategic Music Development Plan with funding by the National Lottery through Arts Council England - the second year of which will see a new appointment to the role in February.
Black Dyke Director of Music, Prof Nicholas Childs, who has worked with Jonathan as both as a player and composer since his teenage years has been delighted that his band has been able to continue to nurture what he describes as 'an outstanding compositional talent.'
"Working with Jonathan over the past few years has revealed an outstanding compositional talent," he said.

"That was obvious enough with his first few works for the National Children's Band of Great Britain, but it has blossomed with each addition to his CV.
He was the ideal person to be our first Young Composer in Association - especially as it has enabled him to work closely with Prof Edward Gregson. I'm certain the experience will result in the brass band movement gaining a composer who will write major works for years to come."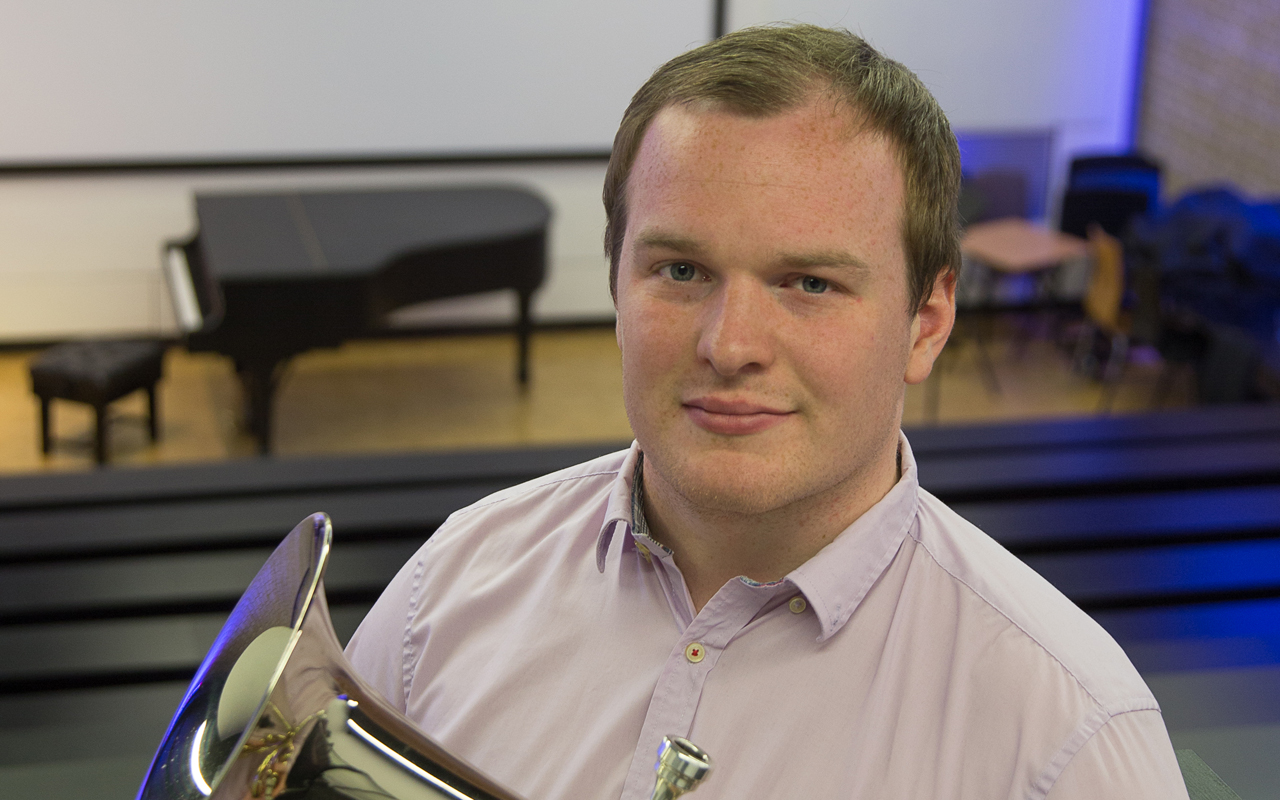 Outcome
That is also an outcome that Edward Gregson is hoping for as well.
"I've been delighted to have worked closely with Jonny over the past year and to see how this impressive young man has developed. He is a very talented composer who is finding his voice - one that has such exciting possibilities. His musical language is becoming increasingly sophisticated and reveals a depth of understanding for the brass band medium of great originality."
He added: "The more he explores the more he reveals - and that is such a good thing. The brass band world is crying out for new compositional talent, and I believe Jonny can be at its forefront."

Driving force
That has also been something of a driving force behind Edward Gregson's role as part of the Black Dyke Music Development Plan - one which he hands over to Prof Peter Graham in February.
Jonathan Bates may be the direct high profile beneficiary, but other young composers will also gain from working with him.
"Nicholas Childs was keen to ensure that my role was not a singular one. That's why I've linked up with the RNCM in Manchester, the Royal Welsh College of Music and Drama in Cardiff and Birmingham Conservatoire to undertake workshops with young composers – nearly all of whom haven't written for the brass band medium before.
Being the Composer in Association with Black Dyke during the past year has enabled me to do this - and the benefits for the movement could well be huge. There is a great deal of untapped talent out there."


Humbled
Understandably, Bates himself is rather humbled by the words of a mentor who he says, 'opened his eyes'.
"Everything Edward Gregson has explored with me has had a purpose and has ended in me re-evaluating what I have written. It's been an immensely positive experience - my confidence as a composer has been massively boosted, as has my desire to improve.
I now find myself looking at my work in a different light - involving a more critical analysis. I can't thank him enough. He's opened my eyes."

It now seems a long time ago when Bates made a startling impact on the banding world when early works such as 'Within the Paths of Righteousness' and 'A British Isles Suite' were heard played by the National Youth Brass Band of Great Britain and at the 2012 National Finals in Cheltenham.
Other works such as 'Tortuguero 6' first heard at the RNCM Festival of Brass in 2012 led onto numerous other commissions, arrangements and transcriptions as his lucid melodic style caught the imagination of high profile bands and soloists.


Championed
In recent years he has not only been championed and promoted by Black Dyke but also by the likes of West of England Area champion Flowers, for which he recently wrote the critically acclaimed, 'St Peter's Chorale', based on a thematic kernel of the traditional nursery rhyme 'Ring a Ring o' Roses' for their appearance at the Butlins Mineworkers Championship.
New ideas
That is something he feels that has come directly from working with Edward Gregson in the past year.
"My work has certainly developed over the years through the help of wonderful composers such as Philip Wilby, Bramwell Tovey and Emily Howard - so I've been very fortunate, especially as Black Dyke and Prof Nicholas Childs showed such faith in my when I was a player with them and then when I took the decision to concentrate on my composing.
I'm always looking at new ideas for compositions so I was able to approach my latest works with greater confidence after working with Edward Gregson. I've been very fortunate to have been given the opportunity through the three-year Black Dyke Strategic Music Development Plan to work with such a renowned composer.
Now I'm looking at other possibilities for Black Dyke and for the future - so keep an eye out."
Iwan Fox
To find out more about Jonathan Bates go to: http://www.jonathanbates.co.uk