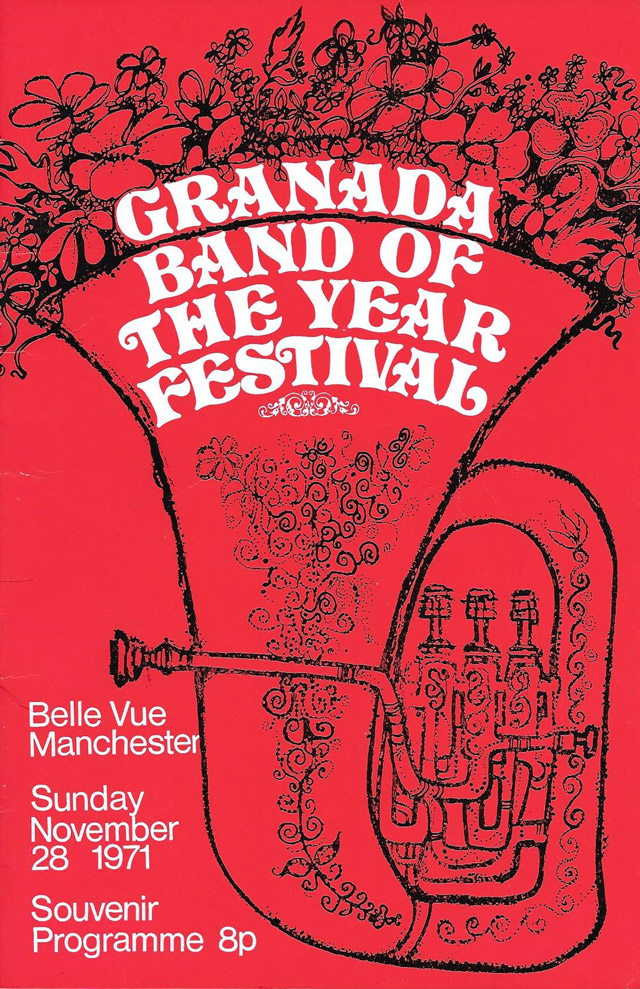 Setting out the way ahead...

In the 45 years since Granada Band of the Year first took place at Belle Vue in Manchester many things have changed in the global brass banding movement: The entertainment contest is chief amongst them.
However, an increasingly incorrigible problematic question remains. What exactly is its purpose?

Valuable and entertaining

According to the Bram Gay who organised the 1971 Granada Festival, the event brought the best bands together, '...to prove not merely that they are better than the rest, but that they are capable of offering to the public through the medium of television a valuable and entertaining musical experience.'
Four and half decades later it is hard to find a better statement of intent.
Of course, over the years, tastes, fashions and playing standards have changed - and you would be hard pressed to find the current Cory Band (the 1971 winners) delivering a contest set of a 'musical experience' that included, 'Trumpets Wild', 'Polly Wolly Doodling', 'The Bombastic Bombardon', 'Moonriver' and 'Paraphrase Men of Harlech'.
That said, it's hard to suggest that the public would be satisfied with the growing trend of programmes that seem primarily aimed at justifying that one band is technically 'better than the rest' either.
Artistic cul-de-sac

Bands may believe that since 1971 they have educated the general public into appreciating that they have become musically more sophisticated (some early efforts at humour were later described by Bram Gay as 'sheer idiocy'); but in doing so the entertainment contest genre itself has become somewhat stuck in an artistic cul-de-sac of its own making.
In a desire to modernise, we have perhaps lost sight of what Bram Gay so accurately described was the 'purpose' of what he and fellow Granada pioneer Arthur Taylor wanted to help present to the general public - that of '...a programme for TV presentation at a peak period, taking into account the need to retain the audience while promoting the brass band as a medium not only of entertainment but of musical communication.'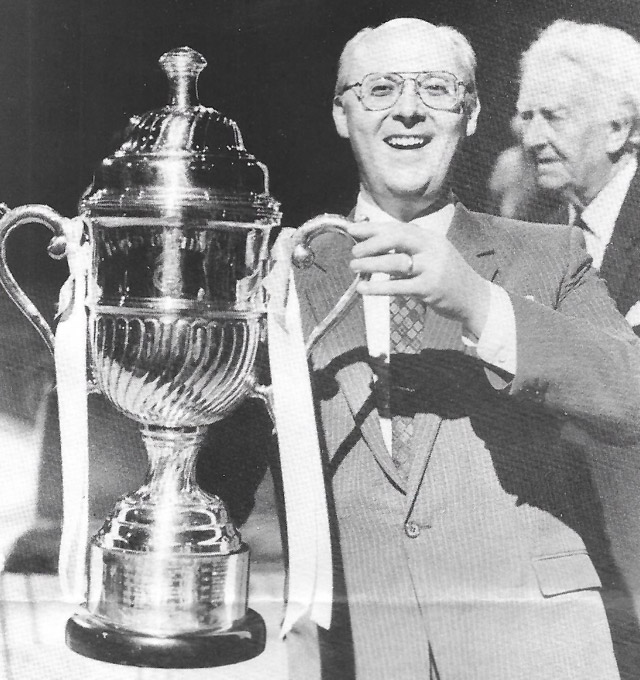 The ultimate brass band communicator - Howard Snell

Communication loss

It can be argued that the modern day entertainment contest has lost the ability to enable bands to communicate with a wider audience.
Just like test-piece contesting - it's a genre increasingly being played out to ourselves and no-one else; the hardy souls who sit in a contest hall for eight hours of more listening to bands simply trying to beat each other with displays of increasingly banal technicality and over-prescribed tick-box programming: No wonder television wants anything to do with competitive brass banding.
Different purpose

As brilliantly polished, cleverly conceived and executed Cory's winning programme at Brass in Concert was this year, how many people can actually recall what music they played, let alone what their programme was based on?
For the bands, the investment in all that time, money and commitment to produce a contest programme is for a very different purpose all together: Ranking points, prize money and a car boot full of silverware.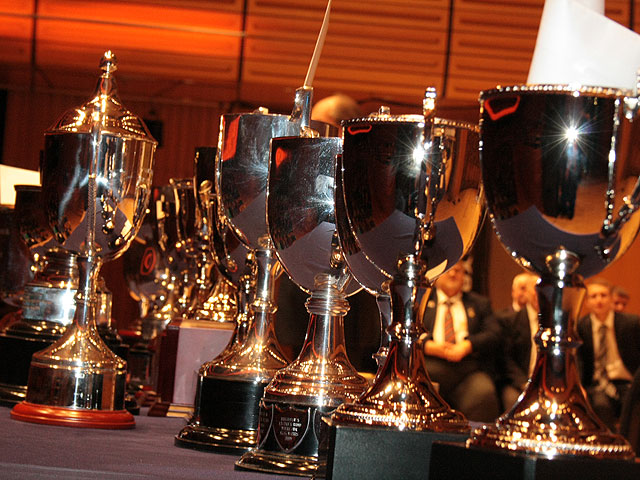 Prizes galore

Marking values

One factor in that may well be our desire to give everything we do in the entertainment genre some sort of 'value'- through a variety of marking systems all designed try to justify what is essentially a subjective process - for judges and audience alike.
Take for instance Brass in Concert - a wonderful festival event that has been at the forefront of the entertainment contest format over the last decade or so.
Ambition

It is BiC's mission statement ambition, '...to provide a platform for the finest brass bands in the world to display, free of artistic restriction, their excellence as performers of high-quality original and arranged brass band music, through programmes and presentation reflecting the most current and progressive form of the genre and designed to appeal to both the general listener and aficionados of the discipline.'
In comparison to what Granada Band of the Year wanted to achieve, that is one heck of a complicated way of describing going about it - and all without a single mention of reaching out to an audience that that isn't sat in their seats at The Sage Gateshead.
Back in 1971, one panel of judges considered the 'musicianship displayed and the aptitude of the music for its purpose' - the other, 'visual effect' and 'variety and interest of the music'. At Brass in Concert this year we had criteria specific marking from five separate judges for 'quality of performance', 'programme content' and 'entertainment and presentation' - not forgetting another to decide on 'solos and individual' awards.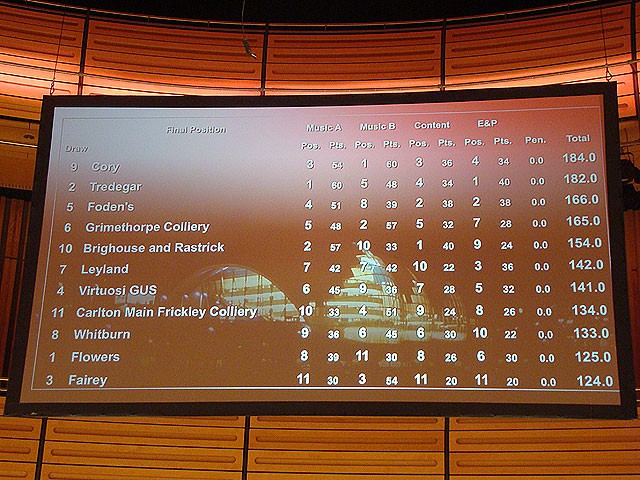 A numbers game...

More judges more boxes

In 45 years all we have seemed to have done is come up with a way to ask more judges to tick more boxes to pick a winner (and Brass in Concert isn't alone in this) with an inward looking marking system that is a confusing contradiction of the mission statement that spawned it.
Why not simply ask them to take the essential elements of mission statement into account and trust their judgement?
Info-entertainment

The current trend of imposing judgemental constraints has in part given rise to bands producing variations on a programming phenomenon that can simple be summed up as 'Info-entertainment' - a curious construct that is a reflection of a tick-box mentality.
Now we think we have to educate people all the time.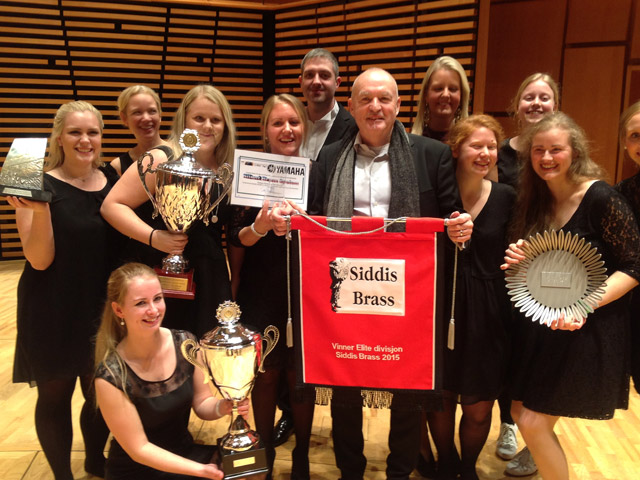 One of the best info-entertainers - Allan Withington and Stavanger

Best

That said, at its very best, 'info-entertainment' inspiration is a comprehensive, clearly defined concept, full of innovation and creativity packed into imaginative programming that both judges and audience alike can understand and appreciate.
Delivered with the highest levels of professionalism (such as by Cory and Stavanger - winners at Brass in Concert and Siddis in Norway this year) it fully justifies Bram Gay's opinion way back in 1971 that the genre should be '....a medium not only of entertainment but of musical communication.'
You leave better informed of what a brass band (with a MD with a fertile imagination) can create and communicate - not thinking you have just been presented with a musical version of a public information film.
Worst

At its worst however, they are - depressingly so; a muddled amalgam of tenuously linked ideas that leaves you confused and even cynical about both its artistic merit and intent. Just try and work out what some programmes you have heard from top flight bands of late have supposed to have been about - other than an exercise in nebulous musical connections.
For every Cory or Stavanger performance (and from those who are genuinely trying to push the boundaries), we get a plethora of muddled and even witless ones.
Never meant to be

In many ways, the entertainment contest has developed in something it was never meant to be - because we simply became more interested in justifying our brilliance to ourselves and nobody else.
45 years after Bram Gay set out exactly what we needed to do, perhaps it's time to look back and embrace his panoramic vision once more.
Iwan Fox