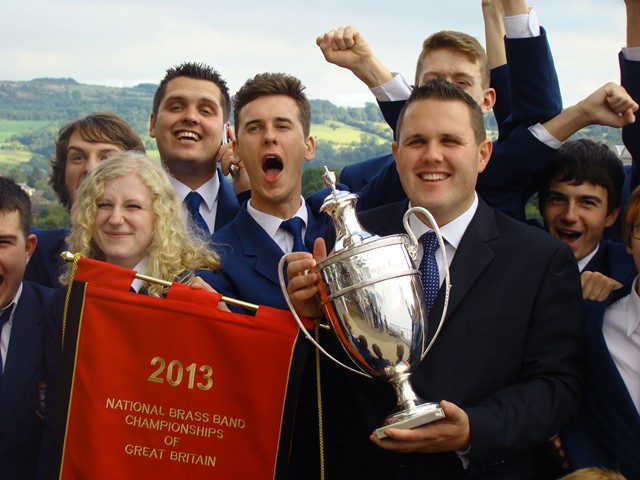 Youthful triumph for Goodwick Brass in 2013

There may be some people of the UKIP persuasion who may not like 4BR saying it; but it seems British banding is becoming ever more European: And by heck it's a good thing.
Fresh from the Dutch delights of Ed De Boer's elegant British Open set work comes the opportunity to enjoy a Swiss inspired bobby dazzler from the pen of one of the finest writers for brass bands anywhere in the world - let alone Europe.
Oliver Waespi is the bloke who brought us 'Audivi Media Nocte', which left scorch marks on the cerebral cortex after it was performed at the European Championships a few years back.
Last year he returned - although not with a work for the very pinnacle of banding, but a simply cracking test piece for the Second Section of the Swiss National Championships.
High altitude

'Traversada' comes from the Romansh language - the word describing the type of sinewy high altitude mountain passes and crossings that for hundreds of years have been the essential arteries that connect life in the tiny villages high in the Alps to the rest of the nation.
It has also come to be understood not just as a geographical and cultural link, but also as a potentially troublesome barrier that can isolate progress and understanding. Thankfully, through hard work and successful co-operation Romansh is now one of the officially recognised languages of Switzerland, spoken by around 40,000 people.

Symphonic poem

The work is essentially an 11 minute symphonic poem that engages the senses in every way possible; from the simple beauty of the 'S-chura not' - a song of farewell and uncertain reunion, to the complex sinews of technicality that inexorably lead you on your unpredictable journey.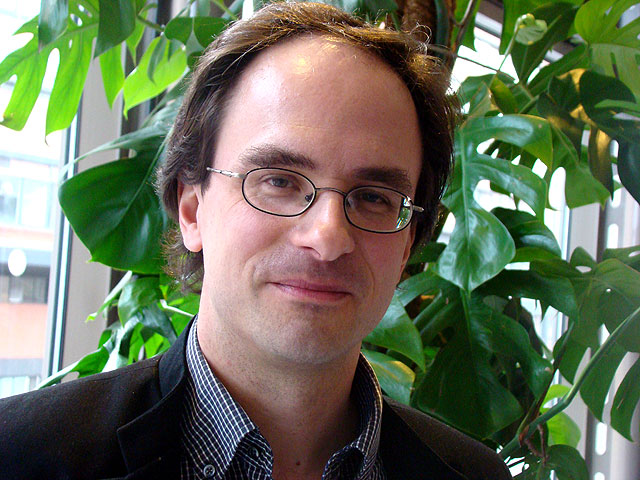 The man behind the links and connections - Oliver Waespi

Elements and ciphers from the same inventive core thought processes of 'Audivi' are heard in a work that sees four main soloists take positions either side of the main ensemble ('Audivi' used two sets of trios). But whereas the European blockbuster developed into a maelstrom of nuclear fission, 'Traversada' glows with musical beauty and bubbling detail.
Hope and opportunity

This is all about hope and opportunity as well as uncertainty and isolation - the music teetering on its edge as if the intrepid traveller, lulled by the misconception of an easy trek (the opening is so simply laid out) is in fact just one misplaced step away from falling down a ravine:

The more you progress the more those opportunities and hazards reveal themselves on the horizon, accelerating the expectant heart beat as the music drives to its presto climax.
Stern test

It is a stern test - and especially for the soloists on whose shoulders much of the early responsibility lies. Both Ian Porthouse and David Thornton know what solo pressure is all about, so the two judges will be keeping note of those who embrace it and thrive and those who recoil and crumble.
You suspect that the vast majority of bands have thoroughly enjoyed rehearsing the piece, whilst the MDs will have earned their money the hard way too - balancing the need for excitement with that of maintaining technical clarity. The audience should love it: Mr Waespi has given us a wonderful work.
Solid looking contenders

Last year's contest brought together a host of well matched bands, and this year's qualification process has seen 17 solid looking contenders make their way through after battling with the deceptive difficulties of Michael Ball's 'Chaucer's Tunes'.
The 2013 title was won by the remarkable youngsters of Goodwick Brass, who return once again this year in the First Section (five of last year's bands also make a return).
Decent form

It will be up to Area champion Blaenavon Town and Parc & Dare to see if the Welsh dragon will be flown in triumph for the sixth time in eight years, with both making the trip in decent form.

Blaenavon, who make their first appearance since 2008, recently enjoyed 'national' success at the Welsh Eisteddfod, whilst one of the most famous Welsh banding names of Parc & Dare has been making solid progress on the long road back to prosperity under Andrew Jones.
Ballot box

By Saturday morning we will know if Tullis Russell Mills and St David's Brass will be subject to their own form of 'Traversada' - as the musical links that connect Scotland to the rest of the UK banding nations are either enhanced or broken through the ballot box.
Whatever the democratic outcome, these are strong looking travellers. Tullis is enjoying remarkable success under Paul Drury - which includes their own European journey of discovery in Perth a couple of months ago, whilst St David's make their fifth appearance at the Finals - all under long standing MD John Dickson.
Dark horse

There is also a growing strength to the challenge from the North of England nowadays (South Milford winning in 2012) - with something of a dark horse perhaps in Area champion Lockwood, who won their section at the French Open earlier this year under the experienced John Roberts.
Meanwhile, the maturing Ripon City returns under Malcolm Dibb - the fourth consecutive time in fact. An early draw didn't do them any favours last year, but this weekend they could well fancy their chances of a mention off the stage.

Shoulders

The Second Section hasn't been a happy hunting ground for the Yorkshire contenders in recent years (the last win was back in 2003) so success is long overdue.
This time around the responsibility lands on the shoulders of Area champion Elland Silver (who came ninth here last year) and Knottingley Silver.
Elland has certainly been an impressive contest performer under Daniel Brooks of late as they make a third consecutive Cheltenham appearance, whilst Knottingley has bounced back after their relegation in 2013, with an impressive qualification performance at Bradford under Dr Owen Wedgewood.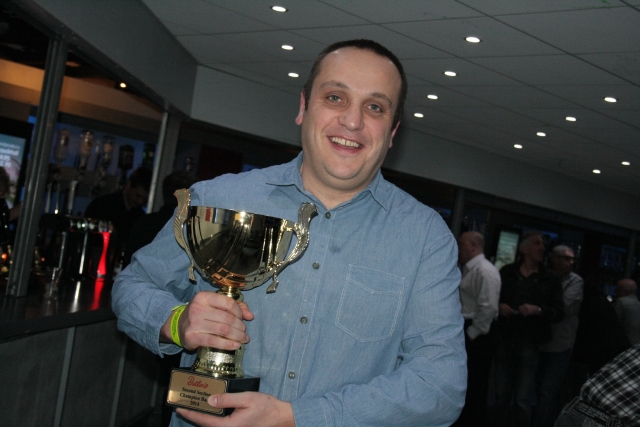 Could Mossley's MD be celebrating more silverware this weekend?

Confidence

Talking of confidence - none will surely come more upbeat than the North West qualifiers. Perennial Butlins champion Mossley under MD Duncan Byers finally caught the judge's ears at Blackpool to take the title, whilst former British Open champion Marple also showed that they are a band to fear once more in securing a second successive qualification under Les Webb.
If both hit their form on Saturday morning, then the National trophy could be heading over the Pennine Alps for the first time since 2000.
Midland brace

To do that they will have to overcome a brace of solid Midlanders, as Area champion Daventry makes their third appearance in the last four years under Bob Stradling, with Ireland Colliery (Chesterfield) making their fourth consecutive trip led by Ian Knapton, who is celebrating 10 years at the helm.
Daventry's solid progress should hold them in good stead as they edge towards the First Section, whilst the same goes for Ireland after they came eleventh in the Third Section last year.
Proud record

The West of England also has a proud record at this level (with three winners since 2005), and last year the signs were there that they were ready to return a band or two to the winner's enclosure once again.
This time around you can get decent odds on both Area champion Forest of Dean, who makes their first appearance back since 2004, and St Keverne, who makes an overdue return since winning this title in 2005.
Both were impressive in booking their places at Torquay, whilst Forest of Dean has gone on to boost their confidence at Bugle, and St Keverne was on top notch form at Bultins earlier in the season when they came third.
Ambitious

That just leaves the trio of London & Southern Counties representatives; with Area champion Fulham a possible dark horse if they can repeat the form they showed in claiming the title at Stevenage under the fit again John Ward.
Meanwhile, the ambitious Wantage organisation (their senior band is also at the Albert Hall) will look to make a mark on their first Finals appearance since 2009, whilst it's great to see the revitalised 'Comrades' of Soham taking their first Nationals bow since 1995, under the direction of Jayne Murrill.
---
4BR Prediction:
There are some very well led, solid looking bands on show here - and with a test piece that they will all savour, Ian Porthouse and David Thornton could have their work cut out in the box.
If Mossley repeats the form that has seen them claim four consecutive Butlins titles then they could well be the band to beat.
However, nothing can be taken for granted (as Mossley have found out at the Areas in the same period of time), so they will be carefully looking over their shoulders at the likes of Elland Silver, Forest of Dean, Tullis Russell Mills, Fulham and St Keverne.
All that and there are more than a few dark horses too - led by Lockwood.

1. Mossley
2. Elland Silver
3. Forest of Dean
4. Tullis Russell Mills
5. Fulham
6. St Keverne
Dark Horse: Lockwood