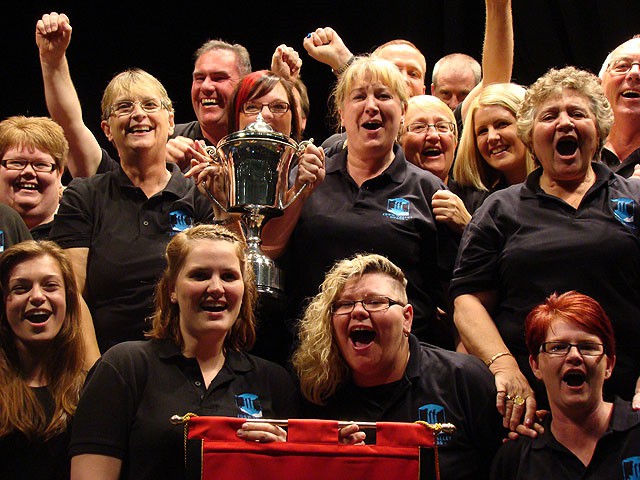 Who will be cheering as loudly as Ebbw Vale last year come the results?
Even as the bands and listening audience in the Fourth Section on Saturday afternoon enjoy Geoffrey Burgon's 'Narnia Suite', it will also provide a timely reminder of yet another leading British composer whose talents were carelessly lost to the brass banding world.
20 years or so ago it was rumoured that he was to provide a set work for the British Open Championship, but at a time when memories of 'Fusions' by another television composer in Howard Blake were still fresh in the minds of those in charge (and perhaps Burgon's score to the controversial Monty Python film 'The Life of Brian'), his proposed 'Paradise Dances' was shunted into the dusty archives never to surface again.

Tinker, Tailor...

This from the man who produced the haunting scores to 'Tinker, Tailor, Soldier, Spy', which had Alec Guinness as the most lugubriously sinister spy catcher ever, and 'Brideshead Revisited', which did more to help sales of stately home tea towels than ever the latest series of 'Downton Abbey' could hope for.
Add to that, orchestral output such as 'Requiem' and 'The Fall of Lucifer', which were critically acclaimed and lauded with plaudits, and you can see why the bean counter who decided against engaging one of the UK's most accessible composers should have been locked in a Narnia sized cupboard themselves.
Life of Brian

To misattribute a line from 'Life of Brian': Burgon may not have been a musical 'Messiah' - but he certainly wasn't 'a very naughty boy' either: This was a composer (who died in 2010) who could write for any medium or subject matter - from Dr Who and Charles Dickens to the Proms and the Three Choirs Festival.
And as much as everyone should enjoy playing and hearing his 1998 work (expertly arranged by Bram Gay from the original 1991 small orchestra score) it also remains an almost perfectly crafted musical keepsake of something that should have led to something, much, much, more.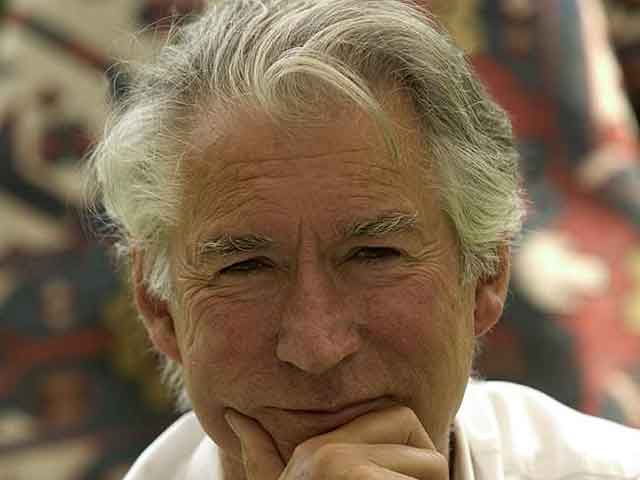 The composer: Geoffrey Burgon

Allegorical

The allegorical C S Lewis novels of 'The Chronicles of Narnia' are well loved (and the later films became very profitable), with the most famous of the six being 'The Lion, the Witch and the Wardrobe', which Burgon's score depicts in neatly condensed form in five (of the original seven) linked movements - although they do not follow the book's narrative line.
It's a gloriously inventive mix of Nordic myth, Greek fantasy and Christian redemption (which could be construed as one and the same thing depending on your beliefs) - and features everything from talking animals and battling dwarves to a femme fatale who makes Cruella de Vil look like a presenter from Springwatch.
Adjudicating wardrobe

Much then for Tom Davoren and Mark Wilkinson to enjoy in the adjudicator's 'wardrobe' - with a work that although originally set as a Third Section Area test piece in 2000, seems ideally pitched to test the best Fourth Section bands in the country in Cheltenham.

The technical aspects should be within the scope of all the bands, as long as the MDs don't try and inject either too much misplaced power or pace.
Nuance

Burgon sprinkles the score with stylistic instructions and nuance - with a need for expression and flow in solo lines balanced by nobility and resolute drive in the ensemble. It is not the film score to 'Transformers - Age of Extinction' with mindless pyrotechnics to give you earache: It's music to accompany inquisitive thought processes.
The noble expression of 'Aslan's Theme' sets the scene, followed by tempest nature of 'The Storm at Sea', with its clever hornpipe variation on the Aslan theme. The old Lion's temporary demise is beautifully captured with a forlorn sense of loss, before our heroes set off with a spring in their step on 'The Journey to Harfang'.

'The Great Battle', with its dissonant chords and bubbling ferment comes to a triumphant conclusion as good overcomes evil and the end credits start to roll.

Get it right and the characters of Aslan, the precocious Pevensie children and the frighteningly sexy White Witch come thrillingly to life.

Get it wrong and it can sound like the Inbetweeners going to Alton Towers for a day out.
Trophy

So who will emerge for the back of the Centaur stage cupboard clasping the Fourth Section National Trophy in their hands?
Nineteen well match bands should all travel with high hopes.
In the past the overall standard has been pretty good with the winners in particular producing high class performances. Ebbw Valley certainly fell into that category last year, so if any band can replicate them this time around they will be in with one heck of a chance of glory.
North Wales duo

Wales enjoyed a memorable 2013, so the pressure is on their two representatives this time around to once again return home laden with prizes.

The North Walian duo of champion Northop (on their Welsh Area debuts) and Porthaethwy Menai Bridge should fancy their chances as they qualified in impressive fashion in Llandudno and are led by two experienced MDs in David Davies and Gavin Saynor
Midlands threat

The biggest threat to the Welsh dominance continuing could well come from the Midlands trio of Area champion, Fairfield (Buxton), Butlins winner Ifton Colliery and the emerging Stourport on Severn.
Ifton 'lite' were brilliant last year in coming third, and bulked up to take the Butlins title in January with something to spare, whilst Fairfield also showed their quality in pipping them for the Midlands title as they returned to the finals for the first time since 2009.
Stourport also makes a long awaited Finals appearance (the first since 2004) as they continue their solid rebuilding under Oliver Wilson's baton.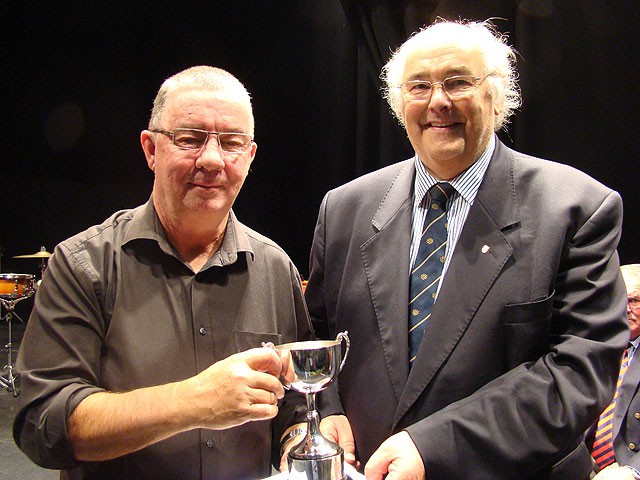 The numbers game nearly paid off for Ifton last year

Strong North West challengers

The North West always sends strong challengers down the M6 (Coppull & Standish came runner-up last year), so the impressive duo of Stacksteads (who have made a remarkable return to competitive action since 2013), make their first Finals appearance since 1992, whilst former National Champion Valley Brass also makes a welcome return since that great 2005 victory under Dave Chadwick.
Emerging London

The emerging strength of London & Southern Counties at this level could also see one of Area champion Jubilee Brass, City of Oxford Silver or Brighton & Hove City repeat the triumph of Norfolk Wherry in 2012.
Jubilee certainly comes to the contest in good form under Clifford Sadler, with recent successes at the Oxford BBA and Bugle contests, whilst City of Oxford will be keen to carry on building on the solid showing they delivered last year in coming 9th under Steve Sizeland's direction.
After missing out on the Area contest in 2013, Brighton has also returned in excellent shape under long term MD Matthew Hackett, with a decent Butlins return the prelude for their Cheltenham qualification.
Foreign winners

Depending on the voting intentions north of the border, either champions Callander Brass or Tayport Instrumental could provide the first ever 'foreign' winners of a British National title.
It's Callander's first appearance at the Finals and Tayport's long awaited return (they qualified in 2011 but didn't make the trip), so will the Scottish Saltaire be flown in triumph come Saturday afternoon we wonder?
Independent minded

The equally independent minded bands in the West of England have enjoyed plenty of success at this level with a strong looking trio of Area champion Corsham (led by the vastly experienced Colin Hogg), Porthleven and Camborne Junior Contesting making the relatively short trip to Cheltenham to see if they can claim a first victory since 2009.
It's Corsham's first appearance since 2005, whilst Porthleven (who have not been out of the top four at any contest since 2012) and the fast maturing Camborne (who were 7th last year) should be confident of seeing their names near the top of the leader board once again.
Yorkshire pride

Yorkshire pride took a little bit of a battering last year, but hopes will be considerably higher that the strong looking duo of Area champion Clifton & Lightcliffe and Rockingham can return home with their hands on some silverware.
John Clay continues to work musical miracles at Clifton, whilst its good to see the name Rockingham back on the upslope of contesting success following their drop through the sections since 2009.
Up North

Finally, the North of England, led by North Skelton, the junior band of the senior outfit that once graced the Albert Hall top section final, but which now has its sights firmly set on a future performance there themselves.
They are certainly on the up nowadays though under the excellent direction of Denis Noble, whilst it's also good to see a long awaited return for Swinton & District who take their first National bow under Robin Rutter since 2001.
---
4BR Prediction:
A difficult one to call, but if they can recapture the mightily impressive form shown at Butlins earlier this year then Ifton Colliery may well be the band to beat.
Jubilee Brass (Oxford) and Clifton & Lightcliffe could well push them all the way, with Northop Brass, Fairfield (Buxton) and Stacksteads close behind.
Our dark horse is the youthful Camborne Junior Contesting.
1. Ifton Colliery
2. Jubilee Brass (Oxford)
3. Clifton & Lightcliffe
4. Northop Brass
5. Fairfield (Buxton)
6. Stacksteads
Dark Horse: Camborne Junior Contesting