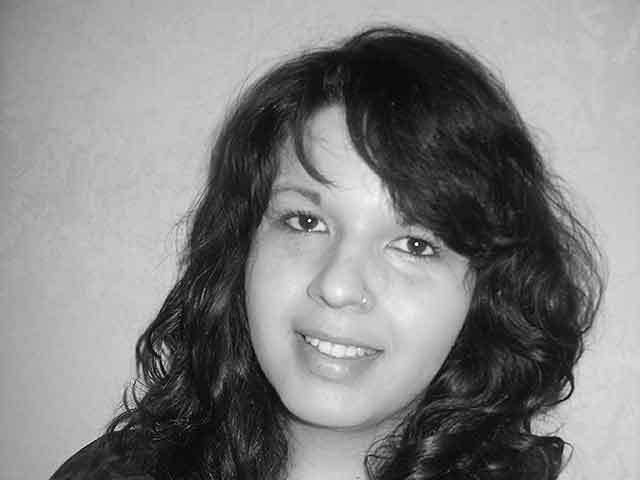 Name: Clara Catt
Age: 22
Instrument(s) played: Flugel, Cornet, Piano
Current Bands/ensembles: City of Coventry
---
Malcolm Wood: Your compositions 'Razz for Trombone', 'Versatility' and 'Spice Roots', have made an immediate impression on players and listeners alike, but how did your initial interest in composing come about?
Clara Catt: I was always quite interested in the idea of writing music.

When I first started I just used to improvise on the piano, especially using the 12 bar blues format and then went from there really.
---
Malcolm Wood: As you were a member of the Northamptonshire County Youth Band, did you take any of your compositions to them to test out?
Clara Catt: Yes! When I was in my final year with the County Youth Band I entered the Malcolm Arnold Composition Competition with a piece called 'Suite-Hearts for Brass' based on his 'Little Suite for Brass' that they had been performing.
Also, I used to play violin for the County Training String group, so was lucky enough to have one my pieces performed there too.
---
Malcolm Wood: Did you seek any help and guidance when it came to your compositions?
Clara Catt: Not until quite recently on a more formal basis, when I was writing music for the Major Brass Project earlier this year.
I had some hours allocated to brass band scoring and composition so when Phillip Wilby visited the Conservatoire I was able to have a short advice session with him. It was invaluable.
Before this I just tended to ask for more general advice from people, have a go and learn more from trial and error.
---
Malcolm Wood: Was it a conscious decision throughout your academic studies that somewhere down the line composing would become such an influential part of your career path?
Clara Catt: Yes. I've always enjoyed composing and before coming to study I'd also thought about various composition courses too.
When I started at Birmingham Conservatoire I'd planned to lean towards the composition side while still studying the flugel, and I think the balance of composing and studying performance worked really well for me.
---
Malcolm Wood: Which composers do you admire or influence your writing?
Clara Catt: Performing in brass bands I really enjoy playing and listening to music by people like Phillip Sparke and Peter Graham - so they have been a big influence on my writing.
Piano influences come from the likes of Chopin, Beethoven or Liszt, but also the great modern melody writers such as Burt Bacharach, Hoagy Carmichael, Neil Sedaka and Jimmy Webb.
This has had a huge influence on my writing as I tend to compose from the piano. Really I have so many influences from so many genres I could probably go on listing composers all day!
---
Malcolm Wood: Has your compositional style evolved in recent years?
Clara Catt: I don't think it's changed drastically, if at all, although I do hope it's got more focussed and generally improved.
I've also been able to explore more interesting sounds and different genres recently. I'd like to think my work has developed but hopefully without losing my personal style.
---
Malcolm Wood: Have you composed for different musical genres, and is this an avenue you would like to explore?
Clara Catt: I've done some writing for string orchestra which was very enjoyable, and last year I did an internship with The People's Orchestra arranging music, so that was really interesting too.
I'd like to try writing for Wind Band as that seems like a natural progression from brass bands, and I'd also really like to explore writing for theatre or film.
---
Malcolm Wood: So do your compositions come from the head or the heart?
Clara Catt: The actual material definitely from the heart - but when it comes to scoring etc it's more a mixture of both.
---
Malcolm Wood: You've just graduated from Birmingham Conservatoire. How important were Ian Porthouse and Richard Marshall (two members of staff who you studied under) in encouraging you to compose?
Clara Catt: Both were very supportive. Right from my first year at the Conservatoire I was encouraged to get my pieces performed.

My first opportunity arose at a new music concert in 2011, where the Conservatoire Brass Band performed my 'Dream Sequence', before leading onto the Major Brass Project.
When it came to this though, all the staff involved were very supportive.
---
Malcolm Wood: How did 'Razz for Trombone' and 'Versatility' come about?
Clara Catt: I'd chosen to do a compositional final project and showcase the various styles of brass band music that I enjoyed.

The works amounted to 60 credits of my final year, so they had to amount to around 40 minutes of suitably challenging music.
As a flugel player I wanted to write a solo out of my comfort zone, so that is where 'Razz' was inspired from, whilst 'Versatility' was written in style and structure as a test piece for First Section standard.
These were two of the four pieces I wrote for the concert, with the other two being a massed band arrangement of Chopin's famous 'Etude No 12' and as something very different - an arrangement of 'Poison' by Alice Cooper!
---
Malcolm Wood: The recent première of 'Spice Roots' must have been a real buzz for you?
Clara Catt: It was certainly something different and was so exciting to play at such an important major city reggae festival.
City of Coventry Brass really did it justice and I was so pleased with the end result.
---
Malcolm Wood: With regards to brass banding, do you have a desire to write another test piece or undertake other major compositions?
Clara Catt: I'd love to write another test piece and certainly this comes within my compositional aims.
It would also be great to have a major work performed at the RNCM Festival of Brass. Hearing Tredegar play my works at Birmingham Conservatoire was a real thrill. I do have an open mind though so we will have to wait and see what happens next.
---
Malcolm Wood: Having just graduated, what are your plans for the future and have you any more compositions on the horizon?
Clara Catt: I've got a few compositions and arrangements on the go.

I'm currently part way through writing a horn solo for a Finnish performer and I've also had some interest to write a new euphonium solo.
I've also been approached to do some musical directing work with a theatre group so that will be an exciting new experience too.
Ideally I'd like to continue what I'm doing and combine composition with a flexible day job!