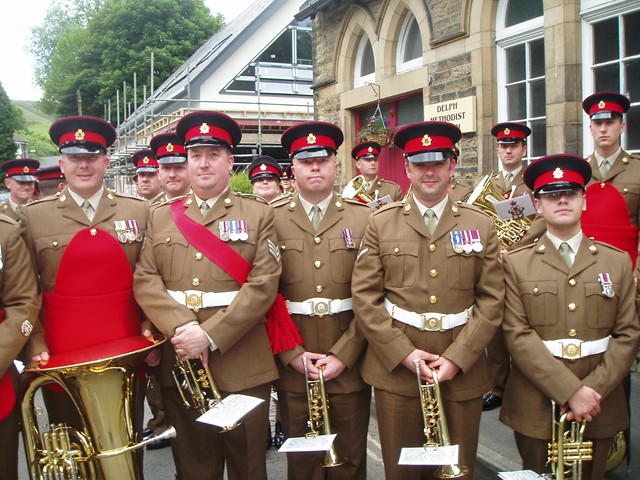 Attennnnnshun! The King's Division on parade...
For once the weather forecast was accurate, and for the first time in a few years the Whit Friday contests in Saddleworth and Tameside took place under a shimmering globe of meteorological optimism.
The morning Processions of Witness across Saddleworth, and Mossley in particular, harked back to an era when ultra-competitive tendencies were consigned to the wearing of best hats and starched collars.
Reminder

It was a pleasant reminder of the true community spirit that still underpins the occassion (over £1,000 was collected at one venue), that has at times also become a victim of its own success.
This year there were record entries at Denshaw, Greenfield and Delph (which finished just before 1.00am) and record bar takings at numerous local watering holes.
However, in the second decade of the 21st century, Whit Friday has become two distinct events rolled into one. What would those old Victorian church elders with their desire to promote moral rectitude have thought of that?
Worldwide profile

Today, its worldwide profile attracts bands from all corners of the globe with welcome visitors this year from Germany, Holland, Switzerland and Japan loving every minute of a unique contesting experience - their enjoyment boosted by the warm reception received wherever they played.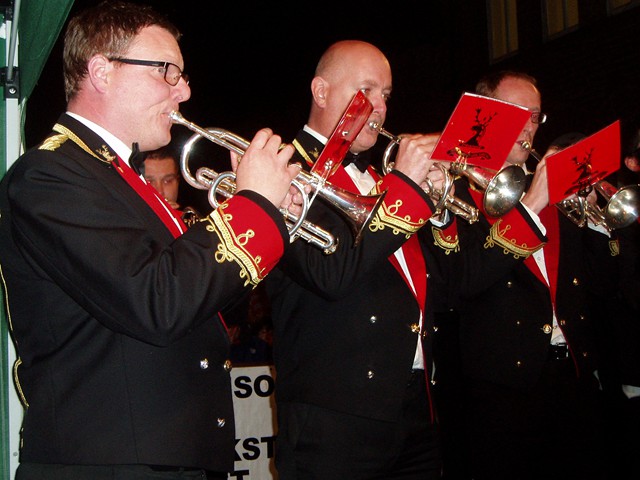 Black, red, gold and.... plenty of pieces of silver for Black Dyke

Foreign visitors

Finishing top of the European challenge was Switzerland's Brass Band Kirchenmusik Flühli, whilst the Dutch First Section champion De Spijkerpakkenband were soon flying as high as an Amsterdam reefer smoker after hearing the news that their football team had trounced Spain in the World Cup.
It was also great to see Berlin Concert Brass, the Dutch of Brass Band Constantijn Huygens (who won at Friezland) and Swiss of Risch- Rotkereuz, whilst Neo Brass from Japan was an absolute delight.
In addition, the Band of the King's Division thoroughly enjoyed themselves too, and in the process delivered a neat bit of Army PR work - especially as the players and MD, Capt. Justin Matthews must have shed a few pounds under their heavyweight uniforms.
With excellent performances from a number of youth bands and some humorous (if occasionally under prepared) scratch bands on show, there were plenty of 'good news' stories for local radio and regional BBC programmes to pick up on.
Traffic

And despite the traffic congestion and the need for the Delph contest to be halted three times for emergency vehicles, the media coverage certainly emphasised the positives rather than the negatives of the day.
Positive responses were certainly to the fore with Black Dyke and Foden's, as the Whit Friday giants repelled the threats to their Saddleworth and Tameside dominance, knowing full well that it was perhaps better to not to lock horns on each other's stamping grounds.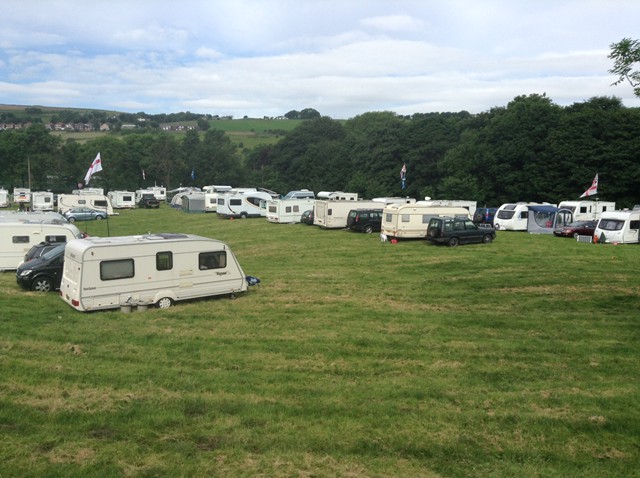 This green and pleasent land.... One way to miss the traffic congestion

Battles to come

Although Black Dyke did suffer a few well aimed blows to chin, especially from arch rivals Brighouse & Rastrick and a boldly marauding Fairey, they still regained the Saddleworth crown on what was a very determined bi-annual visit to the local villages of their regional kingdom.
The prize purse of close on £7,000 will have given the MD a great deal of satisfaction as he looks forward to trying to add the British Open and National Championship titles to the Queensbury CV in the coming months.
Snapping

However, Professor Childs will know that despite coming out on top, some increasingly impressive rivals are snapping at their heels, with Brighouse and Fairey (who came third overall) more than ready for the championship battles at Birmingham and London.
Leyland, Marsden, Milnrow, Hepworth and Oldham (Lees) all ended the night with musical as well as financial credit in the bank too, whilst the likes of Wardle Anderson and City of Bradford certainly punched well above their usual contesting weight.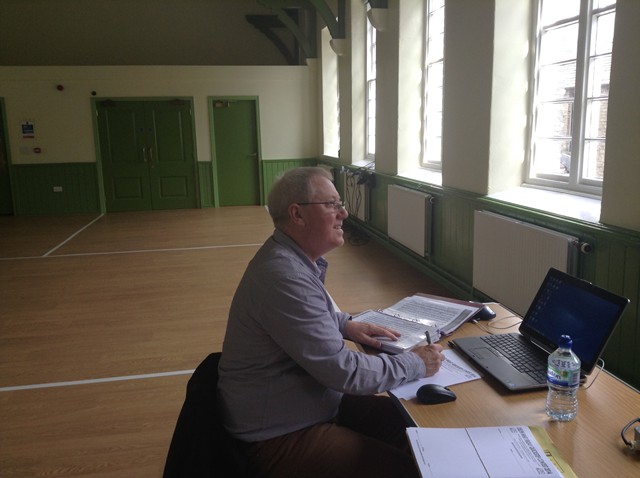 A judge's lot.... Mike Kilroy in glorious isolation...

Over in Tameside, Foden's were certainly in no mood to relinquish their crown - one that has now been worn with Presidential pride for a thirteenth time in fourteen years.
This was a good as it gets - as the Sandbach outfit under Michael Fowles delivered a display of Whit Friday brilliance on William German's famous march that would have even tempted old King Juan Carlos to opt for republicanism.
Overwhelming excellence

With slick organisation enabling them to compete at 11 Tameside venues, it was a display of overwhelming excellence that bagged in excess of £8,000 in prize money: a remarkable feat - and fully deserving its place in the Whit Friday history books.
With Foden's leaving their rivals in their wake, it still left an intriguing battle for the other main prizes, which were eventually claimed by Rothwell Temperance and Ashton-under-Lyne.

Deliberately focussing on Tameside, Rothwell competed at eight venues under David Roberts with the performances showing further solid evidence of their recent revival.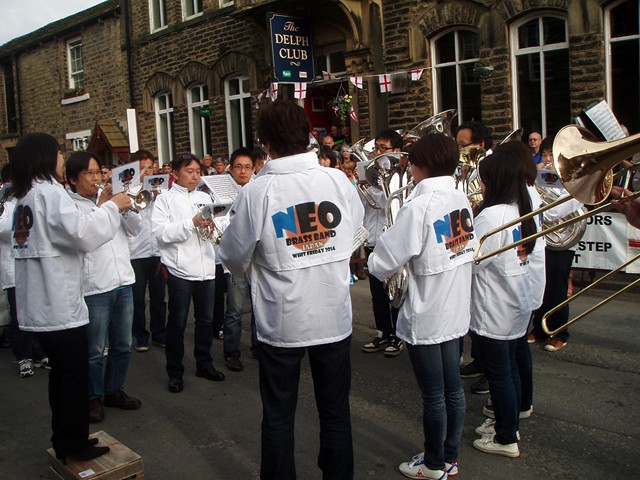 Flying the Japanese flag - Neo Brass

Fine night's work

Meanwhile, First Section North West champion Ashton-under-Lyne, celebrated a fine night's work by beating off the robust top flight challenge from Pemberton Old DW, Blackburn & Darwen and EYMS to take third place overall.
Under Phil Chalk's baton, they will surely be amongst the short priced favourites for the National title at Cheltenham.
With Ashton in the main prize list, the hard fought local championship title went to Mossley, with Stalybridge Old and Tintwistle amongst others such as Elland, Thoresby, Jaguar Land Rover and Eccles who enjoyed a profitable night's work.
With discussions continuing over the increasing challenges involved in running the Whit Friday events, it was good to see many people showing their appreciation for the wonderful efforts of the hardy band of helpers and contest organisers.

The right spirit of Whit Friday

However, it is still becoming increasingly obvious that some bands (at all levels) are beginning to display an increasingly unhealthy contesting cynicism.
There is a spirit to Whit Friday that makes it very special - one that needn't be fuelled by the over indulged contents of a beer glass or the tiresome 'do you know who we are' bully boy tactics.
Rescinded

Prize money was rescinded in at least four contests in Saddleworth following objections and investigations, whilst the Police were called to intervene in other episodes that at the end of a long day could be best described as being down to 'contest emotion'.
That said, some bands simply tried it on - from 'phantom signing-ons' and unsubtle requests through social media to demand to play at venues, to simply barging in and the usual cock and bull stories.
As this year's Whit Friday once again showed, a brilliant community event needs support from everyone involved if it is to continue to prosper - not just from those who put it on for the benefit of the bands.
Malcolm Wood