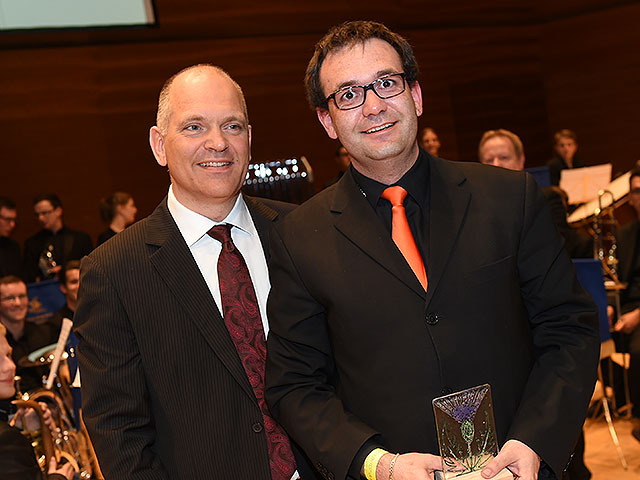 ​Wide eyed in triumph: Brass Band Wipptal's MD, Martin Gruber with the trophy

After the intrigue and debate surrounding 'Muckle Flugga' on the Friday evening, Saturday morning saw four talented bands engage in a slightly less contentious musical battle for the honour of being crowned European Challenge Section champion.
Snickers bar

However, following its year long absence, the competition returned to elicit just as much debate over its suitability as Rory Boyle's test piece: Rebranded but certainly not reinvented - the 'new' Challenge Section was a bit like finding that the local Perth chippie had replaced its deep fried 'Marathon' bar with a low fat 'Snickers' variety.
EBBA's desire to encourage the development of a Europe wide brass band culture remains laudable - but as this contest showed, it also remains significantly flawed.

It is difficult to see how the event actually develops anything other than a highly competitive contesting spirit between the bands that agree to take part.

Last minute spot check for Brass Band Wipptal

Volumes

Until EBBA actually get the funding to start helping the long term development of the national bodies the bands represent (something they say they will try to do initiate by October this year), it will surely remain a highly enjoyable, but rather directionless added musical attraction.
Having a Scottish band take part to make up the numbers spoke volumes.
Radical change

It is a contest that needs a radical change of direction.

EBBA can either bite the bullet and make it the equivalent of the UEFA Cup for First Section competitors, or stay true the contest's underlying ethos and concentrate on helping the real developing banding nations (Scotland certainly isn't one of those) send a representative.
That said, as a 'stand alone' contest there was plenty to enjoy - thanks to a maturely constructed set work, 'The Pilgrim' by the talented young composer Josiah Walters, and a quartet of bands that gave their all in pursuit of the Besson Sovereign Euphonium and €1,000 Euro cash first prize.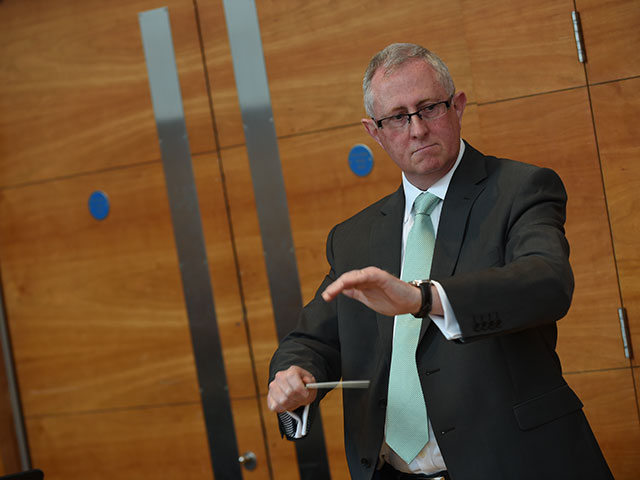 Keeping a lid on the balance with Stephen Cairns of 1st Old Boys

Little problem

The judges who compared the performances of 'Muckle Flugga'; Hannes Buchegger, Guido Segers and Martin Winter all returned to the box the following day, and encountered little problem in picking a champion - with the test piece in particular allowing them to examine the competitor's contest winning credentials in detail.
Impressive high quality

Brass Band Wipptal proved to be an impressive high quality performer; polished and precise, with a broad ensemble sound of remarkable depth and clarity.

They would not have been out of place in the Grand Shield the week before, with classy principal leads, (none more so than 'Best Soloist' winner Markus Luhn) cultured dynamic range and lasting stamina.
Martin Gruber's elegant direction was replicated in a flowing rendition of the set work, which seemed well within their technical scope; a 'Pilgrim' of subtle moods, peace and contentment, hope and aspiration - much like their own ambitions to eventually take part in the top level event at these championships.
Personal

A very personal work, 'The Pilgrim' reflected the young composer's own metaphorical battles in reaching the end of a musical journey. Initial hope and enthusiasm turns to frustration and disillusionment before renewed optimism and final contentment are achieved.
The brave, but totally appropriate ppp ending was a mature closing evocation of the journey travelled. It will be good to hear more from this compositional talent.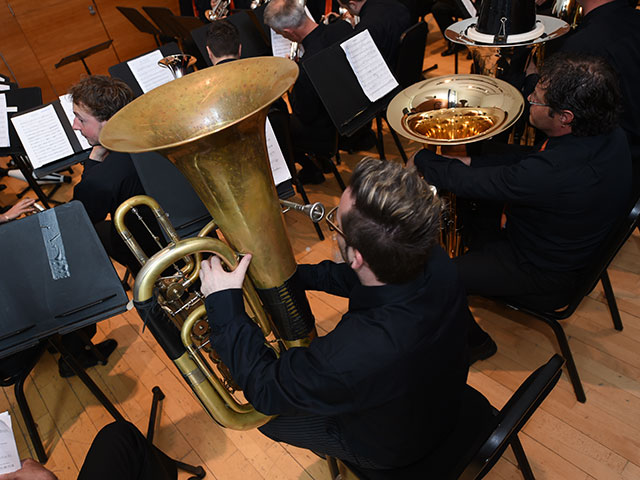 Wipptal's clever tuba taping...

Breathless invention

Wipptal's own choice work, Thomas Doss's highly descriptive 'Vipitenum Scenes' was tremendous counter balance from a composer who at present has the happy knack of writing works of breathless invention.
With his 'REM-scapes' being used by Brass Band Burgermusik Luzern to help them claim the Championship title, it completed a remarkable 'double' for the outstanding Swiss composer.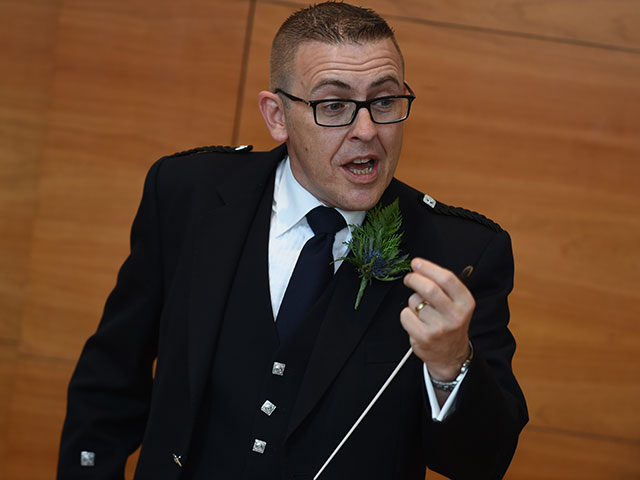 Flower of Scotland.... for Tullis Russell Mills MD Paul Drury

Serious threat

The most serious threat to Wipptal's title aspirations came from the confident challenge of 1st Old Boys Association Silver from Northern Ireland.
In addition to the set work, Stephen Cairns led his top flight band through another Doss gem in 'The Time Machine' - a work that had all the pulsating energy of a steam punk mix between Marty McFly's DeLorean car and HG Well's bedspread contraption: It was full to the brim with colour, drama and perfectly paced excitement.
Laudable

Scotland's representative was also a fine example of a band (not nation) that has undergone a total redevelopment of its own in recent years.
With secure long term foundations in place to provide its senior band with a stream of youthful player talent, Tullis Russell Mills is a shining example of SBBA's laudable plans to reinvigorate grass roots banding.
Under Paul Drury (and with SBBA Development Officer Andrew Duncan on tuba), they gave an excellent account of the evocative, 'They Shall come from the East', and an edge of the seat reading of James Curnow's 'Trittico', bookending a confident rendition of 'The Pilgrim' that featured fine individual solo contributions from the euphonium and cornet in particular.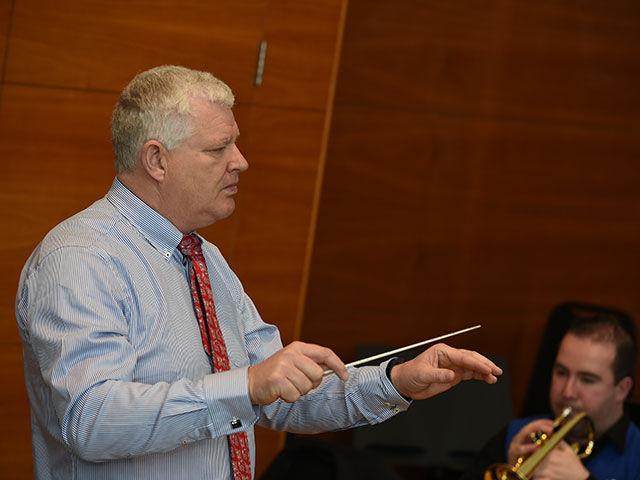 Positive developments for Drogheda under Michael Maher

Positive development

Despite ending fourth, Drogheda, who last appeared in this event in 2009, also showed that they had certainly developed positively in the right direction in the intervening years.
Well constructed accounts of the set work, Alan Fernie's 'Citrus, Altius, Fortius' (in the presence of the composer) and the forthcoming Second Section National final piece, 'Traversada' by Oliver Waespi (and what a treat that will be for the competitors) were all played with free flowing musicality under the baton of Michael Maher.
Songs of triumph

For EBBA, the Italian victory will give as much cause for celebration as it did the wonderfully friendly Wipptal players who clutched the Challenge Trophy on high and chanted songs of triumph.
With new bands forming in the north (where Wipptal are based), in the south around Naples and even in Rome itself, it would appear that the Challenge Section is more doing the job it was intended.
Others though may still take some convincing.
Malcolm Wood