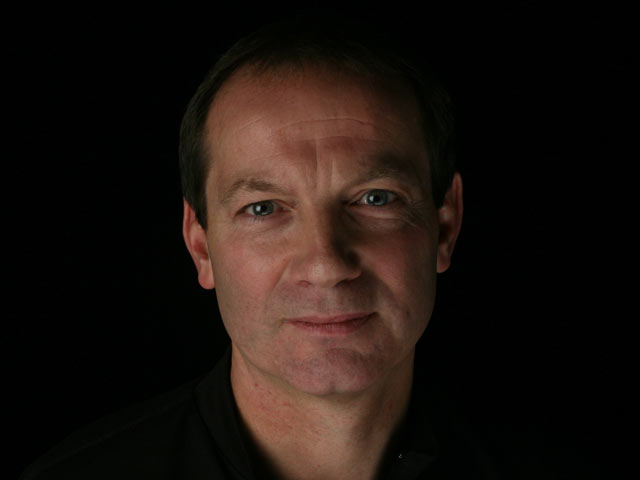 Creative persona: Composer Nigel Clarke

Despite Nigel Clarke's success as Composer in Residence during the late James Watson's tenure at Black Dyke, two recent events have brought the work of one of our most original creative thinkers into sharp focus.

The first was Brassband Buizingen's double CD, 'When Worlds Collide'; a magnificent showcase of Clarke's brass band music and a striking testament to the productive relationship that has developed between the composer and the leading Belgian band.
In addition, when his Cornet Concerto 'Mysteries of the Horizon' was announced as winner of the Brass and Wind category of the 2013 British composer Awards, it further confirmed his compositional status.

However, music our genre forms only a part of the creative persona of a composer with a refreshingly innovative approach to everything he writes.

Chris Thomas recently caught up with Nigel to discuss all things music...
---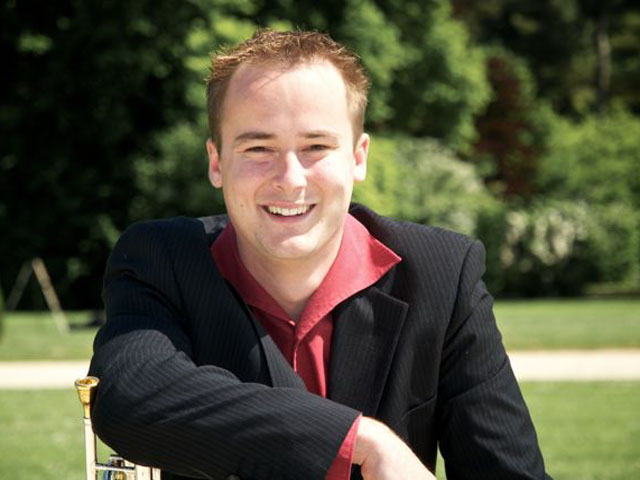 The amazing Harmen Vanhoorne

Chris Thomas: Many congratulations on your British Composer Award. How did it feel to win the brass and wind category?

Nigel Clarke: I was more than thrilled to be nominated for a 2013 BASCA Award with 'Mysteries of the Horizon' but I never expected to actually win.

To be judged by your peers and not found wanting is very special, although like all awards it represents past achievement!

I see the award very much as a team success, with the amazing Harmen Vanhoorne who commissioned the concerto, conductor Luc Vertommen and Brass Band Buizingen who recorded it so brilliantly.

Then comes Tredegar Band and Ian Porthouse who also deserve special thanks as they delivered a stunning British premiere with Harmen at the RNCM Festival of Brass in Manchester last year, which meant the work, could qualify for entry in the 2013 BASCA competition.
I must add that I didn't enter myself for the award; it was my publisher Studio Music. The first I knew about it was when the nominations came out.

Anyway, it was a true collaboration!!
---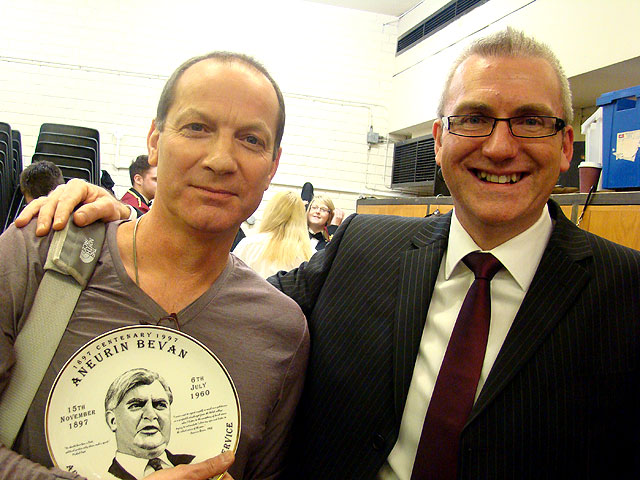 Collaboration: Teaming up with Tredegar MD Ian Porthouse and a political hero
Chris Thomas: You were brought up in Margate and went to a school with a strong emphasis on music. How did your musical interests start to take shape in those early years?

Nigel Clarke: I loved music from the start. One of my earliest school memories was the head teacher playing classical music to us during morning assembly.
I still remember her choices - Kabalevsky's 'Comedians Gallop' and Khachaturian's 'Sabre Dance' through to extracts from Tchaikovsky's 'Swan Lake'. I would sit there mesmerised, savouring every moment.

Once the music stopped the rest of the day was downhill for me!

I started off learning the recorder, which increased my interest in music. After failing my 11 plus exam, I went to the local Secondary Modern school and was required to do metal work and wood work classes for two whole afternoons - activities in which I had no interest in whatsoever!

However, music was encouraged and the school had a brass band with a highly motivated teacher, Ben Tillett.
Band practice was on Monday and Thursday evenings after school. The school band played hymns every morning in school assembly and we had a dedicated band room to practise in at lunchtimes. How much better could things be!

The school band also acted as a nursery for the local Margate Silver Band, and we often hopped across the channel to do concerts in Calais, Boulogne and Lille.
It was not unusual for pupils to join the armed services bands as a career. In those days Army and Marine bands gave concerts on local bandstands and in the Margate Winter Gardens on the seafront.
---
Chris Thomas: When did you begin to compose and take a greater interest in the creative side of music?

Nigel Clarke: With the school having an unofficial emphasis on music, jotting things down on manuscript paper started then.
It was a different world at that time. Music seemed important to our cultural life!

Andre Previn would appear on Sunday evening TV presenting music with the LSO, the Proms were on in the summer every evening and 'Young Musician of the Year' was covered every evening at a respectable time and not in the graveyard slot.

In those days it was about the music and the talent of the competitors - not watching the young players go shopping to choosing their concert dress etc. Today we seem obsessed with the human-interest side of the story rather than the talent of the performers.
---
Chris Thomas: What kind of music were you writing in those early days?

Nigel Clarke: Like almost anyone that starts out, it was very traditional.

I remember writing a set of variations on 'Land of Hope and Glory' for cornet and also penning a piece for church organ called 'Toccata', which was a little too near for comfort to one by J S Bach - but that is how you start!
---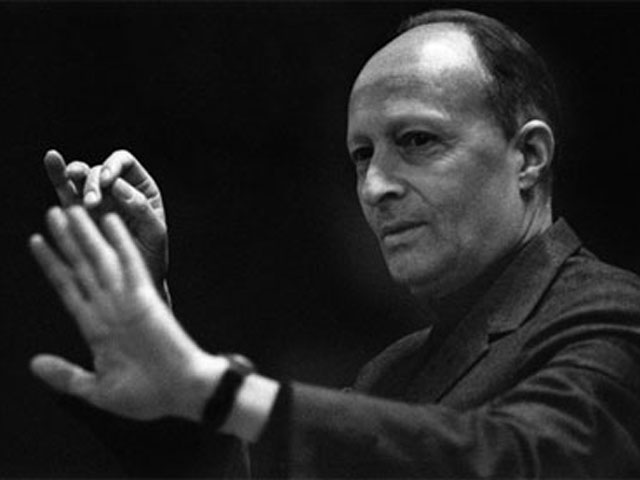 Polish influence: Composer Lutoslawski

Chris Thomas: Later, you were drawn to the music of the new Polish school and composers such as Lutoslawski and Penderecki.

What was it that attracted you to their music and did it influence your own writing at the time?

Nigel Clarke: I have to preface this answer by saying that I hated new music as a child.
I remember hearing a Béla Bartók string quartet and almost being angry at its dissonance and aggression even though ironically, this was something I would be very interested in later.

Then, aged 18, I discovered 'Le Sacre du Printemps', which was a life-changing moment.
Suddenly new music was central to me. I still remember the recording that I bought; a tape cassette of a performance given by the National Youth Orchestra of Great Britain. I would die to get hold of that performance now!

My love of music from Poland must have come soon after that encounter. I was also encouraged by a wonderful man called Peter Wastall who edited music for Boosey & Hawkes and published many contemporary music editions for brass and wind instruments.
I remember turning up one day at his house near Deal in Kent when he had just received a new handwritten manuscript through the post by Peter Maxwell Davies. What an inspiration it was to hold the score!

Somewhere along the line I started to be fascinated by Polish composers such as Penderecki, Lutoslawski and Andrej Panufnik, which was helped by having the chance in my late twenties to attend a summer school in Poland led by the composer Marek Stachowski.

I was also lucky enough to be a student at the Royal Academy of Music when Penderecki and Lutoslawski were in residence for a week as part of the International Composer Festival series.
---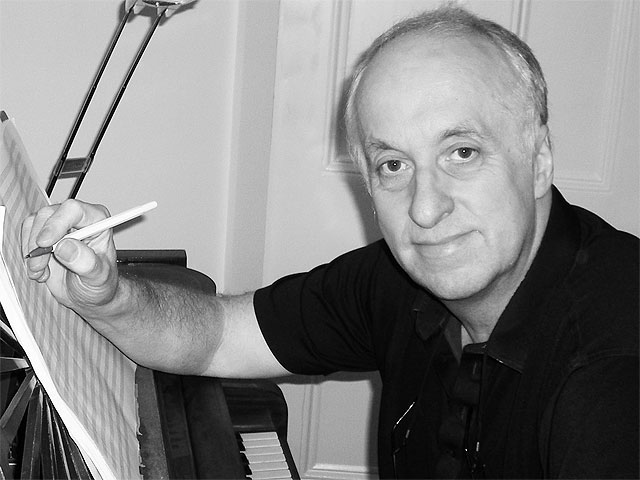 Compositional influence: Composer Paul Patterson
With permission granted by Josef Weinberger Ltd

Chris Thomas: You studied with Paul Patterson, who was also influenced by the New Polish school and who wrote several aleatoric experimental works for works for band in the 1970's including 'Cataclysm'.

What are your memories of those studies and how did Paul influence and encourage you as a young composer?

Nigel Clarke: Paul was a gifted teacher who never imposed his own musical style on his student. He always tried to let his student develop his or her own musical voice and vocabulary.

It often saddens me when you hear young student composers tell you that they are required to write certain types of music at university to enable them to pass their teachers' scrutiny as well as obtain their degree.

I don't see that as being very creative, practical or helpful.

Perhaps this explains why I think so many composers today are almost set up to fail and move into different professions: They effectively lose themselves.

I was also lucky to have a conductor friend called Robin Page who was always encouraging and thoughtful when looking over my student scores.
I think it would be fair to say it took a while for my studies at the RAM with Paul to really take hold and it was around 1983 that the musical 'penny dropped'.

I wrote a brass quintet called 'Cross Currents' which won a competition judged by Sir Michael Tippett. It was a very important time in my development.

Paul's words still ring in my ears and remain my motto today: 'You are only as good as your last piece'.

I now find myself saying the same thing to students that I teach around the world.
---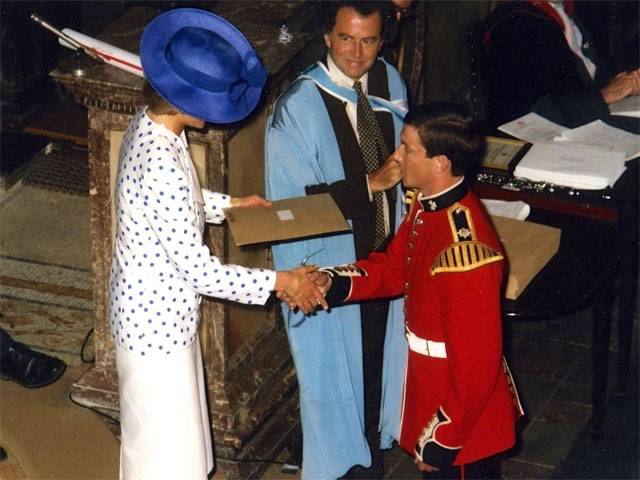 Receiving the Queen's Commendation for Excellence from Princess Diana

Chris Thomas: Initially you pursued a career as a military bandsman, and to what degree was it beneficial to your development?

Nigel Clarke: I spent 8 and half years in the military, joining at 16 years old.
I did my boy service at the Royal Marines School of Music, Deal, and continued with the British Army where I served in the Staff Band of the Royal Army Medical Corps directed by Major Peter Parkes. I then spent the last part of my service career in the Band of HM Irish Guards.

Going to the Royal Military School of Music, Kneller Hall was hugely beneficial to me.

There I met Gordon Reynolds (the Queen's organist) who first encouraged me to have proper composition lessons. It was Gordon who first mentioned the name of Paul Patterson to me.

I do remember being marched in front of Lt. Col George Evans on a disciplinary charge for abusing the inside of one of the Steinway pianos with ping pong balls, amongst other inappropriate objects!
The Colonel thought this all very amusing and said if I really did need to throw objects inside pianos I should choose not to use instruments owned by the Ministry of Defence. I was given a caution and a slapped wrist and was back within the hour finding other MOD instruments to abuse!

On a serious note though, the military bought me time to develop and make up for my under-achieving education.
I have a lot of fond memories of those days, even when one Band Sergeant Major asked me if I, "was still writing all that shit music?"

That type of comment always made me work harder.
---
Chris Thomas: Was the decision to devote yourself entirely to composition always part of the grand plan?

Nigel Clarke: I was only ever good at two things; athletics and composition.
I was never a cornet or trumpet player destined for greatness so my options were limited. I now see that as an advantage. So many talented composers stray from the path of composition never to return.

To be fair I wanted to be a composer but it always felt like a bit of a pipe dream.