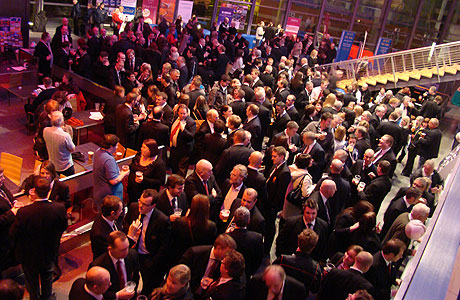 Could this be a thing of the past by next year...

Cherish them while we can - for this could be, if the ballot boxes come up with an Independence Day result later this year, the last time the Scots play a part in the National Championships of Great Britain.
Given the furore over the future of the pound, defence and North Sea oil, it would be difficult to think that any last minute political voting swing will be governed by whether or not there is Scottish representation at Cheltenham or London in 2015 and beyond - but you never know.
Hopefully, whatever the outcome, some sort of political fix can be put in place. Scottish banding has given the Championships a great deal over the years, even if the bands themselves have only claimed a measly three 'National' titles since 1992.
That's a record that has seen no real sign of improving in the last few years either, despite a little bit of bad luck at Cheltenham last year, where a couple of contenders were unlucky to miss out on a top six finish.
However, with the 'trickle up' effect of SBBA's long term investment in youth finally to show lasting reward (14 bands in the Fourth Section – and another 2 in a non -competitive Section 4B) let's hope the latest Scottish renaissance hasn't come too late to make an impact on the rest of UK banding - or before we lose them to their own devices...
---
Fourth Section 'B':
Perth Concert Hall
Sunday 9th March
Pre-drawn:
Start: Following last band in First Section
Adjudicator: Alan Fernie
What a wonderful idea - and a great aperitif to the Championship Section event that rounds off the weekend in Perth.
Hopefully there will be a great deal of support in the hall then for Coalburn Intermediate conducted by Kyle MacCorquodale and Newlands Concert Brass directed by Paul McKelvie OBE.
The Scots have a well known reputation for innovation and inclusion, and this could an idea that is copied around the UK. Let's hope so.
---
Fourth Section:
Perth Concert Hall
Saturday 8th March
Pre-drawn:
Start: Following the conclusion of the Second Section
Adjudicators: Michael Dodd & David Hirst
Although the Scots have closer historical links to the French than the Spanish, they have enjoyed some pretty memorable 'Three Spanish Impressions' on their own shores over the years - especially from a couple of pretty tasty Real Madrid football teams.
Whether or not any of these enthusiastic contenders can make the same impression as Puskas, Alfredo di Stefano or Zinidene Zidane is perhaps asking a bit too much, but there should be no shortage of effort and more than a sprinkling of Iberian inspiration too.
Alan Fernie's set work has been an enjoyable test of musical character with its clever exploration of style, colour and texture, so we could be in for something of a treat form 14 cracking bands, many of which will be packed to the sombrero brim with youthful talent.
Who will win?
This one is like trying to pick out the bits of squid from a tasty paella - but we think it could be Bon Accord Silver B from Tayport Instrumental heading to Cheltenham, pushed all the way by Callander Brass.
The remaining top six places really are up for grabs but we have opted for Penicuik Silver, Dundee Instrumental and Buckhaven & Methil Miners with our dark horse, who could top the lot, Whitbun Heartlands.
4BR Prediction:
1. Bon Accord Silver B
2. Tayport Instrumental
3. Callander Brass
4. Penicuik Silver
5. Dundee Instrumental
6. Buckhaven & Methil
Dark Horse: Whitburn Heartlands
---
Third Section:
Perth Concert Hall
Saturday 8th March
Pre draw:
Start: Following Fourth Section results
Adjudicators: Stan Lippeatt & Alan Morrison
There were one or two Scottish accents trying to be disguised in Bradford last weekend as a few MDs and players took the opportunity to find out just what Alan Morrison and Stan Lippeatt will be looking for on Philip Wilby's wonderfully elegant 'Partita' set work.
The Scots would have returned home with plenty of common sense to report; both Alan and Stan making sure that the good folk of Yorkshire were left in no doubt that it was about first getting the consistent basics right and then adding that extra bit of musicality if they could.
It's not musical rocket science - but it was still quite startling to hear more than a few bands get things the wrong way around. It was if they were intent on writing postcards from home and then forgetting the address to send them to.
Hopefully that won't be the case here as 10 contenders seek to successfully marry nostalgia and note bashing is a qualification mix – from the smoky skylines of 'Towers & Chimneys' and church parade best of 'Lord of the Dance', to the quiet relaxation of 'Sunday Afternoon' and the patriotic 'Coronation Day' finale.
Who will win?
An interesting one this – with a brace or more of bands that are very much on the way up in terms of overall musical progression.
Chief amongst them is Tullis Russell Mills Intermediate, who have impressed each time we have heard them, and Barrhead Burgh (last year's Fourth Section winner).
These maybe the two making their travel plans for Cheltenham in September if they hit top form, although they will be hard pressed we think by the likes of Selkirk Silver, Renfrew Burgh, Dunaskin Doon and Irvine & Dreghorn. Our dark horse is Peebles Burgh.
4BR Prediction:
1. Tullis Russell Mills Intermediate
2. Barrhead Burgh
3. Selkirk Silver
4. Renfrew Burgh
5. Dunaskin Doon
6. Irvine & Dreghorn
Dark Horse: Peebles Burgh
---
Second Section:
Perth Concert Hall
Saturday 8th March
Pre draw:
Start: 9.30am
Adjudicators: David Read MBE & Alan Morrison
The Scots have produced plenty of famous poets and wordsmiths of their own over the years, so it will be interesting to see how these 11 solid looking bands cope with the very English literary inspiration behind Michael Ball's 'Chaucer's Tunes'.
It seems to be the one piece that has really got the MDs putting on their musical thinking caps.
These are cleverly realised portraits that require a keen balance of style and substance - from the dislocated rhythms of the opening 'Intrada' and beauty of the 'Alma Redemption Mater', to the witty tale of promised fidelity in the 'Wife of Bath' and bold splendour of the Christmas carol, 'Es ist ein' Ros' entsprungen'.
Much then for David Read MBE and Alan Morrison to look forward to in the box: Get it right and a trip to Cheltenham awaits - but get it wrong and even Miss Jean Brodie would have had a hard time restoring a bit of musical pride into proceedings.
Who will win?
As we have said, there are some good looking (and sounding) bands on show here, and if St Ronan's has been able to build on the type of form that saw them rather unluckily miss out in Cheltenham last year (although that was in the Third Section) then they could be heading back to seek revenge.
Tullis Russell Mills is the other stand out candidate to make it to Cheltenham for us, with Campbeltown Brass and Kingdom Brass B close behind. The consistent Shotts St Patrick's and St David's Brass may have something to day about that though, along with our dark horse City of Discovery.

4BR Prediction:
1. St Ronan's
2. Tullis Russell Mills
3. Campbeltown Brass
4. Kingdom Brass B
5. Shott's St Patrick's
6. St David's Brass
Dark Horse: City of Discovery
---
First Section:
Perth Concert Hall
Sunday 9th March
Pre draw:
Start: 10.00am
Adjudicators: Stan Lippeatt & David Hirst
The Scots have yet to produce a First Section National champion, and if any of these 10 well matched bands are to have any chance of etching their name on the trophy at Cheltenham they will first have to gain heady inspiration from Howard Lorriman's 'Cry of the Mountain'.
Finding a bit of local hilly topography to lift the spirits isn't too much of a problem in these parts, but you suspect that the Scots haven't been alone in the past weeks finding difficulty in getting too enthused about a trek up this particular musical summit.
Despite its obvious Alpine inspiration from its opening 'Awakening' to the final 'Avalanche', it's not exactly an ascent to the peaks of competitive contesting that may stand you in good stead for the top section challenges that could face these bands in the years to come - let alone the Finals in September.
Still, it's a piece that has to be conquered, and there is enough about it to trip up the unwary and the disrespectful - especially as the two men in the box know a thing or two about how to guide bands to peak success.

Who will win?

Ten solid looking performers on show here - each with more than a sporting chance of ending the day planting their banding flag on this particular summit.
Bo'ness & Carriden may be the pre-contest favourite, although Unison Kinneil may be just a few feet behind by the time they reach the top with Coalburn hanging onto the heels of both of them.
The rest may just have to watch from below, but do not discount the chances of Broxburn & Livingston, Dalkeith & Monktonhall or Newmilns & Galston. Our dark horse is Bon Accord.
4BR Prediction:
1. Bo'ness & Carriden
2. Unison Kinneil
3. Coalburn Silver
4. Broxburn & Livingston
5. Dalkeith & Monktonhall
6. Newmilns & Galston
Dark Horse: Bon Accord
---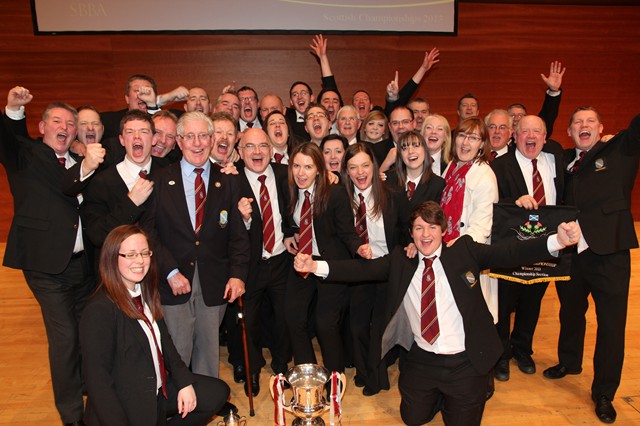 2013 Champion: Whitburn

Championship Section:
Perth Concert Hall
Sunday 9th March
Draw:
Start: After First Section results
Adjudicators: David Read MBE & Michael Dodd
Nearly ten years after it was first premiered in Glasgow at the European Championship, and six years after it was used at the Scottish Open, 'St Magnus' makes a welcome return to the heartland of Scottish banding.
It seems rather appropriate somehow - especially as the European is once again taking place here in May: The winner's will gain the honour of representing their homeland in Freiburg in 2015, whilst the top two bands will head south to the Albert Hall in October - perhaps for the last time, depending on just how serious the Scots are about brass band independence.
There is plenty to play for then, even if success at both events has been pretty thin on the ground of late.
Who will win?
The Scottish Championship has been something of a private battle between reigning champion Whitburn and Co-operative Funeralcare in recent years.
You have to go back to 2007 when Kirkintilloch was triumphant for the last time the duopoly was broken, and the odds at the local bookies seem to suggest that it will be a battle once more between the two heavyweights.
It's the start of what could be a momentous year for Whitburn, so they will be determined to give themselves a huge personal boost ahead of the challenges of the Grand Shield and European, although Co-op will want to ensure that they regain the domestic bragging rights.

Shock results here don't happen all that often so it would be a bit of an eye opener if Kirky could do it again (although they are pretty good at upsetting the form book - as last year's Grand Shield showed), and a jaw dropper if Newtongrange lifted the trophy for the first time since 2005.
They are full of ambition and good form though, so could push the traditional 'big three' all the way, whilst the consistent Kingdom Brass and Dalmellington should have enough about them to just keep our dark horse of Kirkintilloch Kelvin out of the frame.
4BR Prediction:
1. Whitburn
2. Co-operative Funeralcare
3. Newtongrange
4. Kirkintilloch
5. Kingdom Brass
6. Dalmellington
Dark Horse: Kirkintilloch Kelvin