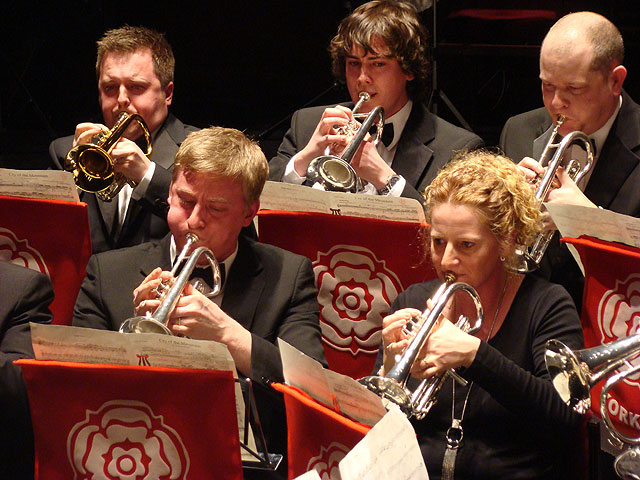 Bradford deliver the best Cry of all...

First Section:
The First Section certainly served up an intriguing contest on Saturday afternoon, as the battle for the qualification places produced a number of fine performances on 'Cry of the Mountain' that despite the bands best efforts, still left the listener musically unfulfilled.

The descriptive work is similar in inspiration to 'Mountain Views', used here two years ago, but as was the case then, even the winners City of Bradford and qualifier Hatfield may wonder just how it will have prepared them for the challenges of greater musical peaks ahead.

There was the opportunity for conductor's to take some considered risks with tempos and dynamic contrast, but for the most part the piece offered little more: That said, the two best bands on the day deservedly won through to Cheltenham, with a well directed quartet filling the top six places behind.
Prosper

On this evidence there is little doubt City of Bradford will be able to survive and prosper on the much more arduous slopes of Championship banding, after their rendition of drama, colour and evocative musicality under Lee Skipsey (who was sporting the type of beard that wouldn't have been out of place on Edmund Hilary's countenance) took the title with a little something to spare.

Theirs was a top class winning performance - and will see them heading to the finals as one of the short priced favourites to comprehensively conquer any challenges and challengers they may face there.

Splendid

Joining them will be Hatfield, splendidly directed by Stan Lippeatt, who used all his experience to balance heart on sleeve emotion with just the right level of technical bravura - summed up to perfection by the outstanding 'Best Soloist' contribution of Andy Kennedy on euphonium.
No grumbles

Just behind, Leigh Baker's solid non nonsense approach had enough about it to see a hard working South Yorkshire Police end third, a nose in front of Norman Law's Meltham & Meltham Mills, with Strata Brass and Clifton & Lightcliffe a little further back.

None of the remaining bands could really grumble where they came, including Wakefield Metropolitan, who was disqualified under Rule 9a, concerning the dates of player registration.
As anyone knows when you are setting off on even a mountain trek as underwhelming as this - you need to be fully prepared in advance.
---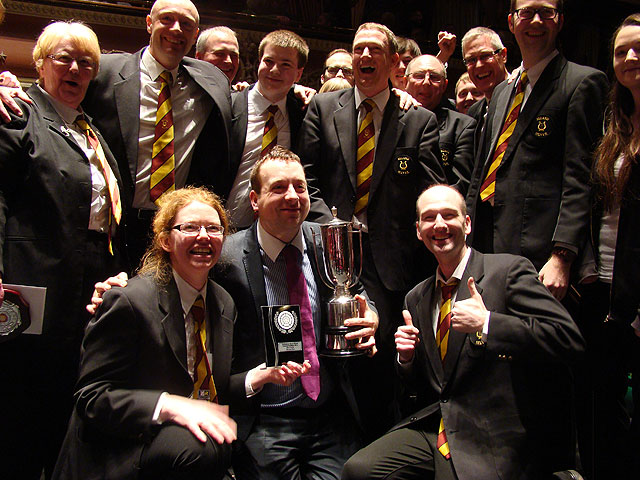 All in tune: Elland head to Cheltenham once again...

Second Section:

Sunday morning witnessed what was arguably the most closely fought contest of the weekend, as adjudicators David Horsfield and Dennis Wilby and an appreciative audience, enjoyed plenty of fine playing from all 11 bands on Michael Ball's elegant, 'Chaucer's Tunes'.
When the duo finally emerged from the box, their decision to award victory to Elland Silver with Knottingley Silver joining them at Cheltenham gained widespread approval.

High class marker

With the need to create subtle portraits of boldness, warmth, wit and beauty, Elland set a high class marker off the number 1 draw that couldn't be matched, despite the fine efforts of well led rivals.

Danny Brooks' flowing interpretation was aided throughout by the lovely cornet playing of Samantha Harrison, which deservedly gave her the 'Best Soloist' Award.
Vibrancy

Knottingley Silver came closest after an engaging rendition full of subtle phrasing under Dr Owen Wedgewood, whilst in robust contrast came a performance of vibrancy, boldness and excitement from Emley in third: It was every bit as colourful as MD Garry Hallas's glasses.
Lindley, Kippax and Chapletown will perhaps wonder how their finely judged efforts missed out on this occasion, but unlike the First Section, all the bands here will have left the better for more severe challenges ahead after working on this piece.

On this form, and on what will be their third successive appearance at Cheltenham, Elland will be a band to fear as well as admire, with Knottingley not too far behind.
---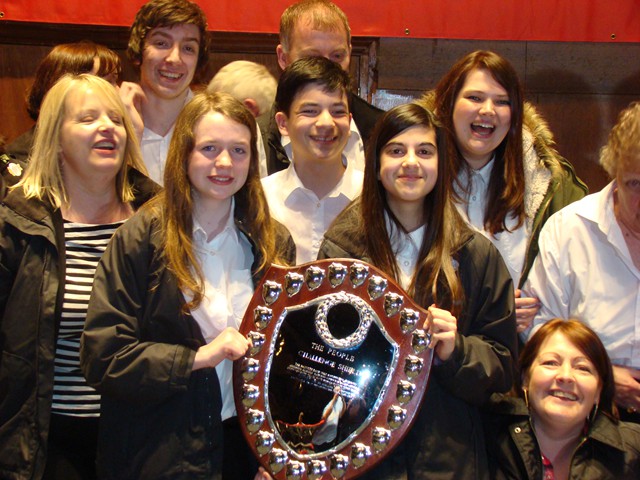 Ready to send a postcard from Cheltenham: Dinnington take the title

Third Section:
The opening salvos of the weekend were provided by a fine Third Section competition, where Philip Wilby's 'Partita for Band' (Postcards from Home) saw the 11 competitors battle to produce renditions that matched 1950s nostalgia to 21st century technique.

Perhaps not surprisingly, it was the art of post war lyricism that caught most out, with the technical aspects all but conquered by every band, thanks to well thought out approaches to tempos and dynamics .

Key to success

The key to success lay in the approach to the third movement, 'Sunday Afternoon' - an aspect picked up on by judges Stan Lippeatt and Alan Morrison, although they were also clear that one good movement certainly didn't translate into a podium finisher.

It was overall consistency they were rightly after, and that was certainly provided by a confident Dinnington Colliery, who sounded technically solid and musically well prepared from start to finish under Jonathan Beatty. They were also helped by some fine individual solo work - none more so than 'Best Soloist' Jamie Hollings on trombone, who was 'superb' according to Stan Lippeatt.

Elan

It wasn't until the final segment of the contest that the remaining qualification place was grasped when Wetherby & District Silver's nuanced reading, conducted with great élan by Keiron Anderson just edged out John Roberts' more vibrant approach with Worsbrough Brass.

After that the placings became clearer to settle on, with fine accounts from Slaithwaite, Crofton Silver and Armthorpe Elmfield ending the day with a great deal of contesting credit to their names, and the rest of the field benefitting greatly from the musical experience.
---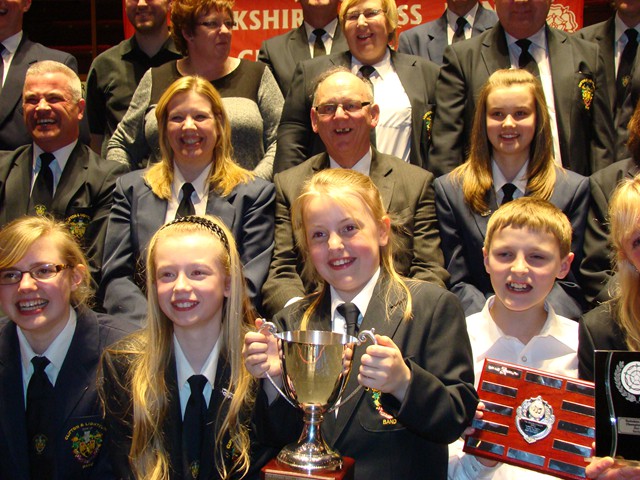 All smiles for Clifton & Lightcliffe B
Fourth Section:
Sunday afternoon's Championship aperitif saw an eight band field tackle Alan Fernie's 'Three Spanish Impressions' with stylish aplomb.
Although the bands may want to forget the trouble they had to go through to finally get to the contest stage with parts that had more amendments than the latest bailout clause for the Spanish economy, the end result saw a whole batch of well constructed, colourful accounts - aided by some cracking percussion playing from every band.

Blossoming romance

The opening movement caused a few Iberian headaches, but it was the lovely Basque waltz of give and take, and rubato led 'will she won't she' that was the key to success; the winners Clifton & Lightcliffe B and runner-up Rockingham both delivering it with a touching hint of blossoming romance as well as warm humour.

Clifton & Lightcliffe 'B' MD John Clay certainly enjoyed bringing out the colours and textures from the score, with principal cornet Panette Harrison giving a wonderfully composed piece of leadership to gain the 'Best Soloist' prize.
Engaging

Rockingham's equally engaging account pushed the winners all the way (thanks to a cracking middle section that was dripping in unfulfilled expectancy), with a very neat and well mannered account from Maltby Miners Welfare in third.
Elsewhere each of the competitors - from Oughtibridge to Deepcar emerged all the better for their impressionist musical trip to Spain.
Malcolm Wood