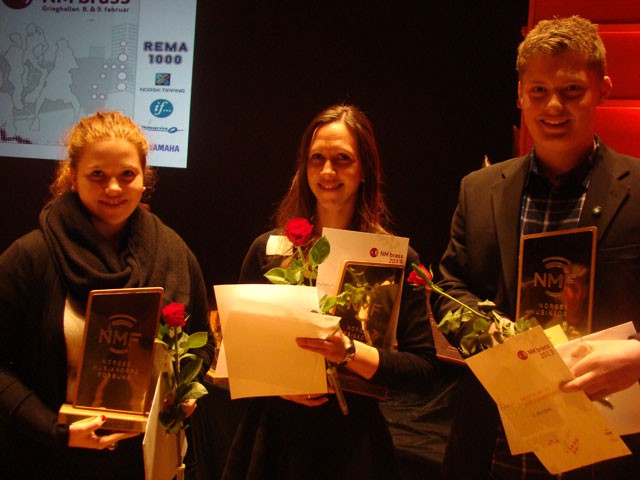 2013 podium finishers

First Division:
Adjudicators: Bjorn Sagstad & Ivan Meylemans
Saturday 8th February (8.30am)
12 quality contenders will provide fine entertainment early on Saturday morning as they try to claim the kr 40,000 first prize and the possibility of promotion to the Elite level of Norwegian banding.
There are some pretty powerful outfits on display here - with the likes of Molde Brass looking to make an immediate return alongside Olsofjord Brass and last year's podium finishers Oster Brass and Tomra Brass.
The ambition shown is clear to see when you look who they have at the helm, with a list of MDs that wouldn't be out of place in any elite contest in the world - from Russell Gray and Garry Cutt to Reid Gilje and Frode Amundsen, whilst Torstein Aagaard-Nilsen has not taken a musical break even though he has been busy working on the composition of the top flight test piece.
What is even more startling though is the selection of own choice works - and make no mistake - they can certainly play them too. This is First Section banding as it should be - especially in the UK.
Plenty to sit back and enjoy then, from 'The Legend of King Arthur', 'The New Jerusalem' and 'The Year of the Dragon' through to 'Dances and Arias', 'Sketches from Nowhere', 'Brass Blot' and 'Myth Forest'.

There is even 'On Alderley Edge' - which should give us a clue to how hard it will be for the Brits at the Grand Shield.
As for a winner?
It looks like being a contest to savour, especially when comparing some pretty demanding works against each other.
If we were to put our necks on the line though we think it could go down to the wire between Olsofjord and Molde with Kleppe, Oster, Askoy and Tomra not far behind. Our dark horse is Tertnes Amatorkorps.
4BR Prediction:
1. Oslofjord Brass
2. Molde Brass
3. Kleppe Musikklag
4. Oster Brass
5. Askoy Brass
6. Tomra Brass
Dark Horse: Tertnes Amatorkorps
---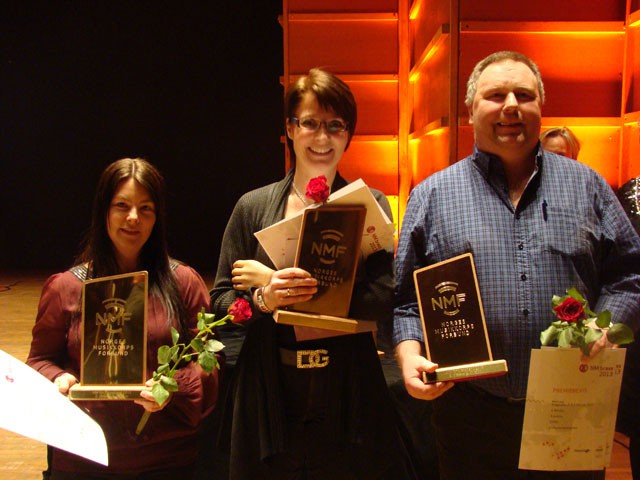 2013 podium finishers

Second Division:
Adjudicators: Thomas Beiganz & Yngve Slettholm
Friday 7th February (10.00)
More ambition and more good quality on Friday morning with the promise of a keen battle for the Second Section title.
Once again it is the choices of music that give the game away: You either have to be full to the brim with confidence or bubbling over with misplaced hubris to tackle the likes of 'Paganini Variations', 'Brass Blot', 'Pageantry' or 'The Year of the Dragon' to name but a few at this level.
Still, as we have seen over the last few years, the best bands here can certainly make a damn good fist of repertoire that would send a shiver down the spine of many a top flight contender in the UK.
Last year's victor gave an outstanding rendition of 'Tallis Variations', whilst the year before we enjoyed Bjorsvik Brass delivering an epic 'Essence of Time': So what will we hear in victory this time around?
As for a winner?
We have a sneaky suspicion that it could well be a battle between two bands that dropped down from a very good First Division last year in Orskog Brass and Radoy Brass with Gjovik Bybrass pushing them both close.
Former Elite champion Sandefjord Brass Symposium are welcome return competitors this year and could do well, with the likes of Sagvag Musikklag, Manger Old Stars and Rong Brass in the mix as our dark horse.
4BR Prediction:
1. Orskog Brass
2. Radoy Brass
3. Gjovik Bybrass
4. Sandefjord Brass Symposium
5. Sagvag Musikklag
6. Manger Old Stars
Dark Horse: Rong Brass
---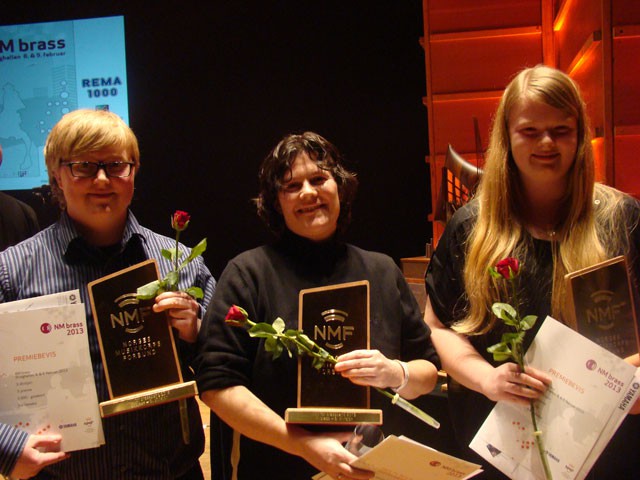 2013 podium finishers

Third Division:
Adjudicators: Bryan Allen & Elisabeth Fossan
Friday 7th February (16.00)
The title that just about anyone can win according to those in the know (so that counts the 4BR editor out then), so much to enjoy in the Peer Gynt Hall on Friday afternoon - especially for the adjudicators Bryan Allen and Elisabeth Fossan.
There is some great music on show - with a touch of Nordic myth and mystery about the likes of 'The Saga of Tyrfing' and 'The Saga of Haakon the Good', a dab of the religious with 'Variations on Laudate Dominum' and 'Song of the Eternal' and some good old fashioned secular fire and brimstone with 'Connotations' and 'Firestorm'.
There's plenty more too from 15 well matched bands - all of whom could well be celebrating come Saturday night after the announcement of the results.
As for a winner?
Take your pick as they say - and we have picked a rum lot to top the charts in Stangaland Brass and Skui Brass, closely followed by Tysnes Musikklag and Folleso Musikklag.
Behind them we have gone for Agder Brass and Borge Brass to make it into the top six with our dark horse of Valdres Brass.
4BR Prediction:
1. Stangaland Brass
2. Skui Brass
3. Tysnes Musikklag
4. Folleso Musikklag
5. Agder Brass
6. Borge Brass
Dark Horse: Valdres Brass
---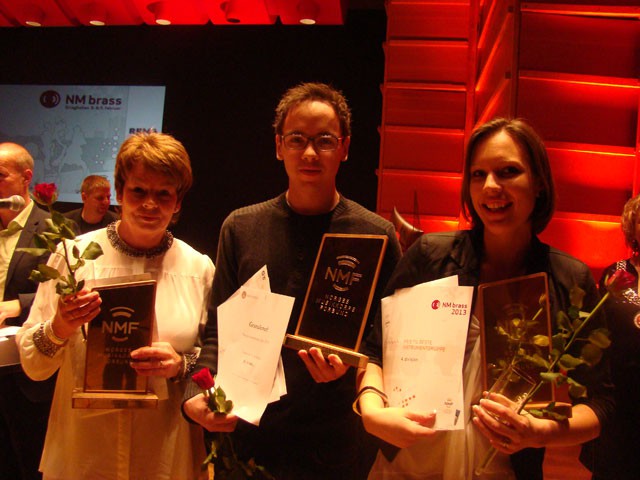 2013 podium finishers

Fourth Division:
Adjudicators: Ian Porthouse & Thomas Beiganz
Saturday 8th February (11.00am)
The strength in depth of Norwegian banding is frightening at times - and if you are lucky to make the trip to Bergen as a neutral listener you would be well served to pop in and have a gander at the bands in the Fourth Section.
The standard is very good indeed - equivalent at its best to top quality Second Section outfits in the UK - and on occasions, considerably better.

At times though ambition does slightly exceed realistic expectations and so you can also get to hear some pretty odd renditions of some classic works.
That's the beauty of contesting at this level in Norway - the element of competition comes second to the element of sheer musical enjoyment. And there is plenty of that.
Much then for Ian Porthouse and Thomas Beiganz to ponder, especially as there is great music on show - from Gordon Langford's classic 'Sinfonietta' and Gregson's, 'Variations on Laudate Dominum' to Sparke's, 'A London Overture' and Dobson's, 'Penlee'.
As for a winner?
This is as hard as it comes, as last year there were at last four bands that could have justifiably won the contest without a quibble.
This time round we opt for IMI Brass closely followed by last year's impressive Fourth Division champion, Nordlys XO and Filadelfia Hornorkester Drammen.
The top six places will be one heck of a keen battle, but we go for Grenland Brass, Frei Hornmusikk and Salhus Musikklag with our dark horse of Lyshornet Brass.
4BR Prediction:
1. IMI Brass
2. Nordly XO
3. Filadelfia Hornorkester Drammen
4. Grenland Brass
5. Frei Hornmusikk
6. Salhaus Musikklag
Dark Horse: Lyshornet Brass
---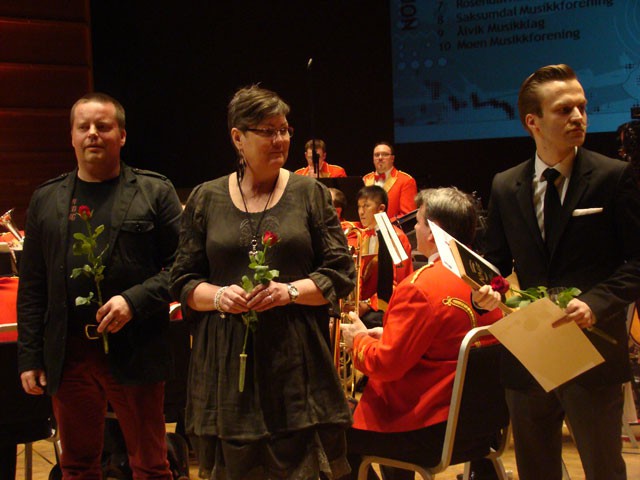 2013 podium finishers

Fifth Division:
Adjudicators: Andrew Berryman & Bjorn Sagstad
Friday 7th February (10.00am)
If you ever want to gain proof positive of just how impressive the foundation of Norwegian banding is becoming, then make sure you get along and listen to the bands competing in the Fifth Section.
It may only have been set up two years ago, but it now boasts 15 competitors - and can spring a fair old surprise or two.
There are certainly a few eyebrows raised when looking at some of the repertoire that is to be played – with 'Penlee', 'Lake of the Moon' and 'The Prizewinners' up against a rendition of 'Paganini Variations' and a brand new work entitled, 'The Created'.
What can we expect then?
Well - plenty of fun, lots of smiles, some pretty good playing and a competitive atmosphere that lifts the heart. Everyone supports everyone else and the emphasis is on inclusion.
It's a pity there has to be a winner in fact...
As for a winner?
As there must be one then we have to stick our necks in the line - and in these circumstances we think if they can meet the ambition of their own choice repertoire, then Bjorvika Brass could be the band to beat.
Floro Hornmusikk and Tysvaer won't be too far behind, with the top six made up of Alvik Musikklag, Fjordbrass- Lavik and Skeie Brass.
Our darkest of dark horses on this occasion is Indre Torungen Brass Ensemble – and not just because we like their name!
4BR Prediction:
1. Bjorvika Brass
2. Floro Hornmusikk
3. Tysvaer Brass
4. Alvik Musikklag
5. Fjordbrass- Lavik
6. Skeie Brass
Dark Horse: Indre Torungen Brass Ensemble