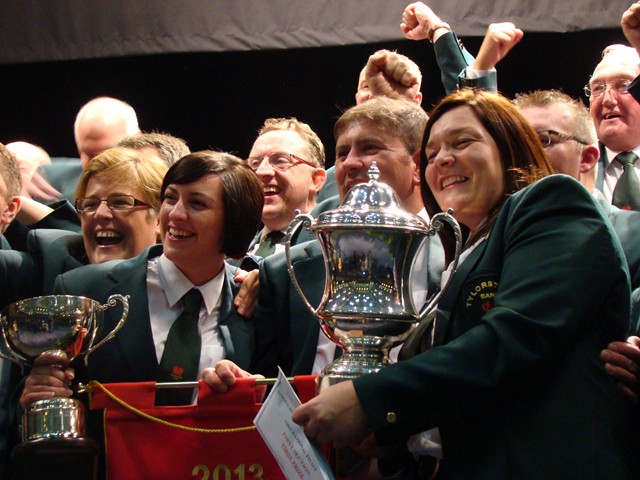 Chapter and verses of celebration for Tylorstown

The remarkable closing chapter of the story of Welsh domination at Cheltenham came with Tylorstown's victory in a keenly fought, high quality First Section contest.
It was a powerful denouement; a winning performance hewn out of the same type of raw championship winning material that has served adjudicators, Dr Robert Childs and Paul Holland so well over the years.
Hallmarked
The hallmarked quality of the precise ensemble work, solidity of the leading solo lines and forensic appreciation of detail and effect could have come out of a contest title winning manual written by the former Cory MD himself.
Nothing was left to chance as Tylorstown's conductor Gary Davies later told 4BR: They had worked their socks off on 'Fanfares & Love Songs' – a piece that had musically stretched the Rhondda band in full in refining and rehearsing it until they understood and appreciated its nuanced intricacies.
As a result, with an opening and closing movement that retained character and drive, despite the odd moment of unease, and a central section that was admirably transparent in structure and flow, it was perhaps the most cohesive, well delivered rendition of the day.
No wonder it appealed in the box: It had to.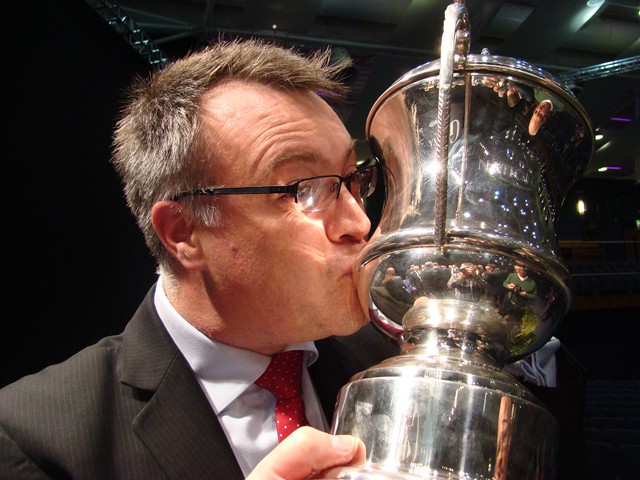 Power and passion from winning MD Gary Davies

Persuasive cases
The contest certainly produced a number of rivals who delivered persuasive cases for title winning consideration – chief amongst them according to the judges, Staffordshire, Kidlington Concert Brass and Foresters Brass 2000, who eventually came second, third and fourth.
Meanwhile, supporters of Drighlington and Filton Concert Brass will have known that a top six finish was perhaps the pinnacle of their fine efforts, although Newtongrange were left to wonder that on another day their colourful account may well have found title winning favour with a different brace of judges.
Nuanced intellect
Gavin Higgins's set work proved to be an engrossing set test of true Championship Section, as well as title winning aspirations.
This was music of nuanced intellect; ostensibly straight forward on the outside, yet complex, fecund and full of imagination the more you delved into its multi layered core.
As a composer known for exploring the darker, more enigmatic elements of human nature with his major works, it was further confirmation that he also remains one of the most brilliantly uplifting and lyrically satisfying too.
He simply understands how both the musical heart and mind works.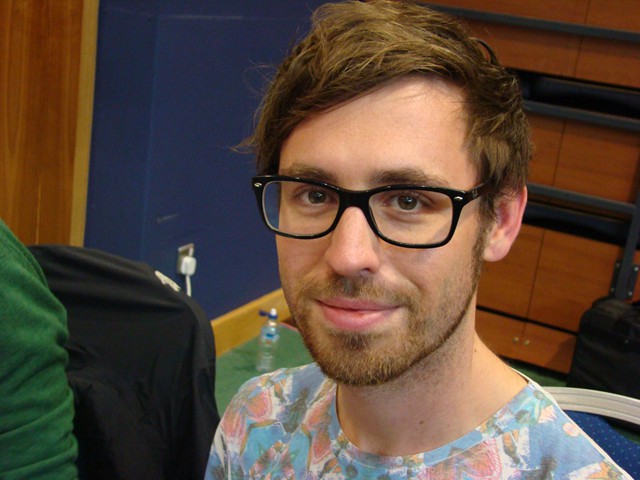 Mind and matter from composer Gavin Higgins
Different approaches
It led to a number of different, and at times, intriguing approaches from MDs; some opting for fanfares of power and love songs of passion, others, clarion calls of less strident purpose and laments of melancholic yearning.
Staffordshire's was certainly the former, as Leigh Baker led the Midlanders in a performance rich in vivacity and emotion, that only had its iron willed grasp unpeeled from the National Trophy by Tylorstown's equally outstanding effort.
It was hard to find fault with the implementation of the MDs finely structured interpretation – with excellent solo lines (especially from 'Best Instrumentalist' Award winner Andy Jennings on soprano) balanced by solid ensemble support throughout.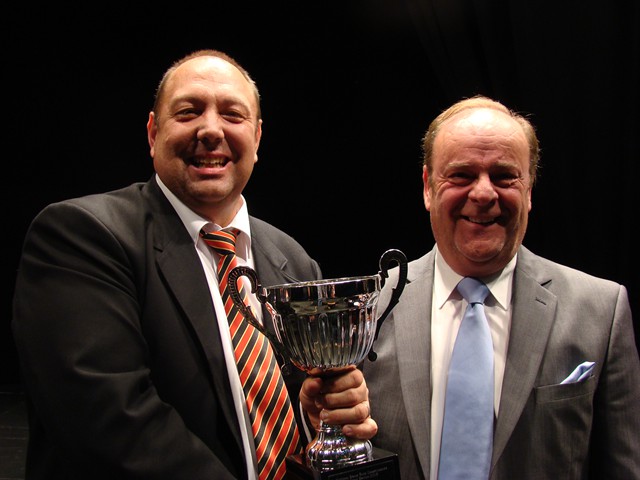 Top sop: Andy Jennings played his part in full with runner-up Staffordshire

Lyricism
Duncan Wilson meanwhile centred his approach with Kidlington Concert on a beautifully paced, languid display of cultured lyricism in the 'Love Song' interlude.
The band's lighter ensemble timbre was ideally utilised, although a bit more power may have been useful when it came to fanfares.

Overall though, it was a rendition that was both the most artisan and artful of the prize winning contenders.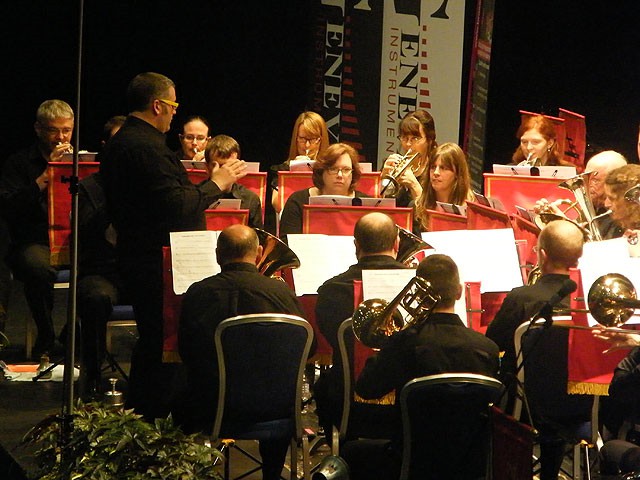 Lyrical MD Duncan Wilson led Kidlington into third place

High class
The final band of a high class quartet that Dr Robert Childs later told the audience 'had floated to the top' came from Foresters Brass 2000.
They rounded off the contest under the direction of Peter Collins with a performance that for many (4BR included) seemed to combine the elements of power and passion almost perfectly.
However, the heart may have been worn just a little too close to the sleeve for the judges though, as it eventually ended fourth.
Achilles heel
That may also have been the Achilles heel of the Scots of Newtongrange, with Lee Skipsey's intuitive musicality bringing passionate longing from the 'Love Songs' to contrast with the joie-de-vivre approach of the bold fanfares.
It was a real musical panoply; one that the judges may have felt just lost touch with the more subtle aspects of the score to claim a top six mention.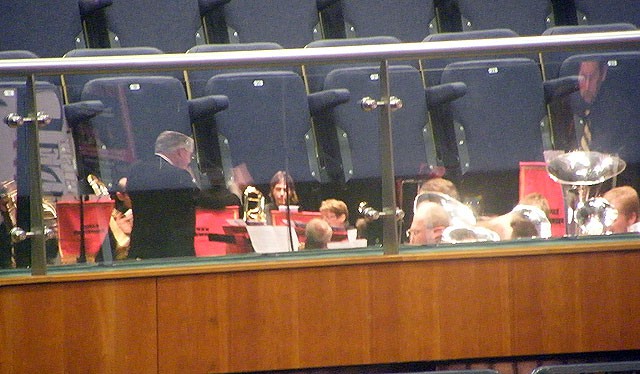 There was plenty to reflect upon with some performances

Behind
It also meant that it ended up behind a brace of less colourful accounts from Drighlington and Filton Concert, both of who will have left the stage knowing that unforced errors and lapses of concentration put pay to possible podium finishes.
Jim Davies and Tom Davoren opted to explore the more lyrical elements of the score, but were ultimately undone by occasional ensemble sloppiness.
Spirited
Behind them, Harrogate's spirited effort was also expensively tarnished by an annoying minor error count, whilst Alder Valley Brass and Lanner & District also found that at this level you cannot hope to come higher than a midfield finish if well shaped musical intentions are pockmarked by a litany of careless slips.
Freckleton could perhaps count themselves a little unlucky that they didn't end higher than eleventh – although their engaging performance lacked overall consistency.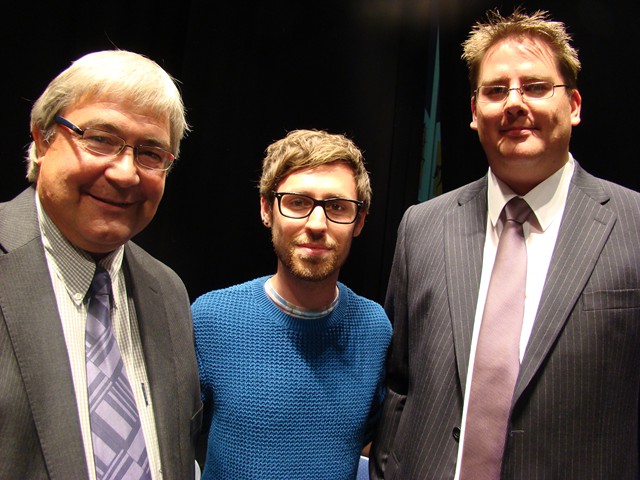 The judges meet the composer: Dr Childs, Gavin Higgins and Paul Holland

Pronounced
For the rest of the field, those inconsistencies become increasingly pronounced.
Penclawdd just got a touch over-wrought and unstable in execution, Hebden Bridge and Johnstone lacked precision and accuracy, whilst Morecambe and Blidworth never quite captured the subtle beauty or bold vivacity of the composer's intentions in what were curiously bland accounts.
Although never in the hunt for a top ten finish, each will have left knowing that they have the potential to return next year (promotion not withstanding) as stronger contenders.
Shoulder

Whether or not Tylorstown will go onto make a significant Championship Section mark against the cream of Welsh banding's elite remains to be seen in 2014.
However, if they can repeat this type of contest winning form, you can bet Bob Childs, Paul Holland and many more top flight conductors will be looking over their shoulders.
Iwan Fox