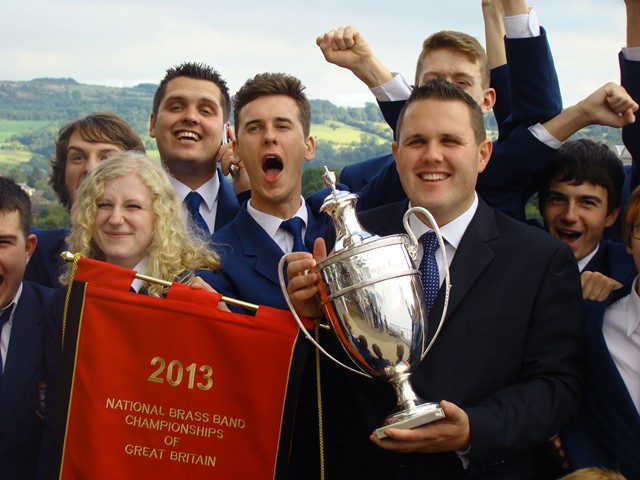 Ready to drink the water: Goodwick set to celebrate

Whatever is in the water percolating through the bedrock of Welsh banding at present, you can be sure that after their performances at Cheltenham, every other region in the UK will want to find its source and start bottling it.
There is no secret formula however - no holding of infant players by their heels as they are dipped like Achilles in the River Styx (or Taff, Tawe or Severn) to make them nigh on impossible to beat.
Simple fact

The simple fact of the matter following Goodwick's imposing victory in the Second Section was that a batch of receptive young players (many of them teenagers) have been taught to play with warmth, tonality, ensemble precision and an appreciation of dynamic balance by a very talented MD in Matthew Jenkins.
It's the type of elixir of successful banding life that can be found anywhere in the country - if you know how to use it when you find it.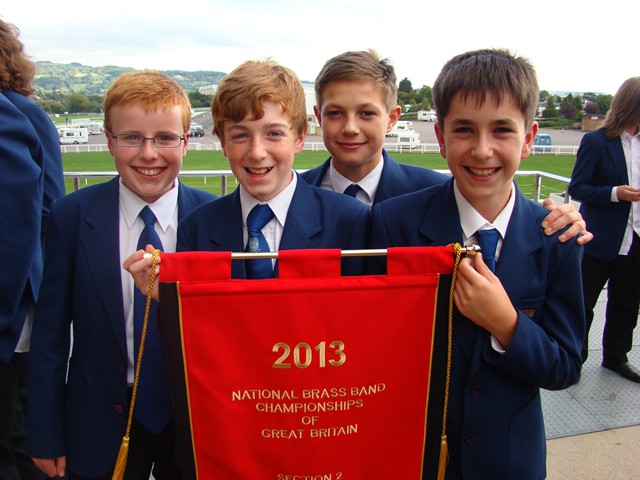 Four little Goodwick dippers...

No better

Goodwick are not unbeatable (this was their fourth consecutive attempt to win a National title), but on the form they displayed here there is no better band at this level in the country.

The excellent choice of Kenneth Downie's 'Purcell Variations' showed that perfectly.
The 17 contenders were faced with a work that required considered understanding - each of the variations on Purcell's 'Westminster Hymn' crafted with care and attention to detail to create an enjoyable, cohesive whole.
It certainly caused problems.
Basic banding requirements

Too many MDs were unable to successfully balance basic banding requirements with stylistic musical nuance – a point made by both adjudicators Glyn Williams and David Hirst.
Consistency as ever played its part: David highlighting the quality of horn playing on show, but also pinpointing the lack of ensemble appreciation of style rather than tempo.
There was certainly confidence in what he termed '18 wonderful performances', but he also said that many were either 'too fast' in the quicker sections or 'lacked flow' in the slower elements.
Troublesome chord

That may have struck a troublesome chord with some MDs, who felt that bands who tried to copy the tempos on well-known recordings were a considerable margin away from the composer's intentions.
Meanwhile, Glyn was equally specific – pointing out the difficulty conductors had in bringing the graceful refinement of the grazioso style to bear on the music, although this was balanced by the nuts and bolts of warm ensemble sound and sharp articulation being readily in place.
Although not everyone will agree, but on this occasion the judges did a fine job; fully informing the audience of how and why they reached their decision.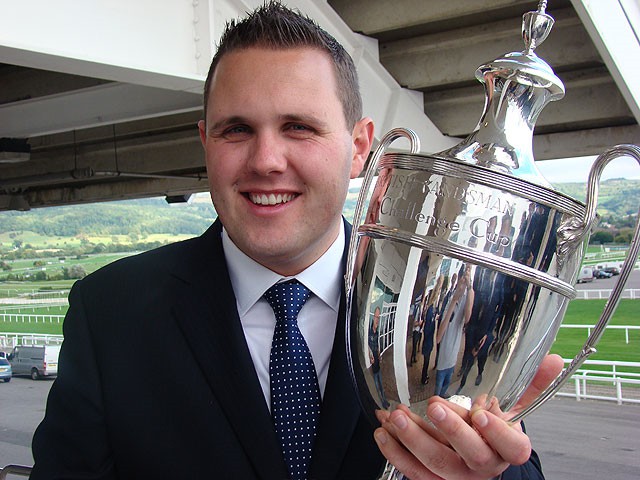 Inspirational MD Matthew Jenkins

Local parlance

Goodwick was a clear winner.
In local racing parlance they were a good length ahead of a fine runner-up in Bilton Silver (Rugby) with the rest of the field a furlong or two behind.
It was a cracking victory performance.
The quality of an ensemble full of warm tonality was balanced by the solidity of the main solo lines, the appreciation of sectional balance and the sharply defined precision of the articulation.
The slower music flowed with purpose whilst the troublesome jazzy big band section was played with a bold but not over-wrought swagger. The faster sections were pin-point accurate.
Sympathy

Sympathy does extend however to Bilton Silver (Rugby), who for a second successive year performed wonderfully well only to find themselves beaten by an inspired rival.
Under David Stowell, the Midlanders couldn't have played much better, with a rendition that on just about any other day would have claimed the National title.

Solo horn player Paul Bennett also took the 'Best Instrumentalist' prize for a second year in a row.
They will have left for home proud but disappointed, but knowing that on this form their contesting future holds just as much promise as their Welsh rivals.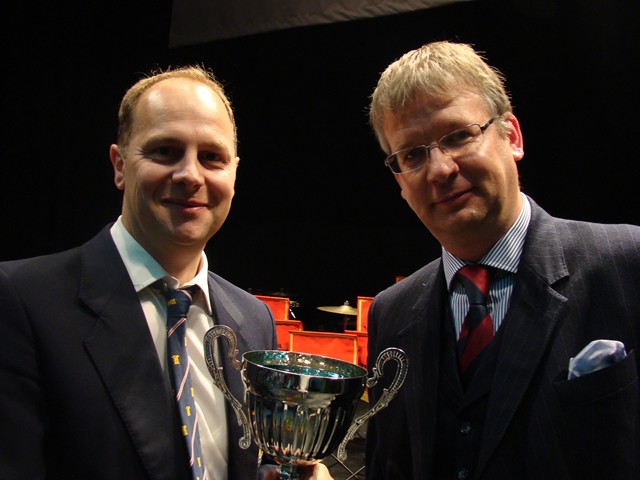 Second time in a row for Best Instrumentalist Paul Bennett of Bilton

Engaging

A little way behind came Swindon Pegasus, who took to the stage as the final band of the contest to provide an engaging performance under Graeme Lewis; one that was full of vitality and fizz, helped by a cracking percussion section.
They headed something of a mini battle for the right to join Goodwick and Bilton on the podium, as a thoughtful rendition from fourth placed Middleton under Marytn Evans, just fell short as their collective stamina waned.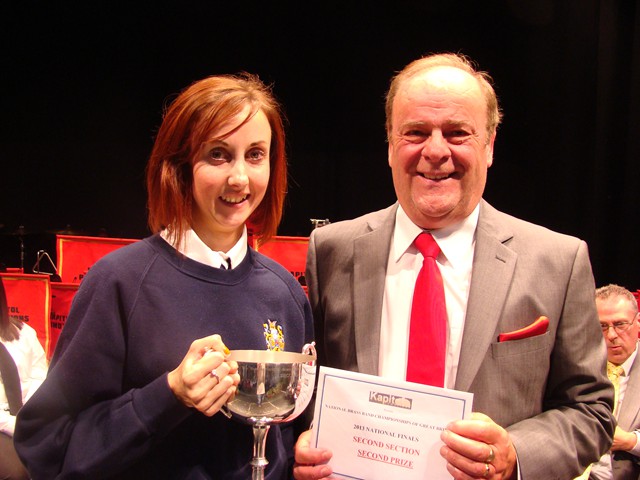 Runner up once again for Bilton Silver (Rugby)

Purpose

Gareth Ritter's busy day saw him lead City of Cardiff (Mellingriffith) 2 in an account that hit you between the eyes with its sense of purpose and dynamic commitment to end fifth, whilst following them on stage was Epsom & Ewell, who produced a slightly fragile, but extremely stylish account under Jack Smith to come sixth.

A little less power from Cardiff and a little more from Epsom may well have seen them claiming a top three finish.
Usual story

Outside the prizes and it was the usual story of consistency (David Hirst acknowledged that many bands played two or three variations well) as possible stage mentions were lost amid nervousness, fragile solo lines, ensemble carelessness, lack of dynamic control and poor tuning.
Each had their moments though.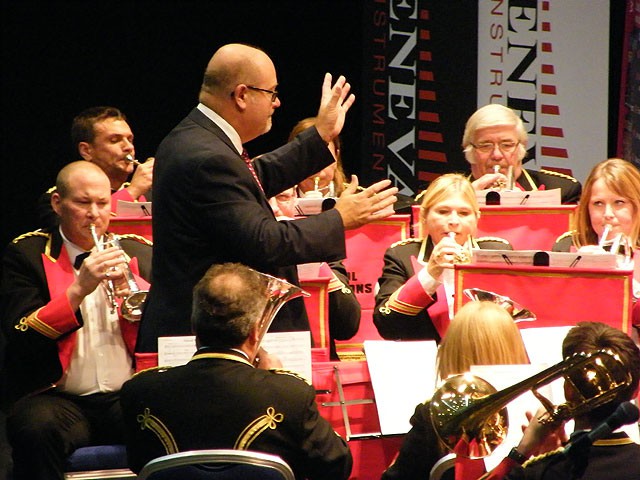 Handy work from Graeme Lewis and third placed Swindon Pegasus

Malleable

The Scots of Unison Kinneil were musically malleable and interesting in ending seventh, Hitchin bold and confident in eighth and Elland just a little too error prone in eventually coming ninth.
Meanwhile, few complaints you suspect from the midfield finishers of York Railway Institute, Whitworth Vale & Healey and Pendennis Brass Falmouth, although both Cornerstone Brass and Ware had their supporters in the hall (4BR included).
Below them came the quartet of Wigston, Bathgate, Ripon City and Hoover (Bolton) who produced the type of hard working, fully committed accounts (Hoover in particular) that will have brought experience and benefit for contests to come.
Dipped

For Goodwick however, the future is already in the here and now – and with the news that the next generation of youngsters are already being dipped into the magic musical waters in West Wales, the rest of UK banding better watch out.
Malcolm Wood