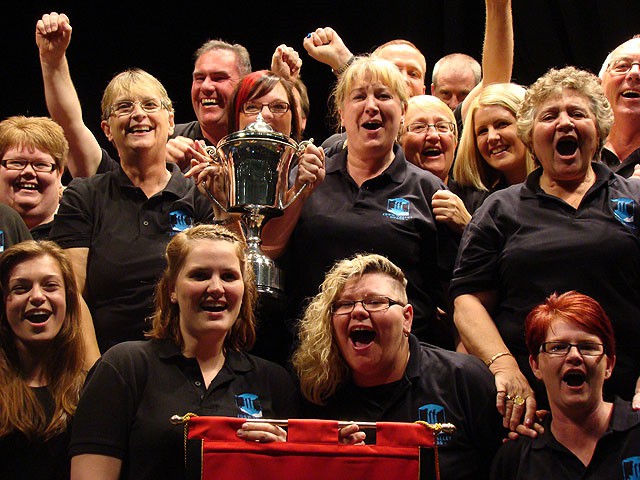 All together now... Ebbw Valley celebrate
Ebbw Valley's Fourth Section National victory was a timely reminder to any band currently battling for survival, that by forgetting ancient enmities and working with former rivals, new partnerships can lead to inspired collective success.
A few years ago the Gwent valley bands of Ebbw Vale and Cwm were moribund; as much relics of their past as the windblown wastelands on which once stood their town's former British Steelworks plant and Marine Colliery coal mine.
Terminal decline

Although less than three miles apart geographically, they rarely exchanged even a competitive pleasantry.
As a result their own terminal decline mirrored that of the industries that once produced so many of their players.
Those tribal problems belonged to a different era on Saturday night though – pre 2011.
Nelson Mandela

Late that year, after a period of reconciliation that would have tested even Nelson Mandela's diplomatic skills, the two organisations merged under a new identity, led by a MD with a reputation for being one of the Principality's most progressive and hard working conductors.
And in Cheltenham on the weekend, that joint decision to rid themselves of their destructive sense of isolationism bore fruit under the inspirational Gareth Ritter:

Others bands, the length and breadth of the UK should take note – collectivism works.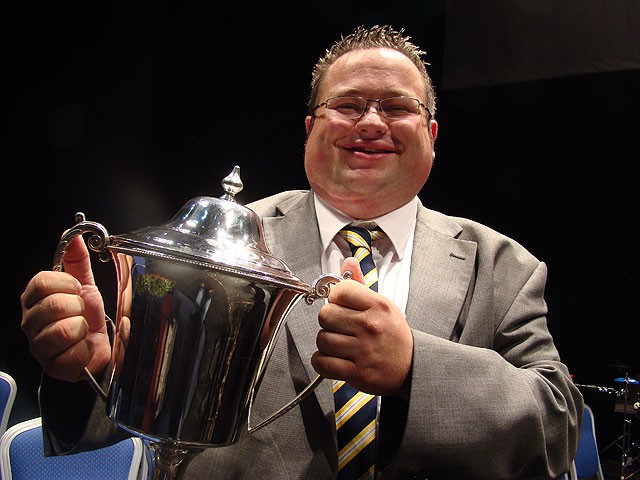 Inspirational MD Gareth Ritter

Evident

It was also evident in Ebbw Valley's winning performance on Phillip Sparke's 'A Malvern Suite', which proved to be an inspired choice to test the 19 competitors.
Each of its contrasting movements allowed scope to flourish or flounder; from the bold majesty of the opening 'Worcester Cathedral' and meandering lyricism of 'The Wye at Hereford', to the up tempo fizz and busyness of 'Gloucester Market'.
Blinder

As the last contender of an enjoyable contest, the Welsh band played a blinder – led by the MD who moulded the cohesive whole with intelligent musical understanding.
That said, he also benefitted from a wonderful individual display of lyrical cornet playing from 'Best Instrumentalist' award winner Nanette Jones, who was the pick of a team of high class soloists backed by a warm and balanced ensemble.
By the time the final chord rang out victory was sealed – with the admirably straight talking judges, Gareth Pritchard and Derek Southcott making sure the audience was left in no doubt that the title has been won in a clear cut fashion by a very impressive band.
It was a victory for teamwork and togetherness – and the collective stage celebrations mirrored that sense of belonging in full.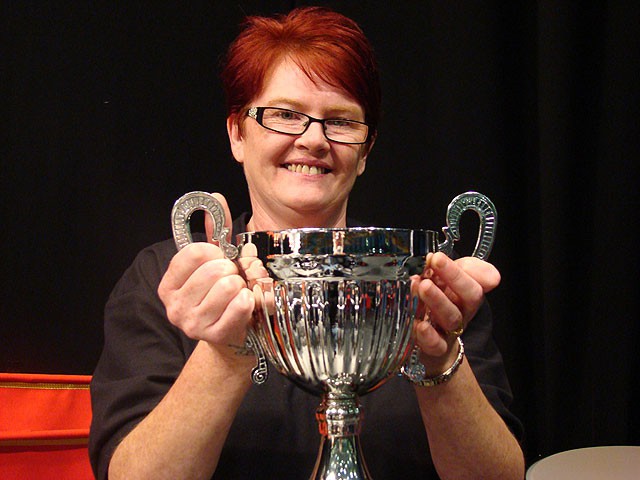 Best Instrumentalist winner Nanette Jones of Ebbw Valley

Clarity from judges

Both judges laid out their thoughts and opinions with clarity – from emphasising the need for soloists to play with vibrato, to conductors understanding contest preparation priorities.

The prize winning bands had given them what they had looked out for – the ones at the bottom end of the results table had not.
Solid virtues

Two bands that certainly did were podium finishers Coppull & Standish and Ifton Colliery.
Directed by Matt Stringer the North West challenger produced a well managed early marker full of solid virtues – especially from their fine soprano player, Deborah Seddon.
Overall it may have lacked a little character in places, but there was no doubting the ensemble security and the way in which the MD had certainly got his performance priorities right in the opinion of the judges.
That it repelled 14 rivals that came after it and was only beaten by an outstanding winner, showed just how fine a performance they thought it was.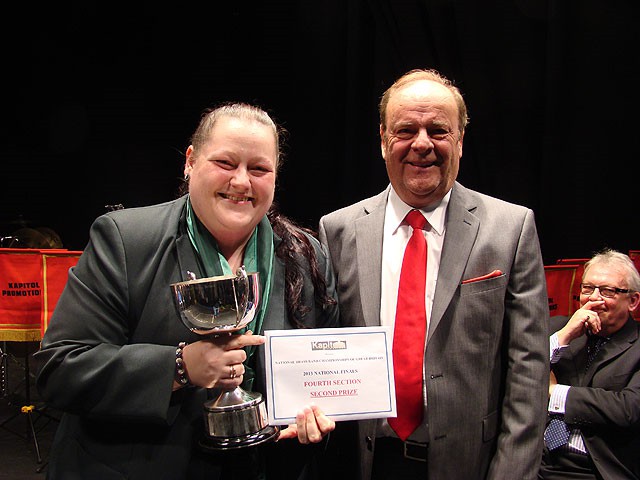 A fine runner-up spot for Coppull & Standish

Minor miracle

As for Ifton Colliery?
The contest preparation priorities they had to juggle with after an administrative oversight saw them take to the stage with just 17 players, would have taxed Leonard Bernstein's musical talents let alone the admirable Wayne Ruston.
What he therefore managed to create with a wonderfully balanced and detailed account was nothing short of a minor miracle – with each player giving their all without ever opting for misplaced heroics.
Third was thoroughly deserved – and a great tribute to the musical intelligence of the MD, who in his first contest back following his own Nationals ban, inspired a truly memorable performance from his band.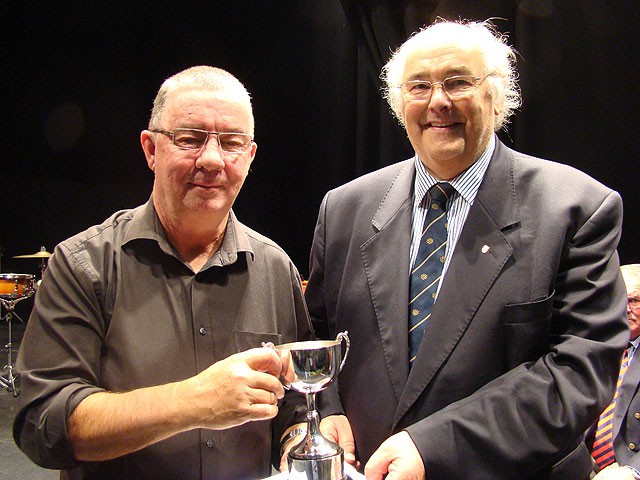 Miracle workers Ifton Colliery gained third place

Mid point lull

Strangely, there was something of a lull in potential mid-contest prize winning renditions after Camborne Junior Contesting off the number 1 draw, followed by Barnsley at 3 and Copull & Standish at 4, set the early pace.
Directed by Alex Francis, Barnsley Metropolitan eventually ended fourth after a performance that grew in confidence and quality (with a very fine horn soloist) the longer it went on.
Pilling Jubilee Silver meanwhile certainly captured the style and musicality in each Malvern inspired movement under Len Charnock, even if a few too many slips cost them a chance of a higher placed finish.
Cultured approach

That was it in terms of potential winners in the opinion of the judges until Resdev Market Rasen's cultured approach late in the day under Dave Dernley (featuring a very fine young principal cornet) forced its way into the reckoning in sixth (4BR had them a tad higher), and last band Ebbw Valley's flourish.
Merit

Performances of substantive merit filled the remaining top ten slots though, with Ammanford upholding Welsh pride with a well worked account in eighth, City of Oxford's persuasive musicality coming ninth and a well directed free flowing rendition from Wilton & District nestling comfortably in tenth.
Consistency – or just the lack of it, meant that well directed performances from the midfield finishers of Simon Langton Brass, Swindon Brass, Tullis Russell Mills Intermediate (with Stevie Craig resplendent in full kilted attire) and Burnside certainly ended up more in credit than debit: Each band showing more than enough raw potential that can be honed to prize winning effect.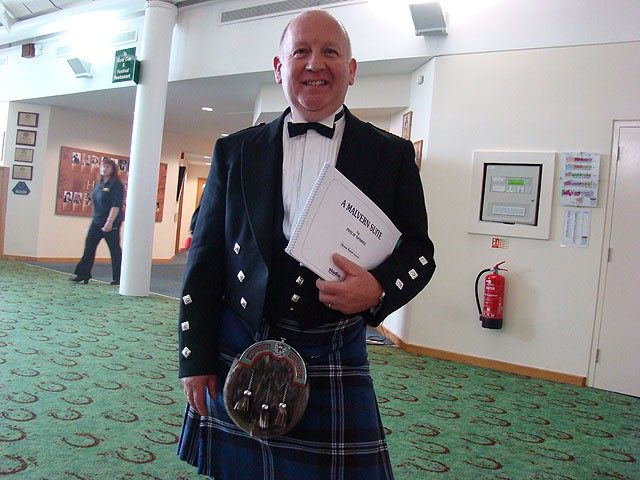 The full McMonty - MD Stevie Craig of Tullis Russell Mills Intermediate

Hard work
So too the quartet of Great Yarmouth Brass, Moulton '77, Trimdon Concert and Gawthorpe Brass '85, who each gave performances that were undermined by some basic structural problems – especially poor intonation.
If their hard working MDs can sort those issues out in the next few months, all four could pose a real threat once more at their Area contests.
That will certainly be true of Ebbw Valley – who sounded like a band who will make the step up in class to the Third Section in some comfort.

You suspect getting old rivals to come and join them now won't be a problem.
Iwan Fox