Ahead of their debut British Open appearance, Malcolm Wood catches up with Milnrow's talented young principal trombone player Chris Binns, who has just finished his tenure with the National Youth Brass Band of Great Britain.
---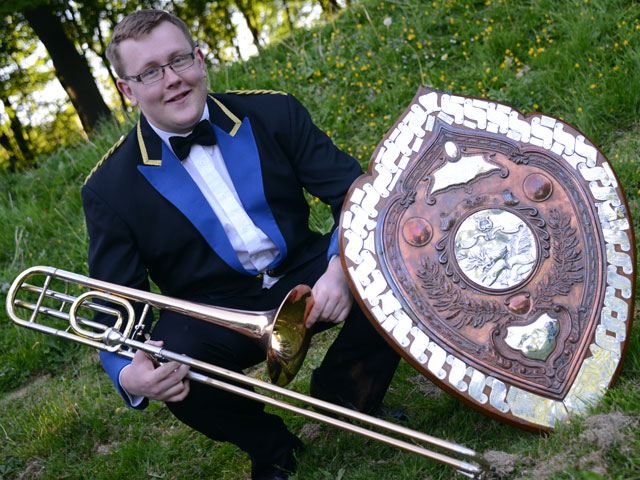 The talented Mr Binns with the Grand Shield for company
Credit: Lisa Rennie

Malcolm Wood: You started playing the trombone at the age of eight. Once you got the bug, did you set yourself personal goals?

Chris Binns: I've always been around music making, and with my dad, John playing the trombone there was never really any doubt to what instrument I wanted to play.
It's fair to say the main early inspiration was my father and also my first teacher Richard Brown. I just wanted to copy everything about his playing.

I also wanted to join the National Youth Band as both my granddad and dad played in the band, so I felt a sort of duty to try and play with them too.

At first I only played for enjoyment as I was also playing rugby both for my school and county, but as I started progressing more and got the 'call' from Milnrow, I decided to take playing a lot more seriously.
---
Malcolm Wood: Over the years has the routine of practice got easier or do you really have to motivate yourself sometimes?
Chris Binns: At first I had to really push myself.

However, the more I practised and saw the progress I was making, I started to enjoy it and increased the daily workload.
There is always something you can improve on as a player and this helps to keep myself motivated.

There is also the fact that if I don't play for one day, I have to work twice as hard the day after to stay in shape!
---
Malcolm Wood: Any practice tips that work for you, you'd like to share?
Chris Binns: Different techniques work for different people, but the main thing in my opinion would be to make sure you get the instrument out of the case every day and do something constructive.
Also, I try to take a lot care over the basics such as note production etc.

For this I play through the simple exercises towards the front of the Arban and Lafosse, to try and play them as perfectly as possible.
---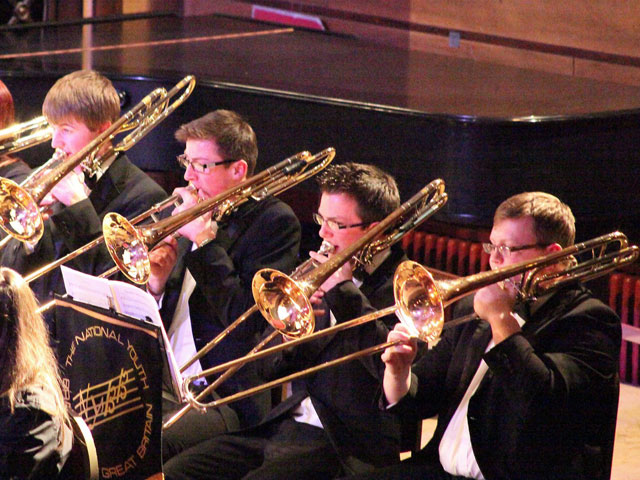 Principal trombone with the National Youth Band of Great Britain
Credit: Howard Humphries

Malcolm Wood: You've just completed your sixth and final National Youth Brass Band of Great Britain course under Bramwell Tovey, Allan Withington and Dr Robert Childs.

In terms of your personal development as a player, what major changes have you noticed over the past three years?
Chris Binns: Discipline - both mentally and physically.
The NYBBGB courses are very long and tiring. You are playing for roughly eight hours a day so it's crucial that not only do not blow yourself out but you have to remain switched on from the first sectional in the morning to the end of the evening full band rehearsal.
At the end, not only are you in great shape, but your own band's two hour rehearsal feels like nothing when you come back.
Confidence is also changed.
One of the hardest aspects I find is to play in front of your peers. Every member of the NYBBGB is encouraged to enter the solo competition, so there is an added extra dimension to your playing – and playing well.
This really helps with even the smallest parts in a heavy programme that you have to play on your own.

That new found confidence you have acquired enables you to nail any solo, large or small just about every time.
Now, the solos I have to play with Milnrow aren't at all stressful or nervy.
---
Malcolm Wood: Have you got a particular highlight from your time with NYBBGB?
Chris Binns: Without a doubt any NYBBGB member who was in the band in 2012 will say their highlight was the BBC Proms appearance.
To be able to play in arguably the most famous music festival in the world, not only with a brass band, but with your friends was just amazing!
A close second was my first concert as principal trombone, as it was a nice feeling to be sat in the same seat that my dad once sat in.
---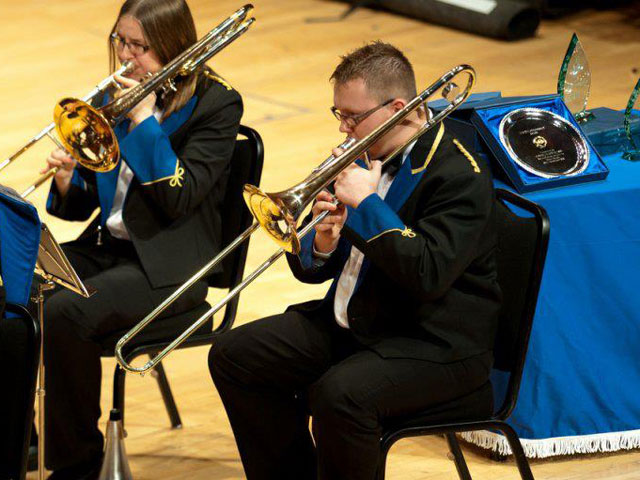 Enjoying success with Milnrow
Credit: Lisa Rennie

Malcolm Wood: At the age of thirteen, you joined Milnrow Band on principal trombone.

Was this a challenge you relished and thrived on?
Chris Binns: When I first received the phone call from John Ward asking if I wanted to come and audition for the band, I genuinely thought they meant my dad!
But after being reassured that it was me they wanted I was really excited by the prospect.
I remember my first rehearsal very well – and just being in awe of all these players who could all play their parts. I was experiencing a whole different way of banding.
There was a slight hesitancy in joining the band as I didn't know how all these adults would respond to a fresh faced 13 year old sat on an end chair!

Fortunately, due to the great family environment of Milnrow I was quick to learn that this wasn't an issue at all.
---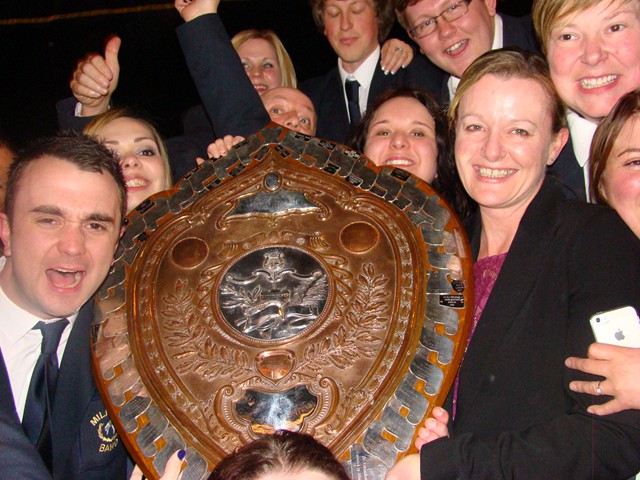 A memorable year for Milnrow

Malcolm Wood: It's turning into a memorable year for Milnrow.

Apart from the sheer hard work, is there a secret to the band's recent success?

Chris Binns: I think the key factor is having a settled band.
For about the last 18 months there have been very few player changes and we now have a settled core, many of whom live close to the bandroom.

There's also a special atmosphere around the stand – a real family based environment that makes it unique!
The attendance at rehearsals is very good and so much more can be achieved in the bandroom with a regular team sat round the stand.
I also feel we've got the resident/professional conductor partnership nailed with Kevin Gibbs and Mareika Gray.

Mareika really has taken the band to a new level and has made us realise our potential throughout her time at the helm.
---
Malcolm Wood: Will you have to pinch yourself in the coming weeks that you'll be playing at the British Open and in National Finals at the Royal Albert Hall?

Chris Binns: I'm still pinching myself now!
Although work towards both contests is well under way it will still be an emotional moment.
For the vast majority of the band this will be their first appearance at the Open and National Finals, so to take to the stage with Milnrow will be quite a surreal moment.

The band has waited 99 years for this. However, we still have a job to do and we'll treat it like any other contest regardless of the event and regardless of whom we're up against.
---
Malcolm Wood: You're heading to the RNCM in Manchester in September to study.

Have you got a career path mapped out then?
Chris Binns: The honest answer is no I don't - although in an ideal world I'd love to play professionally in an orchestra.

However, competition is fierce in the music industry so I need to start thinking of a back-up plan just in case!