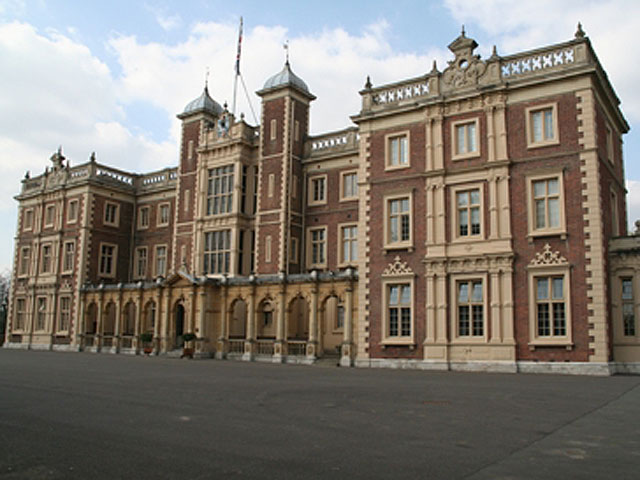 Proudly hidden away: Kneller Hall in its glory
Rather surprisingly, the magnificent Royal Military School of Music, Kneller Hall is to be found at the end of a pretty non-descript suburban West London street, not far from the M4 turn-off to Heathrow airport.
As charter planes criss-cross the sky above, to and from holiday hot-spots around the world, in the distance you catch a hazy glimpse of the rather uglier sporting architecture of Twickenham, the home of English rugby.
Gleaming

It may seem that the British Army has deliberately taken to battlefield camouflage to hide itself away, yet that thought is soon dispelled by the sense of historic pride that is proudly on show as you walk through the main entrance towards the officer's mess.
The gleaming brass nameplate on the doorway cannot be missed – not even from the cockpit of an incoming 747.
Cacophony of noise

Kneller Hall has been the headquarters of British Army music making since 1857.
Originally, it was the rather splendid stately home of former Royal Court painter Godfrey Kneller, before being acquired by the Duke of Cambridge.
As a proud Victorian royal, he was not overly impressed by what he called a 'cacophony of noise' when an assortment of military bands tried to play the 'National Anthem' together in 1854, and generously gifted the house to ensure that in future they produced musicians worthy of the British Empire.
It worked. Ever since, Kneller Hall has trained whole battalions of outstanding military musicians - from famous bandmasters and composers to world class performers.

Traditional line ups will now change

Honours and ordinance

The walls are adorned with imposing pictures and portraits, and the wonderful museum is packed with mementoes, battle honours, fabulous old instruments and even some seriously menacing looking ordinance from worldwide hot-spot Empire battles past to NATO led conflicts present.
Now though, 156 years after it opened its musical doors, it will also be the headquarters to British Army brass bands.
Review

Following a far reaching review, the Corps of Army Music (CAMUS) will have three full time professional brass bands in its ranks.
From 2014, they will be based in the North West, the Midlands and South Wales and will offer musical careers to players from the age of 17 upwards on all brass band instrumentation – from soprano cornet and tenor horn to baritone, BBb bass and percussion.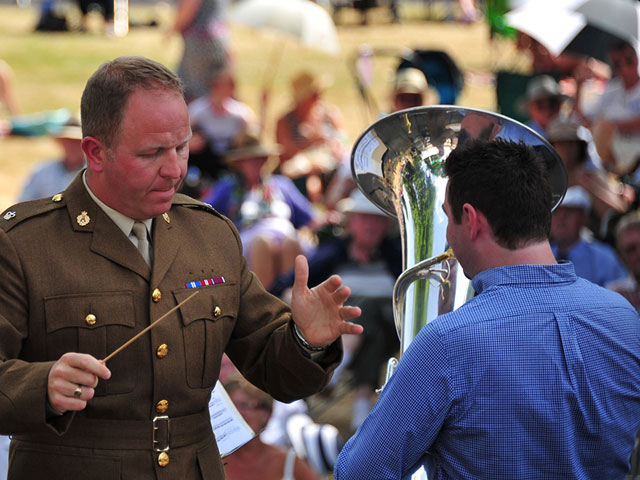 Lead performers: Major Dave Barringer directs tuba star Les Neish

New era

It will herald a new, exciting era according to Major Dave Barringer.
He has played an integral part in bringing the review to fruition, and will also have a leading role in its implementation.
"This really is a historic decision," he says, as we sit in the officer's mess.
"It's a major part of a review that we believe will offer talented, committed brass band players the opportunity to enjoy secure, long term professional musical careers."
No stranger

Dave is no stranger to the civilian banding world. He played for many top bands and has conducted Flowers and Bournemouth Concert amongst others – the latter at Albert Hall National Finals in 2012.

Having joined the army as a young tuba player, he has risen through the ranks after taking the famous Kneller Hall Bandmaster Course.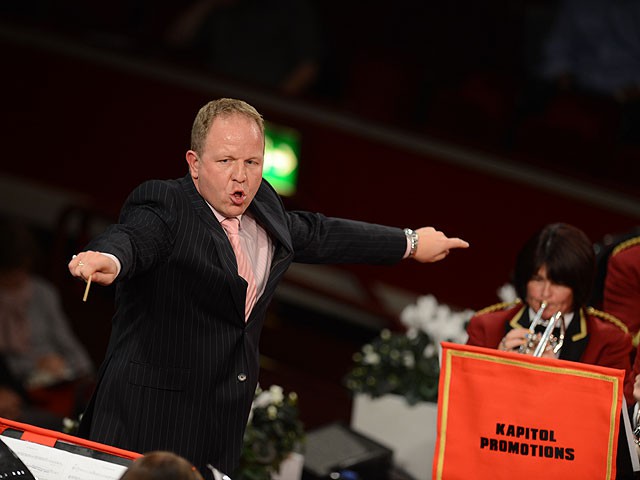 Local connections: Dave Barirnger in action with Bournemouth Concert

Local communities

He is therefore keen to point out that not only will individuals benefit from being in the new bands, but also the local communities in which they will be based.
"The Army has always prided itself on being an important part of the community.

We want to put something back into each area by producing highly trained players and conductors who we hope will also take the opportunity to link up with local bands."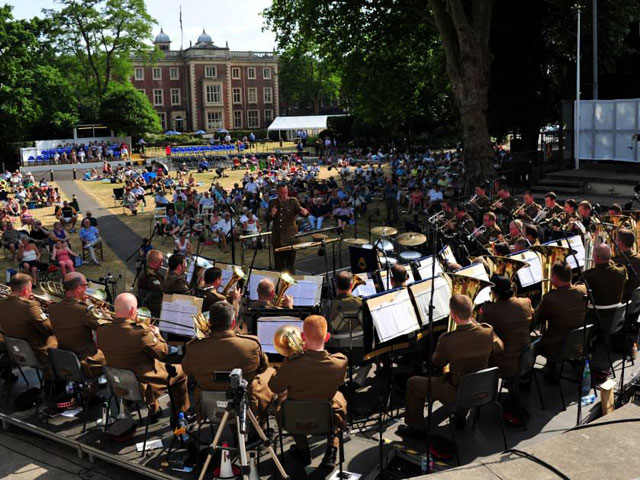 Playing at home...

Credentials

It's certainly a production line that has some pretty impressive credentials.
Take a quick glance through banding history books and your will see the likes of Charles Godfrey, who arranged just about every British Open test piece for half a century or more, to the modern day conducting greats of Major Peter Parkes and Major Arthur Kenney.
Even a certain Bandmaster Frank Renton of the Blues & Royals is spotted standing proudly at the back of his 1969 class photograph.
Top class

Players past and present have performed with the likes of Black Dyke, Foden's, Fairey, Desford, Grimethorpe, Cory and YBS amongst others.

Current top class Army musicians such as Nick Walkley, Brenden Wheeler and Richard Evans just a few who have graced the most famous contest stages of the banding world.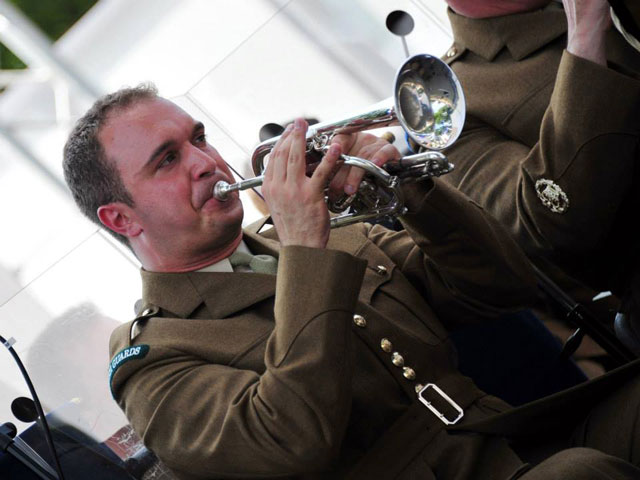 Top class musician: Nick Walkley of the Irish Guards

Misconceptions

Captain Justin Matthews (who used to play with Fairey before entering Army service) will be leading the first professional band at Weeton in the North West.

As a Director of Music and conductor of the popular British Army Brass Band, he is keen to ensure that a few misconceptions are laid to rest.
"We will not be contesting. That is not part of the remit," he says firmly.
"The three bands will provide a wonderful opportunity to enjoy a professional brass band musical career.

It will also be one that may well start off as an instrumentalist, but then has the scope to move into conducting, composing, singing, jazz and big band playing or even other parts of the Army."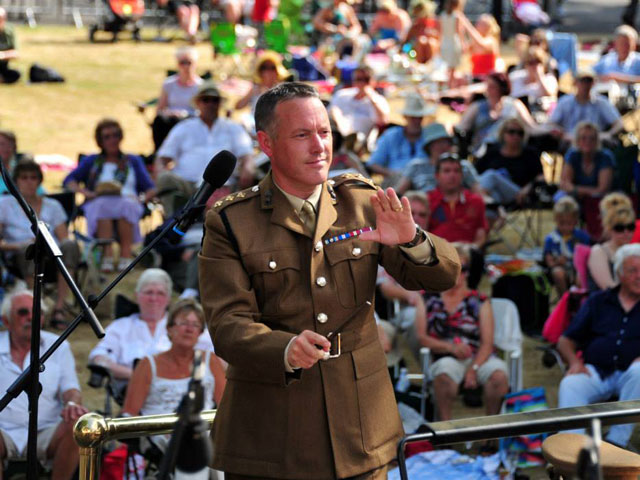 Capt Justin Matthews will at the helm of the first brass band

Untapped potential

He also believes that the British Army will also benefit from the previously untapped musical potential.
"I've heard at first-hand the quality of players brass bands produce.

With the excellent courses at the likes of the RNCM, Salford, Birmingham and Cardiff also developing top class students, we can now offer them an ideal career opportunity to go on and become well paid professional brass band musicians."
Older recruits

However, older recruits are also welcome too, as Major Barringer added.
"The bands will also provide the opportunity for a career move for those who are already balancing working life with playing.
So many talented players find it tough going wanting to do the thing they love, while having to work in jobs they may not enjoy just to pay the bills. We hope this could be the ideal career solution for them too."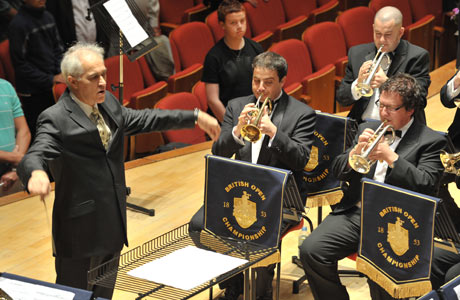 Action man: Richard Evans (top right) with Desford at the British Open

17 or 27
Corporal Rob Mee has already put in over 20 years of service and is someone who has enjoyed his military musical life to the full.
Not only is he still playing, but he has also branched out into multi-media expertise too – and is filming the 4BR visit for future Army use.
"I used to play cornet with Desford in the days of James Watson," he proudly recalls.

"I joined up and have had a great career. I've seen the world, performed at iconic venues and on state occasions and have been able to carry on playing at the highest level.
If I was 17 or 27 again I would jump at the chance to be a full time brass band musician! I can't think of anything better."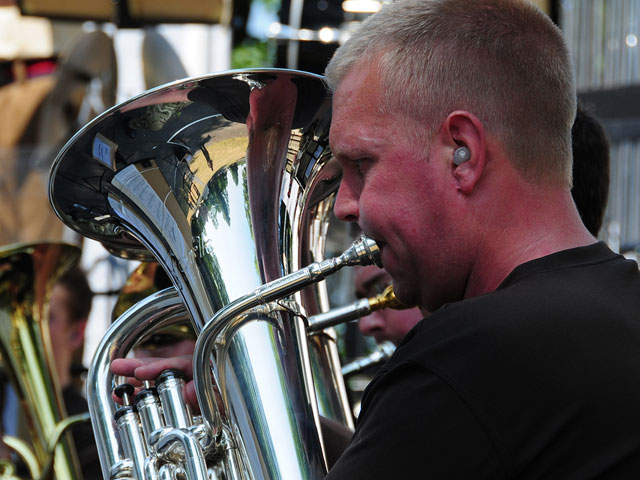 Hard work, commitment and ambition on show...

Responses

The new initiative is underway, with Captain Matthews already sifting through initial enquiries.

"The response from the 4Barsrest videos has been excellent.
We will be back in touch with everyone through our recruitment officer Major Ian Johnson, and we hope to have a presence at some of the forthcoming major brass band events.

We want to be able to meet people and tell them more about the exciting possibilities the new brass bands can offer."
Changes

There is little doubt that the ongoing modernisation of the British Army has seen many changes, with overall personnel numbers falling to around 82,000.

Yet the importance of military and now brass band music making to the service is greater than ever, as Captain Justin Matthews adds.
"First and foremost it's a military career every bit as important as any other: Just look at the honours on show in the museum.
We have sent our musicians to perform in rock bands, jazz groups and big band combos as well as in full marching formation for troops in Afghanistan, Iraq and all around Europe in recent years.

It's such a rewarding and amazing experience – and believe it or not we are always getting voluntary requests from musicians to return to some of the hottest conflict spots in the world."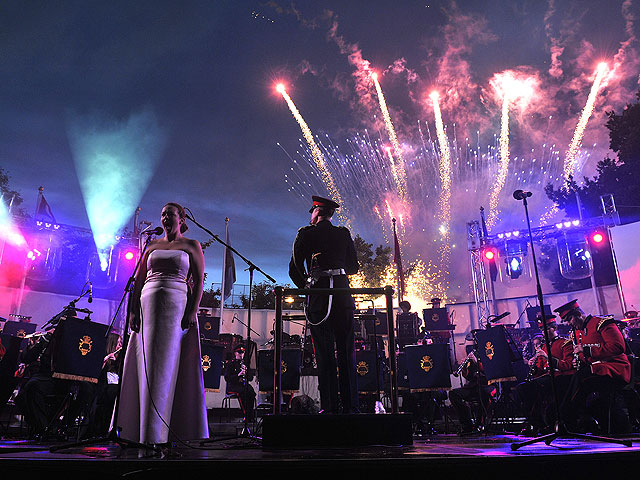 Different musical talents will be promoted

Resonate

The historic changes that have been made within the Corps of Army Music will certainly resonate around the civilian banding world – not just in the North West, Midlands and South Wales, but much further afield to.
As a result you suspect Kneller Hall won't be that hard to find from now on for talented brass band players.

Iwan Fox

Further information on a brass band career opportunity in the British Army can be found at: http://www.army.mod.uk/music/23254.aspx