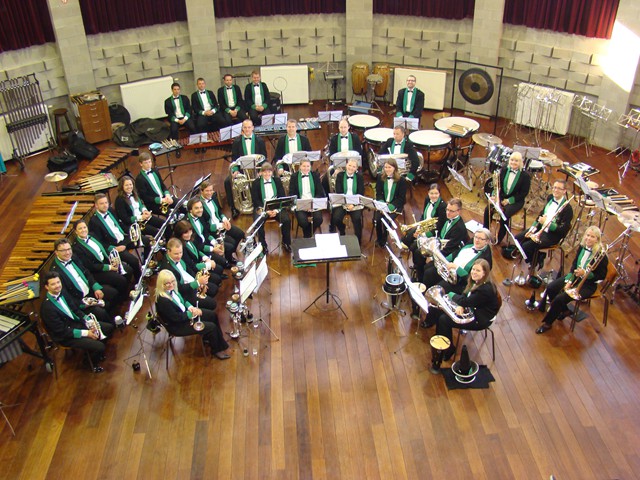 The 2013 World Champions ready for action

If you really want to know more about the Norwegian brass banding mentality, then spend a bit of time in their welcoming company.
Manger Musikklag is on its way to play at the World Music Championship in Kerkrade: Sat in a car with a trio of players from the band, the three hour drive from Leeuwarden on a hot Friday afternoon passes in a flash.
One topic

As tuba player Nils-Arne Traeland's Audi gobbles up the kilometres on the long flat roads, we are joined by trombonist Birgitte Bruget and tuba player Christian Breistein in non-stop conversation on just one topic.
Thankfully, being the Low Countries, there's nothing much in the landscape outside to detract the attention as we make our way to a Friday evening concert with Brass Band Nord Limburgse in the small Belgian town of Peer.
Gossip

As a result, just about every aspect of banding life you can think of is covered:

From how a Norwegian band can qualify for the British Open to international player registration, contest rules to the odd bit of salacious gossip.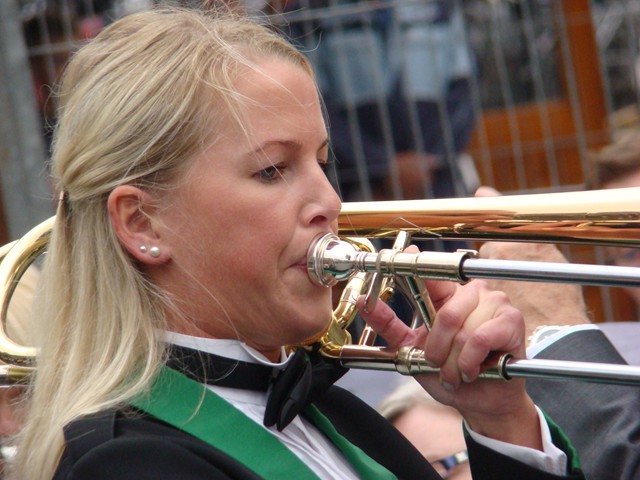 Trombone star Birgitte Bruget

Laughter

There is plenty of laughter and more than a few moments of wide eyed disbelief. The chuckles come from the usual tales of mishaps and mischief; the astonishment, when the finances of some UK rivals are mentioned.
"Everyone in Norway looks towards the UK for inspiration– so we can't quite understand why there seems to be so many problems there at the moment," Birgitte says.
"Why don't bands want to play at the English National Championship?" Christian adds.

"Everyone in Norway is so proud of representing our country at the Europeans, and Perth doesn't seem so expensive to go to?"
Astonishment

When some of the income figures of leading UK bands are revealed there is a collective look of astonishment – even when converted to Norwegian Krone in a country where a 'Big Mac' and a pint of lager can cost a banding visitor a small fortune.
By the time we reach our destination you can't help but feel that the desire to absorb what is good, bad and even slightly odd about the brass band culture of the UK and beyond is one of the secrets to their success.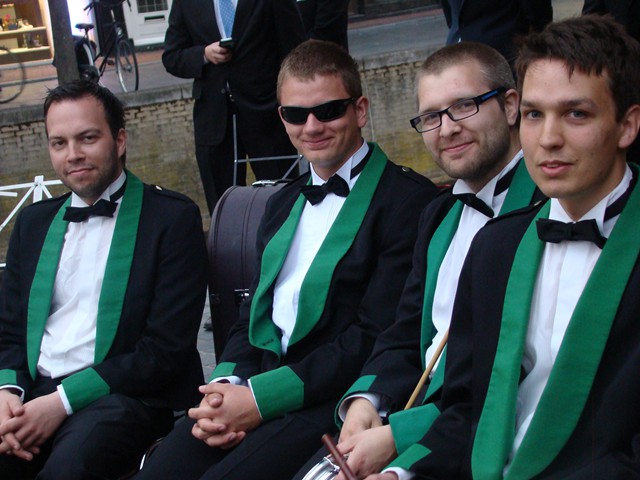 The hardworking Manger percussion team contemplate all 80 instruments

At Peer, the generous local hosts provide a lovely pre-concert meal, much appreciated by the tired Manger players who had to make the journey crammed into a packed band bus (which also carried no less than 80 items of percussion).
Famous jackets

Afterwards, and despite the cloying humidity, they take to the stage in their famous black jackets with green lapels, as conductor Allan Withington brings down the baton to scorch through the overture 'Ruslan & Lyudmila'.
The MD has worked the band hard in preparation for the World Championship event.
Decent crowd

Despite its rather questionable epithet the contest has attracted some impressive rivals and a decent sized crowd to the rather utilitarian Rodahal complex.

That said, the marching and fanfare bands pack in crowds of over 25,000 to their event at the Roda Kerkrade football stadium.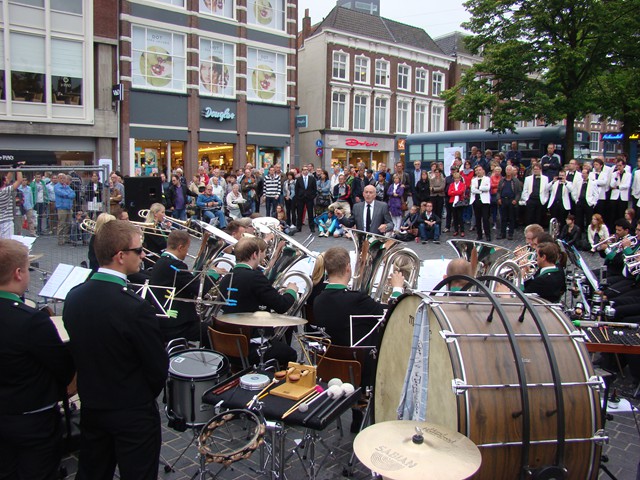 Playing to the crowds in Leeuwarden

Manger has been in Leeuwarden for the past week as part of Allan Withington's Conductor Course – adding extra rehearsals in after a long day's work with the 13 aspiring MDs.
Discussion

However, despite the relaxed atmosphere and a solid run out of their own choice championship programme, the post concert drive to the Golden Tulip hotel elicits plenty of discussion:

The consensus in the car is that they will have to play a great deal better if they are to claim the title.
The trio know they are up against a high class field – with Cory and Treize Etoiles from Switzerland joined by the ambitious Brass Band Heist from Belgium and a brace of Americans challengers in Atlantic Brass and Chicago Brass.
Paying their way

Commitment and talent is not a problem.
Each player has forked out around 500 Euros to make the trip and pays a regular monthly fee (paid in two six monthly instalments) to help keep Manger on the road.
They have no bandroom to call their own in or around the city of Bergen, but due to a very helpful Norwegian law, government institutions such as local schools must provide their facilities free of charge to musical organisations.
Loans

The players also make additional payments to pay for professional conductors and a few years ago after a financially draining trip to the USA, a small group even took out loans against their own homes to pay off the debts that were incurred.

It took them almost a decade.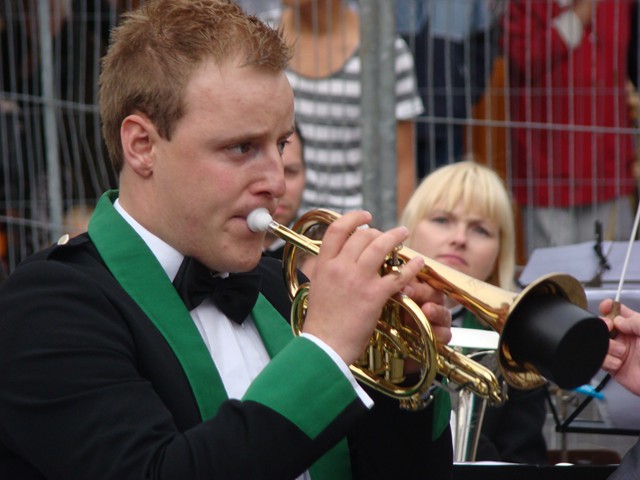 Keeping an eye out on Mr Aagaard-Nilsen...

Manger does occasionally get sponsorship deals – but nothing compared to that enjoyed by their great Hordaland rivals Eikanger. The vast majority of their finances come from their own pockets.
Rivalry

However, the players are not jealous – although there is obviously an intense but friendly rivalry between the two most successful ensembles in Norwegian banding history.
Eikanger currently has the upper hand on the domestic front – but as the Manger players are keen to remind you with a smile on their faces, it is they who last won the European title (in 2011) – even if their rivals did come mighty close in Oslo in May.
Disappointed

However, they do admit to being disappointed that Eikanger didn't quite emulate them, as it would have meant Manger joining them in Perth for the Euros next year.
"We did want Eikanger to win," Nils says, smiling a touch unconvincingly as he does so it must be said.
"They are a great band, and like them we really want to play against the best bands in the world on a regular basis – at the Europeans, Brass in Concert or hopefully in future, the British Open."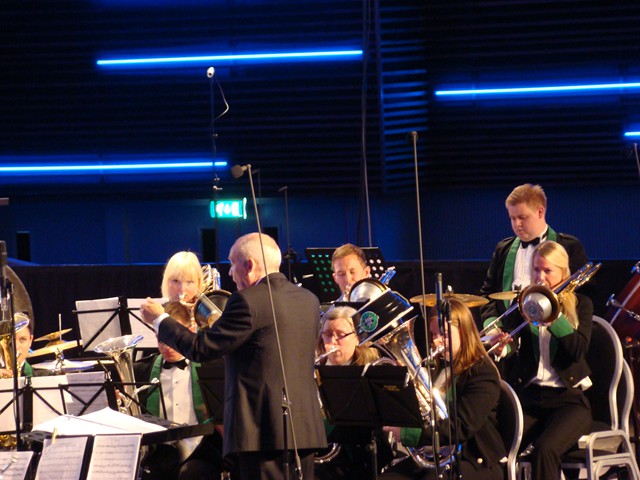 Manger in action at the Rodahal

For the time being though it is the World Championship title that is foremost in their minds.
Last minute concerns

An early morning rehearsal irons out any last minute concerns on the set test – the immensely difficult 'Goldberg 2012' by Svein Henrik Giske – before they load the bus yet again to make the journey to hall.
I sit next to Allan Withington, who is full of admiration for the Manger players. "They are a very fine band, but the level of commitment is something special. They were determined that if they were to make the trip here then they would give it 100%.

They've enjoyed themselves on my course, but they have also worked so hard too."
Well pleased

A couple of hours later and the band is well pleased with their effort – and unbeknown to them, the admirably fair-minded composer, who is staying in the same hotel (along with Cory) doesn't let on that he himself felt they had produced a performance that certainly captured the musical essence of what he had written.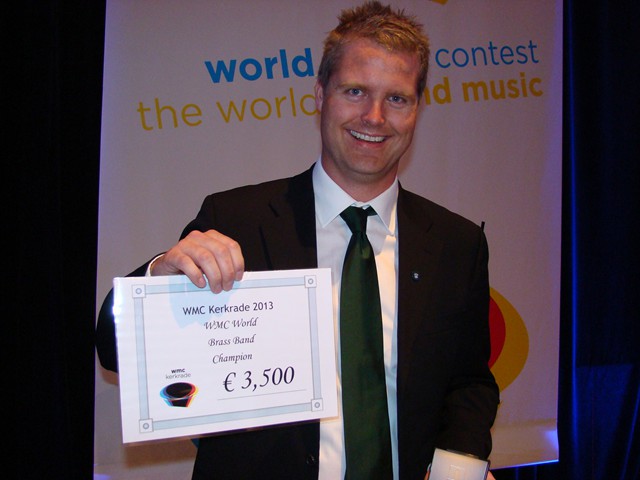 Show me the money - Nils-Arne Traeland gets ready to bank the cheque
Pay off

The next day (and after yet another intense rehearsal) they deliver a splendid own choice programme before waiting patiently together in the hall for the results.

Finally, all that hard work pays off.
With the announcement of Cory in second place, the cheers erupt and after Nils is presented with the cheque for 3,500 Euros and the World Championship banner, the players race to the stage to start their joyful celebrations.
The Norwegian songs of triumph are sung lustily as the players (some close to tears) hug and congratulate each other on their communal success.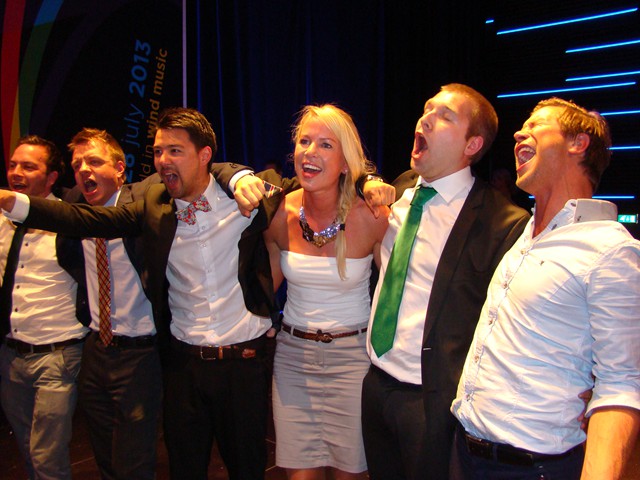 Communal triumph for Manger

Nils, Brigitte and Christian join arms and soak up the glory that comes with being crowned the 2013 World Champion.
Unquestionable talent and immense commitment has brought Manger Musikklag their latest success.
It couldn't have happened to a nicer or more welcoming bunch of people.
Iwan Fox