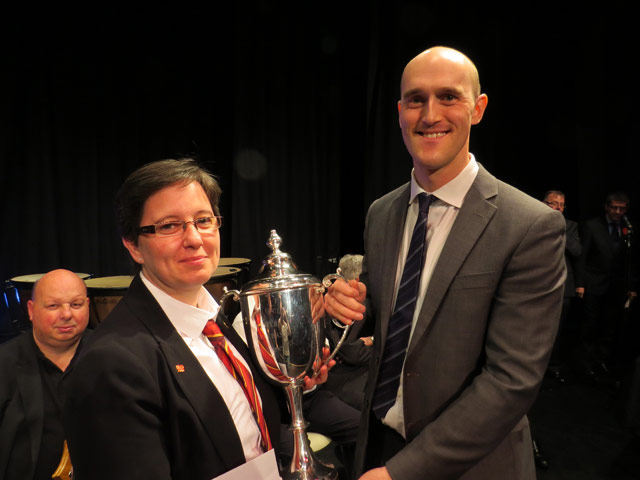 The new Masters are crowned... as Beaumaris take the 2013 title

A quarter of a century on and time has changed the essential character as well as the title of the Masters.
Finding a connective resemblance to the very first 'All England' event in 1989, when hordes of players spilled onto the streets surrounding the Corn Exchange in Cambridge to indulge in lubricated discussion of the day's unfolding events is now almost impossible.
Opinion

Depending on critical banding opinion (and there is a great deal), the cosmetic contest procedures undertaken over the years by organisers Philip Biggs and Richard Franklin have either been a 'nip & tuck' success or a 'pout trout' disaster.
However, the evidence of the latest contest weekend would suggest that since the most radical 'international' face lift of 2005, slowly but surely, the benefits of their self imposed surgery are starting to take effect.
Unlike nearly half the line up of 16 bands back in 1989, time has not consigned the contest to the early grave many critics suggested would happen even when the event moved to the Lighthouse Theatre in Kettering in 2010.
Determination

The very top ranked bands may now give the Masters a mid season miss, but thanks to the dogged determination of the organising duo, their 25 year old creation continues to figure as a contest of significance in the competitive brass band calendar.

With a first prize of £3,000, the current batch of competitors might not all be the household names of the past, but the Masters still attracts plenty of solid contenders all hoping to add a generous amount of cash to their contesting coffers.
And that was certainly the case with Seindorf Beaumaris under Gwyn Evans, who claimed a healthy pay day cheque in addition to the winner's trophy on what was just their second Kettering outing.

Intrigue and frustration

With Eric Ball's 'A Kensington Concerto' following the trend for banding 'classics' at the Masters in recent years, adjudicators David Read, Stephen Roberts and Dennis Wilby had much to ponder come the end of a intriguing and at times, frustrating day.
The majority of the 21 competing bands certainly struggled to penetrate the sepia tinted vein of nostalgia that runs through Ball's autumnal offering.
Six or seven performances emerged to battle for the podium places, all offering differing musical perspectives on the 1972 Nationals test piece, but in their opinion, the North Walians stood apart.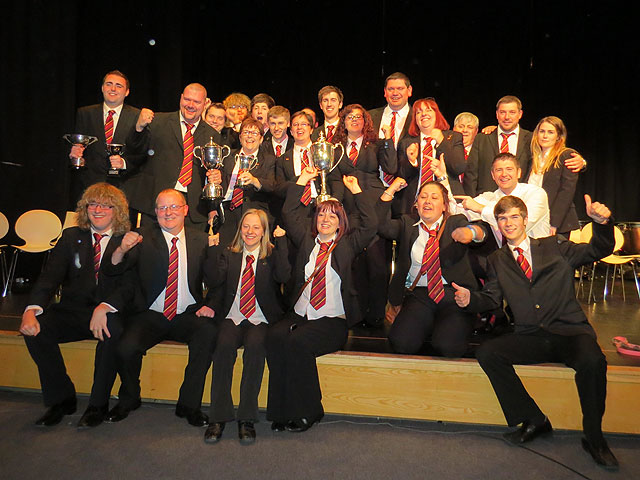 Time to celebrate for the new champions...

Musical values

For Beaumaris, victory proved to be a triumph for the appreciation of 'traditional' musical values.
Gwyn Evans moulded a thoughtful, perceptive interpretation that skilfully captured the romantic aura and changing moods of the music with aplomb.

Nuanced

From the finely nuanced opening cornet solo, (which gave their young principal cornet Nick Hughes the 4BR 'Best Instrumentalist' prize) to the elegant refinement and lightness of the following Allegro passages that featured controlled surges of passion, it was a performance that balanced well crafted solo contributions to ensemble precision in a reading of musical integrity.

The band's failure to qualify for the National Finals this year was a bitter disappointment, but there could hardly have been a better way to bounce back.

You sense they could have been a competitive contender on the 'classic' pastiche qualities of Edward Gregson's Albert Hall set work.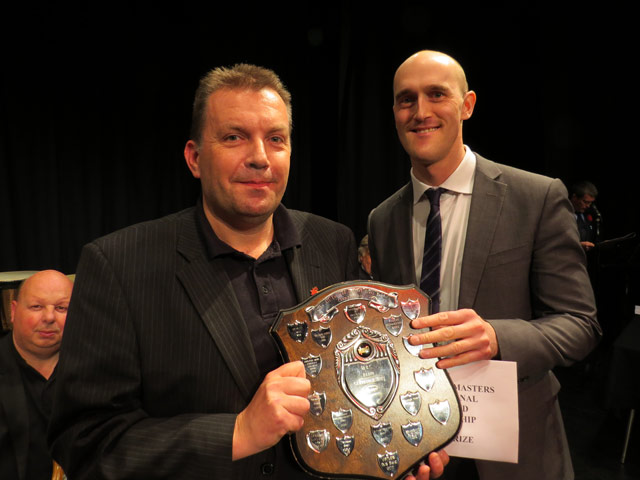 Close again for Virtuosi GUS

Intense

Local favourite and eventual runner-up Virtuosi GUS was the last of the 21 contenders to take to the stage, in search of their first Masters title at their twenty-first attempt.
With John Berryman directing an intense, dramatic account, (a fine effort in a deadened acoustic) played with a commanding sense of authority and purpose, it perhaps lacked a little lightness of touch, although it was certainly a boldly drawn interpretation of concerto character.

It was also great to see their long standing principal trombonist Chris Jeans receive a thoroughly deserved Masters Dedicated Service Award and to lead Youth Brass 2000 in an enjoybale pre-results concert.
Contenders

David Read later revealed GUS had given the judges plenty to think about as they debated the final result – although not so much in terms of victory, but where it came in relation to the other top six contenders.
That was because Zone One, Thoresby, Tredegar and Tongwynlais all offered slightly different interpretations blighted with a high quotient count of minor errors.
Cultured

The Londoners of Zone One eventually claimed third – reward for a cultured performance (with an excellent solo trombone taking the Maxwell Thornton Trophy) under the impressive Richard Ward, which was marked by well-controlled dynamics and a sympathetic response to the nuances of the score.

Meanwhile, Thoresby's darkly tinted memory of Kensington Gore under Brian Grant was one of the more secure, if very individual accounts of the day.

It certainly gave the judges something to think about, with the composer's melancholic wistfulness replaced by a much more robust sense of emotion.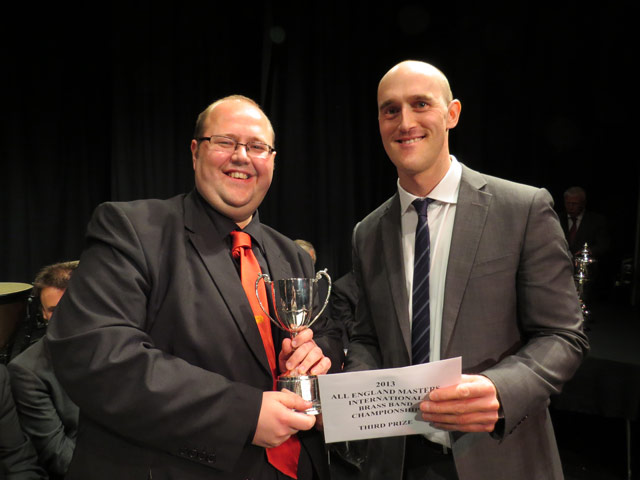 The cultured Londoners of Zone One Brass end in third

Disappointing contrasts

The contrast with Tredegar, who eventually ended fifth, could hardly have been more marked.

With the Masters curse, that had previously thwarted hat-trick attempts by Fodens, Fairey and YBS raising its head once again, the reigning champion never quite recovered from a scrappy opening section.
There were certainly moments of magic, but uncharacteristic inconsistencies pushed them down the running order as Ian Porthouse was left to contemplate a performance that promised much, but ultimately fell disappointingly short.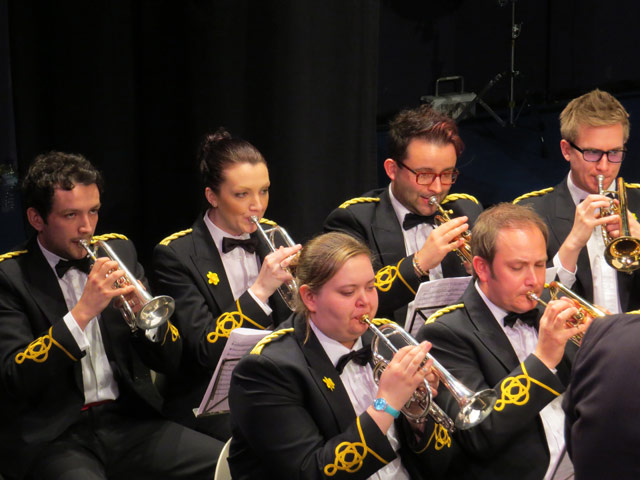 A bit of a lively enigma from Tongwynlais

At odds

If there was a rendition that was a puzzling enigma for the judges, it came from Tongwynlais Temperance, who came sixth.
Shaped with a loving hand of understanding by Steve Sykes and led by the excellent Vicki Kennedy on solo cornet, the Welsh Area champion seemed to have produced a possible winning performance of cultured authenticity.
However, it didn't resonate as much in the box as it did in the hall (and certainly not as much as it immediately did with their fine soprano player Morgan James who was making his last appearance with the band)
It had no effect on the result (and it was later revealed that there were some very deep seated personal emotions behind the performance) – but it was an almost instantaneous spasm of celebration that was slightly at odds with a rendition of such well mannered execution.

Note

Behind the disappointed Welsh duo came the only accountss of real note according to the judges.

Marsden displayed remarkable stamina after their Whit Friday exertions to end seventh with a solid showing under Glyn Williams, with Brass Band Willebroek showing encouraging signs that their long term rebuilding plans are starting to take shape under Frans Violet, in eighth.
From ninth down the standard dropped – alarmingly so at times; with performances blighted not just by nerves (the opening solo still remains one of the great 'squeaky bum' tests of principal cornet mettle in the world), but also by poor tuning, harsh timbres and some MDs who seemed curiously short of an understandable appreciation of Eric Ball's genre of writing.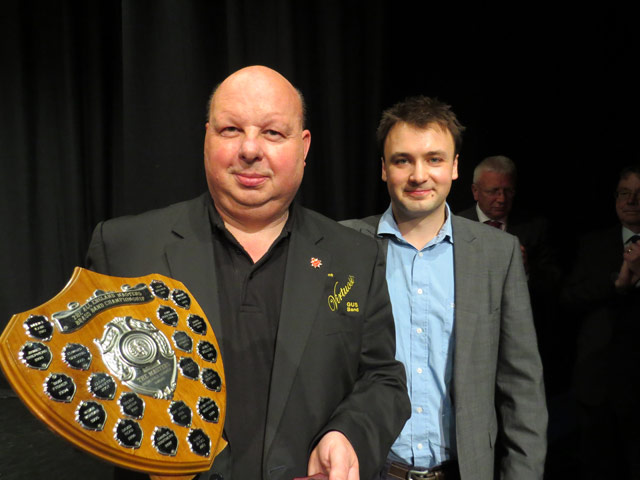 Chris Jeans is presented with the Masters Dedicated Service Award

No excuse

There was no excuse however for the lack of communication that saw Newstead failing to inform the organisers in time to be withdrawn.

Subsequently drawn out of the bag as band number 10, the information was only relayed after the contest had started.
The resultant break in proceedings might well have been welcomed by the judges, but could hardly have been helpful to an unfortunate Aveley & Newham, who having drawn 11, were fast tracked through registration as the result of a shocking act of inconsideration.

Newstead have plenty of apologies to make.

It was also an unfortunate and unnecessary situation that does not reflect well on the health of modern banding.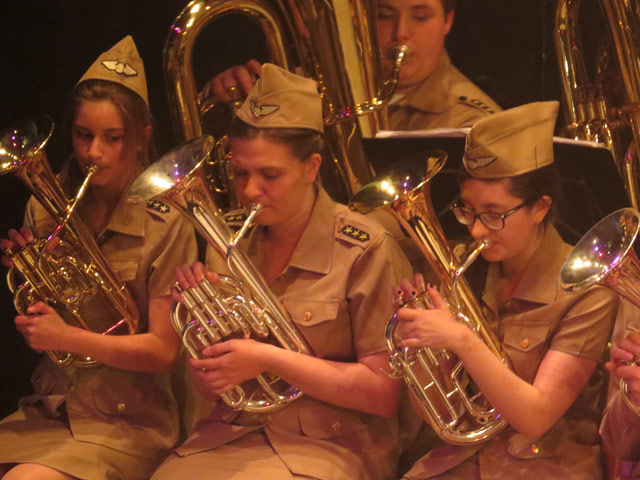 A return to traditional musical values with Youth Brass 2000

Quirk of fate

Whether the recent Masters trend for classic test pieces will continue in 2014 we shall know soon enough, but without question, the challenge posed by 'A Kensington Concerto' will surely resonate for some time to come.

It might be a strange quirk of fate that Eric Ball died in the year that the Masters was founded, but a quarter of a century on his musical legacy carries a greater significance than ever for a contest that despite its changes, continues to show it is in no way ready to be consigned to the history books.
Chris Thomas