Senior Cup:
Pavilion Theatre
Test Piece: Capriccio Italien Op 45 (Tchaikovsky arr. Derek M Broadbent)
First Prize: £600 and Belle Vue 100 Guinea Challenge Cup
Second Prize: £400
Third Prize: £300
Fourth Prize: £200
Draws: 9.00am, 12.30pm
Commence: 10.00am
---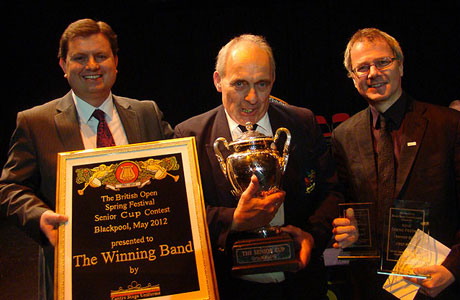 2012 Champions: Northop Silver

The Senior Cup promises to arguably be the most intriguing of Spring Festival contests that take place this weekend.
Predominantly made up of solid Championship and First Section outfits, it's a contest that has made for interesting listening over the last few years, with a series of set works that have tested musical as well as technical abilities to the full (so much so that 'Elgar Variations' appeared for a second time in five years last time out)
Debate

This year's decision to utilise Derek Broadbent's arrangement of 'Capriccio Italien, Op. 45' from the pen of the Pyotr Ilyich Tchaikovsky, has certainly created a fair bit of debate in rehearsal rooms up and down the country.
Critics will argue that the days of brass bands playing arrangements of overtures and lightweight fancies such as this should be long gone, but fans will counter that it is a tradition that can bring the very best out of them too – especially with the considered skill shown by Derek Broadbent's cultured approach to the subject matter.
Favourite

'Capriccio Italien, Op. 45', was composed as a fantasy for orchestra in 1880 and remains an audience favourite at concerts to this day.
It was inspired by a trip Tchaikovsky took to Rome, during which he saw the Carnival in full swing, imbuing it with a sense of vibrant Italian folk music and street songs.

As these elements are treated rather freely, he initially intended this piece to be called 'Italian Fantasia', and he even uses as the introduction a bugle call that he overheard from his hotel played by an Italian cavalry regiment.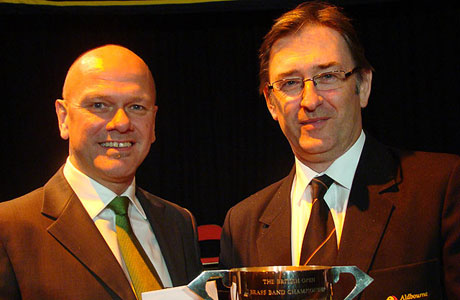 Gaining promotion - Aldbourne
Two fingers

Although not as visceral as Berlioz's treatment of the local Roman Carnival atmosphere (written almost 40 years before, but mainly nicked from themes from the ill fated opera 'Benvenuto Cellini') it still has that infectious sense of bombast – a bit like seeing Silvio Berlusconi with a pretty girl on his arm, sticking two fingers up to the rest of the world.
The lively acoustic of the Pavilion Theatre should ensure that bands don't try and blow the roof off in their attempt to gain one of the four qualification places on offer to the Grand Shield, but playing safe (with exception of their old football style) isn't something red blooded Italians are too keen on either – just ask that horny old ram Silvio.
Impressive

Of the 18 contenders (Freckleton and Lochgelly have dropped out), the impressive quartet of NASUWT Riverside Brass, Staffordshire, Tylorstown and Woodfalls will surely fancy their chances of continuing the recent good form that has seen them qualify for the National Finals at either Cheltenham or the Royal Albert Hall.
However, in what looks a well matched field there are a number of rivals who will be snapping at their heels.
Long journeys

Making the long journey up from London is Aveley & Newham who are still to find their 2013 contesting feet, whilst Bo'ness & Carriden and Kingdom Brass head south with high hopes of taking a step closer to the British Open.
A resurgent North of England also sends a strong trio in the form of EYMS, Felling and Fishburn, all with plenty of experience in the ranks at this level, whilst possible Midland dark horses come in the shape of Derwent Brass and Ratby Co-operative.
North West contenders Ashton under Lyne and Blackburn & Darwen are not to be discounted, whilst making the short trip over the Pennines are the solid contest outfits of Skelmanthorpe, Unite the Union and Wakefield Metropolitan.
With Welsh banding on a high after Cory's recent European success, much will be expected of Burry Port – who actually beat them at the Welsh Regional contest just a few weeks back.
Malcolm Wood
---
As for a winner?
Some good early season form could well be a factor, especially if the bands can bring out the music from the score, so look out for the likes of Woodfalls, NASUWT Riverside, EYMS and Staffordshire as possible top four picks.
Felling could be snapping at their heels if they make any mistakes, whilst Skelmanthorpe shouldn't be too far off with our dark horse of Derwent Brass.
4BR Prediction
1. Woodfalls
2. EYMS
3. NASUWT Riverside
4. Staffordshire
5. Felling
6. Skelmanthorpe
Dark Horse: Derwent Brass