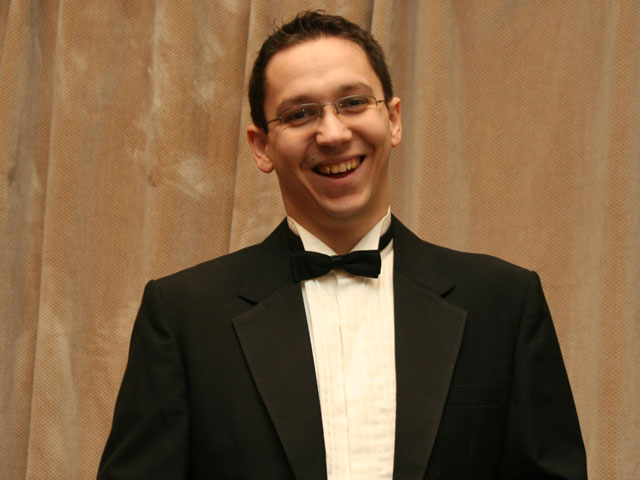 Guaranteed smiles: Gavin Pritchard talks 4BR through the problems...

So, after weeks of rehearsal on your own bandroom equipment, you finally get to contest day and wait nervously backstage for your time to perform.
The band before you finishes their performance, the doors open and you stand patiently while the applause peters out and the players gather their belongings together and leave the stage.
Reality

Only then does the reality of contest life as a percussionist dawn on you: All the gear provided for you to play on is in a completely different set up!
Unlike brass players, percussionists are very much a contesting law unto themselves when it comes to the instruments and layouts they are asked to play on.
Where your sop player makes his preparations; instrument and mutes in hand, music placed upon his stand - you may well be faced with sorting out a situation that saw the previous percussionist play the snare drum next to the glock – or twenty feet apart.
Now you need the glock over by the xylophone, the bass drum next to the tam-tam and the cymbals near the kit...

Facing contest reality...

Pulse rate

And as you start to move things around, you are reminded by the officials that time is pressing, the contest is already running late and your band is about to make its entrance onto the stage.
Before you know it, they are already in their seats and you haven't even got your sticks out yet!
Pulse rates are climbing and you look up and think: "I'm sure I normally have that bass drum closer to the vibraphone: I've not lowered that suspended cymbal from when that 6'4" percussionist from the last band played it…"
Even your own conductor is starting to fidget....

Experienced

It's a scenario just about every brass band percussionist has experienced at a contest.
We may now be given a list of what is provided and even get told what 'brand' certain instruments will be – although invariably, this only guarantees that you may will be playing on foreign sounding and foreign feeling instruments on stage.

Don't panic

The standard reaction to this situation is one of panic: Placing yourself in a state where it can lead to silly mistakes.
It is also a situation that many conductors (who may not have the greatest percussion experience) sometimes forget about too – as well as the fact that different makes and models of instruments can produce vastly different sounds.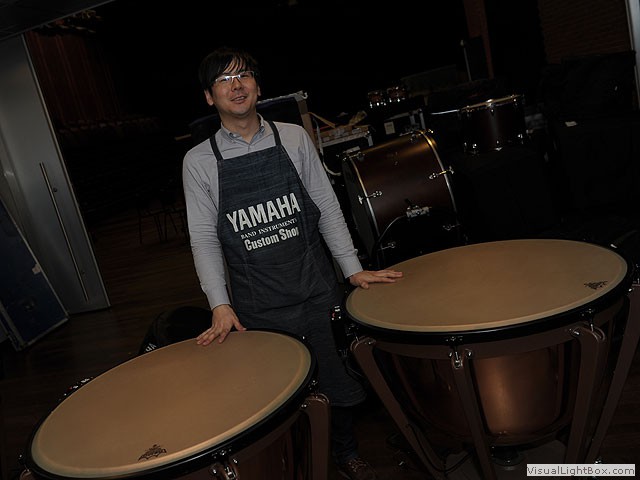 And which one will sir like to use...

Timpani

Let's take the example of timpani.
Most bands have an old set of Premier drums, and more than likely they are concert fibreglass ones with plastic heads.
The inexperienced conductor may ask the percussionist for a certain sound in rehearsals, and with co-operation and care, this is achieved. However, come contest day and you may be faced with Premier Elite drums with copper bowls, or Majestic Grand Symphonic drums with copper bowls and renaissance heads:

It's like asking the principal cornet to swap his Besson Prestige for a Yamaha Neo there and then.
If you play these drums the same way as your bandroom ones, everything be different – and if you are getting bothered about the different pedal action for instance, you will not be able to concentrate on the sound you (and your MD) want to produce.
The same goes for all other percussion instruments: They come in all makes, models and sizes - and all react slightly differently.

Minimise

So how can you minimise any potential pitfalls and needless mistakes?
It's not practical for each band to bring every bit of their own percussion equipment with them, but given some thought and preparation, you can overcome just about any problem you may be faced with on a contest stage.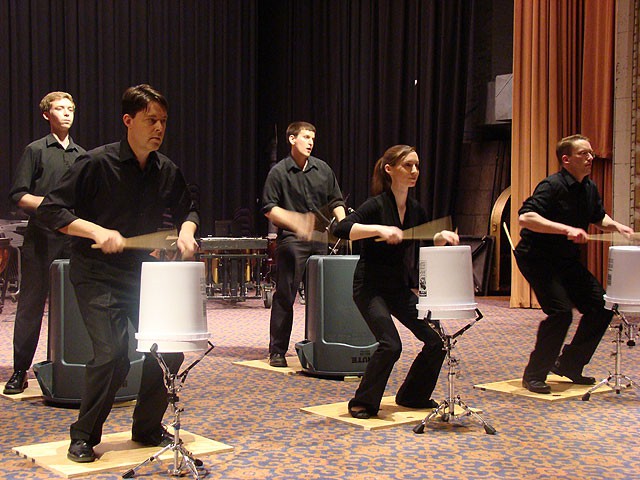 You don't always have to use your own percussion equipment...

Prepare

To play on 'foreign' percussion gear, you have to be mentally prepared beforehand.
As you are rehearsing in the bandroom in the run up to the contest, consider the sound you are making or being asked to make?

How does that blend with the band? How does it fit with everything else?
Take the time to open your ears to your part in the overall mix. Then, when you are on stage at the contest, listen to how your part sounds at that moment and try and make it come across exactly as it did in the bandroom.

Focus

For you to be able to do this though, you need to be absolutely focused and prepared.
Being hurried and rushed on stage completely counters this. Know what is needed and know what you may be faced with.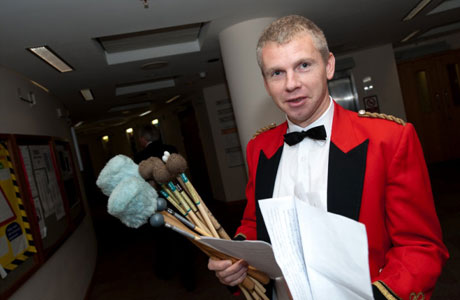 If in doubt - use the big stick...

The simple rules:

The simple rule is the best: Ask questions and ask for help!
Before you go to the contest make sure you MD knows just what percussion is being provided, and if it is different to what you are playing on at rehearsal.

Meanwhile, on contest day, forget meeting friends and get and see the percussion in action – even if you have to listen to a band!

Seek out the percussion providers: The lads at Ev-entz and Ray Payne for instance are brilliant at showing players just how things work, what they sound like and how they should be played - before a contest starts and even before your band is ready to play.

This gives you the time you need to adjust that cymbal stand's height, move the glock over a bit, swap the toms over from high-low to low-high and so on.

Even when time is of the essence it is important to remember that you are there to perform your best and you should try your best to zone out any negativity.

Draw a stage plan of how you set your percussion section up, even if the organisers haven't asked for it, and even give yourself a practice run to put everything where you need it as fast as possible.
Appreciated

If you are as well prepared as your principal cornet player expects to be, then you will play just as well as them.

You never know – even the judges may appreciate your percussion efforts more!
Of course, a little more consideration from the contest organisers would go a long way, as it would give the only musicians in a brass band who have to perform on instruments they have never played before, just that little bit of extra time – and confidence.

Gavin Pritchard
---
The Author:

Gavin Pritchard is one of the leading percussion performers, soloists and educators currently playing in the brass band world.

He has played with many of the finest brass bands in the UK and abroad and continues to be in demand as an ensemble and solo performer in his own right. He is a Bergerault performing artist.
For more information, please go to: gppercussion.co.uk/