2013 may well be the centenary of the first original test piece with Percy Fletcher's 'Labour & Love', but it is above all a year to rejoice in the musical riches that have since helped shape the movement's contest repertoire into what we know today.
Yet, what of the works that in the past century have failed to register more than a mere blip of recognition on our musical antennae?
Reappraisal

What of the pieces, that although once popular or high profile, have since been consigned to the back of banding libraries, ignored and possibly unloved by players, conductors and even contest promoters alike?
Some deserve to be there – others though, are certainly due a reappraisal.

4BR's Chris Thomas has been busy blowing the dust off a few all but forgotten gems, and asking if they really deserve the neglect that has befallen them.
History

Over the coming months, he will be sharing his thoughts on a neglected work from each decade, starting in the new millennium and counting back to the 1920's to coincide with the anniversary of the first performance of 'Labour & Love' as a newly minted test piece.

Chris will trace the history of each work and its creation, putting the music into its context within the overall banding repertoire, and discussing the possible reasons for its neglect as well as citing the case for revival.
Debate

We are also inviting 4BR's readers to enter into the debate, with a view to opening a stimulating discussion on a range of original test pieces that have remained hidden for far too long.

The series begins with Ian Wilson's 'Seascape with High Cliffs', the set test piece for the European Championship in 2006; a work with a modernist, yet lyrical edge that proved to be a vivid and highly evocative piece of musical imagery when heard in Belfast seven years ago.
---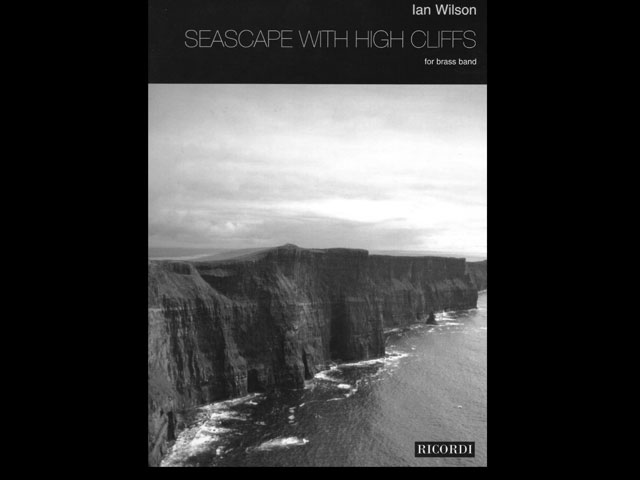 'Seascape with High Cliffs'
Composer: Ian Wilson
2006 European Brass Band Championship

When the European Brass Band Championships came to Northern Ireland in 2006, the North of Ireland Band's Association (with funds from the Arts Council of Northern Ireland Lottery Unit and Belfast City Council) turned to a native composer for a commission to test the very best bands in the Championship Section.
That composer was Ian Wilson.

Born in Belfast in 1964, Wilson was the first musician to achieve a DPhil in composition from the University of Ulster.
First commission

By 2006 he enjoyed an international reputation as a highly successful composer, with performances of his works at the BBC Proms, New York's Carnegie Hall, Amsterdam's Concertgebouw, Vienna's Musikverein and a string of major festivals.
His extensive catalogue of compositions already extended across a wide range of genres and included several major orchestral works, an opera and a large quantity of chamber music, including a major cycle of string quartets.
However, the commission was to be his first for brass band.

The outcome was the evocative 'Seascape with High Cliffs' - a title that immediately conjured up images of the wildly rugged, yet spectacularly majestic western coastline of Ireland.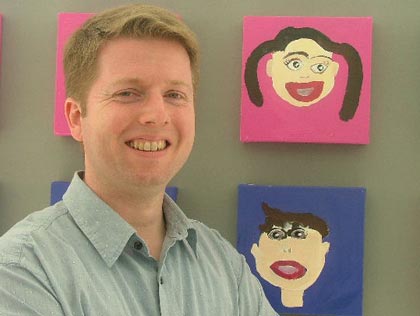 Happy smiling faces: Composer Ian Wilson in Belfast in 2006

Vivid picture

Wilson's own words that head the score also paint a vivid picture of the scene that he was to translate into music.

"'Seascape with High Cliffs' was inspired by a visit I made to the Cliffs of Moher on the west coast of Ireland. The cliffs are hundreds of feet above the swelling sea, with the Aran Islands in the distance, barely visible the day I was there. Sea birds were floating in the strong breeze below me."

Austere drama

It was a scene of sublime natural beauty and almost mystical atmosphere that the composer felt cried out to be expressed in musical terms – and one which he ultimately achieved with compelling, austere drama.

Although unmistakably of our time, the musical language is strongly accessible, with Wilson's sound-world drawing the listener into a score that never loses its gravitational pull to a tonal centre, however distant or ambiguous that fulcrum might on occasions be.

Anyone familiar with the brass band works of Robert Simpson or John McCabe will feel very much at home with the composer's harmonic aesthetic.
Indeed, there are a handful of passages, notably the descending demi-semi quaver scalic figures heard in the cornets a couple of minutes in, which are audibly reminiscent of McCabe in 'Images' and 'Cloudcatcher Fells'.

Free development

Overall, the form is one of free development; with the whole work growing out of three motifs presented sequentially at the outset.
The first is an undulating canonic figure, heard in the low register of Bb bass and euphonium in the opening bars

It is indicative of the movement of the sea far below the cliffs, ominously suggestive of the danger and darkness that lurk within its depths.
The second, the aforementioned descending scalic figure, works its way through the entire cornet section. It restlessly paints images of the movement of sea birds riding the bracing thermals as the sea continues its timeless motion below.
The third is an austere duet played out in rhythmic unison on solo cornet and baritone, depicting a distant, shrouded vision of the Aran Islands as they appear momentarily through the mist, only to be enveloped once again.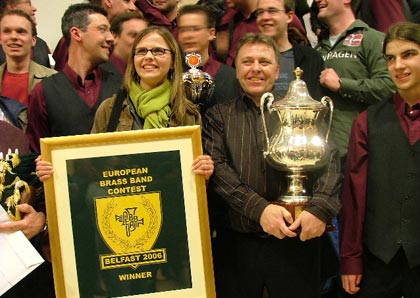 2006 European and set work winners: Brass Band Willebroek

Sparing use

Atypically for a test piece, the composer is extremely sparing in his use of louder dynamics.
Rarely does the music rise in volume to fortissimo, a factor that finds a parallel in the minimal use of full band tuttis with the occasional extremes of dynamic and scoring consequently achieving maximum effect through the considered and often restrained approach to the ensemble writing.

Not straightforward

As the composer explained to 4BR at the time, the work's creative progress was not entirely straightforward.
"When I submitted the first draft I was told that it was very nice but that it needed more solos; and more demanding solos at that. So I re-worked the piece, deliberately making it more complex here and there, even adding a passage for percussion that had been 'requested'."

Despite the changes, what perhaps what impresses most about 'Seascape with High Cliffs' however, is that it is a work that exists as a piece of music in its purest sense and not simply as a contest test piece.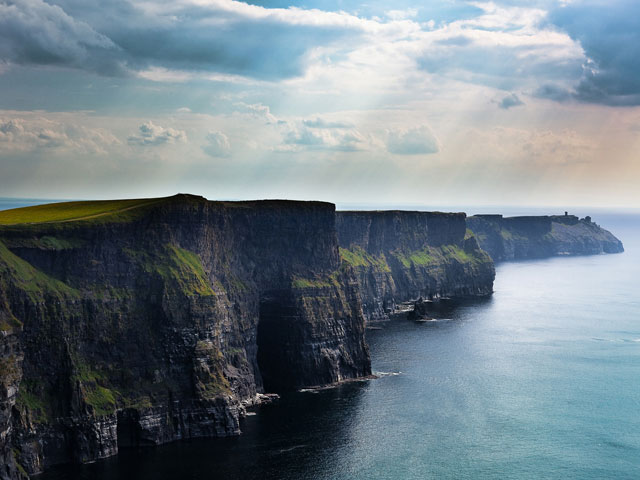 The evocative Cliffs of Moher

Creative

Even with the adaptations undertaken by the composer during its creation, there is an underlying feeling that this is a work written very much on the composer's own creative terms, as he himself acknowledges:
"I listened to plenty of brass band works after being offered the commission and I felt that there was a certain vernacular present that I didn't want to get caught up in. So I approached the work as I would any other for large ensemble, bearing in mind the particular colours available to me in the brass band."

What emerged is not a conventional test piece, but one whose merits as a piece of music enable it to stand much stronger as a result.

The adaptations in no way impede the progress of a piece that in its inherently clear and cohesive architectural and thematic structure, renders it more akin to the early twentieth century masterworks of the brass band repertoire than the stereotypical image of what a modern day test piece should conform to.
Resurrection

Yet 'Seascape with High Cliffs' is already a work that is in need of resurrection – a piece almost forgotten within a decade of it first being performed.
Seven years on from its premiere, Ian Wilson's solitary work for brass band is in danger of slipping off the very edge of the vertiginous scenery it depicts.
To allow music of such powerful and atmospheric aural imagery to become enveloped by the Aran Island mists that inspired it would not only be a loss to the brass band repertoire but an unflattering indictment of our musical judgement.
Chris Thomas