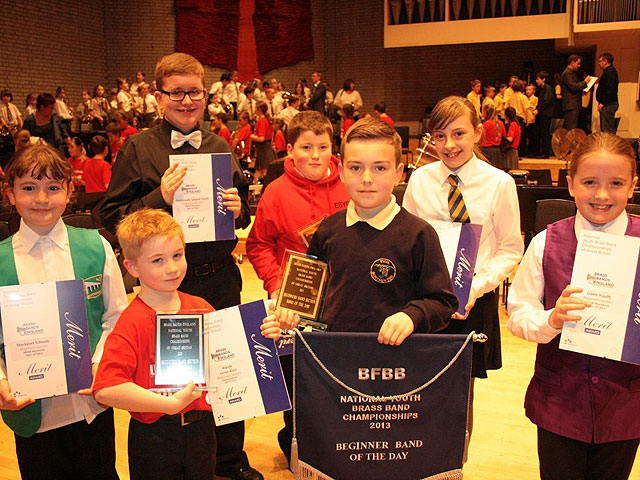 Everyone's a winner...

'The problem with the youth of today...' is a phrase that apparently gets on the wick of adjudicator, Sarah Groake-Booth.
Not surprising really, after she revealed that she had enjoyed such a wonderful day at the National Youth Championships at Manchester's RNCM.

Her overriding impression was simply that; "There's no problem with the youth of today: You lot are fantastic."
Impossible

Perhaps it was a bit of a sweeping statement, but you would have found it nigh on impossible to find anyone who would have disagreed with her.
The headlines will of course go to the 42 bands, the players, conductors, helpers and supporters that made it such an enjoyable occasion, but plaudits should also be given to Brass Bands England, who now organise the event with considerable care, foresight and expertise.
Real success

These Championships are a real BBE success story.
Dedication, ambition and enjoyment oozed out of every note played by the young players in each of the four sections – the result of which was hour upon hour of high quality music making that showcased excellence in abundance.
The highlights came thick and fast: From the startling nine year old cornet soloist, Ela Haf Williams from Ysgol Bontnewydd Primary in the Beginners Section, to the trio of Gold Award ensemble performances from Gwynedd, Carnoustie and Greater Gwent in the Championship event.
Other star performers, such as 'Best Instrumentalist' winners Michael Cavanagh and Calum Tonner from Stockport Schools and Carnoustie respectively, also showed that the banding movement is currently blessed with plenty of exceptional playing talent.
Special mention

A special mention must also go to the MDs too - all of whom directed their charges with encouragement and determination. Long gone are the days of grim-faced contest endeavour: The new breed of conductors really are an inspirational lot.
The BBE Music Panel also deserves a massive pat on the back for coming up with two cracking set work choices; pieces that asked demanding, yet achievable questions of developing players.
Timeless

Denis Wright's 'Tintagel' and Philip Sparke's 'The Prizewinners' came from opposite ends of the historical spectrum, although both gave ample opportunity to explore the timeless qualities of lyrical musicality and rhythmic precision.
They certainly sorted the bands out good and proper, yet neither piece was beyond any competitor's grasp.
With the organisers also insisting on adherence to traditional brass band virtues in the Beginners and Junior Sections, it meant that there was also an opportunity for the excellent selection panel of judges to compare and contrast thanks to the well chosen own choice repertoire.
Gold medals

The result of which meant that all the competitions were closely contested, allowing the adjudicators to give a much more considered reflection of the standard of playing on show with their awards: Gold's were hard earned and thoroughly deserved.
Brass Bands England deserves a shiny gold medal too.
Their outstanding organisation of a long and complex day ran like clockwork, thanks to the army of volunteers that worked smoothly under the watchful eyes of Arnold Tattersfield and Gary Walczak, whilst Sally Coleman (RNCM Concert Hall) and Dave Hayward (RNCM Theatre) were excellent comperes.
Problem

The only problem for BBE is that as it stands, there is no confirmed date for 2014 due to the proposed renovation of the RNCM.
It will be hard to find somewhere that can offer such a compact, yet accessible venue, although 4BR was informed that the process is already under way.
You can only hope it can offer another day as splendid as this.
Malcolm Wood