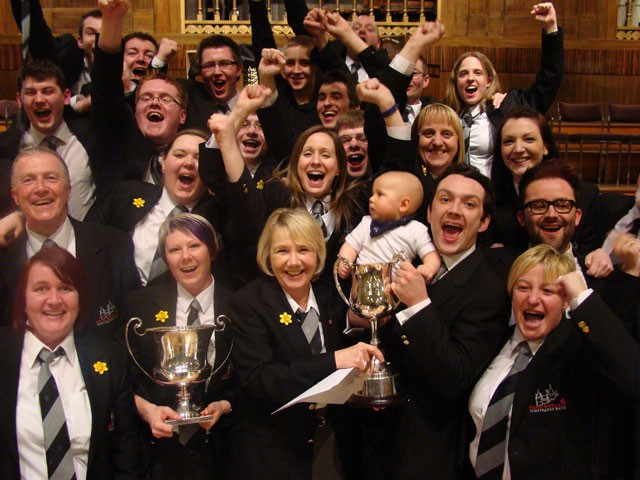 2013 Champions: Tongwynlais Temperance

Sometimes it's the destination not the journey that counts – and sometimes it's the opposite way around.
Which part of that rather tortured aphorism makes more sense after a Welsh Regional Championship that sent shock waves to all points of the banding globe is open to debate; but one thing is for certain:

None of the qualified bands are asking for their tickets back, despite the result.
Gore

Wales will be represented by Cory, Tredegar and Northop at the Royal Albert Hall in October, whilst Tongwynlais Temperance will also head to Kensington Gore as well as Perth for the European Championships in Scotland in 2014, via the Grand Shield in Blackpool in a few weeks time.
There was an understandable air of euphoric bewilderment about the post results celebrations at the Brangwyn Hall, as Tongwynlais players mingled joyously with family and friends (MD Steve Sykes was enjoying a quiet celebratory pint in a nearby hotel), as the realisation that they had won the biggest prize in their 125 year history started to sink in.
Tremors

However, even though this result was an undoubted seismic shock, the increasingly impressive contest tremors created by Tongwynlais in getting there didn't make it a complete surprise.
This is a band that in the past 18 months or so has played at the British Open, won the Scottish Open in commanding fashion, come runner-up at the Welsh Area, claimed a top six finish at the Grand Shield and pre-qualified for the 2013 National Finals.
That puts things into a slightly different perspective; although it was still tempered by the fact that they were now clutching the Welsh Regional trophy on a day when reigning champion Cory had been bypassed to the wilderness margins of the results map and Tredegar ended up in the role of Passepartout to the winner's Phileas Fogg.
Gulag

Cory will now contemplate the long journey to Oslo for the European Championships aided by a possible appointment with a local Treorchy psychiatrist to analyse their contesting well being; after their impressive display of technical brilliance and textured musicality ended up frozen out in the contest equivalent of a Siberian Gulag.
Any Sigmund Freud worth his salt will advise them to block out the memories of this particular nightmare as fast as they took the final Molto Vivace section of 'Harmony Music'.
All of a sudden though, bandsmen from Whitburn to Wagga Wagga are starting to think they can detect the first fault line cracks in the Cory contesting monolith.

Despite the obvious bout of communal head scratching that followed the result, Philip Harper will know he will be a conductor under a great deal of scrutiny in Oslo in just a few weeks time.
Point to prove

Tredegar meanwhile will curse their luck that they will not be heading to the 2014 Europeans themselves (Paul Cosh later confirming that he had to think long and hard before choosing between the top two bands), but thankful their brand of highly polished technical brilliance and emotive musicality didn't suffer the same fate as their Rhondda rivals.
Ian Porthouse will also be a conductor with a point to prove when his band locks horns with Tongwynlais at the Masters later in the year.
Resolute

The adjudicator Paul Cosh was resolute in his opinion – and fully justified too.
With the lively Brangwyn Hall acoustic blunting the edge of the fast paced filigree detail, he wanted to also hear a more refined, detached melancholic approach to the quieter sections of 'Harmony Music' and the Ravel interlude in particular; backed by quality soloists and balanced ensemble texture.
Despite the noticeable minor blemishes from the winners, he felt they gave him that best, with Tredegar close behind.

A compact, cohesive account from Northop under Thomas Wyss eventually claimed third, to give the North Wales band their first London Finals appearance since 2009.
Kierkegaard

That said, you would still have required a degree in the existential works of Søren Kierkegaard to quite understand the thought processes that saw Burry Port Town beat Cory into fourth place, despite a vibrant account under the baton of Nigel Seaman.
Meanwhile, the sixth place of Beaumaris was perhaps more a result of a nervous opening that took time to settle rather than the richly textured free flowing vibrancy that followed under Gwyn Evans.
City of Cardiff (Melingriffith), BTM and Pontardulais gave interpretations that were all musically enjoyable, but which all contained the same personality trait of being to varying degrees, technically flawed.
Shrink

Destinations and journeys: Tongwynlais head to Perth; Cory to Oslo – the rest of us back to the next contest and a possible appointment with our local shrink.
Contests like this can do that to you.
Iwan Fox