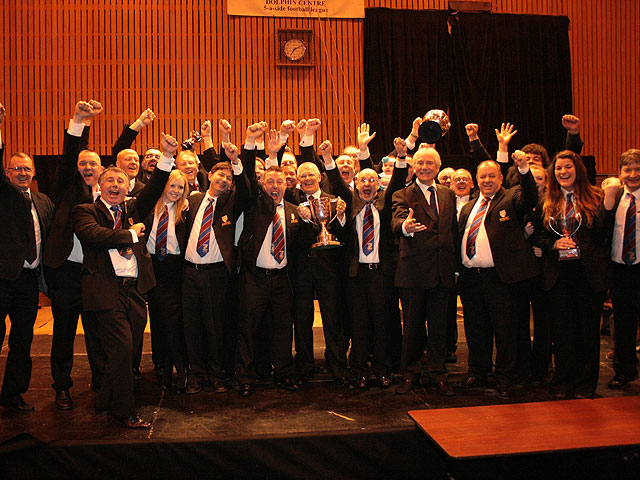 2013 Champions: NASUWT Riverside

Ray Farr walked quietly away from the hubbub that still rang around the Dolphin Centre hall thanks to the almost delirious celebrations of the players and supporters of the NASUWT Riverside Band with a gait borne of reserved, respectful satisfaction.
Free minded

One of the movement's great free minded conducting talents had led his band to victory with a performance that had been built with an unfailing commitment to the artisan virtues of hard graft, application and confidence:

It must have been one of the most fulfilling victories of his long and illustrious career.
It rather summed up what was an intriguing contest that impressed with its overall quality: NASUWT Riverside claiming their first ever top section North of England title by beating a rival the conductor had led to victory on four previous occasions.
Glow

As Ray Farr calmly left his players to revel in their glory, you were left wondering if any of those Reg Vardy successes had left him with such a glow of personal contentment.
It was a victory that almost rolled back the years to the day in 1987 he conducted the very first contest performance of 'Harmony Music' at the National Finals.

This was the MD back to his very best; bold, fearless and downright mightily impressive.
Boiled down

Earlier, David Read MBE had spelt out the dichotomy of his adjudicating thought process, before the announcement of the results: It boiled down to two bands producing a half each of one great performance between them.
There was no doubting who he was talking about – although you did wonder which half held greater resonance in his decision making.
Those thoughts were confirmed moments later as Alan Hope in his final act as Regional Secretary announced that the various instrumental awards had been evenly split between NASUWT Riverside and Reg Vardy.

Engrossing

Ray Farr produced an engrossing reading with NASUWT Riverside, centred on a Ravel interlude that throbbed with heart on the sleeve emotion and quicker sections that had a precise, freewheeling flow that gradually built in engaging, metronomic intensity.
In contrast, Reg Vardy under Dr Nicholas Childs produced a more detached, ethereal beauty to the Ravel homage, allied to a bubbling excitement in the Vivace movements that had more noticeable changes of power laden gears.
There was little to choose between them as neither was perfectly executed: You could clearly see why even the banding movement's most experienced adjudicator had to employ the wisdom of Solomon to sort them out.
Preference

Eventually, his personal preference edged towards a new champion – the old one perhaps left to ponder just a few too many blemishing errors.

With these two impressive rivals a margin ahead of the rest of the field in the judge's opinion at least, the remaining contenders had to be content with a battle for a podium finish.
Growing maturity

Defending champion Felling under Stephen Malcolm once again showed their growing top section maturity and sense of confidence in a performance that almost captured the balance between French impressionist melancholy and Vinteresque brilliance to a tee, whilst the same could also be said of EYMS under Alan Morrison.
Their bold, uber-confident approach occasionally meandered into brashness, but it wasn't half exciting in the process. On this form both will be short priced each way bets at the Senior Cup in a few weeks time.
Much has been made of the perceived lack of overall quality in the top section in this region over the years, but the evidence presented at the contest rather suggested that is now becoming a thing of the past.
High class

Both Felling and EYMS certainly showed that they were able to produce high class ensemble and solo excellence, whilst promoted Shepherd Group and Fishburn delivered renditions that benefitted greatly from the intelligent direction of Richard Wilton and Huw Thomas at their helms.
Easington Colliery delivered a compact, clearly defined performance to end seventh, whilst despite the more obvious technical discomforts of Barton Town, Westoe and Kirkbymoorside Town, all three delivered renditions that emerged with credit balances in the 'Harmony Music' ledger.
Long remembered

For NASUWT Riverside however, a victory that will long be remembered – and not just by the players and supporters of a hard working, totally committed band.

You can be sure Ray Farr won't forget this particular win in a hurry too.
Malcolm Wood