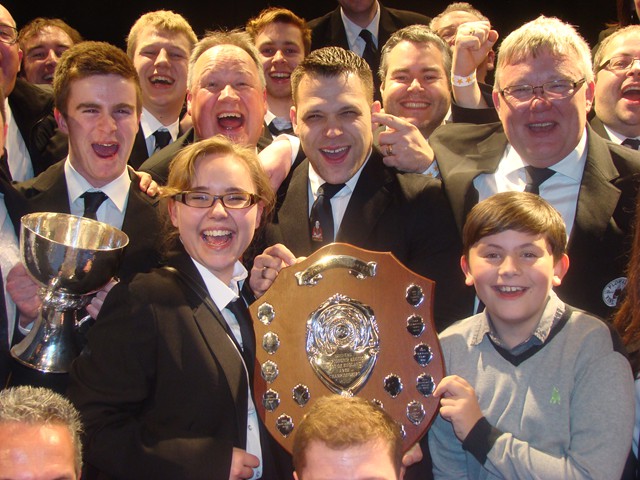 2013 Champions: Flowers

A performance of predictable high class quality finally led to led to the demise of a very un-predictable historic results sequence in Torquay.
Bold message

Flowers confirmed their position as a top section band of potential major winning class with a victory that ended the tiresome 16 year 'champions curse', and in the process sent a bold message of commanding intent to rivals at the forthcoming Grand Shield in Blackpool.
They will travel up the arteries of the M5 & M6 with that rare form of contest confidence bubbling through their veins – the haemoglobin that carries a cold blooded arrogance that eliminates unforced errors and adrenaline fuelled over-enthusiasm when placed under severe pressure.
And Flowers were under severe pressure in retaining their title in a contest that certainly started with bang.
Impressed

Dr Robert Childs used all his know how and experience with Woodfalls (as well as the talents of a euphonium bloodline of his own) to provide a number 1 marker that was full of cultured solidity, classy solo contributions and a high octane finish that sent a wave of deserved appreciation through a mightily impressed audience at the Riviera Centre.
On this form they will be confident of gaining the same response at the Senior Cup.
Limits

By the time Flowers took to the stage at the midway point of an engaging contest, not one of Chalford, Aldbourne, Brunel and St Dennis who followed, had come close to suggesting that they could beat them, as 'Harmony Music' tested the contenders to their limits – and beyond.
Aldbourne eventually left Torquay in third place, although singed by the type of self inflicted third degree burns that comes when you try to win a contest with a flammable mix of high octane excitement and combustible enthusiasm.
As much as you admired the fearlessness of the approach, a well placed qualification safety blanket to douse the adrenaline fuelled emotion and avidity that flickered to the point of musical immolation would have come in handy for David Johnson and his team.
They should be a bundle of fun filled conflagration on 'Red Priest' at the Grand Shield.
Cool headed

Flowers in contrast displayed a cool headed sense of self control that stubbed out any worrying damaging scorch marks before they had a chance to flicker any more dangerously than an occasional fleeting spark or two of discomfort.
Paul Holland's understated direction elicited authority from the opening chord to the final thumping climax, aided by excellent soloists and an ensemble that had been cleverly defenestrated in dynamic to enhance technical precision and clarity.
All that David Thornton and Brett Baker had to choose between in the box was the expertly managed excitement of Woodfalls or the mature control of the reigning champion.
They opted for the latter in a decision that brokered little argument: The rest were a good furlong or two behind.
Unforced errors

Of those, Camborne and Mount Charles simply made too many unforced errors in what were persuasive, lyrical interpretations from Steve Sykes and Simon Dobson that deserved better execution despite some excellent individual contributions.
Two emerging bands are slowly but surely chamfering off the rough edges of contest performance construction thanks to MDs who seek musical authenticity rather than technical artifice.
Flattered

The rest flattered to deceive somewhat – although Sherborne may count themselves a tad unlucky that Paul Cosh's coherent reading of the score didn't find favour in the box.
Bournemouth, Lydbrook and St Dennis very nearly had 'Harmony Music' under control – but like an octopus in a jar of jelly it wriggled free of MDs who just took their eye off the need to keep the lid screwed down on over-zealous dynamics and slightly too ambitious tempos.
Overall though the long awaited renaissance of West of England top section banding may just be around the corner – or at least just at the end of the M55 to Blackpool.
Bookies favourites

Flowers will be short priced bookies favourites at the Grand Shield, with good each-way prices to be had for Aldbourne and Mount Charles, whilst Woodfalls won't be short of backers under the baton of Dr Nicholas Childs in the Senior Cup either.

Camborne and St Dennis will also fancy their chances in the Senior Trophy too.
The champions curse may well have been lifted in Torquay, but with these increasingly impressive rivals starting to be pulled into the Flowers led slipstream, it may not quite be eradicated for good.
Iwan Fox