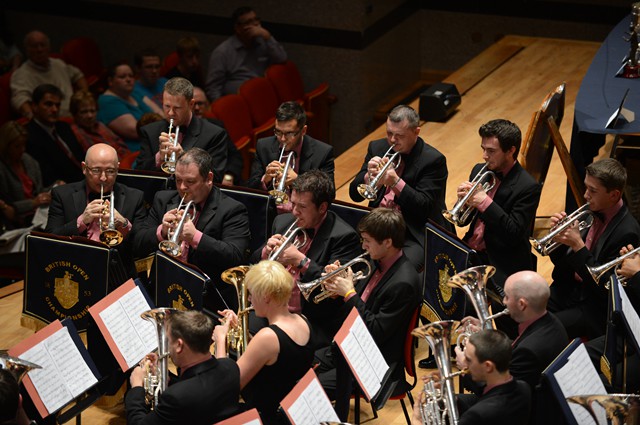 Grimethorpe in serious action

The Grimethorpe Besson Youth Band is a thrilling example of a partnership between a music service, a top class brass band and enthusiastic sponsor.

In light of what was discussed in my first article (see link below) concerning Music Hubs, it is also one that other leading banding organisations and music services might be well advised to look at and imitate.
Recap

To recap, with the Music Education Hubs initiative the Arts Council England is overseeing what they hope will be strong partnerships between local authorities, schools, music organisations, practitioners and communities to provide quality music education across the whole country.


It appears that the Grimethorpe Besson Youth Band is a pioneering leader of 'Hub' success, thanks in no small part to Alex Francis, who as a member of the leadership team at Barnsley Music Service has played in brass bands all his life, spending eight years as a member of Brighouse & Rastrick.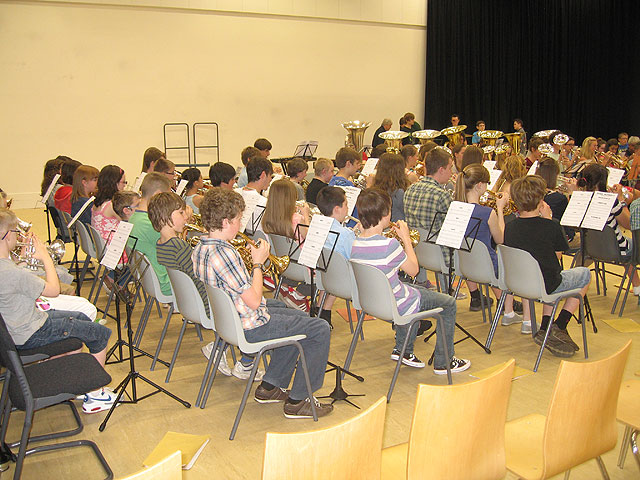 The new massed ranks of the Grimethorpe Besson Youth Band

However, over the last year and with the new 'Hubs' coming into force in September of 2012, he developed close contacts with Grimethorpe Colliery Band – the result of which has led to the emergence of their new youth band initiative.

Discussions

The National Plan for Music prompted initial discussions between Grimethorpe and Barnsley Music Service, with both organisations quickly realising they had very similar aims and objectives in mind on which a youth band foundation could be built.

Detailed discussions began at the beginning of 2012 to see if there was a real opportunity for the music service and the band to work together for the benefit of talented young brass players in the area.
The project soon developed into a multi service enterprise as music services from Barnsley, Sheffield, Rotherham, Doncaster and Wakefield quickly realised the potential that the partnership could offer.
Close arrangements

Close working arrangements and clear communication ensured there was no duplication of the tasks required for the project to proceed (a vital consideration if partnerships are to work together successfully).
The appointment of Grimethorpe players as lead tutors meant that the level of teaching expertise was second to none, whilst the participating music services were confident that they could attract players of Grade 4 standard and above to come along and be part of something new and inventive - the perfect entry level to gain maximum musical benefit.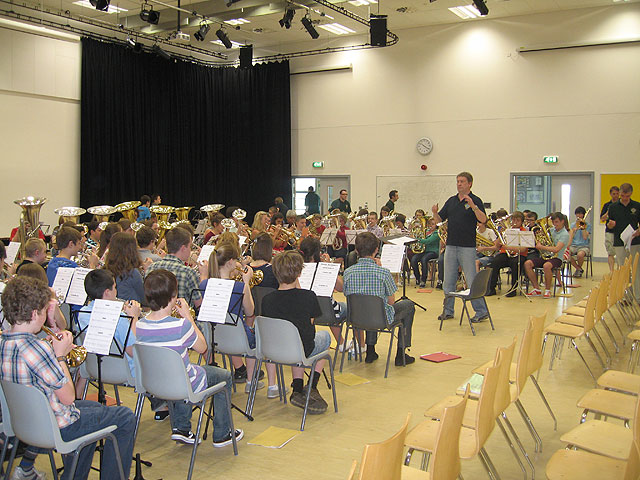 Grimethorpe tutors lead the way

Enthused teachers in all five music services promoted the initiative to their young brass players and crucially, local community bands were also kept fully informed of its aims and objectives – crucial in avoiding damaging misunderstandings.
Sponsor key

Also key to the success was to bring on board a sponsor who shared the same ideals, and with Grimethorpe's worldwide profile, they were able to persuade Besson Musical Instruments to become enthusiastic sponsors – a move that enabled the inaugural launch day to be offered free of charge to the young musicians.
With both the band and music services able to offer the highest levels of professionalism of musical and organisational excellence, and with Besson's backing, a date was set for a the inaugural rehearsal and performance on May 26th this year.
Overwhelming

The response was overwhelming.
Registration was planned for 9.45am with a 10.00am start, whilst the initial target was for the players to join forces later in the day with the full Grimethorpe Colliery Band for a massed band concert performance.
Brilliant success

However, with 98 young players turning up bang on time it was little wonder there was a tiny bit of chaos at the Shafton Advanced Learning Centre, a modern local school in Barnsley (which also provided its facilities free of charge)
Logistical considerations aside, the day was a quite brilliant success – providing tangible evidence that the very essence of the new 'Hub' approach in providing instrumental tuition in local communities can work wonderfully well when different bodies and agencies work in partnership.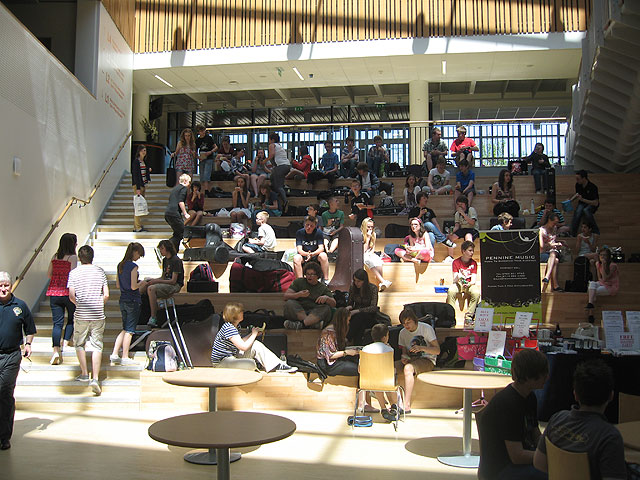 A bit of enthusiastic chaos...

Alex Francis – the man who started the ball rolling, was delighted: "It was amazing to see so many young musicians and there was a really good balance of instruments.

The tutors from Grimethorpe made it a very special day of course, with their approach based on the fun of music making, whilst the active involvement and expertise of the music services and the teachers made sure there was to be a lasting benefit too."
Equal

Ross Caswell from Royston, Barnsley was typical of the young brass players taking part. "Sitting alongside Grimethorpe in the concert was definitely the best part of the day," she later said. "It was really good to perform with people that you wouldn't normally play with and who treated you as an equal. I can't wait to the next full day."
There are still all too few examples of positive partnership working between music services and brass bands, but as Grimethorpe – one of the very best bands in the world have shown – the benefit of working together far outweighs that of working alone.
Clear

Clear communication with local community bands (some who do remain cautious about the approach it must be said) is a key requirement to ensuring success: Explain the concept, involve the bands and show the benefits - and everyone comes out of it a winner – especially the young players.
It was brilliant to hear of so many reinvigorated by the experience of meeting new friends, enjoying the sense of team building and being readily identified with musical excellence.

Not only that – but Grimethorpe has now gained an extra 98 fans!
Prosper

The Grimethorpe Besson Youth Band partnership is therefore one that can be held up as a great working example. A second full day has been held and which has proved that the initiative has the ability to prosper and develop further.
Now let's hope plenty of other bands follow Grimethorpe's example.
Jeremy Dibb
---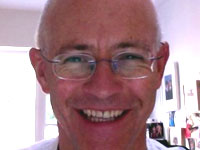 The Author: Jeremy Dibb

Jeremy Dibb started playing the cornet with his local brass band in Leamington and now works full time as a manager for Warwickshire Music Service.

He studied for a music degree at Manchester University and trumpet and composition at the Royal College of Music.

He is passionate about both music education and brass bands.
4BR Talking Point: - The Hubs of the matter: www.4barsrest.com/articles/2012/1351.asp#.UNIMpW8j7CY