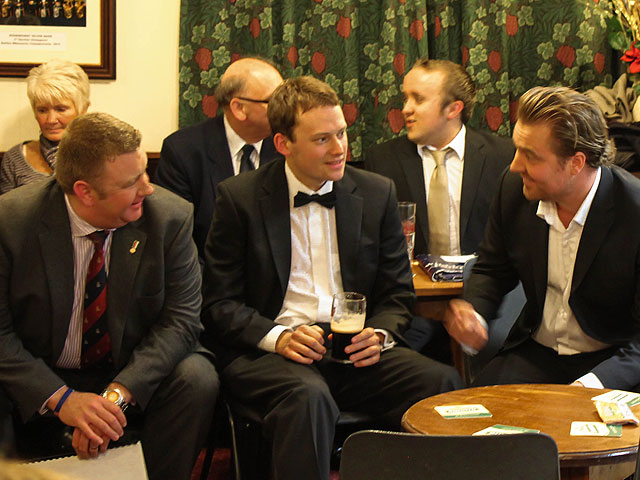 Nervous moments for the delegates before the big night

There was a great deal of pride as well as considerable talent on show at Russell Gray's recent Conducting Seminar & Workshop weekend.
Russell led a series of interactive sessions at the Sacred Heart Church Hall, Uppermill and at Boarshurst Band Club in Greenfield, with the event coming to a rousing conclusion with a Sunday evening concert featuring the Fairey Band.
New techniques

Drawing on his extensive knowledge and experience the five delegates learnt new techniques in all aspects of conducting and band preparation.
Russell told 4BR: "It's been an ideal opportunity to pass on the elements of good practice that I've learned with my own development working with top bands, semi-professional orchestras and leading music academics.

The simple aim has been to help develop better, confident and more focused conductors."

He added: "It's been an intensive working environment with the added bonus of being able to work with two fine bands on concert repertoire that challenged conducting technique and rehearsal approach."
Innovative

Russell's innovative methods allowed delegates to bring along concert repertoire they wished to conduct, as well as dust off any old instruments to help gain first-hand experience of just what practical information they hoped to impart in future to their players.
Video analysis and evaluation also helped to prepare them for their opportunity in conducting Fairey on a concert work of their own choosing.

Russell added: "That allowed the delegates to put everything into practice and show the progress that had they certainly made. I really looked forward to the weekend, which proved to be great fun and very enlightening – and I hope the conductors did so too."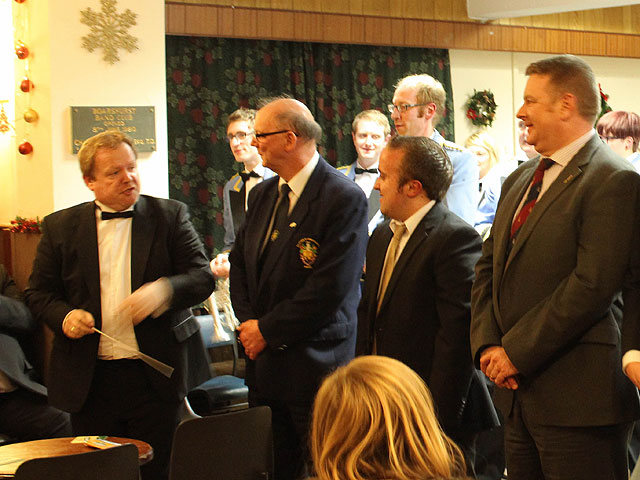 Taking the applause: John Clay, Staurt Black and Lee Woodward

Five delegates

John Clay, Stuart Black, Lucien Rey, Lee Woodward, and Stig Mearsk were the five delegates that took part, with work beginning on Friday evening and continuing until teatime on Sunday.
On the Saturday Boarshurst Silver, with the help of volunteer players provided the 'classroom band' which allowed the quintet to work on Goff Richards' 'Hollywood' and Philip Harper's 'A Gallimaufry Suite', whilst Boarshurst MD David Ashworth, assisted with video recordings of each of them in action.
Fairey invite

On Sunday afternoon Russell invited Fairey to work with each delegate on their own choice work in preparation for the 'finale' concert.
John Clay chose 'Le Roi d'Ys', whilst Stuart Black opted for Peter Graham's 'Alloway Tales'. Lucien Rey selected 'Shine as the Light', whilst Lee Woodward went for 'Lux Aurumque' with Stig Mearsk choosing 'Kingdom Triumphant'.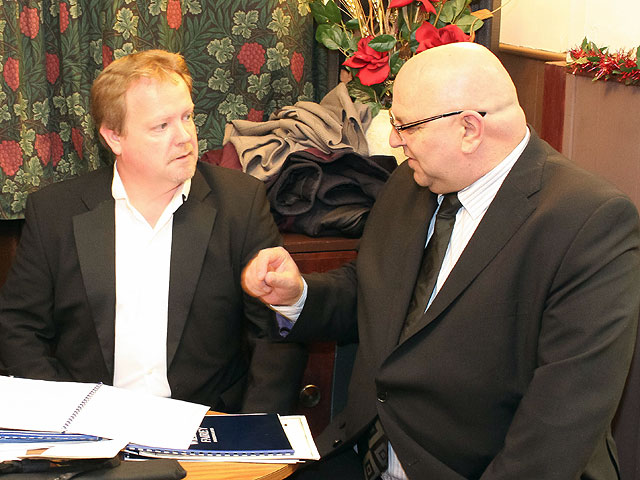 Just a little point from Dave Ashworth to Russell Gray

Le Roi d'Y's

The concert itself opened in fine style with the Fairey signature march 'The Beaufighters' before John Clay directed a fine performance of 'Le Roi d'Ys' – one that certainly brought back many happy memories of his own Black Dyke days.
John took the generous applause from the knowledgeable local audience with the broadest of smiles across his delighted face.
Percussion star Yasuaka Fukuhara then thrilled everyone with the xylophone solo 'Taps in Tempo', whilst the band delivered a lovely witty rendition of 'Honey Pie'.
Alloway Tales

Scotsman Stuart Black, has been developing his own conducting skills over the past few years by taking part in conducting initiatives under Ian Porthouse, Alan Fernie and Allan Withington and is currently gaining further experience with the Peebles Concert Band from south of Edinburgh as well as a number of ensembles.
Stuart's free flowing direction of 'Alloway Tales' highlighted his growing confidence in front of a top class band.
'In Love for Me' was the prelude for the third conductor to take to the rostrum, with the youngest of the five delegates, Lucien Rey.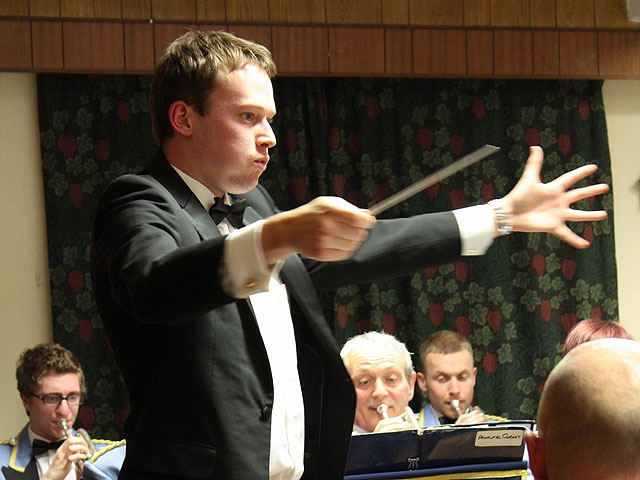 Rey of light...

Shine as the Light

Currently playing with the Leyland Band and studying business at Manchester University, Lucien very proficiently led Fairey through Peter Graham's 'Shine as the Light'.

Benny Goodman's classic 'Stealing Apples' and Adam Gorb's colourful 'Yiddish Dance No.1' opened the second half before Mike Eccles delivered a wonderfully suave 'The Girl from Ipanema'
Lux Aurumque

Lee Woodward, the conductor of the St. Sebastian's Band from Wokingham then led Fairey through a passionate account of 'Lux Aurumque' – a very personal choice that saw him delve deeply into the emotion of the score.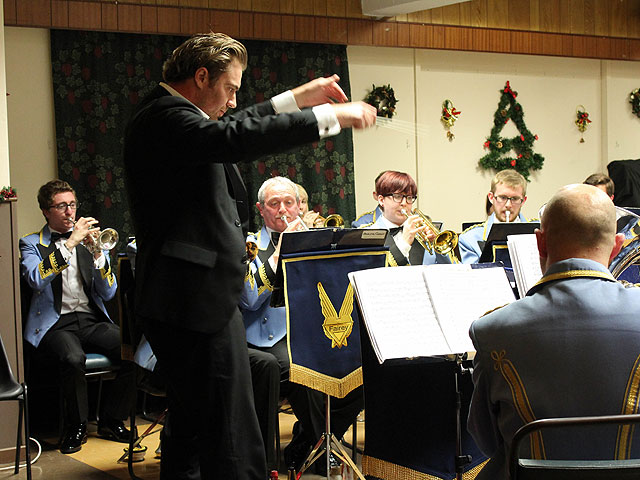 Top Gear - The Stig in action...

Kingdom Triumphant

Fairey them delivered a little gem in 'Molly's Wake' before the final delegate, the newly appointed Hepworth conductor Stig Mearsk, rounded off the evening with his direction of Eric Ball's resounding 'Kingdom Triumphant' in a performance full of rich tonality and well shaped phrasing.
Following the applause from the delighted Boarshurst audience, Russell Gray conducted the encore 'Praise' by Wilfred Heaton – in a manner the delegates would have envied.
Thanks

A spokesperson for Boarshurst Silver Band and Boarshurst Band Club later added: "We would like to thank Russell and the Fairey Band for bringing their music to our famous club here in Greenfield.
It was a tremendous weekend with the five conductors who showing great pride, enthusiasm, courage and plenty of skill and talent in leading the bands."
John Whittle