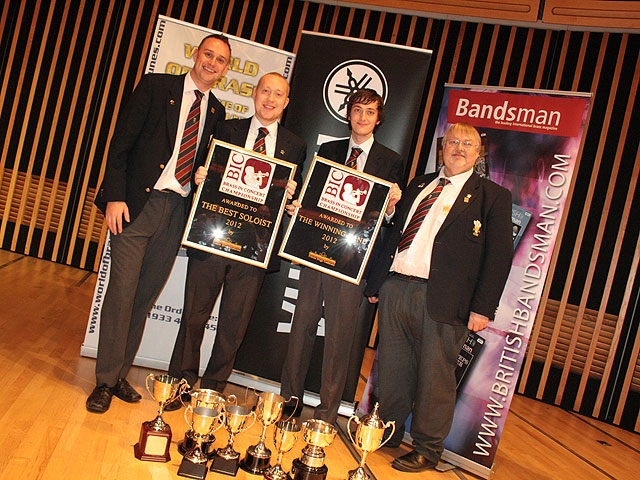 Prize guys: Cory celebrate with the silverware

Somewhere in the stratosphere, about 35,000 feet in the air heading east towards Japan, the most contented of long haul travellers stretched out his long legs and allowed himself a wry smile of well deserved self satisfaction.
Philip Harper won't have minded either that his limbs will have ached as if folded by a local origami expert when he finally climbed down the steps of his 747 at Tokyo airport to enjoy a two week break with his wife:

The uplifting after-effects of leading Cory to a crushing Brass in Concert success will have offset any chance of deep vein thrombosis.
Confident

He will also be pretty confident that it will be a feeling that he will enjoy many more times in the future with the number 1 ranked band in the world, as the new entertainment era at Brass in Concert coincided with a maiden victory that brokered little or no argument at The Sage Gateshead.
This was a thumping; the type some rivals may have believed was beyond the MD when he took over the Cory reins early this year.
Different feel

Not now – although it has got a different feel about it. This was like a boxer clobbering their rivals with a surprise southpaw led combination rather than a well telegraphed haymaker.
The winning performance retained the hallmarks of Cory's heavyweight reputation for detail and precision, but what was added was an engaging sheen of additional interest with a 23 minute set that certainly contained elements of the MDs sometimes quirky musical mind.
From Mahler and back again via Superman, James Bond, quasi religious pondering and Chick Correa:

This was a theme of everlasting life brought to you courtesy of a manic depressive, a superhero who wore his pants outsides his strides, a spy with a penchant for 1970 safari suits, Radio 2's 'Thought for the Day' and a bit of Latin carnival time high jinks.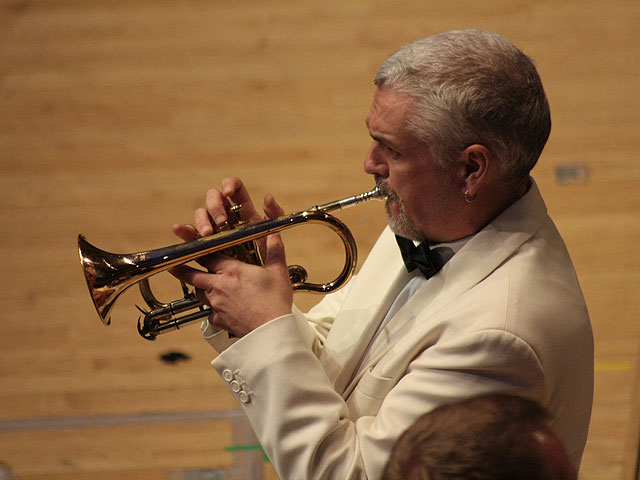 The name's Stewart - Steve Stewart

Illusion

The 27 point winning margin was something of a statistical illusion – but it did not camouflage the reality of a performance that deservedly topped the placing tables of 'Quality of Music' judges Luc Vertommen and Paul Cosh as well as Andrew Duncan for 'Programme Content'.
With the new system weighted 60% toward musical quality with 20% for programme content, Philip Harper had also done the maths.
Little effect

Cutting back on the frivolities (although they did employ intelligently choreographed presentation) meant that the 3rd place from Steve Walker for 'Entertainment & Presentation' had little effect on the outcome – the victory had been long secured by performance excellence.
Prize winning contributions from star players such as Steve Stewart and Owen Farr (who showcased their talents in full all weekend) was backed by an ensemble that provided admirable support.
It all proved once again that the age old Cory strengths of pre-contest preparation and contest stage execution have not been lost – just given an additional tweak or two by an MD who can now deservedly stamp his lasting hallmark on the silverware Band Manager Austin Davies took by van back to South Wales.
Charlie Cairoli

Before the contest, some critics were still saying Philip Harper was still struggling to fill the big shoes left behind by his predecessor: On this evidence he wouldn't have a problem from now on stepping into Charlie Cairoli's slippers.
That may signal bad news for the rest of the bands at this contest, as the winning margin certainly didn't disguise the fact that they were left in a wake every bit as long as the vapour trails from his oriental bound jumbo jet.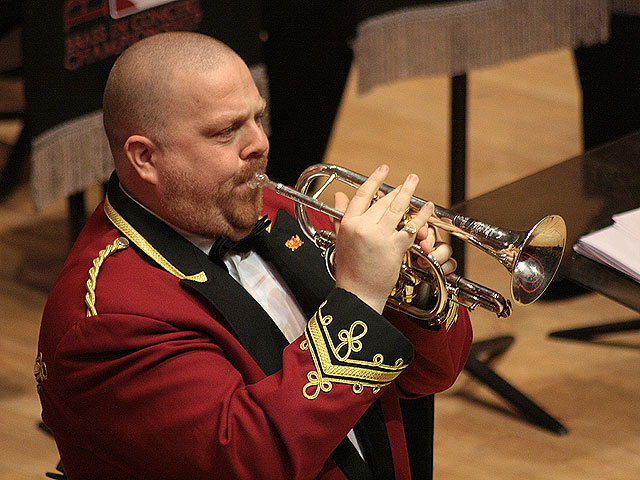 Quality counts for Dewi Griffiths and Tredegar

Rise in quality

There was an undoubted rise in the overall musical quality of the performances this year – notably from Tredegar, Leyland, Fairey, Brighouse and Grimethorpe who filled the top six positions from Vertommen and Cosh – but none really came close to equalling Cory's brilliance.
That quality stood apart from the rest of the 11 band field – even from Leyland's sparkling 'Saints' opener to Tredegar's fizzing gypsy 'Damba' and Fairey's neat bit of Benny Goodman swing jazz.

It even overshadowed Stuart Lingard and Chris Gomersall who were on stunning individual form with Brighouse and Grimethorpe respectively.
Varied

However, the way in which their rival's programmes were constructed and delivered varied greatly in the eyes and ears of the judges.
Leyland and Tredegar opted to retain their successful formulas of the past couple of years to end in second and third overall, (although the content didn't find favour with Andrew Duncan) whilst Fairey headed across the North Sea for the inventiveness of Reid Gilje (although that didn't really appeal to Steve Walker).
Grimethorpe opted for familiar home comforts (compered by Sandy Smith) to provide a solid if curiously unspectacular programme, whilst Brighouse plumbed for the Stackhanovian virtues of Alan Ramsay, only to be pushed out of the top six by the more breezy flamboyance of Paul Andrews with Carlton Main.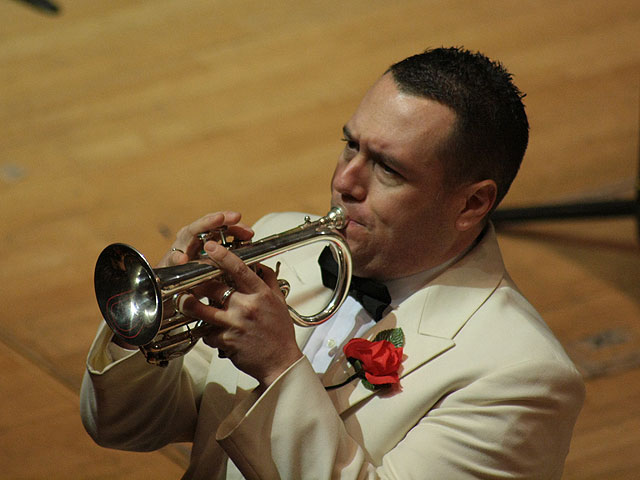 Saint John of Leyland...

Happy Days

Thankfully, none opted for slapstick humour – with the exception of Leyland – although to be accurate that came more from the predictable comedic banter between Frank Renton and Richard Evans.

The audience loved it, even if they could see the jokes coming from over the Tyne Bridge.
Their 'encore' of a mini 'Hootenanny' though was either inspired brilliance or as we said at the time, the Brass in Concert equivalent of Fonzy jumping the shark in 'Happy Days'.
Got away

Leyland got away with it – just, but next time you suspect they may not be saved by an entertainment judge with the same appreciation of old cheese.
Tredegar meanwhile has become a polished performer here, and backed their solid presentation with high class ensemble playing dotted with impressive individual contributions.
Both will also have left Gateshead pleased that the quality of their playing resonated so highly (they were 3rd & 2nd respectively), although they will also know that they still have a bit of work to do according to the judges to buff up their content skills.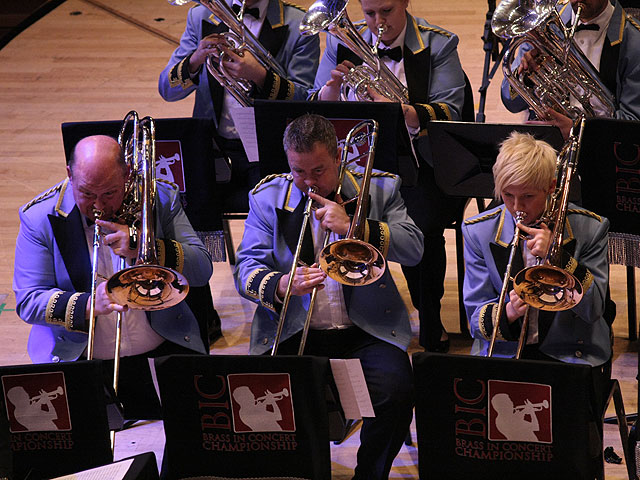 Fairey trio of troms

Slim and sexy at 67

Meanwhile, Fairey's overall consistency just lacked that extra touch of sparkle to have claimed a podium finish, despite Mike Eccles suavely reminding the predominately middle aged audience of a time when both they and the Ipanema Girl were young, slim and sexy – and not now aged 67.
Grimethorpe will perhaps shrug their result off as a 'one off' after they couldn't quite polish up their programme to their usual gleaming standards – although many in the audience (4BR included) found the more seriously minded approach the most musically satisfying of the contest.
Weighed down

Brighouse on the other hand sounded tired and a little predictable – the superb individual contributions being weighed down by a programme that never quite came to life.
That allowed Carlton Main's energetic approach to claim a top six finish (and an automatic invite for next year) – thanks to the neat programming (including a prize winning arrangement of 'Send in the Clowns') and inventive presentation under Paul Andrews that offset some rather varied playing at times.

High energy Carlton Main

Limitations

The bottom four couldn't overcome their obvious limitations however.
Virtuosi GUS delivered a very solidly played, but rather mundane programme that occasionally flickered into life, but couldn't quite send the meniscus on the temperature gauge rising high enough to push for a top six finish.
In contrast, Co-operative Funeralcare was a classic case of high impact style but rather less substance once the audience had sucked on enough sugar coated candy sweeties to put them in a self induced diabetic coma.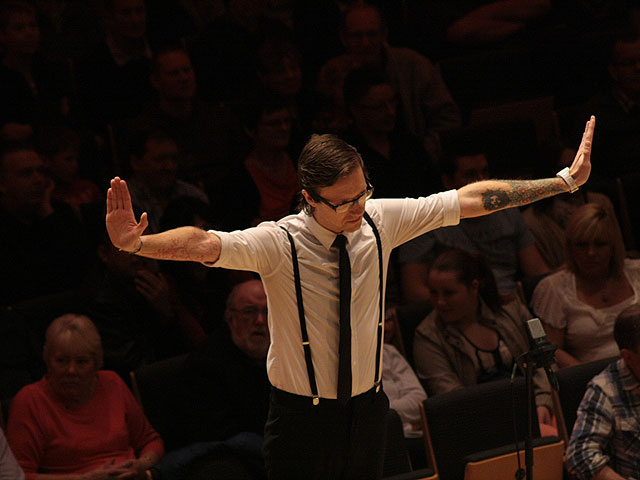 Seeking resonance with Simon Dobson

Marc Bolan

Somewhat predictably, Whitburn's imaginative musical approach under Simon Dobson just seemed to be at least one generational step away from resonating with an audience who still thinks Marc Bolan was too much of a young tearaway.
As for Reg Vardy?

Perhaps the new Brass in Concert instructions didn't reach them, as their curious programme looked and sounded dislocated, dated and even a little desperate from the word go.
Some of these bands may wonder if they will get the call to return next year, although that won't be a problem to worry about for Philip Harper any more.
A new era in Cory history has coincided with a new era for Brass in Concert itself. Both of them couldn't have got off to a better start.
Iwan Fox