You need to read this article if you have young players in your band or if your band runs a junior group or a youth band: In fact you need to read this if you care about the very future of brass bands in England.

As of September 2012, Music Education Hubs have started working across the country with the Government investing £171,000,000 (that's right - £171 million) over three years in the provision of music education.

Hubs

The Arts Council England is overseeing these new 'hubs' to ensure that they will in their own words: 'Form strong partnerships with local authorities, schools, music organisations, practitioners and communities to provide quality music education across the whole country.'
The vast majority of Music Education Hubs are led by local music service providers, although the funding at present is available only for three years, and it is argued that it equates to a much lower level of overall investment – up to 50% less for some areas.
Your band?

So what does that mean for your band?
In England there are two unique musical entities providing brass tuition and education to young players: The community brass bands and the local music service providers.
The community tradition has deep set roots and is fiercely proud of its history. However, numbers are declining, and it is getting harder and harder to attract young people into bands.

Meanwhile, the extensive network of local music services also provides the opportunity for young people to access music tuition in a way that simply does not exist in other parts of the world.
These music services provide instrumental and vocal lessons directly to schools, support the music curriculum across all age ranges and run both local music centre and area groups at various age groups and levels of excellence.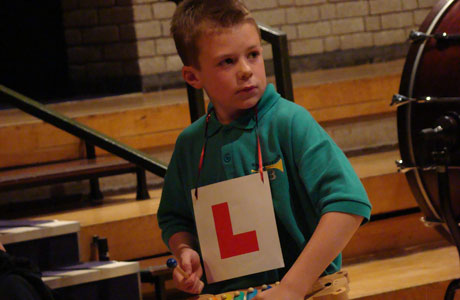 Hub funding

However, as of September 2012 these music service providers only have 'hub funding' targeted towards them for the next three years, whilst they may also see their core local authority funding disappear altogether.
Because of this, the time has come for two traditionally very wary and separate strands of music tuition and education provision to work together for the mutual benefit of each organisation and, most importantly, for the benefit of young players.
Template

According to the Government, the aim of the new Music Education Hubs is to provide a template for innovative partnerships to succeed.
There are of course numerous examples of good informal working partnerships that already takes place between both spheres, but it is also clear that there is a lack of consistency as well as a national strategy to help those examples be developed nationwide.
Fractious

Unfortunately the reality has been that all too often community brass bands and local music services co-exist in an environment that has at times been fractious.
Community bands want to see young players develop to fill the seats in their senior bands, whilst music services want viable groups of players to sustain traditions such as area based wind orchestras, brass and Big Bands.
It has meant that young players have all too often been asked to play in a numerous groups with teaching methods that vary, using repertoire that has little common relevance and with demands on time and money to parents that can lead to conflict and strain.
Many schools also want their young brass players to play in school groups and ensembles too, and that can lead to a demoralising 'quantity not quality' musical environment for the very people who matter the most - the aspiring young performers.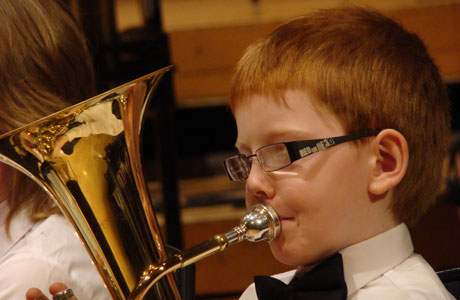 Initiatives can work

This why the new 'Hub' initiatives can work – but only if implemented at the most immediate level by people who understand the needs of the young players and how different aims and aspirations of both community and education led music providers can be brought together.
The key is in the written detail from Her Majesty's Government itself: '...to form strong partnerships with ...communities.'
Start talking

Time then for the new 'Hub' providers and community brass bands to start talking – and fast as we all want the same outcome: To get more young people playing and enjoying their music making in groups.
Working together we have the potential to achieve far more than working in isolation.

Let us be brutally honest: We need each other. Hubs have to show they are embracing the community and vice versa.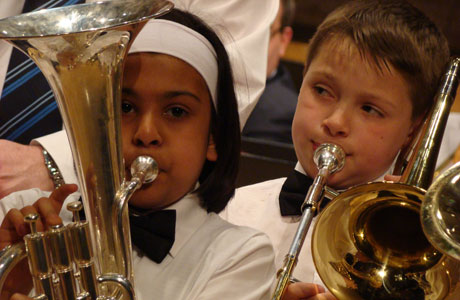 Another three years cash?

If nothing is done over the next three years, it is highly unlikely that another £171 million will be made available by a cash strapped Government: But if it does work, then who knows?
It's fascinating to hear about the new Youth Band set up by Foden's – bringing young players from many bands together once a month.

It's a wonderful approach that is just what 'Hubs' can help provide if working together with bands at all levels – Championship Section down to non contesting ensembles.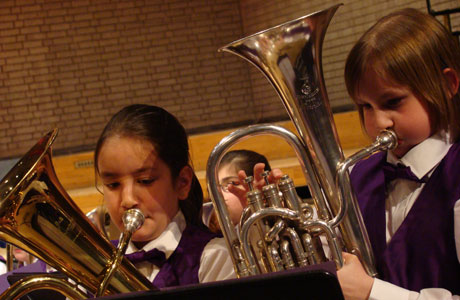 Not easy

It will not be easy and I am not for one moment suggesting that bands can now go cap in hand to their local Education Music Hub expecting some sort of hand out. Absolutely not.
A proactive partnership could mean that both sides benefit, but there will have to be some innovative thinking to make that happen.
Find out more

So if you are a band in England that wants to find out more – and to be able to benefit from an initiative that is set up to work together to help your young brass players, then pick up the phone and make contact with your local Music Education Hub.
In the current economic climate we are lucky to have three years funding – but it might not be there in future if nothing positive happens.
If we are going to do something positive, now is the time to do it; tomorrow will be too late.
Jeremy Dibb

If you have a positive experience of a partnership between your band and your local music service or Education Hub, and would like to share this good practice then please contact Jeremy directly at: jeremydibbmusic@gmail.com
---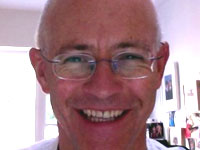 The Author: Jeremy Dibb

Jeremy Dibb started playing the cornet with his local brass band in Leamington and now works full time as a manager for Warwickshire Music Service.

He studied for a music degree at Manchester University and trumpet and composition at the Royal College of Music.

He is passionate about both music education and brass bands.