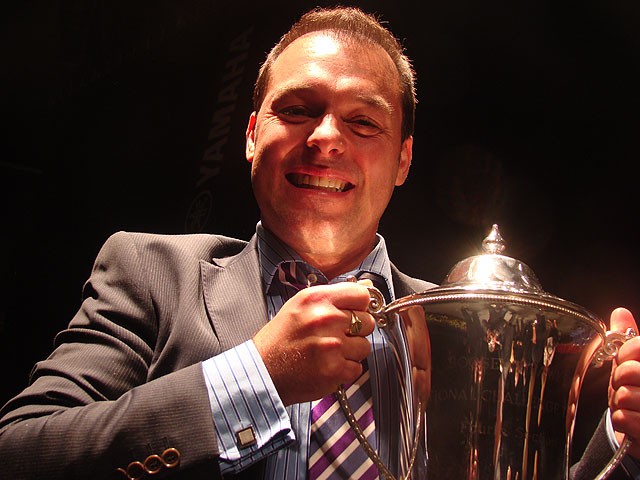 Jus Crazy man: Andrew Craze and the Fourth Section National Trophy...

4BR's Malcolm Wood catches up for a quick chat with Andy Craze, the conductor of newly crowned Fourth Section National champions, Norfolk Wherry Brass.
---
Malcolm Wood: Hi Andy. Have you and the band come down to earth yet after the Cheltenham triumph?

Andy Craze: Not really. We have all found the experience almost overwhelming - well right up until the last rehearsal when I produced some new music as sight reading!!
---
Malcolm Wood: Before talking about that great win, let's go back to the beginning.

Norfolk Wherry Brass is a relatively young band. How was it formed?
Andy Craze: I helped form the band in 2004 with the assistance of some of my colleagues and a group of musicians from the local area in Norfolk.
I was a member of The Band of the Dragoon Guards which had recently performed in the area. I was contacted by one of the musicians who had seen us asking if I would take a rehearsal.

It went very well as I remember, so it just built from there really.
---
Malcolm Wood: Success came quickly with qualification for the National Finals in 2005 and 2006.

Did this exceed your expectations?

Andy Craze: Very much so - especially in 2005. I headed for Stevenage with so much trepidation, as even though I had contested many times as a player, on this occasion I was taking to the stage as a conductor.
It was different for the band, as there were so many players that had never even heard of contesting let alone competed themselves.
As things turned out all the hard work paid off, and they put in a fantastic performance to claim first prize.
In 2006 it was very different, with nerves playing a bigger part as everyone knew what to expect.

As we took to the stage I could really feel the tension, but again it's a tribute to the players that they were able to use this as a positive and put in another winning performance.
---
Malcolm Wood: Your Army career meant that a new posting came your way and you had to move away.

It must have been a big wrench to leave Norfolk behind?

Andy Craze: Yes. I can honestly say that at the time the band was on the crest of a wave and we had lots of exciting plans in the pipeline.
From a personal perspective I was looking forward to what lay ahead, but with defence cuts and the disbandment of the Dragoon Guards Band I was posted south and unfortunately had to step down as MD.

I was very reluctant to do so I must say, but had no choice.
---
Malcolm Wood: The band continued to enjoy success but at the turn of this year found itself back in the Fourth Section.

What persuaded you to come back?

Andy Craze: It worked out that I was just coming to the end of my Army career and was moving back to Norfolk.

It all went well and then I took a surprise call from the Norfolk Wherry chairman asking if I would be interested in taking the band as a one off to the areas. After some thought (about five minutes) I accepted the invitation.
What Norfolk Wherry has is an incredible spirit to work through the difficult times and enjoy the good ones, so when I was asked if I would like to consider becoming MD again after Stevenage, no extra thought was needed!
---
Malcolm Wood: Now Norfolk Wherry Brass is the National Champion. Some would say you have the Midas touch, but is there a secret to your success?

Andy Craze: All I can say is that during my time in the military and having played with some top quality brass bands over the years I've managed to amass plenty of experience.
I've been fortunate to have played under and been taught by some of the best conductors and band trainers in the business, and this is something I fall back on when conducting.

I believe a good work ethic and correct preparation will always stand you in good stead.
---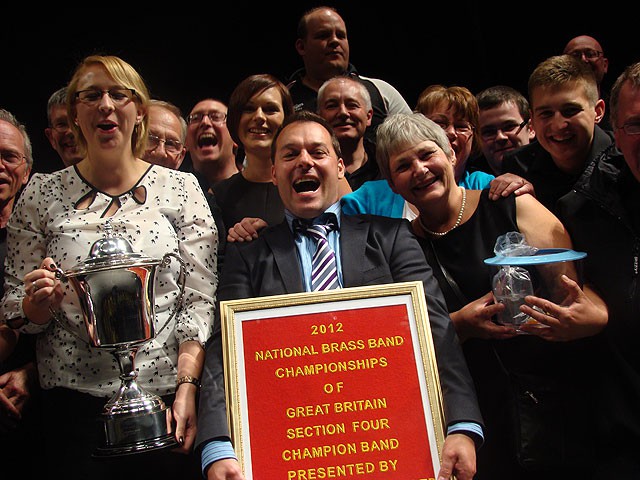 Norfolk Wherry start to celebrate in Cheltenham

Malcolm Wood: The National's contest day wasn't without its dramas, with the realisation that your cornet player, Ashley Gibbs wouldn't be able to play due to an administration error.
How invaluable was your army background in focusing your band for the job in hand?
Andy Craze: Ha! What a contest day!
Well, as reality dawned and I was informed of the situation, I took the chance to look at my options.
The one thing that worked in my favour was that there was going to be a comfort break before we played, so that gave me some time.

I scribbled out separate parts for the front row and talked to the band about turning the situation from a negative into a great positive.
Having been in the military for over 22 years, thinking on your feet is something that comes as second nature, so considering all your options is a must.
Then it was up to the players – and they were superb.
---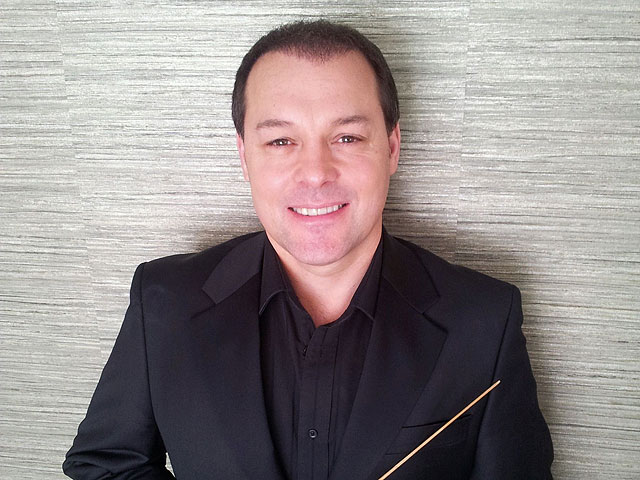 The MD in formal pose...

Malcolm Wood: Was victory at Cheltenham just the starting point for where you'd like the band to be in 2-3 years time?

Andy Craze: Yes. I would like to think so, as it would be a real shame not to move forward from winning a national title.
I would like to see our long term aims kick in straight away with our first objective to qualify for the Third Section National Finals at Stevenage next March.
It would be very easy to sit back and bask in past glory, but I'm not that type of person.

I want more and I know the band wants more, so it's down to us both to harness that and push on.
---
Malcolm Wood: How important has winning the Nationals been to the banding community in Norfolk?

Andy Craze: Well being a Cornishman I know what brass banding means to people in rural areas and the pride they have in local success on a wider stage.
There is so much potential here and I think Norfolk Wherry Brass can spearhead it in partnership with other like minded organisations.

If we can win a national title so can others.
---
Malcolm Wood: You have shown that lead with the formation of a vibrant youth band.

Have you spotted any players of the future that 4BR should be keeping their eyes on?
Andy Craze: Quite possibly!

We have a great youth set up which is now growing and is really producing some tremendous young players.
We are starting to see some of the first batch playing with the senior band, so it seems the future is looking bright.
---
Malcolm Wood: It's been great to catch up with you Andy, and 4BR congratulates everyone at Norfolk Wherry Brass on the victory and looks forward to hearing about even more success in the future.

Andy Craze: Thanks. It's been a pleasure….