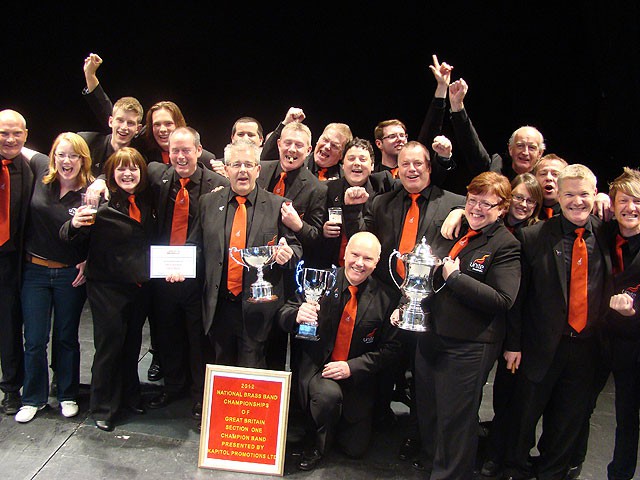 United in celebration - the new National champions are all smiles

The battle for the First Section National title brought an enjoyable contesting weekend to a thrilling conclusion on Sunday evening.
Tom Davoren's 'VIVAT!' may have been easy on the ear with its bold rhythmic structures, pulsating undercurrents and occasional unconsciousness ciphers that evoked everything from 'Danny Boy' to 'Sister Act', but it proved to be an exemplary test of true Championship credentials for the 17 competitors that took the stage.
Inventive

The conscious inspiration, crafted with innovative expertise came from Sir Hubert Parry's 'I Was Glad', which may have harked back to a golden period of British monarchy, but did so with one inventive compositional eye very much on its evolving future: This was certainly a celebration evoked with 21st century musical values.
The scoring was rich, textured and detailed – the composer adding an extra musical dimension with his deceiving use of descriptive adjectives.

The tests of title winning character came from the first bar to the last.
Sucked the breath

For instance, 'In Memoriam' opened with a treacherous baritone trap that sucked the very breath from the lungs of nervous players as they tried to provide the marked pianissimo statement required.
There was also a great deal of conservatism displayed by more reticent MDs over the approach to some of the high octane tempo markings that followed too: Not many got close to the 170 plus mark that was asked for in places.
The grandiose 'Coronation' and the freewheeling 'Jubilate' finale saw the bigger sounding bands flex their acoustic muscles, although as a result quite a few found the jazzy elements of the score difficult to manipulate successfully with a sense of lightweight dexterity.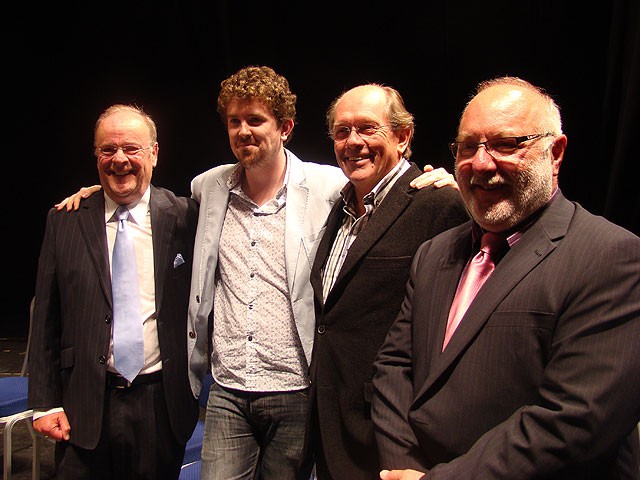 The main men: Kapitol, composer and judges

Sharp focus

Not surprisingly, Frank Renton and Kevin Wadsworth gave detailed, sharply focussed appraisals to back up their judgements.
Kevin's wry black humour focussed on the interpretative elements (especially those descriptive adjectives), whilst Frank gave musical food for thought in a manner that brokered little or no argument.
They were excellent précis's of 17 variable musical performances: Unlike a couple of other judges who opted for the tired 'let's thank everyone and say nothing' speeches, these were the type of championship section standard appraisals that bands with championship standard ambitions deserved.
Little doubt

There was little doubt which band Kevin and Frank had in mind in categorically claiming the title either.
Three of the opening seven contenders had caught their ears to some extent, but it was Unite the Union (City of Sheffield), conducted by Derek Renshaw that gave them the performance marker of sustained quality that eventually proved unbeatable.

Classy

Steve Machin's beautifully crafted baritone solo (which gave him the 'Best Instrumentalist' prize) provided a perfectly composed opening statement of mournful beauty, which was followed by high class ensemble work in a reading of care and consideration by the MD.
It was a classy, well informed, confidently delivered rendition that had the hallmarks of true championship quality indelibly stamped on it throughout.

It captured the National honours in the most emphatic manner.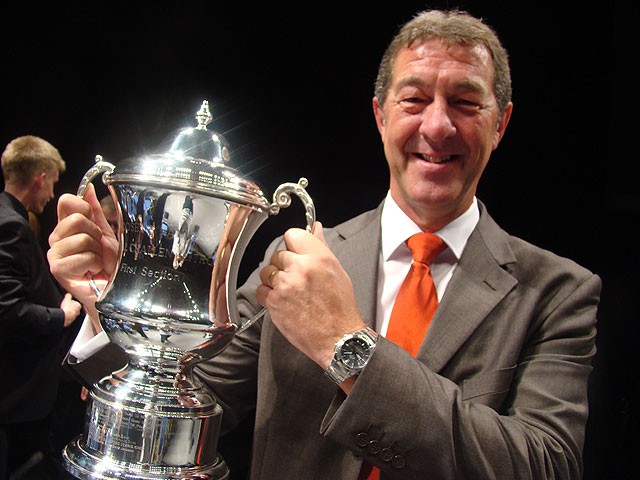 Trophy man: Derek Renshaw and the National Trophy

Vanquished rivals

Behind them came the vanquished rivals – well beaten by the Yorkshire champions but certainly not by the music.
Burry Port's passionately coloured account full of brio and bubbling confidence caught the ear in the box to come runner-up.
It was certainly a diametric counterpoint to Unite's more controlled approach, but perhaps crucially for the judges, MD Michael Thorne pushed his band to its limits, but never quite beyond.
Solidity

Meanwhile, Yorkshire Imperial Urquhart Travel's more reserved approach under Dave Nesbitt, was laid out with solidity in its detailed execution.

In the end it may just have lacked that extra spark of raw excitement generated by their Welsh counterparts, but it certainly deserved its ultimate reward.
Wardle Anderson Brass also gave the judges something to ponder after MD Steve Walsh's contrasting interpretation (full of marked tempo and dynamic differentials) claimed fourth, whilst a 'as per the tin' approach from Shepherd Group under Richard Wilton ended fifth.
Nothing fancy and nothing forced, both were performances of eminently sensible contesting virtues that played to ensemble strengths.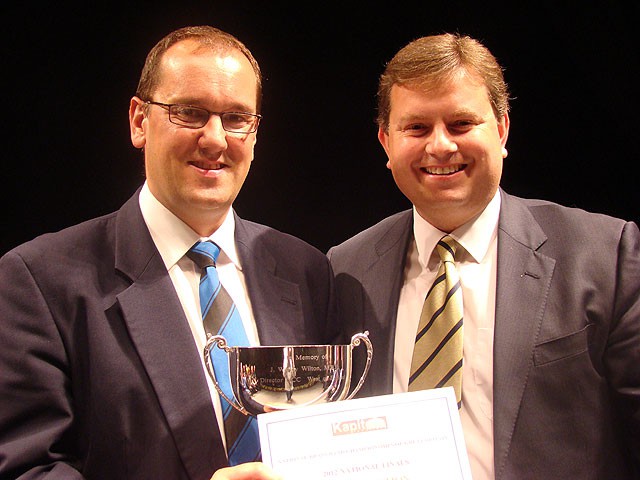 Brio from Burry Port to come runner-up

Blighted

Reigning Butlins champion, Becontree Brass under Adam Cooke took the final top six placing, courtesy of perhaps the most musical interpretation for the day – but one just blighted by a few too many minor errors.

Without them it could have been a real contender.
Wondering

As always there were going to be quite a few bands that would have left Cheltenham wondering just what went wrong – or why the judges didn't like what they tried to portray.
Some of the MDs will have to take their share of the blame with interpretations that played a little too fast and loose with the dynamics: As Frank said later – the same basic mistakes occur at all levels – but only louder the higher up you go.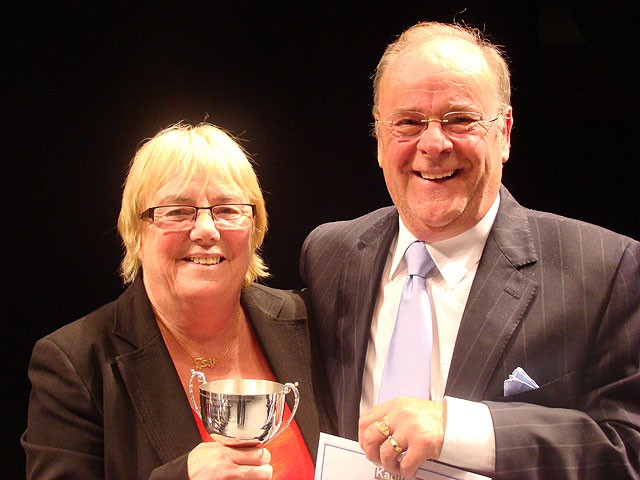 Solid virtues from third placed Yorkshire Imperial

Errors

Others will know that making basic technical errors at this level is also a sure fire way to undermine title winning aspirations.
Brunel, Ratby Co-operative and Rainford may have been chief amongst them, as they ended in 10th, 11th and 15th places respectively.
Brunel Brass will perhaps reflect on the blemishes and unforced errors that tarnished a warmly hued, free flowing account under John Winterflood, whilst both Ratby Co-operative and Rainford may just have overcooked things for the men in the box with their committed, high energy approaches under Mike Fowles and Neil Samuel.
Luck

Both thrilled and excited, but they also sailed close to the wind in places with the odd scruffy edge to the ensemble sound that could have been more rounded.

Luck wasn't with them on this occasion though – and judges didn't quite like what they heard as much as supporters and neutrals did in the hall.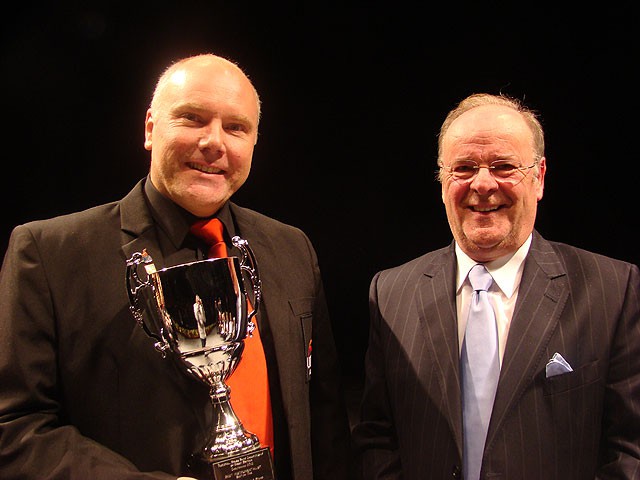 Baritone brilliance: Best Instrumentalist Steve Machin

Midfield finishers

The other midfield finishers will reflect on the usual litany of missed opportunities, mispitched entries, misplaced dynamics and miscalculated tempos.
Clackmannan District, Phoenix West Midlands and Foresters Brass filled the top 10 places with performances that were well crafted but a little unevenly delivered (although each of them were not too far off a top six place).
Rungs below

Meanwhile, the likes of Dalkeith & Monktonhall, Lewis Merthyr, Westoe, MK Brass and Chalford all showed that on this evidence they were perhaps one or two rungs below their rivals on the upwardly mobile ladder of potential Championship Section progress.
Top of the ladder and making a confident step to the Championship Section on 2013 will be Unite the Union (City of Sheffield).
Bradford showdown

No wonder Regional Secretary Peggy Tomlinson waved her Yorkshire flag with undisguised pride as they celebrated on stage.
She will now have to find room for a confident, well prepared and excellently led band in her Championship Section line up for her own Sunday evening showdown in Bradford next year.
Malcolm Wood