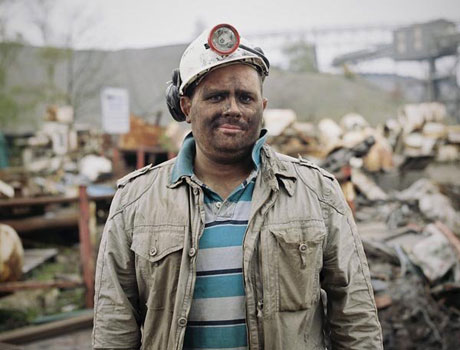 Last of an endangered species: Nick Harris ready for work

Nick Harris travels home from work each day knowing that he is an endangered species: In fact, he's very nearly extinct.
Weary after an eight and half hour shift, he is a proud, defiant 41 year old man with a young family to support.

He is also one of only two brass band players still known to be working as a coal miner in a pit in the UK.
550 tonnes of coal

Earlier, he finished work as a machine shearing driver on the coal face of Maltby Mine in South Yorkshire, making the hour long journey back to the foot of the 991 meter main shaft by crouching on the mechanical belt that shifts the 550 tonnes of coal an hour he has cut some four and a half miles away underground.
His lungs burn, his eyes are full of the gritty dust that make them look as if he's wearing Cleopatra's brand of eye liner, and he's knackered.
A quick shower and it's a further hour's drive home, where he just has time for a cup of tea and a bite to eat before it's off to his first rehearsal back to where his love of brass banding first started 34 years ago – Pleasley Colliery.
He couldn't be happier though.
Commitment

"It's great to be able to come back and play with Pleasley," he says in his cheery, articulate voice.
"After all the years I played in top section bands, I finally got fed up with the attitudes and egos of people who thought they were showing commitment when they were only really committed to themselves. It's been a breath of fresh air."
Commitment is a word that is engrained on Nick's heart – both as a bandsman and as a miner.
100% Fellowship

He has been stalwart bandsman in the truest sense of the word in a career that has seen him play baritone and latterly euphonium with Pleasley, Hucknall & Lindby, Newstead, Carlton Main, Brighouse & Rastrick and Thorseby, before his latest move home.
"Coming from a mining family, I've been very fortunate to have been able to work in an industry that means so much to me. The sense of community and fellowship that you get underground is second to none, especially in conditions I don't think many people today would appreciate.

It's the same for me with banding – always give 100%. Nothing else will do."

Clean and shiny: Nick enjoys the National victory with Brighouse & Rastrick

Modern deep mining may be safer than it was when the industry was nationalised in 1947 (although there have been over 16,000 deaths since 1950) but it is just as hard and dangerous.
Nick mans a machine that is worth well over £1 million and cuts the 550 tonnes of high grade coking coal an hour off the long face in one go.
Arizona Desert

However, the seam at Maltby is at best just 1 meter thick, and the diamond edged cutters also smash through worthless rock, in a humidity of a tropical rain forest, which also happens to be as hot as the Arizona Desert, and so dusty you find it hard to see your hand in front of your face.
And digging out coal close to mile underground can come at a very high cost; as Nick found out in 2008, when he was injured in a pit face roof fall, and thought he would lose his left hand.
Left hook

However, despite his predicament, his concern wasn't about paying the mortgage, but about making it to a Brighouse & Rastrick rehearsal for the Brass in Concert contest.
"The rescue team later told me that I was bubbling with morphine and pain killers and all I was concerned about was getting to band," he laughed.
"I played in the contest, but remember a bit later a certain conductor questioning my commitment to the band. All I can say was that it was a good job I was still having skin grafts on my hand (he has now had six operations) as I think I would have decked him with my favourite left hook if I could have!"
Perspective

His perspective of mining versus banding though is clear.

"As part of the main rescue team and an NUM official until recently, we have had to deal with quite a few deaths over the years. As was shown in a private mine in Wales last year, it's still a place where luck as well as judgement play a role in getting home safe each night."
He adds wryly: "I think some conductors may benefit from a trip underground."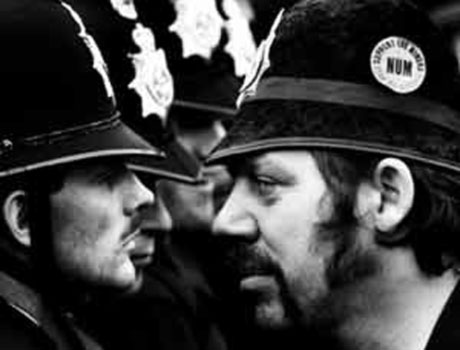 The Miners will never be defeated?
Home is with his wife Claire and their young son (Claire is the highly respected principal cornet player with Thoresby Colliery Band) in the type of small pit town that has formed the indelible DNA of Nick's character.
"Mining communities are very special," he says proudly. "It's one of the saddest things that happened at the end of the Miner's Strike – the way in which they were ripped apart.

The bands were central to their identity, so important to their sense of pride. It makes me so sad to just look at the band names that have disappeared since I started playing."
Wit

He recalls his playing career with realism and self deprecating pride. "A National victory, a couple of Brass in Concert titles and a couple of Yorkshire Area wins, isn't bad for a player Richard Evans once joked at by saying he thought I was the best second baritone he had ever heard – but only in the bandroom – and only on that night!"
"It's the other things that I'm really proud about though," he confesses. "I went to Carlton Main when they were down to just six players and under Billy Rushworth we went on to win the Grand Shield. That's when you really get something of lasting value out of your banding."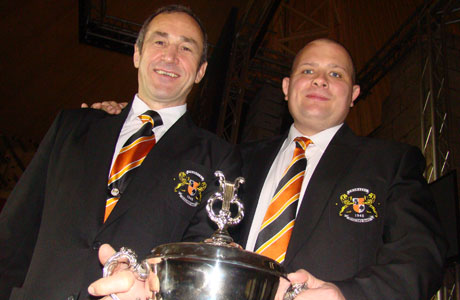 Banding miners: Nick and Dave Howells celebrate at Butlins with Thoresby

Friendships and arguments

He recalls friendships and arguments over the years with a mixture of sharp humour and a thoughtful understanding of what he believes is slowly destroying top level banding in the UK.
"I met Dave Howells at Thoresby many years ago now. He's a great guy and the only other miner I know who still plays in a brass band. His commitment is second to none both at work and in the bandroom."
He added: "A few years ago I was working in Scotland and on my first day as an Englishman in a rabid Scottish pit I met up with a chap called Billy Webster who played for Kingdom Brass. After that, I was treated like a local – except when it came to football!"
Baker fan

He is also a great fan of his former roommate at Brighouse, Leigh Baker.
"I'll put my next wage packet on at the bookies that Leigh will be the next big thing in banding. He's such a talented musician, and you can see by what he's already done at his bands that he's taking the intelligent long term approach to reach the top."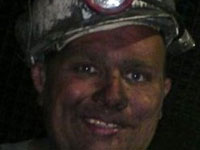 Less optimistic

Nick is less optimistic about top level banding though. "Things need to change especially as everything seems so short term and unsustainable. Bands pay out ridiculous money on conductors who are big fish in a very small musical pond to try and buy major contest success.

That money – and we are talking thousands of pounds in some cases, could be better invested in grass roots banding."
Happy

And despite the obvious similarity between his personal position and that of a movement that could also be heading towards terminal decline, he remains a remarkably upbeat, hard grafting, last of a vanishing breed of brass banding miner.
"I've got so much to be grateful for both personally and in my banding life," he says joyfully, before adding: "I've got a job I love, a family I love and a hobby I love. You can't really ask for any more?"
He is the happiest endangered species you will ever come across.
Iwan Fox