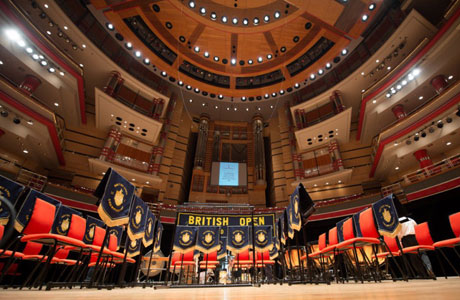 Things are still looking up for the British Open

More brilliant British Open images from Goldy Solutions can be found at:
http://www.pbase.com/troonly/2012_british_open

The 160th British Open came and went on Saturday; perhaps not the most memorable contest in its proud history, but certainly one that won't be forgotten in too much of a hurry either.
Intriguing

Maybe it was because it turned out to be a rather intriguing day – especially as the choice of set work 'Electra', tested the bands in a manner that asked subtle questions of technique and musicality rather than guileless bombast in its compact timescale.
Martin Ellerby's composition didn't stun the audience with a blunt Taser shot of pyrotechnic electricity to befuddle their senses, but it certainly buzzed at their intellectual synapses.

It was a welcome change to hear so many widely differing interpretations on one contest day.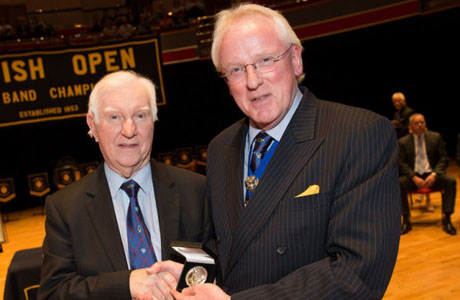 Stan Kitchen receives the Iles Medal

It was also a sign of Martyn and Karyn Mortimer's discerning stewardship of a contest that continues to encompass incremental change in a way Harry Mortimer would have been proud: Nothing vulgar or ostentatious – just another well planned step towards the future.
Echoes

Echoes of the past are never too far away at this event – but amid the 21st century architecture of Symphony Hall, there does seem to be a proactive desire to bring the contest up to date in its appeal to an audience which is becoming increasingly selective in its listening habits.
The recording partnership with North West Photography with the proceeds of download sales being ploughed back into the event could well provide an invaluable worldwide revenue stream at a time when audience numbers at Symphony Hall appear to have taken a bit of a dip.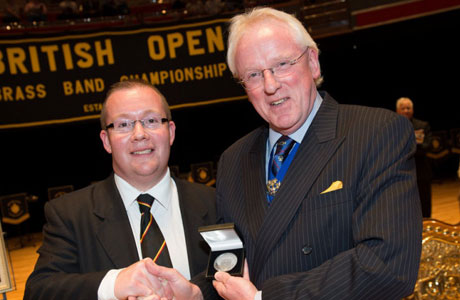 Mark Bousie receives the Mortimer Medal

Excellence

Meanwhile, David Hayward's excellence as compere was an added bonus, although it was good to see that the memory of the late Bob Kerwick will not be forgotten with the introduction of the award for the sixth placed band in his name.

The Brass on Sunday Gala Concert was also well attended too and gave visitors a chance to appreciate brass band music making of a different genre.
Awards and plaudits

Stan Kitchen and Mark Bousie were the worthy recipients of the Iles and Mortimer Medals respectively, whilst future stars gained their recognition with the presentation of the six Mortimer Memorial Trust Awards to Ben Walker, James Fountain, Victoria Kennedy, Rhys Barrett, Matthew White and Heather Law.
Interestingly, there were few complaints from the bands when the adjudication team of Derek Broadent, Stephen Roberts and Steve Sykes was announced – or when they eventually delivered the type of result that brokered little argument in the bars of Birmingham on Saturday night.

All three men deserved the plaudits for a job very well done.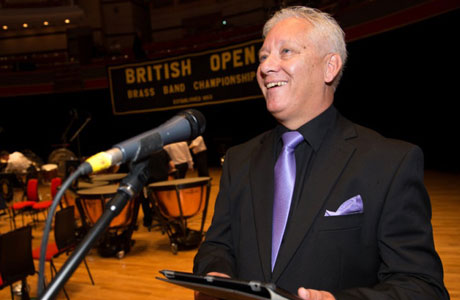 New compere Dave Hayward enjoys himself

Slick and professional

As ever, the backroom organisation led by contest controller Frank Hodges was slick and professional with no complaints about registration issues or facilities.

Ray Payne's excellent percussion also gave the shed builders ample scope to perform every bit as well as their brass playing counterparts.
Life in the old bones

Walking into Symphony Hall on Saturday morning you were met with the welcoming buzz of pre-contest activity; the chatter and bonhomie of supporters, busy traders setting up their wares and the sound of the Birmingham Citadel Band providing the easy listening musical backdrop.
As you walked backed through the main thoroughfare later the same day, the post-contest buzz was still there too – quieter and less intense, but still recognisable as the sure fire sign that despite its occasional problems, the British Open still has plenty of life in its old bones yet.
Iwan Fox