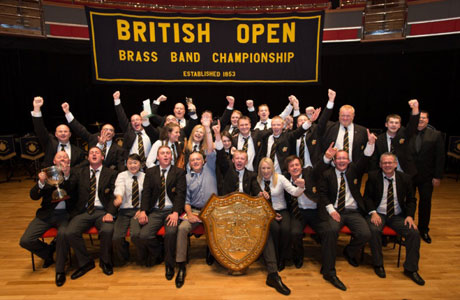 Golden moment for Foden's and Allan Withington

More brilliant British Open images from Goldy Solutions can be found at:
http://www.pbase.com/troonly/2012_british_open

Allan Withington's masterful direction of Foden's British Open victory was a triumph of two-dimensional contest winning conducting.
Perfect balance

Like a classic Alfred Hitchcock film, his 'Electra' was all about delivering the perfect balance between technique and interpretation of a screenplay that was full of hidden surprises: The MD didn't need CGI special effects or 3D specs to enhance this performance.
His informed exegesis of Martin Ellerby's test piece was based on a much deeper perceptive understanding of the musicality found in an intriguing score, than the calculated display of mechanical pyrotechnics employed by his rivals – many of whom simply created technical sterility.
It was a success that deserved an Oscar as 'Best Director' to go with the 'Best Performance' Gold Shield that Foden's players joyfully took back to their famous bandroom in Sandbach.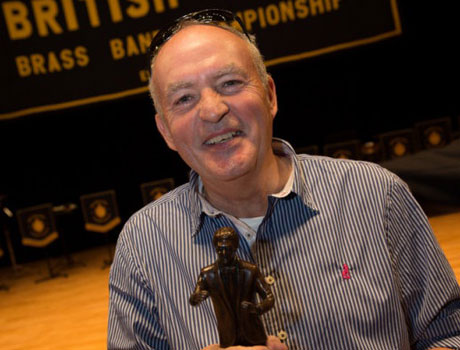 Allan Withington clutches his banding Oscar

Bates Motel

It may have taken him 23 attempts to finally claim the one prize that had eluded him since his debut at the contest in 1991, but the wait was worthwhile – especially as it came at a time when critics were beginning to sharpen the type of knives Anthony Perkins used to send poor Janet Leigh down the Bates Motel plughole.
As a result, Foden's head to London in a resurgent form; buoyed by having finally tuned into the artistic wavelength of the great conductor at their helm.

Withington's musical reputation has never been in doubt – now, neither will his CV of contest winning achievements either.
From occasional uncertainty and apprehension at the English Nationals to unsurpassed assuredness and liberation in Birmingham - the Royal Albert Hall (where the MD has picked up the 'Best Performance' gong on six previous occasions) can't come soon enough.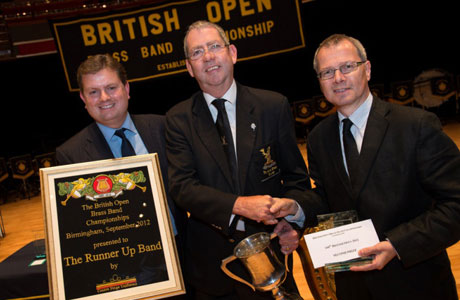 Black Dyke take second place

In an odd way, the 160th British Open was very much like the Cannes Film Festival– the destination of the banding equivalent of the 'Palme d'Or' decided by a jury that certainly didn't pander to the fair-weather pressure barometer of squealing fans.
Sagging bosom

They certainly had their pre, mid and post-contest favourites – although the general feeling before the results were announced was that the destination of the title lay between Black Dyke, Cory, Foden's, Brighouse & Rastrick and Grimethorpe – with the rest hoping for a possible mention off the stage as the end credits rolled.
Thankfully, Stephen Roberts, Steve Sykes and Derek Broadbent were not swayed by the tiresome choreographed artifice of conductors lining up players to try and milk the last droplet of applause from the sagging bosom of audience appreciation.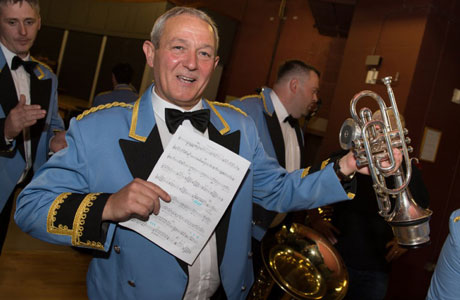 The great Brian Taylor gets ready for his 41st Open

Not even Dame Nelly Melba had the brass neck of some desperate MDs – especially as the reception given to Brian Taylor of Fairey, making a record 41st Open appearance, showed that well informed listeners don't have to be treated like Pavlov's dogs.
Red upholstery

It may also explain why many have become choosier in their listening habits too.

The full house signs were certainly not seen (80% full at best) with many bands faced with an auditorium that had more visible red upholstery than the walkway to the Oscar's ceremony.
Even the contest's meaty centrepiece as Foden's ended the first half followed after a 20 minute break by Black Dyke, Leyland, Tredegar and Cory, failed to pack them in.
Compact

That was also a surprise, as 'Electra' offered a great deal of engaging technical and musical detail for performers and listeners alike in its compact 13 minutes or so running time.
Top three

The best performances (and the top three were a little ahead of the rest according to the judges in terms of overall excellence) certainly created a sense of cold blooded malevolence in the opening 'Revenge', an elegant thoughtfulness to the central 'Laments' and an increasingly manic aura of impending doom to the finale.
There was an oscillating, lustful jazziness to Foden's opening (as if Electra was going to kill her mother with a potion of 'Bitches Brew' by Miles Davis), followed by graceful refinement (with wonderful individual contributions from all the main soloists – topped by the award winning Glyn Williams on euphonium) and a fizzing climax.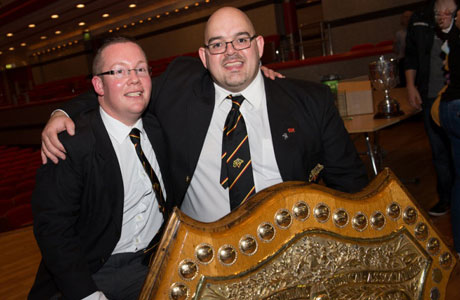 Top duo: Foden's euph team of Glyn Williams and Mark Bousie

In contrast, Black Dyke's 'Revenge' was a hard shelled carapace of forensic detail (the fingerprints of the prep work done by Robert Childs clearly marked on both the playing and the MDs score), coupled to an intentionally defined central section and juggernaut close.
Exciting underbelly

Cory, meanwhile shed a welcome layer from their hitherto impervious technical exoskeleton to reveal an exciting underbelly of malleable musicality that still thrilled (especially Steve Stewart on soprano) but did so with a finely judged appreciation of risk taking from their new MD, Philip Harper.
There was little to choose between all three (a point made later by Stephen Roberts) with Foden's crisper detail and more intuitive musicality winning the day. It was a well deserved victory.
Further back

A little further back in the judge's mind were the equally contrasting trio of Grimethorpe, Brighouse & Rastrick and Leyland – fancied by many for possible podium finishes, but in reality not quite in the hunt for the title itself.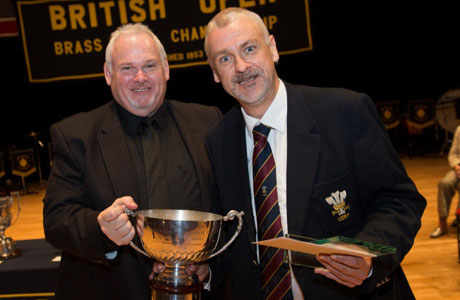 Super sop! Steve Stewart of Cory picks up his individual prize

The Yorkshire heavyweights delivered subtle, engrossing renditions under Garry Cutt and David King.
These were Electra's of controlled purpose, cultured dynamics and engaging leading lines – none more so than Stuart Lingard of Brighouse who was the pick of all the high class soloists on the day to deservedly take the prestigious Stanley Wainright prize.
Engrossing

As ever, Michael Bach produced an engrossing musical interpretation, only marred by occasional ensemble and individual sloppiness with Leyland to see them end in sixth.
Brighouse and Leyland will head to Kensington knowing that they are right in the hunt for Albert Hall glory on a test piece that may well suit their considerable strengths much more than this Ellerby work.

Grimey will continue to build on this impressive return to form for sure.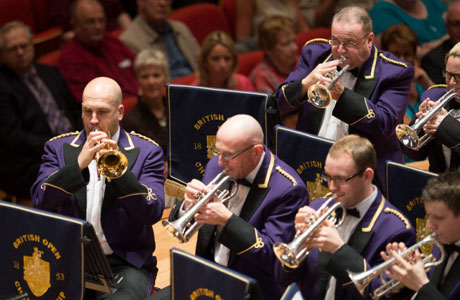 Electra class from Stuart Lingard with Brighouse & Rastrick

Behind them came two bands that will have certainly enjoyed their 'Electra' experiences – and will head to Kensington Gore brimming with confidence.
In form

The in-form Co-operative Funeralcare was perhaps a little unlucky that a solidly delivered account under Allan Ramsay didn't make it into the top six, whilst Virtuosi GUS produced a performance that reminded their critics (4BR included) that when they hit form (as they did here last year) they remain a high quality outfit with the ensemble and solo strengths to rub shoulders with the very best.
Just rewards

The midfield finishers will have headed for home knowing that they got their just rewards.
Desford delivered the most beguiling 'Electra' of the contest: Nigel Seaman opting for a central 'Lament' of rich lyricism played at a heart beat tempo of Agamemnon's post mortem cadaver.

It came 9th: It could have won the contest or been bottom of the pile.
Meanwhile, Fairey's promised much but couldn't quite deliver in a performance that was just a few degrees off boiling point in coming 10th, whilst Hepworth and Carlton Main ended in 11th & 12th thanks to their solidly constructed efforts (which featured two excellent cornet soloists in Alan Hobbins and Kirsty Abbotts) from their MDs.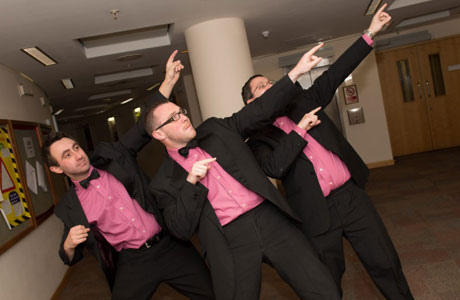 Bolts of Electricity: Grimey's perc team goes all Olympic

Maturity and mishaps

Debutants Seindorf Beaumaris displayed a great deal of maturity off the number 1 draw to end 13th.
Gwyn Evans drew a well crafted performance that just tired in its final third, whilst compatriots and 2010 champion Tredegar found that despite their bold approach and ensemble precision, making noticeable individual errors at this level is a sure fire way to end in trouble.

15th place is that and more for next year.
Creaking trap door

So too Reg Vardy, although there would have been a huge sigh of relief from their supporters when they eventually found out that they had beaten the drop to the Grand Shield by the narrowest of margins.

A faltering performance ended 16th – the trap door creaked uncomfortably under their feet as they walked off stage.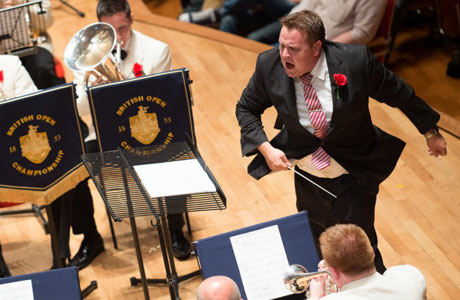 Nearly popped! Michael Bach in exhuberant mood with Leyland

Not so lucky

Not so lucky were Kirkintilloch and Rothwell Temperance, despite the youthful Scots displaying a great deal of commitment in coming 14th.
Surprisingly, the usually secure Yorkshire band never sounded at ease though in ending 17th and last.
Both return to Blackpool knowing that they will have to battle hard if they are to qualify from an increasingly competitive field of Grand Shield rivals.
Flashbulbs and smiles for Fodens

For Foden's their first Open victory since 2008 came amid the flashbulbs of the media photographers and the images of the smiles and cheers that will adorn the glossy publications of the banding press in the weeks to come.
For Black Dyke, the disappointment of broken Grand Slam dreams: for Cory, the prospect of an exciting new era.
For the rest of us, time to fully appreciate the skills of a master-craftsman and multi award winning director in Allan Withington.

There are sure to be more banding Oscar's for him to enjoy after this success.
Iwan Fox