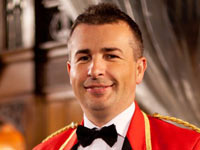 Given the opportunity, the wish list, the ability to mess about with the Space-Time Continuam like Doctor Who, and the skill to cook like Heston Blumenthal, who would you like to invite around to your place to enjoy a meal and chin wag with?

4BR started it all off a few days before Christmas 2007 with our 10 dinner guests, so we thought we had better ask a few more brass band personalities who would be on their all time dinner list too..

Best Principals

This month we have asked Mark Wilkinson, top man at Foden's for the past two decades and one of the most influential and highly respected principal cornet players in the banding world to give us his elite guest list.

It's been a hard task though, as he told 4BR: "Choosing just 10 people has been extremely difficult! During my 35 years of banding I have had the privilege to work and meet some fantastic people as well as making some great friends.
After a lot of deliberation I have decided to invite people who in some way have inspired and motivated me during my career.
The music prior to desert being served would be provided by Foden's who have given me so much enjoyment and happy memories over the past 20 years."
---
1. Megan Wilkinson
My wife who has been a major support over the years as well as my main critic.

She tells me what sounds good (and what doesn't sound good!!) and is totally understanding about my work and the amount of time I spend away from home.
Without her support I would not be able to do the things that I enjoy.
2. Doreen and Harry Wilkinson
My parents who have devoted a large amount of their time to helping me and my brother David's musical career.
Both parents have clocked up thousands of miles transporting us around to band practices , lessons, solo contests, etc.

They have been totally supportive of everything we have done, offering advice and help when needed and without their support we could not have done half the things we have achieved.
3. Howard Snell
The man who had faith and gave me the chance to play Principal Cornet at Foden's.
Since first auditioning for him in 1991 I have admired him as a musician of the highest order who has been a major help and influence on my playing and development.

It was a thrill to play under him again at the British Open when he made a welcome return to Foden's.
Howard continues to be a fantastic musician with a great sense of humour and a true inspiration.
4. Glyn Williams
Have had the honour of sitting opposite Glyn for the past 17 years.

He is the most musical and lyrical player I have ever worked with and is extremely passionate about banding and more importantly Foden's Band.
As well as being an usher when I got married he has been a great friend for the past 17 years too.
5. Brian Taylor
Since my youth I have always looked up to Brian as a role model.
His commitment and devotion to Fairey's, his great playing, down to earth approach and professional manner to his job with the band is a perfect example to any player – at any level.
He doesn't have to tell people how good he is, his playing has always done this for him.

Brian is the ideal bandsman and I have always tried to model myself on his example
6. Jimmy Charles
Jimmy is Mr Foden - clocking up 50 years service to the band. As well as being a great player in his day, he is also the band's librarian.
He is a great laugh and would keep all the diners amused reminiscing about the old days and how we all borrow music from him and never return it!!!

Everyone admires Jimmy and Foden's wouldn't be the same without him!
7. Eric Ball
Although no longer with us I would have loved to have met him.

His music is uplifting and I have spent hours and hours over the years listening and playing the beautiful solos in them.
When I die (which I'm not planning on doing so yet) I'm going to go out to the ending of Resurgam.
8. Philip Biggs
Have worked with Philip during my time at NYBB since 2000. Philip is 'Mr Organised' and he would arrange the dinner on my behalf.
How he manages to arrange everything as well as he does I will never know.

I do a lot of behind the scenes work at Foden's and if I was half as efficient and organised as Philip I would be very happy!!!
9. Maynard Ferguson
I've always been a great admirer of his playing as have all his CDs.

Again, even though he is no longer with us I would have loved to have met him and asked how he managed to play so high and have great stamina.
I'm sure all cornet and trumpet players have tried to copy him without much luck!!
10. David Daws
I have worked with David on a number of occasions at the National Youth Brass Band of Great Britain, it is always very humbling to spend time with him.
A true gentleman and one of the greatest cornet players of my generation.

After the dinner David could give me some lessons on how he does his lip trills so effortlessly in 'Golden Slippers'!!
---
Previous dinner guest lists:

Previous guests have included the 4BR selection; Chris Wormald; David Read; Pete Meechan; Alan Jenkins; Derek Broadbent; Philip Harper; Peter Roberts; Frank Renton; James Shepherd; Dr Roy Newsome; Paul Lovatt-Cooper; Bramwell Tovey; Kevin Crockford; Morvern Gilchrist and Lesley Howie; Richard Evans; Simone Rebello; Ian Porthouse; David Daws; Alan Morrison; Alan Wycherley; Mark Bousie; Steven Haynes; Simon Dobson; Ian Buckley;, John Roberts; Cai Isfryn; James Stretton; Harmen Vanhoorne, Bad Ass Brass, Lewis Musson, Tom Hutchinson, Jeremy Wise, Mark Harrison, Brett Baker and Ian Brownbill.