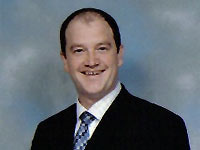 Malcolm Wood: You started composing at Charterhouse School under Patrick Hawes, but where did the initial interest in composition come from?

Huw Cole (right): I started composing before I attended Charterhouse and it was the reason that I was sent there: Charterhouse was the only school at the time with a composer-in-residence.
Not long after I started playing the cornet aged 12, I decided to have a go at writing myself - drawing inspiration from anything around me.

I was fortunate to have encouragement from the likes of Tredegar Band and their conductor Nigel Weeks who used their valuable rehearsal time to play one of my first pieces.
Music software was in its infancy so it was manuscript only, and still is up until the final stages of the initial drafts.

The Gwent Director of Music had one of my orchestral works put through an early software package and that prompted him to sponsor me to attend Charterhouse.
It was quite a cultural shock to go from a valley's comprehensive to one of the top public schools in the country.
---
Malcolm Wood: Over the past couple of years you've been a featured composer at the Ohio Brass Arts Festival and the RNCM Festival of Brass.

Can you tell us briefly about these compositions and how they've affected your approach since?

Huw Cole: The compositions actually make up my National test piece, 'Three Ancient Customs'.
The first two, 'Cwrw Bach' and 'Mari Lwyd', were shortlisted for the RNCM Festival of Brass, whilst 'Wassail', was shortlisted for the Ohio Brass Arts Festival – both in 2011.
This year, 'The Corbels of Kilpeck Church' was shortlisted. It's a very descriptive work based on the wonderful Norman stonework of a little church in Herefordshire. I'm currently working on two additional movements to complete it.
Competitions like these are great as they concentrate composers on being musically adept but not too technically challenging due to the short rehearsal time available.
My earlier pieces were much more musically and technically complex.

'The Blaina Overture' (commissioned by the Arts Council of Wales and premiered by Cory in 2000) was only suitable for European Championship standard, and whilst the premiere was excellent, the result was that the work had a limited life.
These days I find myself writing more digestible music.
---
Malcolm Wood: You also write for brass and string quartets, chamber ensembles and orchestras.

Do you enjoy composing for different genres?

Huw Cole: I do enjoy writing for other ensembles, although I find brass band music is where my heart lies and I intend to write more for that genre.
Nothing gives me more pleasure than having brass bands play my music. They're not paid to do it, and it means a great deal to me that they're giving up their valuable free time.
---
Malcolm Wood: Many of your major works you say are inspired by the history, myths and legends of South Wales and the West Country.

Where does that interest come from?

Huw Cole: I've always been interested in my local area and loved to hear tales of folklore from my family or to read about them in books.
For instance, there may be a story associated with an old rock, and that will over time turn itself into a musical thought, and then a composition may result from that.
My library includes books on Welsh mythology, poetry, fiction, and even standing stones. I often dip into those when looking for a new idea.
---
Malcolm Wood: When it comes to the compositional process, what is the starting point for you?

Can it be anything from having a subject matter in mind to just tinkering on the piano?

Huw Cole: The initial spark can emanate from anywhere, and when it doesn't I have several techniques to initiate the process.
There are usually many points of inspiration that converge at the beginning of a new work.
---
Malcolm Wood: Once you've started, do ideas come freely or do you find yourself getting frustrated at not progressing as you might wish?

Huw Cole: There's no standard and it depends on the piece and the circumstances.
Some will take days, others months, and occasionally I'll get into an infinite loop of modifying a piece until I'm happy - and that can be frustrating.
More often than not I'll write about 10 minutes and then cut out the chaff and I'm then left with three to four minutes of good material.
---
Malcolm Wood: The National Finals test piece, 'Three Ancient Customs' is written in three movements. Tell us about it?

Huw Cole: 'Cwrw Bach' started life when an historian contacted me about a reference to the custom on my website from an old manuscript I'd copied whilst researching 'The Blaina Overture', and at the same time I received a commission from Abertillery Band.
I was after the feeling of a jovial summer gathering with a Horovitzian lightness of touch.

For me the movement initially sits between modality and tonality which gives it appropriate old-world warmth: It doesn't really settle into a key until figure D.

'Mari Lwyd' is an interesting custom that has captured my imagination. It's interesting that a piece depicting a poetic contest is being used in a musical one.
The whole piece is based on the Mari Lwyd melody heard in figure E which was recorded at the Llangollen Eisteddfod in 1924.
The custom has been revived in Chepstow over the old bridge between England and Wales: You can just imagine the quite sinister appearance of a group carrying a horse's skull on a stick through the river mists and over the bridge on a cold New Year's Eve.

'Wassail' is based on the Gloucester Wassail and is by far the most conventional of the three.
A favourite moment is where the basses state the Wassail proper at figure D, which emerges through the texture rather like a ship setting sail from the busy docks - a magical moment that I look forward to hearing many times in September.
The movement is in itself a journey from the more dissonant music of the second section to the final concert F major chord which I see as the proper resolution of all three movements.
---
Malcolm Wood: You've made the piece available to the bands (www.cdbaby.com/Artist/RichardHuwCole), so what advice have you got for the bands ahead of their performance?

Huw Cole: Try to capture the essence and individual style of each movement.
I'm cautious about saying too much as I'm not adjudicating, although I will say that Mark Peacock and Fairey's recorded the piece straight from the score without additional influence from me.
I decided to release the recordings through 'cdbaby' to give bands a chance to hear what it may sound like and this seemed the fairest way to achieve that.
---
Malcolm Wood: Many thanks Huw. The clock has unfortunately beaten us, but we look forward to catching up with you in Cheltenham when the bands play 'Three Ancient Customs'.