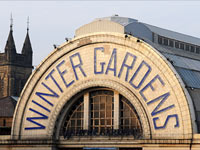 Grand Shield
Opera House

Test Piece: On the Shoulders of Giants (Peter Graham)

First Prize: £800 plus framed pennant presented by Centre Stage Uniforms
Second Prize: £600
Third Prize: £400
Fourth Prize: £300

Draw: 9.30am
Start: 10.30am
---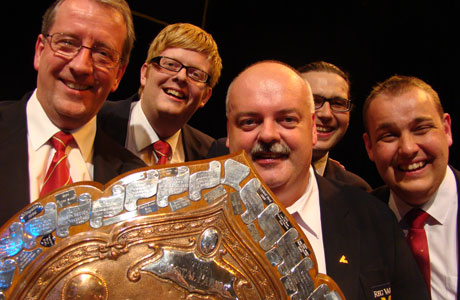 No more Blackpool for us: Reg Vardy escapes to Birmingham in 2011

As perhaps Neil Armstrong would possibly say if he were to set foot on the surface of the Opera House stage for the Grand Shield: This really is one giant leap for band kind.

Peter Graham's test piece (right) may not quite inhabit a different musical planet, but it's certainly on the very edge of the performance universe for many of the 20 bands that line up here on the weekend.

Blockbuster

Written as a showcase blockbuster for a rampant Cory as they won the 2009 European Championship in Ostend, it takes its literary inspiration from Isaac Newton's waspish remark to rival mathematician Robert Hooke, made in 1676: "If I have seen further it is by standing on the shoulders of Giants."

Musically however, its inspiration comes from less antagonistic sources.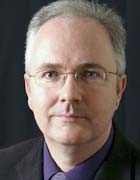 Tributes

The opening pays tribute to all things Bruckner and the legendary brass section of the Chicago Symphony Orchestra.

The immense finale of his 8th Symphony forms the basis of an opening movement entitled, 'Fanfares', which appropriately enough could well signal success for those bands that can nail the technical precision and ensemble balance required at consistently forceful dynamics.

The central 'Elegy' remembers the jazz greats of Miles Davis, Gil Evans and Tommy Dorsey, with a subtle nod towards the foundation of black jazz in the gospel song 'Steal Away'.

Transparent and austere it will demand an equally effective command of dynamic control and artistic precision.

Finally, the all bells and whistles (plus bass drum) 'Fantasie Brillante', permeated with its ciphers and snippets of ghostly musical apparitions – from Herbert L Clarke and August Helmecke to Arthur Prior and Simone Mantia.

'Giants' is a dazzling, demanding work – easily ruined by misplaced enthusiasm and stylistic misunderstanding. Whoever gets through will have worked their socks off to get to Symphony Hall.

Form book

If the form book is anything to go by then Flowers will surely be the pre-contest favourites.

The hat trick of victories at Butins, Yeovil and Torquay were well deserved and under Paul Holland they have become a high class contesting outfit.

They have also come close here in the past two years, so much will be expected of a band that has the potential to win the title for a third time.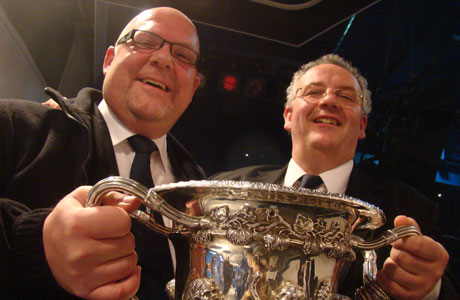 Can Flowers add yet another trophy to their 2012 collection?

Closer

Two bands that have come even closer to leaving Blackpool behind in the past couple of years have been Redbridge (3rd last year) and Pemberton Old Wigan DW (4th).

The contest seems to bring the best out of them both, although neither has really set the contest stage on fire so far this season.

Redbridge's returns have been a puzzle, whilst Pemberton rather flattered to deceive at the Areas despite coming 5th. Expect them to be in and around the prizes once again though if they can play with their normal confident style.

Luck or lack

Exchange Communications Whitburn found that luck (or the lack of it) can consign a band to a midfield finish here without rhyme or particular reason.

Having already qualified for the National Finals, a place back at the British Open is now the major contesting priority of the season.

Relegation

Much the same applies to Hepworth and Tongwnlais Temperance, both of whom slipped through the relegation trap door without much of a fight at the Open last year.

2012 has been a bit fraught for the Yorkshire band with a disappointing, if somewhat unlucky Area return, whilst the Welsh outfit recovered splendidly from a poor early season showing at Butlins to claim its Albert Hall spot in considerable style at Swansea.

Both should be confident of performing well on the work (they played it at the Open in 2010), but the pair will be wary that not too many relegated bands bounce back at the first time of asking either.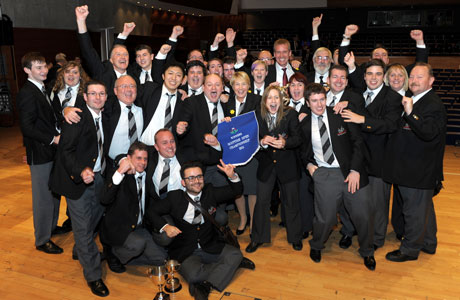 Can Tongwynlais head back to Birmingham at the first attempt?

Promoted

Meanwhile, the quartet of promoted contenders up from the Senior Cup will be looking to make an immediate impression against a stiff set of rivals.

2011 champion Marsden knows just what it's like to taste the ups and downs at the this contest in the past two years, so will be keen to impress after unspectacular outings at Butlins and Bradford.

First Section Yorkshire Imperial Urquhart Travel has been making considerable progress under Dave Nesbitt, and will seek to bolster their growing confidence ahead of their Cheltenham appearance later in the year.

Confidence boost

A confidence boost is something Seindorf Beaumaris could do with at the moment, after the heroics of the Albert Hall last year were quickly forgotten with a disappointing performance at the Welsh Area.

Extenuating circumstances played their part, but there won't be much sympathy for any excuses if they don't regain that sparkling form of late 2011 this weekend.

There is a growing confidence about Aveley & Newham at present after they showed a return to form at the London Area after a disappointing outing at Yeovil.

Discipline

The same could well be said of BTM, after Phillip McCann brought a real sense of contesting discipline to their performance in just missing out on a trip to London at the Welsh Area.

Two potential dark horses could be the fast emerging Co-operative Milnrow, who have really become a force to be reckoned with under the baton of Marieka Gray, and Jaguar Land Rover, who have been revitalised of late under the direction of Dave Lea, and who have already booked their place in Kensington in October.

Talented MDs

Mount Charles and Skelmanthorpe haven't enjoyed the best of times here in the past couple of years, with a brace of midfield finishes in the last two seasons.

Much then will depend on their talented MDs who have well earned reputations for intelligently constructed performances.

Newstead Brass will be looking to get their season back on track after disappointing returns this season, whilst the First Section contenders of Freckleton and Staffordshire will know that they are up against a completely different level of musical test than that faced at the Areas for sure.

Interesting combinations

That leaves the interesting combinations of Thoresby Colliery under the Garry Cutt and Wingates directed by Andrew Berryman – who should have crossed paths in the box at the Europeans last weekend but didn't.

Both head ensembles more than capable of claiming a qualification place on their day, with Thoresby in good nick after encouraging outings at Butlins and Bedworth and Wingates showing glimpses of a return to long overdue form at the North West Area.
---
As for a winner?

As ever to qualify bands need all the necessary title winning qualities, plus that little bit of good fortune too.

So many of these look like potential British Open candidates on paper, but scratch beneath the surface with a test piece as severe as this and the fault lines become more obvious – and damaging.

Experience and good musical knowledge may be the key on this one on the weekend, with Hepworth and Flowers the two that seem to combine both for us.

Exchange Communications Whitburn, Redbridge, Tongwynlais Temperance and Co-operative Milnrow also have form and confidence to bolster their solid ensemble and classy soloists, with Thoresby Colliery our dark horse.

4BR Prediction:

1. Hepworth
2. Flowers
3. Exchange Communications Whitburn
4. Redbridge
5. Tongwynlais Temperance
6. Co-operative Milnrow

Dark Horse: Thoresby Colliery