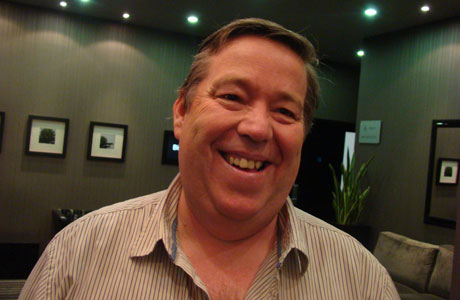 An optimistic smile from NABBC Chairman Andrew White

NABBC Chairman Andrew White knows he has a difficult job ahead: He is also a very articulate realist.

Despite the declarations of optimism, the National Association of Brass Band Conductors finds itself facing a very challenging future: Membership has dwindled, the age profile has gentrified. Even its relevance has been questioned.

Looking up

However, the future of the organisation is looking up – especially if they can build on the encouraging results of their recent National Convention, which was held in the rather swish surroundings of the Holiday Inn hotel in Woking.

By the end of the weekend, Andrew was smiling; at first a little sheepishly, but increasingly with more confidence as that seeping optimism started to take a concrete hold on his facial muscles.

Full weekend

A full weekend of conference speakers and presentations had been organised in conjunction with David and Matthew Ruel of Bandmaster Ltd.

They had in turn underwritten the Saturday evening concert appearance at the nearby St John's Church in West Byfleet of All England Masters Champion, Tredegar, as well as the booking the Wantage Youth Band and a quintet of guest speakers.

Delegates

Around 25 delegates made the journey to listen to Ian Porthouse, Charley Brighton, Iain Muirhead, Matthew Hall, Roger Middlebrook, and the 4BR Editor give their 45 minute presentations, as well as discuss the future proposals put forward for the organisation at its annual general meeting.

The Friday evening was set aside for the arrival of delegates from as far afield as Northern Ireland and London to relax and chatter informally, before the main agenda started early on Saturday morning with Ian Porthouse leading them through a presentation of 'Bandroom Basics' – a key development tool in any would be conductors arsenal.

Relaxed

His relaxed approach shed light on progressive techniques, aimed at encouraging individual players to question their own development potential as well that of the band as a whole. The message was loud and clear though: Get the basics right from the start he said, and your band will grow in confidence and ability.

It was a timely, very well presented reminder of just how important the foundation stones of good brass band playing are – from youth to championship level.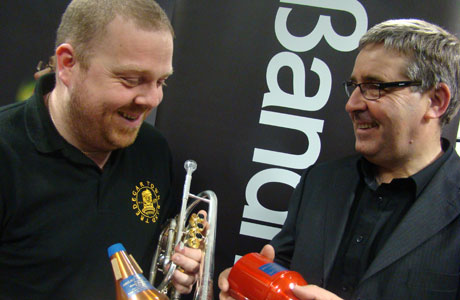 Muted insight: Iain Muirhead explains the magic behind the sounds

Colour and timbre

Meanwhile, Iain Muirhead, the man behind the innovative Wallace Mute products, gave a fascinating insight into what is still a vastly unexplored, as well as deeply misunderstood world of sound and effect, with his presentation of the role of the mute in the brass band.

As a former professional trumpet player, his practical approach with instrument in hand, brilliantly illustrated the kaleidoscopic possibilities of colour and timbre. It left you with many more questions to be asked about just what the future sound palette of a brass band could be like.

Engaging

Matthew Hall's engaging presentation provided delegates with the chance to find out more about the increasingly important musical role of the composer in residence.

As he revealed, when utilised progressively, it can provide ambitious bands at any level with the opportunity to explore new musical avenues, both on the concert and contest stage – something he has been able to do successfully with Tredegar Band.

Matthew was also keen to point out that the partnership between a composer and a band who want to try and achieve the same goals is also very beneficial to both parties, and ultimately can lead to more inventive music making.

Fascinating

Charley Brigton's wonderful collection of euphoniums both old and new provided an equally fascinating counterpoint presentation.

The amazing array of weird and wonderful designs from Victorian five valve leviathans to micro sized marching instruments showed that in reality there is nothing new under the sun.

The somewhat Heath Robinson approach of early inventors and instrument manufacturers to try and sort out tuning and intonation problems bordered between the occasionally brilliant and the more predictable bonkers.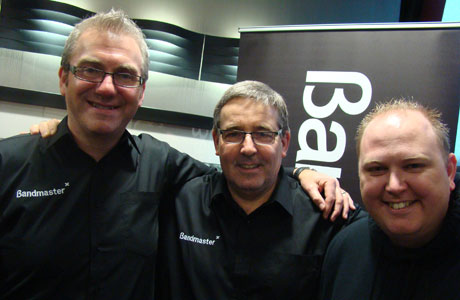 Conference speakers Ian porthouse, Iain Muirhead and Matthew Hall

Sunday highlight

The undoubted highlight of the Sunday morning was the presentation by Roger Middlebrook and the members of the Wantage Youth Band, who were later joined by members of Tredegar's 10-piece ensemble.

Roger's love for the brass band medium as an adult learner has seen him develop from tentative trombonist to an inspiring conductor, and that infectious enthusiasm has certainly paid dividends with his young players.

Engagement

His innovative approach to rehearsal is geared to the engagement of his players in the understanding of the performance process – from knowing just what key signatures and playing styles they are performing in, to the confidence to accept their mistakes without embarrassment and the building of a cohesive 'team ethic' which sees players readily swap parts and positions within the band set up.

It was an eye opener; with the players able to engage in Latin American rhythms as readily as a hymn tune discipline at a drop of a hat.

By empowering them with a desire to understand as well as enjoy the music they perform, Roger has given them a level of self confidence that will become a priceless asset in the years to come.

It was an excellent presentation from a cracking young band and an inspired MD, so it came as little surprise that the players readily took up the challenge of playing under the baton of Ian Porthouse on with accomplished alacrity.

End smile

At the end of the conference, NABBC Chairman Andrew White wore the smile of a man who could see light at the end of what had become a very long tunnel much more comfortably than he did 48 hours earlier.

The question remains however. Can the National Association of Brass Band Conductors really couple the sense of vibrant enthusiasm shown here with the obvious benefits that the organisation can bring if they can actively engage with conductors in all parts and at all levels of banding throughout the country?

If they can, then the future looks bright.

If they can't, it is doubtful the NABBC can survive long enough to host another encouraging event such as this.

Iwan Fox