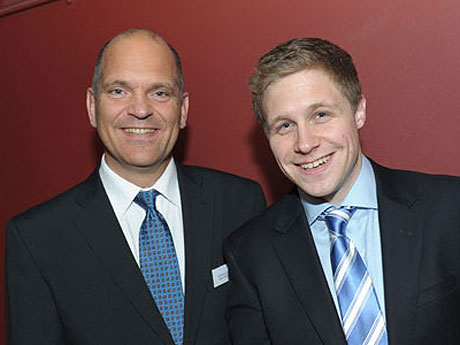 The President and the Master: Ulf Rosenberg and Philip Cobb

Further Goldy Solution images can be seen at:
www.pbase.com/troonly/2012_ebbc
www.4barsrest.com/articles/2012/1310g.asp
www.4barsrest.com/articles/2012/1310k.asp
www.4barsrest.com/articles/2012/1310l.asp

As always with the European Championships, there was a great deal of interesting things to listen to away from the main spotlight events.

On the Thursday the Composers Competition came of age with a quartet of diverse works performed splendidly by Brass Band Groningen and Brass Band Rijnmond in the compact surroundings of the smaller Jurriaanse Zaal.

Well supported

Well supported it gave the whole event a uplifting start, despite Paul McGhee's excellent winning composition 'Lullaby' taking inspiration from a poem that leads to instant death!

His is a very unique compositional voice, that fully deserved the claim the 3000 Euro first prize, but EBBA could perhaps enhance the prestige of the event by also ensuring that the winner gets to write the B Section test piece the following year.



The sartorial elegance of the average Dutchman...

Wonderful opportunity

Meanwhile, the European Youth Band continued to provide a wonderful opportunity for young players with an experience they will never forget, thanks to the fine conducting of Erik van de Kolk and some well planned events.

They performed splendidly in their joint role as Euro ambassador/ salesmen in their series of concerts – a role that surely led to many more people taking time to come and listen to the event as a whole.

Brass band culture

Paul Hindmarsh chaired an interesting Brass Conference, where representatives from Norway, Scotland, France and Ireland gave presentations into how a brass band culture has grown and continues to grow in their countries.

Of particular interest was Roy Terry's clear analysis of French banding, which holds such promise in so many ways – from the development of high class community ensembles to the possible hosting of the championships by entrepreneurial cultural departments in cities such as Lille.

Special mention

A special mention though for the Gala Concert, which featured the remarkable Philip Cobb, the brass ensemble of the Royal Concertgebouw Orchestra under the baton of Ivan Meylemans and Manger Musikklag directed by Martin Winter (with Peter Sebastian Szilvay on fourth percussion!).

The first half was serious music making of the very highest class – as the pros strutted their stuff without a flicker of misplaced emotion.

The second half was a hoot – as Manger blew the roof off with a brilliant reprise of their prize winning SIDDIS entertainment programme. It was sensational.

It provided a fitting climax to a wonderful festival.

Iwan Fox